Two Xavier exchange students to intern at PIC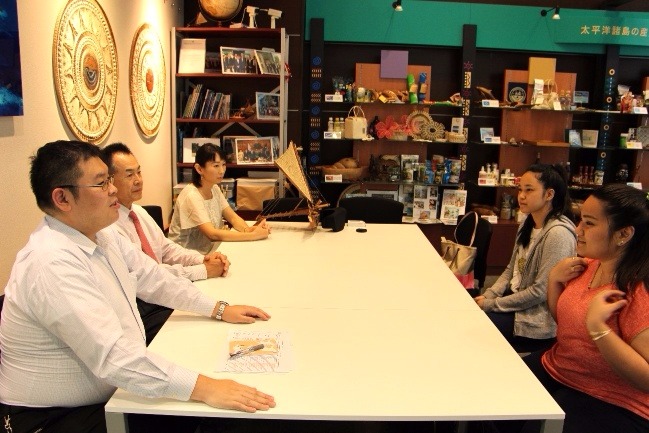 Students on the Xavier exchange program had the opportunity to intern at the Pacific Islands Center (PIC). This program was started by the Foreign Ministry's Pacific Forum in response to requests for business training activities for students from the Pacific Islands in Japan, as well as requests from each government to help support students with improving their business skills. The internship also hoped to provide the students with the opportunity to interact with Japanese interns, enriching their communication skills as well.
The two students, Mary and Risa, took part in the program from October to December. The internship took place once a week for six hours, for a total of ten times. In addition to improving their Japanese skills by performing tasks such as answering phone calls, welcoming visitors, organizing exhibition rooms, etc., they also listened to lectures on Japanese business customs, characteristics of Japanese trade, investment, and sightseeing. In accordance with the lectures, the students also visited government bureaus and companies where they performed interviews. This was a good chance for the students to use and apply their skills and knowledge.
Performing these tasks in Japanese was not an easy challenge for the two; however, they took it on with a positive attitude, being actively involved with their surroundings. APIC will continue to support this program in hopes that future exchange students will be able to experience learning outside the classroom, and to have the opportunity to further explore Japanese culture and hence enriching their time in Japan.