Interview: University of the West Indies Graduate Bobby Sookhoo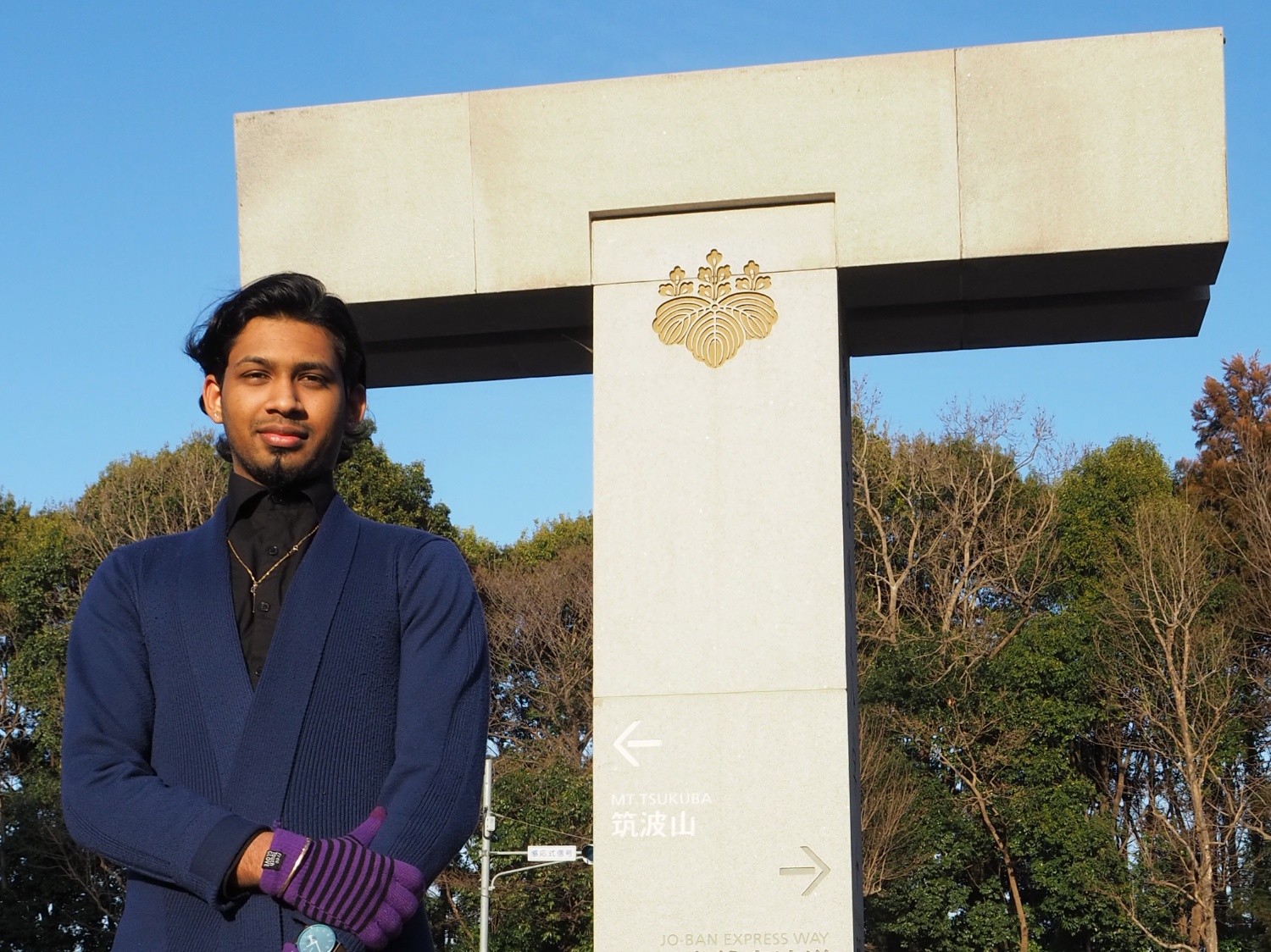 Bobby Sookhoo, who is from Trinidad & Tobago, participated in the Sophia University January Session 2017 (SJS 2017) through the Students Invitation Program by APIC*1 when he was a student of the University of the West Indies (UWI). After graduating from UWI, he was adopted as a MEXT Scholarship Student and entered the University of Tsukuba (UT). He belongs to the master's program of Medical Science at UT.
Participating in the Short-term Program
Q1. You stayed in Japan for 1 month to participate SJS 2017. Please tell me the impression of that experience and how it influenced your attitude toward studying or the aim for the future.
To be honest, when I first knew that I was coming for this program, I did not know what to expect. I was just excited to be able to come to Japan, or another country. When I actually came, it was very exciting, and everything was very different, for example, the university. It was quite different from back at my university, which is to be expected, and it was a good difference. It was very interesting to see a different type of atmosphere and so on. What was also very interesting was that in this program, there were a lot of mixed international students, as well, from all over different regions, not only from Japan, and that was also something I was not really expecting. I did not expect that larger variation, and again it was very fascinating to experience this. It showed that a lot of different students and people can come together in one place. They can study, they can get along, and share many different experiences together.
Aside from the studies at Sophia, I was also able to get opportunities to travel around Japan, even if it was just within the region of Tokyo, it was still a great opportunity. I got to visit a lot of different places, experience Japanese food, the different culture, tourist destinations, all of that was very interesting, it left an unforgettable experience for me. When I returned after this program, to resume my studies at UWI, I was in my final year, and during my final year, I was thinking about what's next, and very often I would think about wanting to return to Japan, mainly because I wanted to experience a longer time in Japan because of the experience with the Sophia program. But at the same time I did not want to just be in Japan, I wanted to also continue my studies. So with these factors, it let me to want to explore options of how to be in Japan, and pursue with my studies. So this is the initial, one of the main driving factors that pushed me to make this decision to come across.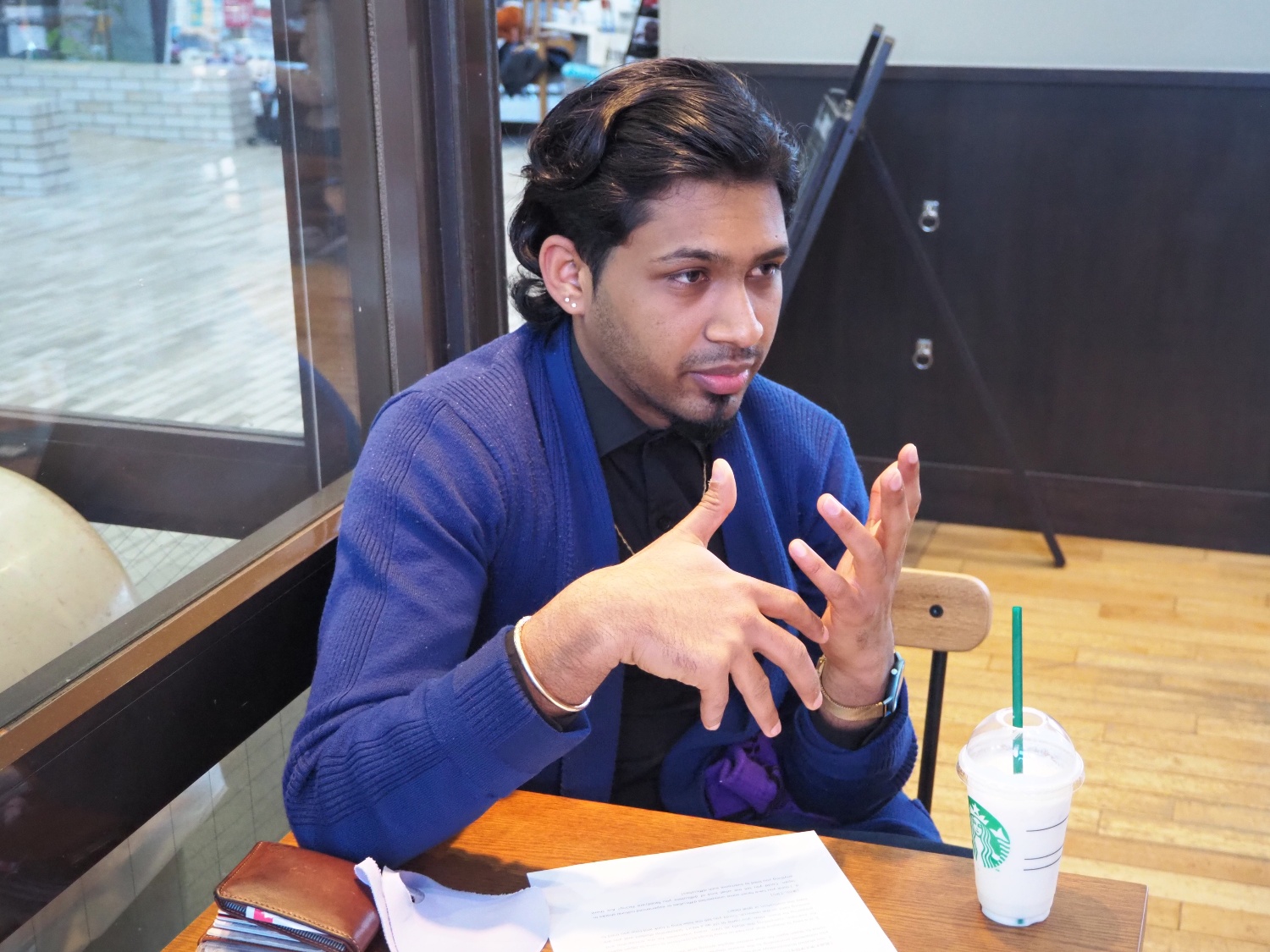 From UWI to Tsukuba University Grad School
Q2. You studied Biotechnology and Microbiology at UWI and you had various choices when you considered proceeding to the master degree. What mainly made you to decide to come to Japan again for your master degree among that various possibilities?
As I was previously saying, the Sophia program was a big influence on my decision, but even before the Sophia Program, I was very fond of Japan for a long time. For example, Japan's anime culture, music, the society itself, and very importantly their advances in academia as well. They have an outstanding reputation for education and technology advancements, etc. They are very well known for their resistance to a lot of natural disasters as well, and for their overcoming of it, which is quite very interesting. I also at a very young age, before my teens, I trained martial arts. What I was doing was specifically Karate, which is when you look at history it traces back to Japan's culture, and more specifically, the island of Okinawa. So again all of that was adding to my interest in Japan. So when I was looking for options after UWI of what to do next, all of these factors, along with my goal to study, because my main goal is to study, and the Sophia program, is what made me investigate what options I have, and as I was investigating, I came across the MEXT scholarship, where I believed that this would have given me a chance to have this opportunity to study in Japan and experience more of its rich culture.
Q3. So, before the Sophia Program you were interested in Japan and you knew many things about it. Are you continuing to practice Karate here in Tsukuba?
This was one of the biggest activities I was looking forward to when studying at this university. When I came, after about 6-8 months, I did look around for the institutes to train martial arts, I did try one area, but unfortunately, I could not stick around much with it, mainly because the research had to take priority. So right now, I don't take part as a member in a club or institute. Regardless of that I still have my experiences, so I do keep up with it, I train by myself to keep it in me, so when the time comes, and I decide to resume, which I plan to do, I will still not be badly off.
Q4. How difficult is it to be accepted as a MEXT Scholarship student? How long did it take to prepare everything for the scholarship?
During my final year I was considering it, but I never investigated everything that was required in details. What I did was, I checked basics that I need for my degree, which was the minimum GPA, and grade levels and so on. Once I checked the grades, I focused on my studies to achieve this minimum level. After that, coming to the end of the studies is when I finally decided I will apply, then I investigated everything about MEXT and what I need to do. After going through application, I checked with myself to see if I am appropriate for this position, if I can live up to the required specifications of what the MEXT has to offer, and once I confirmed this I began preparing the documents and everything that follows. Preparing the documents for MEXT was not like a task, it was more of an enjoyment, more of an opportunity that I can show my passion to study as well as wanting to be in Japan and simultaneously to achieve these goals as well. So, this was like my chance to show this is what I want and why I should be here to achieve that. This was my main focus on applying for MEXT. The same was for the interview as well. For the interview I prepared myself to explain about my passion and reasons for wanting to apply for this scholarship basically.
Q5. So you did not feel it was difficult? Did you enjoy the preparation?
It was actually quite interesting to do. For the MEXT, you have two main purposes, and one is your studying, and second, mixing it with Japan's culture. These two are very essential. You can't just want to study and disregard the fact that it's associated with Japan and what MEXT is about as well. So, as I was writing my research proposals, I investigated professors from different universities to find out what they are doing, and write my proposals based on their fields. I even considered different areas of Japan to research, like the environment to see if it's too cold or hot, to decide which university I want to go to.
Upon Arriving in Japan
Q6. I think you have faced some unexpected difficulties or experienced cultural shocks in Japan. Could you tell me what kind of difficulties you faced/are facing? Is there anything you tried to overcome such difficulties?
For the past two years, there have been quite a few problems within my lab. I think some of the main problems will be based on communication between Japanese and foreigners. In my lab there are about 5-6 foreign students, with very few Japanese, 1-2. The problems that have aroused was mostly because of communication problems. This has not been fully resolved, and this is one of the biggest problems I am facing right now. On one side, I understand that Japanese have their way of wanting to work, and communicate with people, but on the other side, it's a university where international students are being accepted, so I believe that the professors, the workers, and foreign students...they need to understand that there are differences and that there must be a way to work out problems. At this moment, my supervisor is understandable and I speak with him a lot, and he helps to clarify problems among students and the Japanese staff, and I believe this is one way some type of resolution coming about for this problem. Another problem would be like mannerisms, basically how a person would naturally be in an environment, the way they just are. So from my experience, there're lot of differences between myself and Japanese the way of just existing. Unfortunately, and unintentionally, it causes problems within the study/work environment. With some of the issues that certain members may have with me, I try to understand what is the problem happening, and I will not just condemn the person, I will also try to resolve and accommodate the situation, if possible, so that is another point to take into consideration.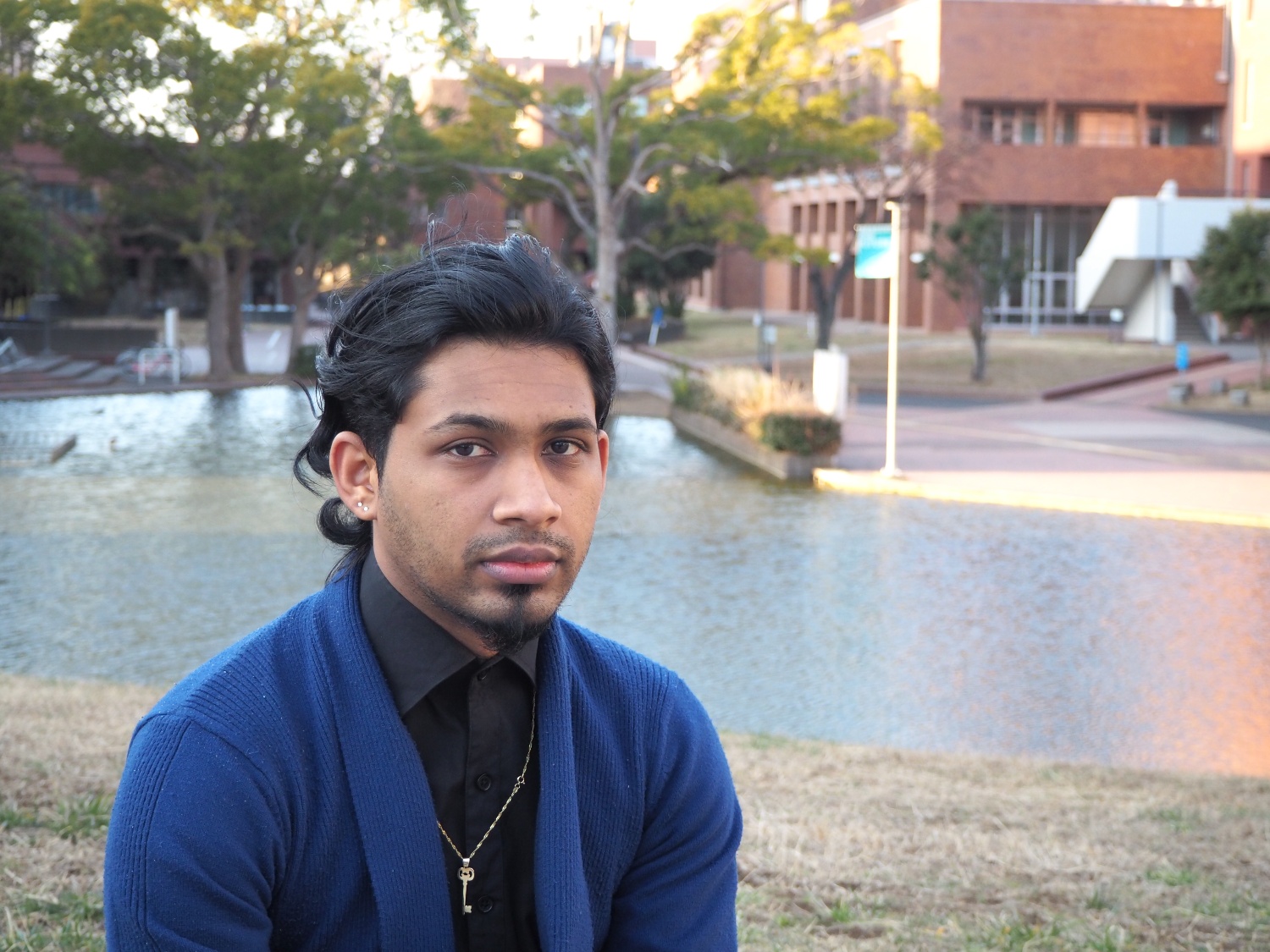 (At the University of Tsukuba)

About His Future Q7. Please tell me your dream or goal in the future.

Difficult question. I will talk about my goal. My goal would be to pursue further education, and I want to be able to become a proper medical researcher, and contribute with the research industry. This is basically my goal, and I would like to keep working in the Asian side for quite a while, I think I have a lot to learn from this side of the world. So that is my main goal right now I'm heading towards.

Message to the Younger Generation Q8. APIC Students Invitation Program continues to be held and many students participate SJS every year*2. Please give some messages or advice to the students who consider participating the program, and those who have experienced the program and wish to come to Japan for master degree or working as JET teacher*3.

It's kind of difficult, to be honest, because...I will start off with JET. I don't have personal experience as a JET Teacher. But I have a lot of classmates and acquaintances on this program so I have only heard about experiences. And from what I have heard is that coming as a JET you will be able to experience a lot of Japan's culture at the same time while teaching English of course, being around a lot of elementary to high school students. I often hear and see a lot of adventures by these people, they seem to have a lot of fun, with teaching and other things, so it seems like a good option for those who want to come for that kind of experience.

As for the masters and studying, this is very opinionated, based especially on the type of studies you are coming to do. I know some few other MEXT student here studying at masters or higher but their fields are different from myself. For example they are some with language-learning, some are waste management, geology and stuff. From my personal opinion, for persons that are going to study in fields related to what I am doing, such as medical area, or the natural sciences, my biggest recommendation is to know that your work is your top priority. For example in my case, you may not get to experience as much as the Japan cultures you would like to at the beginning, but at the same time you will still get to experience some of it regardless. So you need to understand that even though you're coming here, and wanting to experience the culture of Japan, as a student your top priority is your work. So you need to know your position, your standing in your field, and the amount of work you need to put in and by doing that you can also allocate in the future how you will spend your time exploring Japan's culture for example. For these persons, they need to investigate properly, ask a lot about their fields of study, try to talk to as much people as you can, and also investigate university, for all of these different options, and make a proper decision based on that.

Q9. Do you have any messages for the students who want to attend the short-term program?

They should. Every one should. I will do it again if I can.

Q10. What was the most fun thing?

So many. I can't pick. The people I met was quite entertaining. The APIC group stayed at the same hotel that was very entertaining.

*1 The Pacific and Caribbean Student Invitation Program invites students from said areas for a short stay of one month, where they participate in the Sophia University "January Session in Japanese Studies". They learn about Japanese culture, history, society, economics, and Japanese language. They have the opportunity to interact with Japanese students, visit international cooperation, tourist, and education-related facilities in this interdisciplinary and interactive program.

*2 Due to the COVID-19 pandemic, the program in 2020 and 2021 were held online.

*3 According to its website, the Japan Exchange and Teaching Programme "Aim[s] primarily to promote grassroots internationalisation at the local level, [it] invites young college graduates from around the world to participate in internationalisation initiatives and be involved in foreign language education at Japan's local government offices, Boards of Education, elementary schools, junior high schools, and senior high schools."

The University of the West Indies (UWI)


UWI is an English-speaking university that caters to students from the seventeen nations of the West Indies. Apart from the three main campuses of Mona, Jamaica; St. Augustine, Trinidad and Tobago; and Cable Hill, Barbados; it also holds open campus distance learning courses at each campus. It is the oldest higher level English-speaking educational institution in the Caribbean region, producing talent from various academic fields.