A Happy New Year from APIC
We would like to thank everyone who supported our activities in 2018,
and hope for your continued support in 2019.
-Association for Promotion of International Cooperation (APIC)
-
APIC Lecture Meeting Regarding Global Issues: Upcoming Events

《354th Lecture Meeting Regarding Global Issues》
Thursday, January 17th, 2019
Guest Speaker: Mr. Takeo Akiba, Vice-Minister for Foreign Affairs
Topic: 2019 Japan Foreign Diplomacy Outlook and Challenges

In addition to automatically informing supporting members of upcoming events, APIC also provides information to non-members. Please inquire directly with APIC via telephone or e-mail.

Caribbean Introduction Series
-News from Haiti-
Once a month, Ambassador to the Republic of Haiti, Mr. Yoshiaki HATTA will contribute to our column "News from Haiti".
Please click
here
to read Mr. Hatta's column.
---
PICK UP
---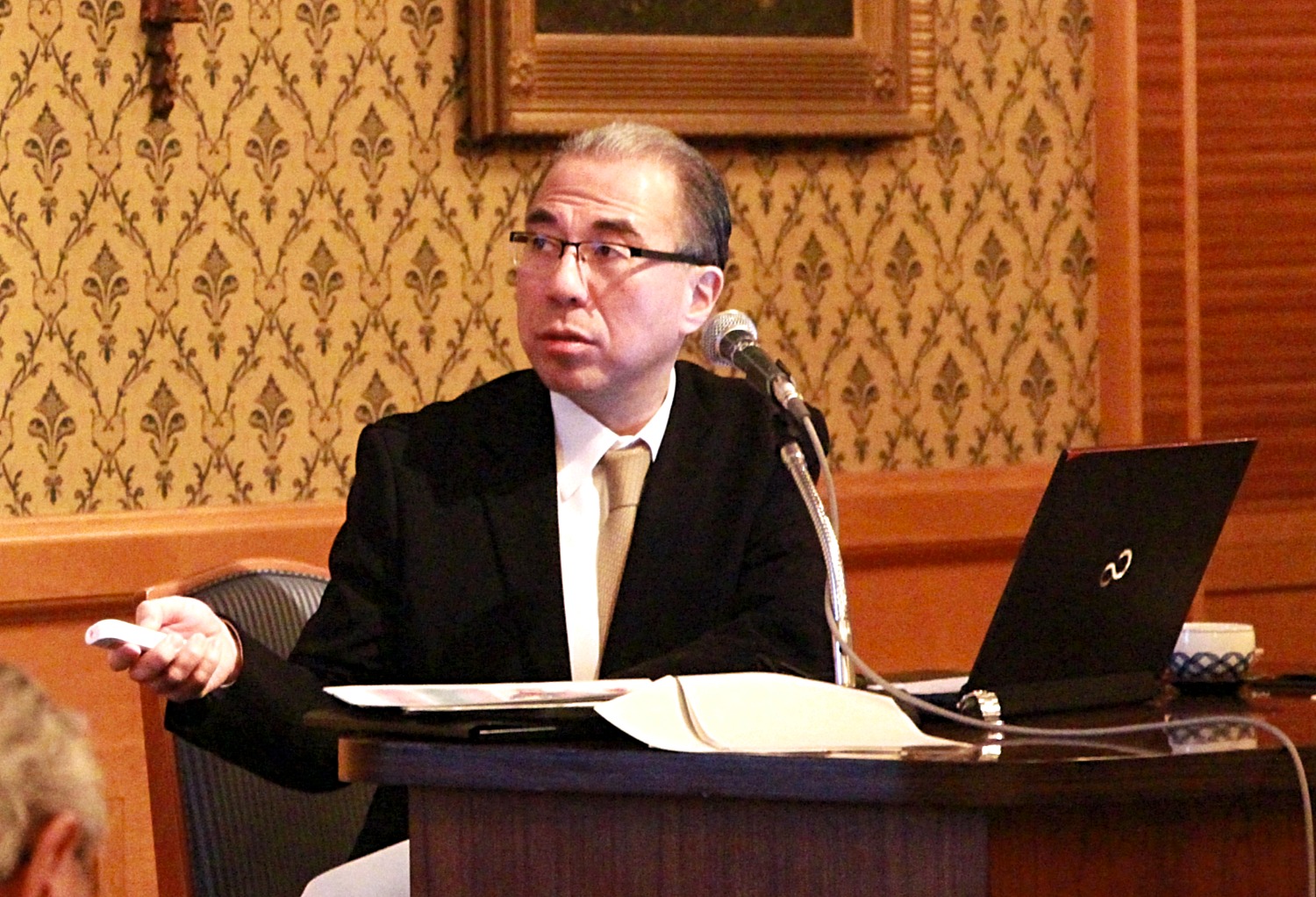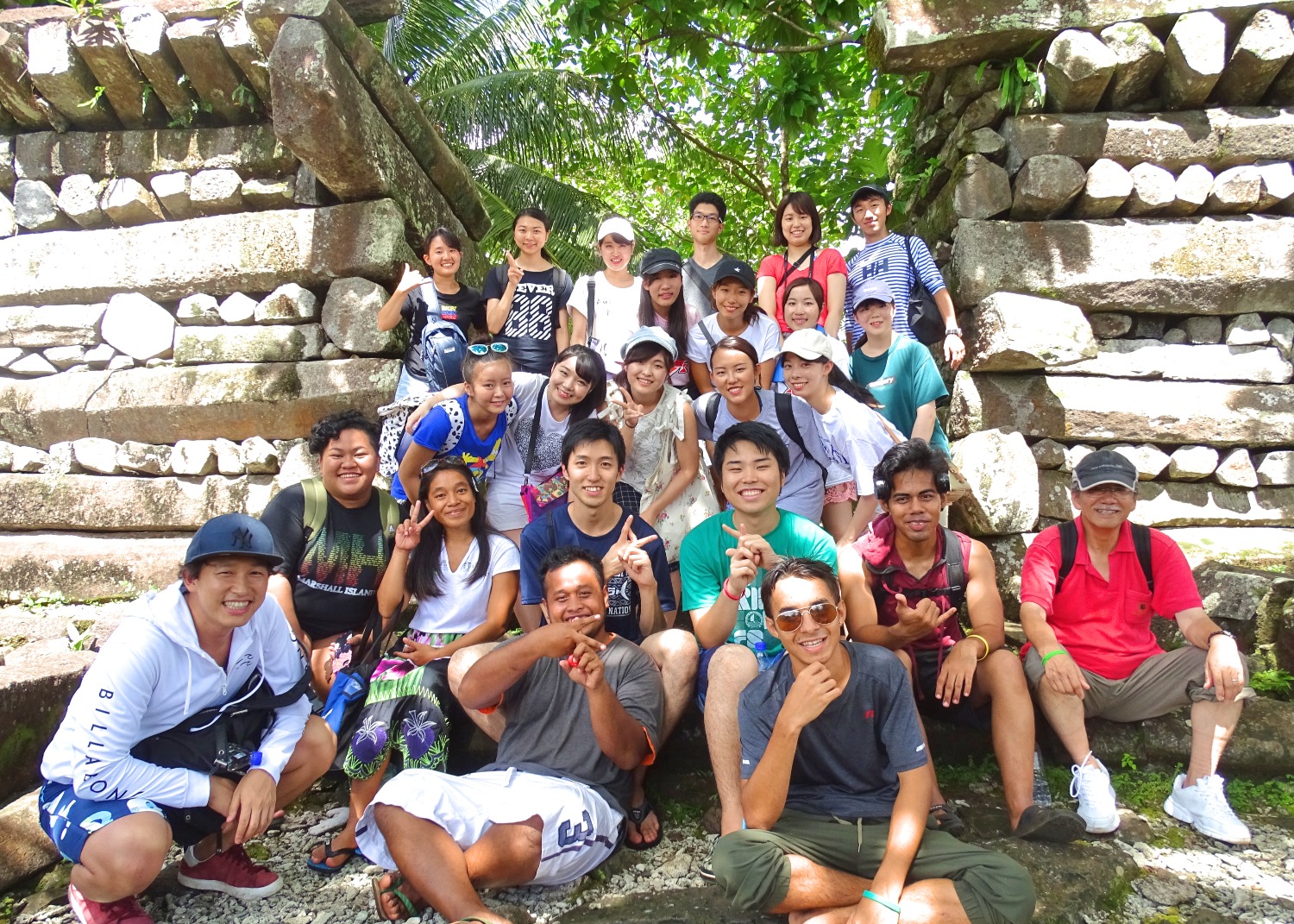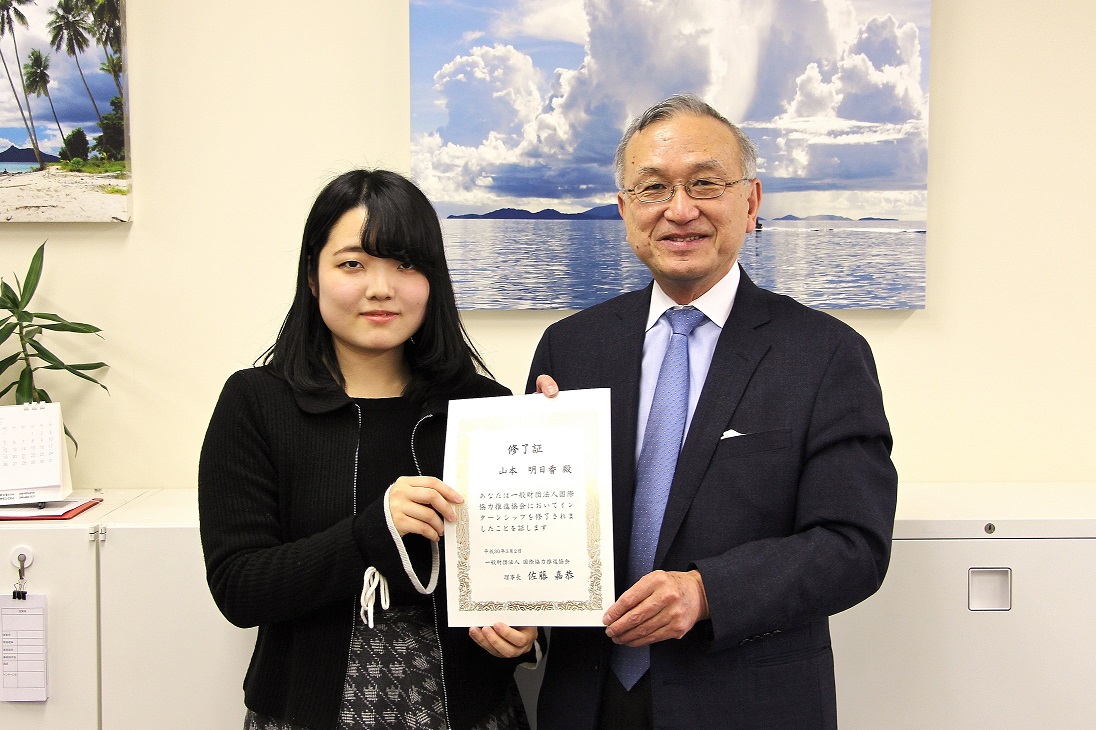 PROJECTS
2018.6.25
5th APIC Short-term Internship
One student from Sophia University joined APIC's short-term internship program as part of Sophia's 'Working Experience' curriculum.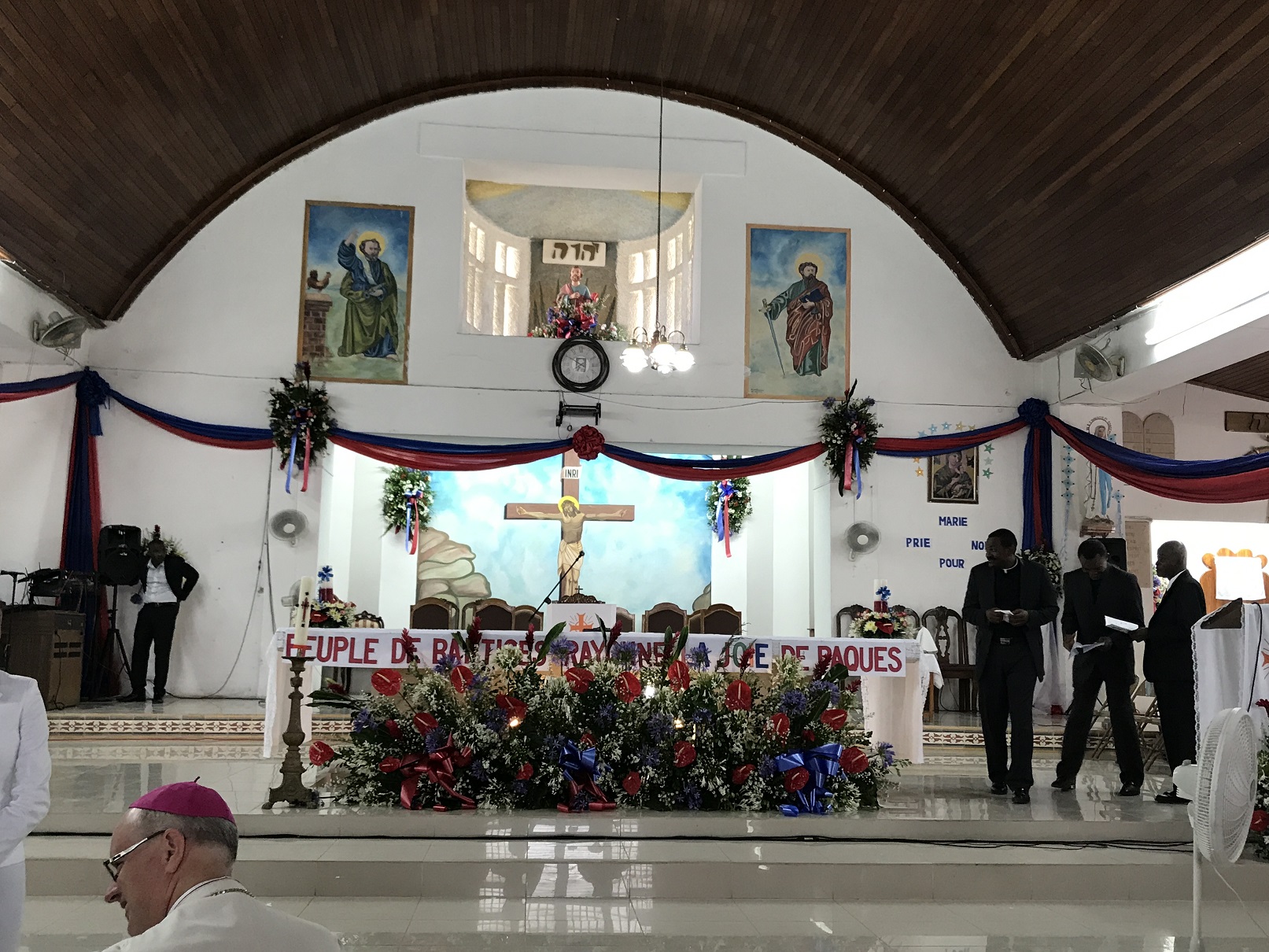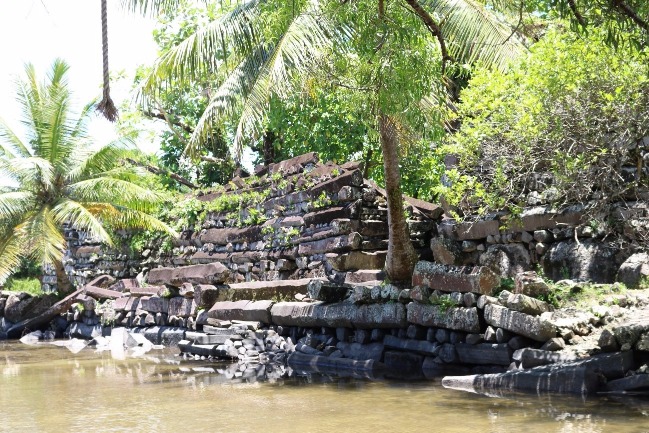 WHAT'S NEW
-2018.12.4 Update
PROJECTS "News from Haiti Vol. 8: Haiti's Cultural Features (part 3)"

-2018.11.27 Update
EVENTS "352nd Lecture Meeting Regarding Global Issues"

-2018.11.20 Update
ABOUT "Public Information Added"

-2018.11.15 Update
EVENTS "The 2018 Pacific and Caribbean Journalists Program"

-2018.10.18 Update
EVENTS "The 351st Lecture Meeting Regarding Global Issues"

-2018.10.18 Update
EVENTS "First Xavier Exchange Student's Graduation Celebration Dinner"

-2018.10.18 Update
EVENTS "Sophia University's "Micronesia Exposure Tour 2018""

-2018.9.21 Update
EVENTS "The 350th Lecture Meeting Regarding Global Issues"

-2018.9.11 Update
EVENTS "Pacific Leaders Invitation Program: Federated States of Micronesia Chuuk State Young Leader Invitation Program 1"

-2018.9.6 Update
EVENTS "PM Gonsalves of St. Vincent & the Grenadines Visit to Japan"

-2018.8.27 Update
PROJECTS "News from Haiti Vol. 7: Haiti's Socio-economic Condition (part 2)"

-2018.8.6 Update
EVENTS "The 3rd Japan Experience Project "SAWARA Experience""

-2018.7.26 Update
PROJECTS "News from Haiti Vol. 6: Haiti's Socio-economic Condition (part 1)"

-2018.7.23 Update
EVENTS "The Voice of the Ambassador to Micronesia"

-2018.7.19 Update
EVENTS "The 349th Lecture Meeting Regarding Global Issues"

-2018.6.25 Update
PROJECTS "News from Haiti Vol. 5: Haiti's Cultural Features (part 2)"

-2018.6.25 Update
PROJECTS "5th APIC Short-term Internship"

-2018.6.22 Update
EVENTS "Pacific Leaders Invitation Program: Senator Urusemal, former President of FSM"

-2018.6.22 Update
EVENTS "Pacific Islands and Caribbean Student Invitation Program 2018"

-2018.6.22 Update
EVENTS "Xavier Exchange Students Participate in 'All Sophian Christmas 2017'"

-2018.6.22 Update
EVENTS "JICA Global Plaza Micronesia Photo Exhibit 'Pacific Light'"

-2018.6.21 Update
EVENTS "The 348th Lecture Meeting Regarding Global Issues"

-2018.5.28 Update
PROJECTS "News from Haiti Vol. 4: Haiti's Current Political Situation"

-2018.5.17 Update
EVENTS "The 347th Lecture Meeting Regarding Global Issues"

-2018.5.11 Update
EVENTS "Japan Achieved Successes In Micronesia Unlike Any Nation Before or Since, Says Noted Historian Francis X. Hezel, SJ"

-2018.4.26 Update
PROJECTS "News from Haiti Vol. 3: Haiti's Cultural Aspects part 1"

-2018.4.26 Update
EVENTS "Pacific Islands Leader Invitation Program: Samoan Minister of Information and Communication Technology"

-2018.4.26 Update
EVENTS "University of the West Indies St. Augustine Campus: Principal Invitation Program"

-2018.4.19 Update
EVENTS "The 346th Lecture Meeting Regarding Global Issues"

-2018.4.5 Update
EVENTS "Assistance to Commemorate 25th Founding Anniversary of COM-FSM"

-2018.4.5 Update
EVENTS "APIC President Peter Sato's Visit to Micronesia"

-2018.4.5 Update
EVENTS "APIC Pacific Islands Leaders Invitation Program: Mr. Yogesh Karan"

-2018.3.29 Update
EVENTS "APIC-Reitaku University Student Exchange Project: Short-term Micronesia Study Abroad Program"

-2018.3.29 Update
EVENTS "COM-FSM Student Invitation Program: Students to Study Abroad at Reitaku University & Sophia Junior College"

-2018.3.29 Update
EVENTS "Pacific and Caribbean Journalist Invitation Program 2017"

-2018.3.29 Update
EVENTS "Xavier Exchange Students Participate in Sawara Festival"

-2018.3.29 Update
EVENTS "Xavier Exchange Students Participate in Oktoberfest"

-2018.3.29 Update
EVENTS "Sophia University "Micronesia Exposure Tour""

-2018.3.26 Update
PROJECTS "News from Haiti Vol. 2: About the Republic of Haiti"

-2018.3.26 Update
EVENTS "Assistance to Commemorate 25th Founding Anniversary of COM-FSM"

-2018.3.15 Update
EVENTS "The 345th Lecture Meeting Regarding Global Issues"

-2018.2.26 Update
PROJECTS "News from Haiti Vol. 1: About the Republic of Haiti"

-2018.2.15 Update
EVENTS "The 344th Lecture Meeting Regarding Global Issues"

-2018.2.13 Update
EVENTS "10th International Co-operation Discussion Gathering"

-2018.1.18 Update
EVENTS "The 343rd Lecture Meeting Regarding Global Issues"

-2017.11.16 Update
EVENTS "The 341st Lecture Meeting Regarding Global Issues"

-2017.11.16 Update
EVENTS "COM-FSM Student Invitation Program: Students to Study Abroad at Reitaku University & Sophia Junior College"

-2017.11.7 Update
PROJECTS "Micronesian Photo Exhibition at Tsuda University: 『Pacific Light』"

-2017.10.20 Update
PROJECTS "Xavier Exchange Students Attend Opening Ceremony at Sophia University"

-2017.10.19 Update
PROJECTS "Tsuda University APIC Internship Start!"

-2017.10.19 Update
Events "The 340th Lecture Meeting Regarding Global Issues"

-2017.10.18 Update
EVENTS "Environmental Seminar Held in Barbados"

-2017.9.22 Update
EVENTS "The 339th Lecture Meeting Regarding Global Issues"

-2017.9.20 Update
EVENTS "Anime Expert Goes to Barbados"

-2017.9.6 Update
EVENTS "Luncheon with Senators from the Federated States of Micronesia"

-2017.8.9 Update
EVENTS "2017 Pacific Islands Leaders Invitation Program"

-2017.7.28 Update
EVENTS "Interview with Graduate of University of West Indies"

-2017.7.26 Update
EVENTS "Environmental Seminar held at Sophia University"

-2017.7.25 Update
EVENTS "Minister of Education, Youth and Information Invitation Program"

-2017.7.20 Update
EVENTS "The 338th Lecture Meeting Regarding Global Issues"

-2017.6.26 Update
EVENTS "「Pacific Islands and Caribbean Nations Student Invitation Program」Featured in Local Newspaper"

-2017.6.21 Update
EVENTS "MoU Signing Ceremony with Toyo University"

-2017.6.15 Update
EVENTS "APIC has invited Principal of Cave Hill Campus of The University of West Indies"

-2017.6.15 Update
EVENTS "The 337th Lecture Meeting Regarding Global Issues"

-2017.5.18 Update
EVENTS "The 336th Lecture Meeting Regarding Global Issues"

-2017.5.16 Update
EVENTS "Micronesia Photo Exhibition "Tropical Light" Opening Ceremony and Reception"

-2017.5.16 Update
EVENTS "Lecture by Photographer / Writer Floyd Takeuchi"

-2017.4.24 Update
EVENTS "The Reception Party Held for the Caribbean Leadership Program"

-2017.4.21 Update
EVENTS "MoU Signing Ceremony with Tsuda Univesrity"

-2016.4.20 Update
EVENTS "The 335th Lecture Meeting Regarding Global Issues"

-2017.4.12 Update
EVENTS "The Reception Party for the Pacific Young Leaders"

-2017.3.27 Update
EVENTS "The Second the Pacific Youth Leaders program"

-2016.3.24 Update
PROJECTS "Micronesia Photo Exhibition ~"Tropical Light" -- Photographs by Floyd K. Takeuchi~"

-2016.3.16 Update
EVENTS "The 334th Lecture Meeting Regarding Global Issues"

-2017.3.15 Update
PROJECTS "APIC Short-term Internship Program"

-2016.2.16 Update
EVENTS "The 333th Lecture Meeting Regarding Global Issues"

-2017.1.23 Update
EVENTS "The 2nd Pacific Islands and West Indies Students Invitation Program"

-2016.1.19 Update
EVENTS "The 332th Lecture Meeting Regarding Global Issues"

-2017.1.10 Update
EVENTS "The 2nd Pacific Islands and West Indies Students Invitation Program"

-2016.12.15 Update
EVENTS "The 331th Lecture Meeting Regarding Global Issues"

-2016.11.17 Update
EVENTS "The 330th Lecture Meeting Regarding Global Issues"

-2016.11.14 Update
EVENTS "6 journalists from the Pacific Islands and Caribbean visited Japan"

-2016.11.8 Update
EVENTS "Environment Seminar in Caribbean"

-2016.10.31 Update
EVENTS "Micronecia Students Exchange Program"

-2016.10.25 Update
PROJECTS "Xavier High School Scholarship Students participate in Rotary October Festival"

-2016.10.20 Update
EVENTS "The 329th Lecture Meeting Regarding Global Issues"

-2016.10.6 Update
EVENTS "Micronesia Intercultural Experience Tour"

-2016.10.4 Update
EVENTS "Interview with CEO of Save the Children Japan (SCJ)"

-2016.10.4 Update
EVENTS "Sophia Internship students interview Mr. Yamamoto, President of Aon Japan Ltd."

-2016.9.21 Update
PROJECTS "The 3rd Xavier Exchange Student Attend the Entrance Ceremony"

-2016.9.15 Update
EVENTS "The 328th Lecture Meeting Regarding Global Issues"

-2016.9.8 Update
EVENTS "Thank-you Letters from Students at Shotoku Gakuen Junior and Senior High School"

-2016.8.10 Update
PROJECTS "Water Tank Support for the Isolated Islands of Micronesia"

-2016.7.28 Update
EVENTS "The 327th Lecture Meeting Regarding Global Issues"

-2016.7.19 Update
EVENTS "A Dinner in Honor of Mr. Mitsuhiko Sakamoto"

-2016.6.16 Update
EVENTS "The 326th Lecture Meeting Regarding Global Issues"

-2016.6.7 Update
EVENTS "The 8th APIC International Cooperation Discussion Gathering"

-2016.5.24 Update
EVENTS "The 325th Lecture Meeting Regarding Global Issues"

-2016.4.21 Update
EVENTS "The 324th Lecture Meeting Regarding Global Issues"

-2016.3.29 Update
PROJECTS "Xavier High School Scholarship Students Deliver Appreciation Speech at the Regular Meeting of the Rotary Club of Tokyo South"

-2016.3.17 Update
EVENTS "The 323th Lecture Meeting Regarding Global Issues"

-2016.3.3 Update
EVENTS "Pacific Islands Young Leadership Program"

-2016.3.1 Update
EVENTS "Interview with the Representative of Asian Development Bank (ADB)"

-2016.2.23 Update
EVENTS "Welcome Reception for the Pacific Islands Young Leaders"

-2016.2.18 Update
EVENTS "The 322th Lecture Meeting Regarding Global Issues"

-2016.2.2 Update
EVENTS "Pacific and West Indies Student's Presentation & Farewell Party"

-2016.1.21 Update
EVENTS "The 321th Lecture Meeting Regarding Global Issues"

-2016.1.12 Update
EVENTS "Kamakura tour for the "Pacific Islands and West Indies Students Invitation Program""

-2014.12.15 Update
Website renewal