Ambassador Update Series: Potential to Expand Relationship with Trinidad and Tobago
Contributor: Mr. Tatsuo Hirayama, Japanese Ambassador to Trinidad and Tobago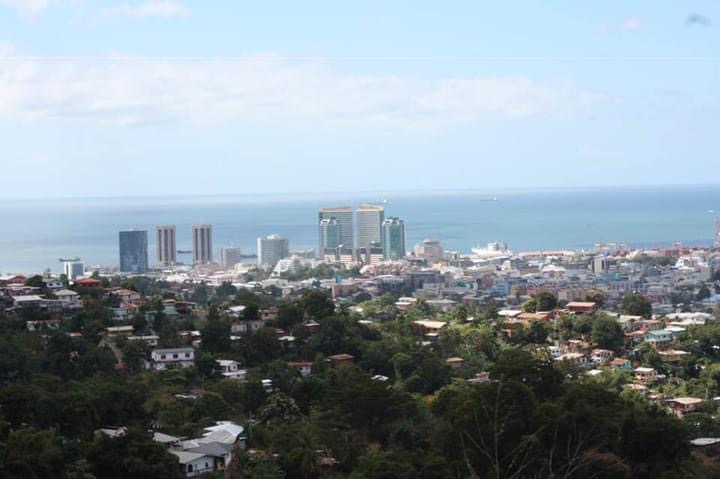 (View from the capital, Port of Spain)
1. Trinidad and Tobago and 8 other Cross-Accredited Countries

(1) Trinidad and Tobago is located in the southeast of the Caribbean Sea, and is only a stone's throw from Venezuela. Its development is thanks to abundant oil and natural gas resources, and it possesses a different charm from other highly tourism-dependent Caribbean nations.

(2) In addition to Trinidad and Tobago, the Japanese Embassy covers six nations in the eastern Caribbean, as well as Guyana and Suriname for a total of nine nations under its jurisdiction. The total population of these nine nations is a little over 3 million, but they have nine votes in the United Nations as independent member states. Additionally, 14 nations in the Caribbean came together to establish the CARICOM (Caribbean Community), encouraging regional integration, with its headquarters in Guyana; the Japanese Embassy covers the CARICOM as well. After arriving at my post, I spent around one year officially visiting all nine nations to present my credentials to all related administrations.


2. Trinidad and Tobago and Japan

(1) The two nations have a long and friendly relationship, starting in 1964 when both nations established diplomatic relations, and later on with the establishment of the Japanese Embassy in Trinidad and Tobago in 1979. In 2014, the Japanese Prime Minister at the time, Mr. ABE Shinzo, was the first Japanese Prime Minister to visit the nation, taking part in the Japan-CARICOM Summit Meeting. On July 20th, 2021, the Minister for Foreign Affairs, Mr.MOTEGI Toshimitsu, during his visit to Jamaica, held the 7th Japan-CARICOM meeting online with the foreign ministers of CARICOM. They discussed the Japan-CARICOM relationship and regional affairs.

(2) The economy of Trinidad and Tobago is based on the oil and gas industry, but with falling oil and gas prices and production stagnation, the country faces a challenging situation. The COVID-19 pandemic brought an increase in government spending, and the budget deficit is now increasing. Under such conditions, three Mitsubishi companies (Mitsubishi Gas Chemical, Mitsubishi Corporation, Mitsubishi Heavy Industries) came together to complete a methanol manufacturing plant for Caribbean Gas Chemical Limited (CGCL), and the plant started production in December 2020. This plant represents the largest investment project, involving Japanese stakeholders, to benefit Trinidad and Tobago, with a total investment of one billion US dollars.

(3) Starting with Japanese automobiles, Japanese products are generally popular here, along with an increasing interest in Japanese culture. Although Japan is 14,000 kilometers from Trinidad and Tobago, the internet has helped make Japanese culture feel more familiar. Anime is popular, and the number of Japanese foods has increased, with the Caribbean version of sushi also gaining in popularity.

(4) Interest and exchanges with Japan have been occurring for a quite some time, in areas such as Japanese language education at the University of the West Indies and the JET (Japan Exchange and Teacher program). The University of the West Indies Centre for Language Learning has taught Japanese to over 1,700 people over a span of 20 years. The JET program has been open to Trinidad and Tobago nationals for more than 15 years, and around 170 people have taken part in the exchange. JET alums, who have returned to Trinidad and Tobago, have created a JET Alumni Association where participants talk about their experiences while living in Japan, and taken the initiative to bridge the two cultures.

(5) Exchanges between the 2020 Tokyo Olympic host towns of Osaki, Kagoshima Prefecture and Nakatosa, Kochi Prefecture have already begun. Although COVID-19 has prevented some activities, hopefully communications and exchanges between the cities and Trinidad and Tobago will continue beyond the 2020 Olympics.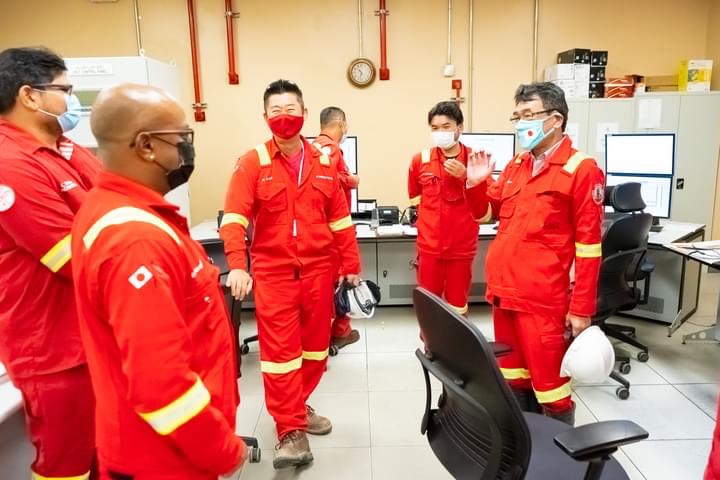 (Visiting Caribbean Gas Chemical Limited (CGCL))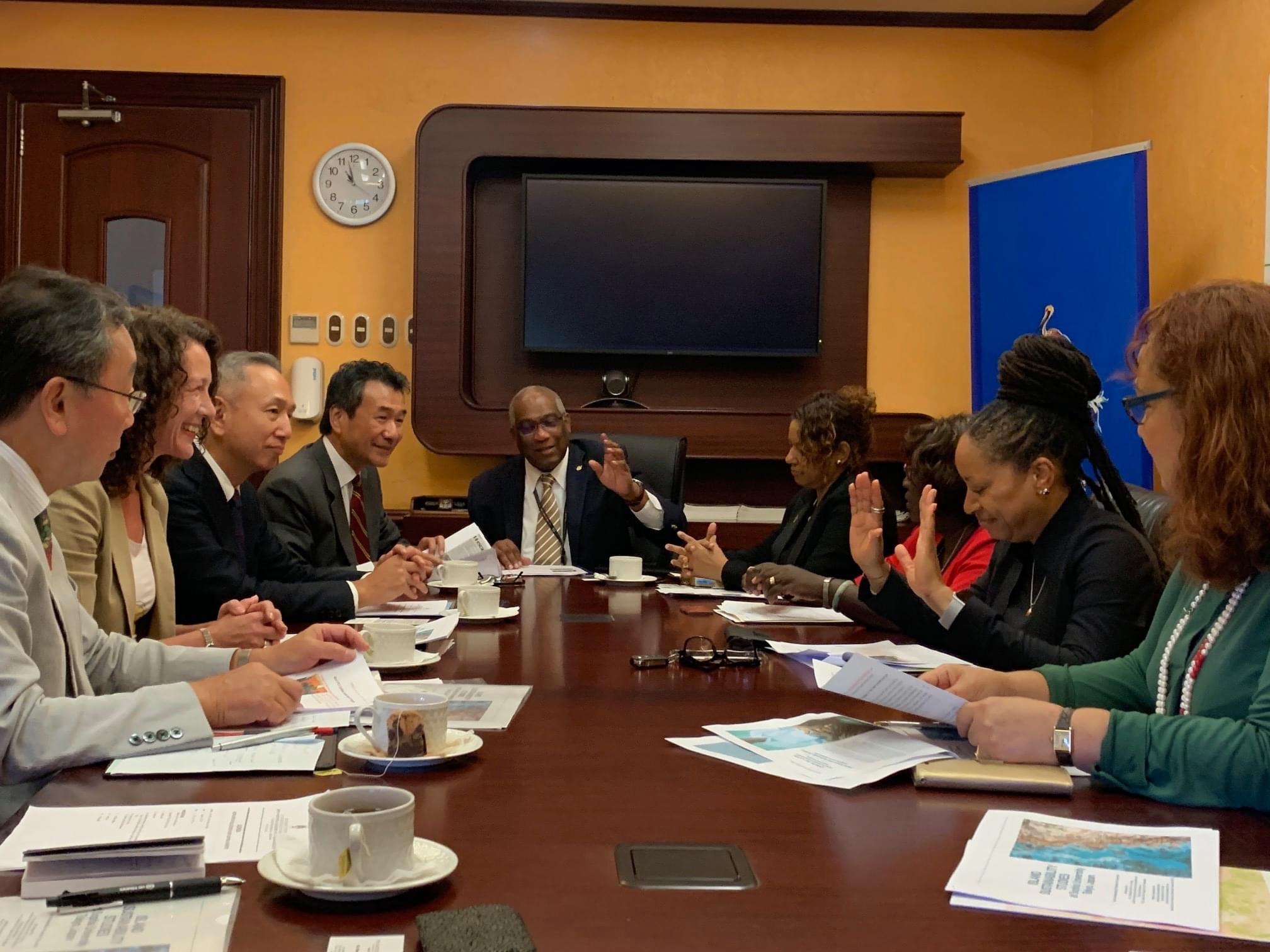 (Sophia University President party visiting Trinidad and Tobago and meeting at University of West Indies, August 2019)
3. Effects of COVID-19 Pandemic and Looking into a Post-Pandemic World
(1) Trinidad and Tobago closed its borders in March 2020, and finally reopened them a year and four months later on July 17th, 2021. At home, there are restrictions in place for outside movements, and restrictions in place for economic activity, all of which have had a large effect on the Japanese Embassy's activities here. All of the meetings and events that were once run of the mill have been mostly cancelled. The immensely popular
Carnival
festival was cancelled this year, and the Japanese Embassy decided not to hold a reception for the Japanese Emperor's birthday in February (a virtual event and celebratory video message from the Minister of Foreign Affairs of Trinidad and Tobago, however, was uploaded on Youtube).
(2) Furthermore, in accordance with border closures, official trips to neighboring countries, which would normally take place several times a month, had to be discontinued. 2020 was an election year for a handful of countries, and in the nations of Guyana and Suriname, where the administration has changed, our Embassy still has not been able to hold in-person talks. In addition, invitational programs have all been postponed, and the delayed departure of JET participants and those who are scheduled to participate in all other types of invitational training programs is quite regrettable.
(3) Under these circumstances, everyone is struggling to find some way to maintain activity. One way to accomplish this is to hold an event in small, in-person groups, while observing restrictions related to the prevention of COVID-19. Meetings with government officials, conferment and Minister of Foreign Affairs Commendation ceremonies, and round-table discussions are all being held in this manner. An udon-making demonstration aimed at JET returnees was also well-received. Another movement in the works is taking advantage of the internet and hosting large-scale meetings and events with the nations the Japanese Embassy serves while still in Trinidad and Tobago. The Japanese language speech contest in 2020, in addition to JET related meetings, were both held online, with the benefit of allowing participants to join from anywhere in the world.
(4) Even with a high COVID-19 vaccine inoculation rate, the easing of domestic and international travel restrictions, it will be quite difficult to completely return to pre-pandemic times; however, this does not mean that the importance of traveling to each country to meet face-to-face will wane. There are benefits to online meetings; therefore, it is necessary to combine the strengths of each approach in order to come up with an effective way to carry out our activities.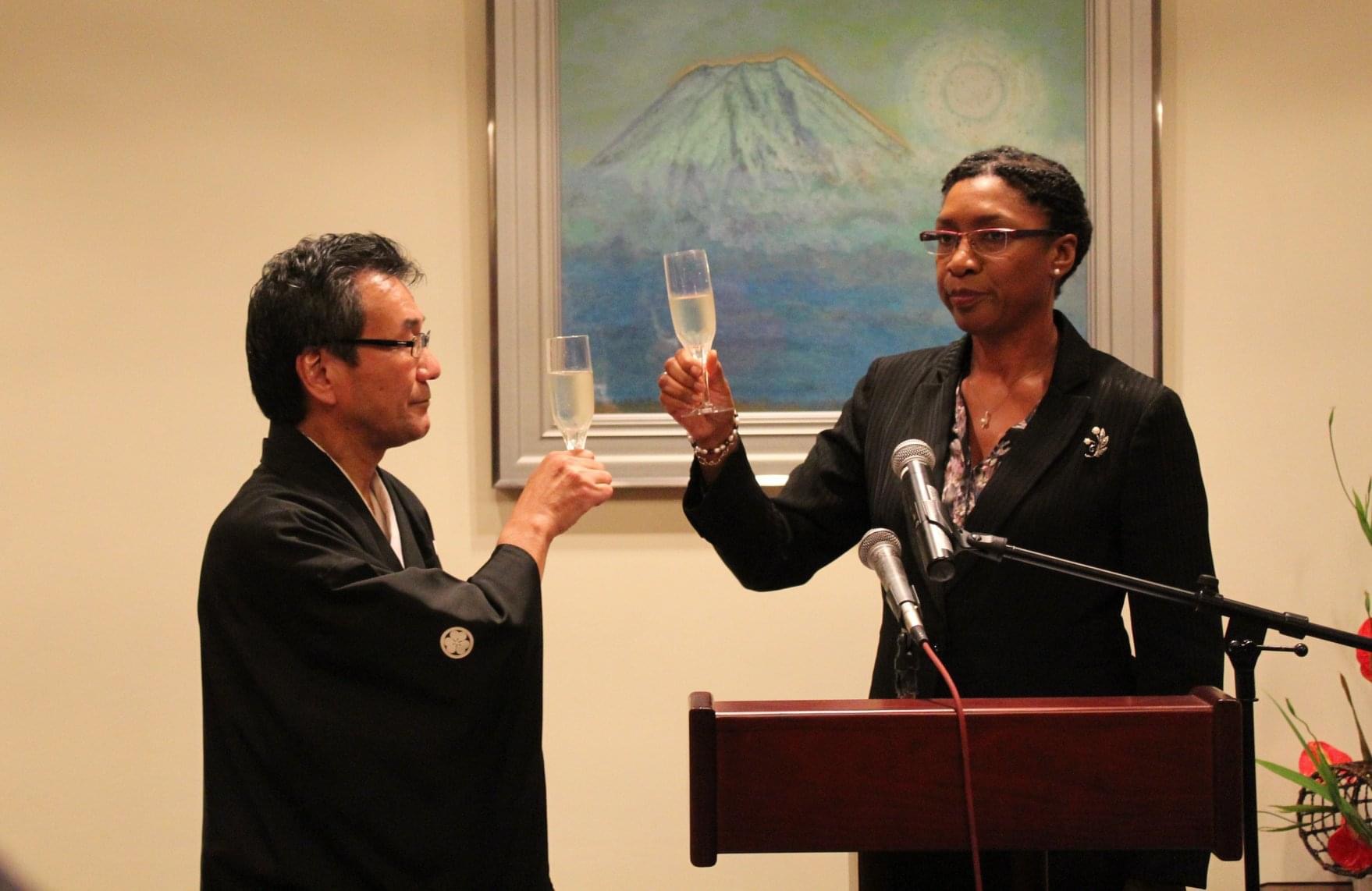 (Reception for the Emperor's birthday, February 2020- Toast with Ms. Toussaint, Permanent Secretary of Ministry of Foreign and CARICOM Affairs)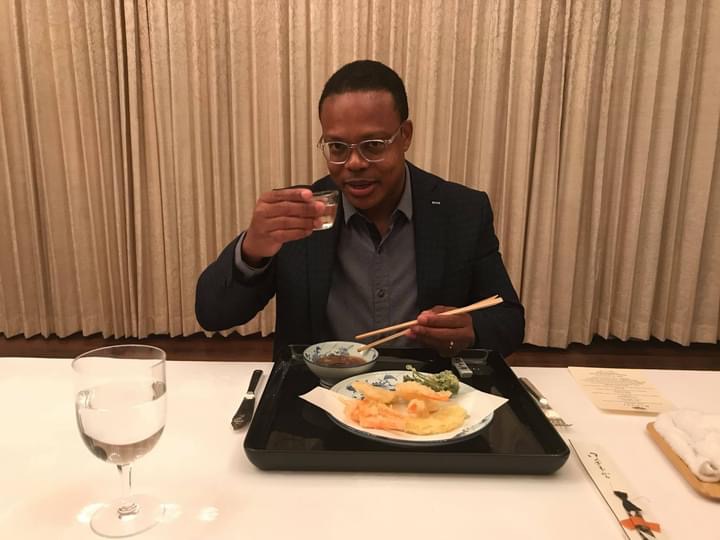 (Dinner party with Dr. Browne, Minister of Foreign and CARICOM Affairs, March 2021)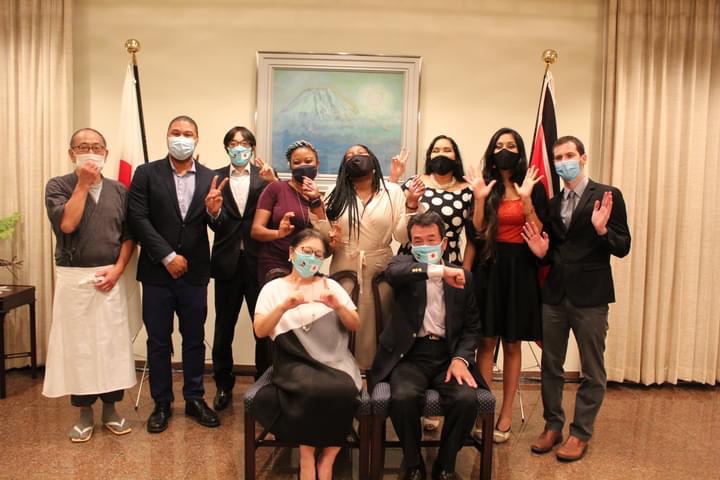 (Discussion with JET Alumni Association committee members, April 2021- Handmade udon demonstration)