Japan・CARICOM Friendship and Cooperation Fund Support Donation of COVID-19 Test Collection Kits to Caribbean Public Health Agency
2021.10.20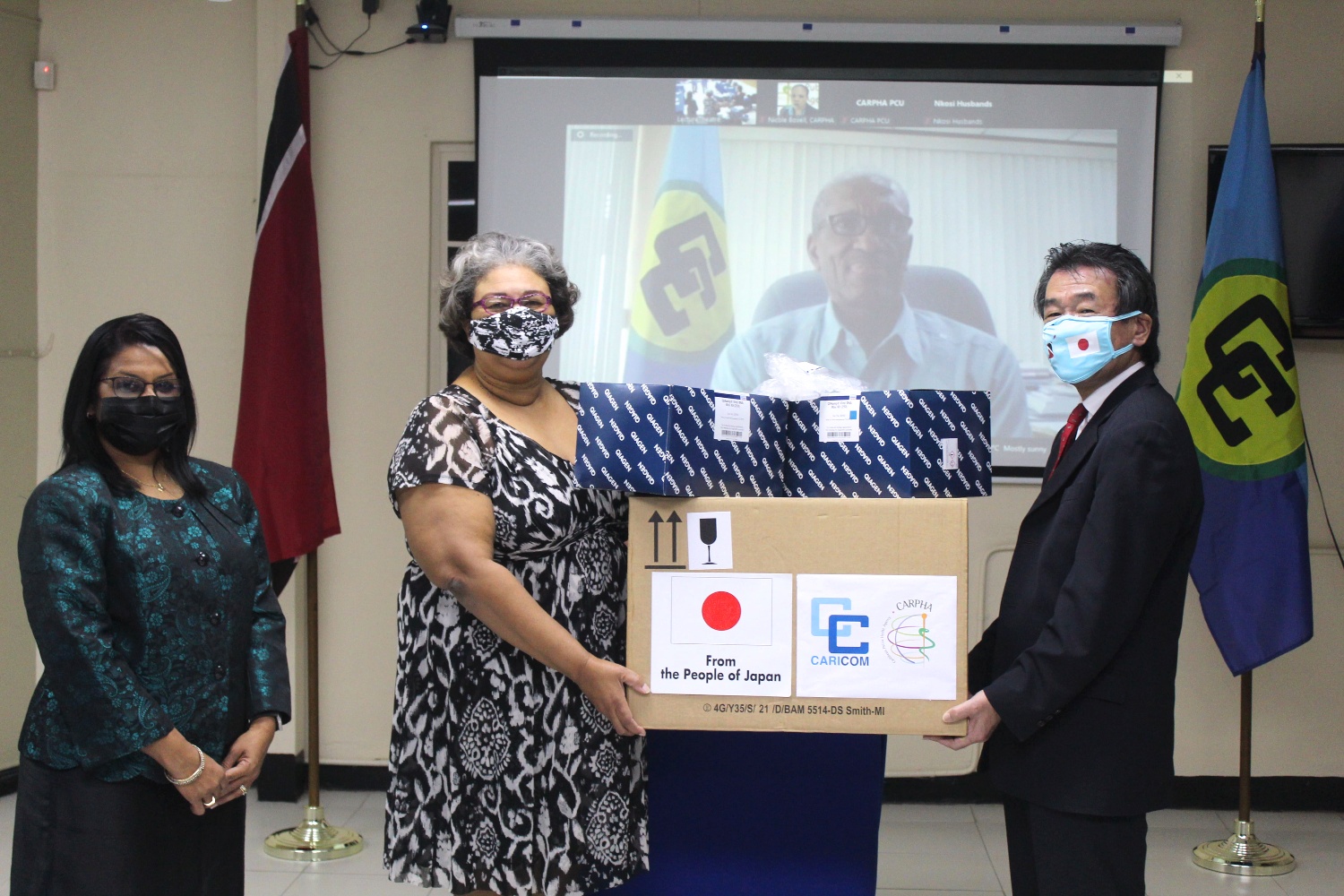 (Ambassador of Japan to Trinidad and Tobago Hirayama (right) presenting Dr. Joy St. John (center) with the donated kits)
COVID-19 test collection kits were donated to the Caribbean Public Health Agency (CARPHA) through the Japan・CARICOM Friendship and Cooperation Fund to help prevent the spread of COVID-19 in the CARICOM member nations.
COVID-19 test collection kits were purchased as preventative measures against the virus using remaining funds from a recent support project between the Japanese government and APIC to benefit CARICOM at their bequest through the Japan・CARICOM Friendship and Cooperation Fund. Out of a total of 77,840 tests worth $300,000 USD, APIC's funds were used for 72,090 tests. CARPHA will procure the remaining tests, all to be distributed to CARICOM nations, in particular Guyana, Suriname, and Jamaica where COVID-19 is still widespread.
Additionally, a presentation ceremony was held on October 5th, 2021 at the CARPHA headquarters in Trinidad and Tobago. Japanese Ambassador to Trinidad and Tobago, Mr. Hirayama, handed over the kits to CARPHA secretary Dr. Joy St. John. Dr. St. John expressed her appreciation to Japan for its continuous support during the pandemic, as well as strengthening support for the CARICOM nations battling the COVID-19 pandemic. Ambassador Hirayama expressed his respect for CARPHA, who is playing an important role in preventing COVID-19 within the CARICOM region, while mentioning the longstanding ties between CARICOM and Japan. He additionally expressed his hope that the donation of the COVID-19 test collection kits will contribute to early detection of new COVID-19 cases in CARICOM nations. The presentation ceremony was picked up by local media:
CARPHA STRENGTHENS ITS COVID-19 TESTING CAPACITY WITH JAPAN DONATION
APIC will continue to offer its support for the promotion of cooperation between Japan and CARICOM nations.