Invitation of Waste Management Officers from Trinidad & Tobago
2023.8.31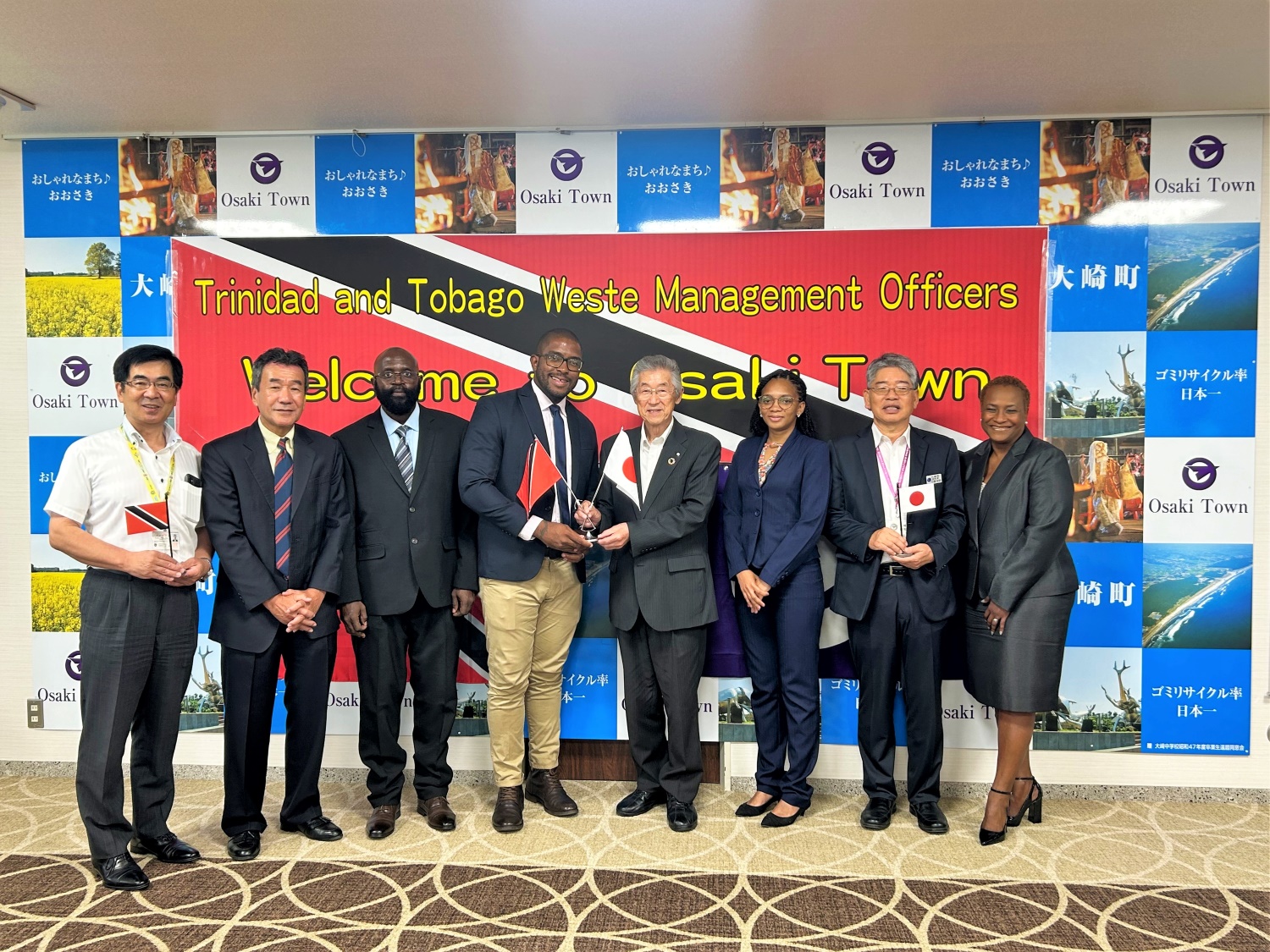 (Paying a visit to the Mayor of Osaki Town)
APIC hosted officials related to waste management from Trinidad & Tobago for tours of Japanese facilities and waste management training from June 25-July 2, 2023. The four participants were Ms. Arlene Collis, Director of Economic Research, Policy and Planning Division (ERPPD) from the Ministry of Public Utilities; Ms. Iesha Nelson, Research Analyst, Solid Waste Sector Lead at ERPPD from Ministry of Public Utilities; Mr. Kevin Mitchell, Waste Systems Engineer at Trinidad and Tobago Solid Waste Management Company Limited (SWMCOL); and Mr. Kendall Collins, Supervisor at Material Recovery Facility (MRF) at SWMCOL.
APIC crafted the program, which gave tours of Japan's waste management facilities around the country, in hopes of helping Trinidad and Tobago find answers to its own waste problem, in particular the limited remaining years of its landfills. Within Tokyo, the group visited an incineration plant and a private company which turns food scraps into animal feed. In Osaki Town, Kagoshima Prefecture, with the cooperation of the SDGs Promotion Council, the group toured successful examples of waste disposal and recycling in the city with the country's highest recycling rate. The program was initially scheduled to take place in 2019 but was postponed due to the COVID-19 pandemic, finally taking place this year. The catalyst of this program, former Japanese Ambassador to Trinidad and Tobago, Mr. Tatsuo Hirayama, took part in the tour of Osaki City's waste facilities.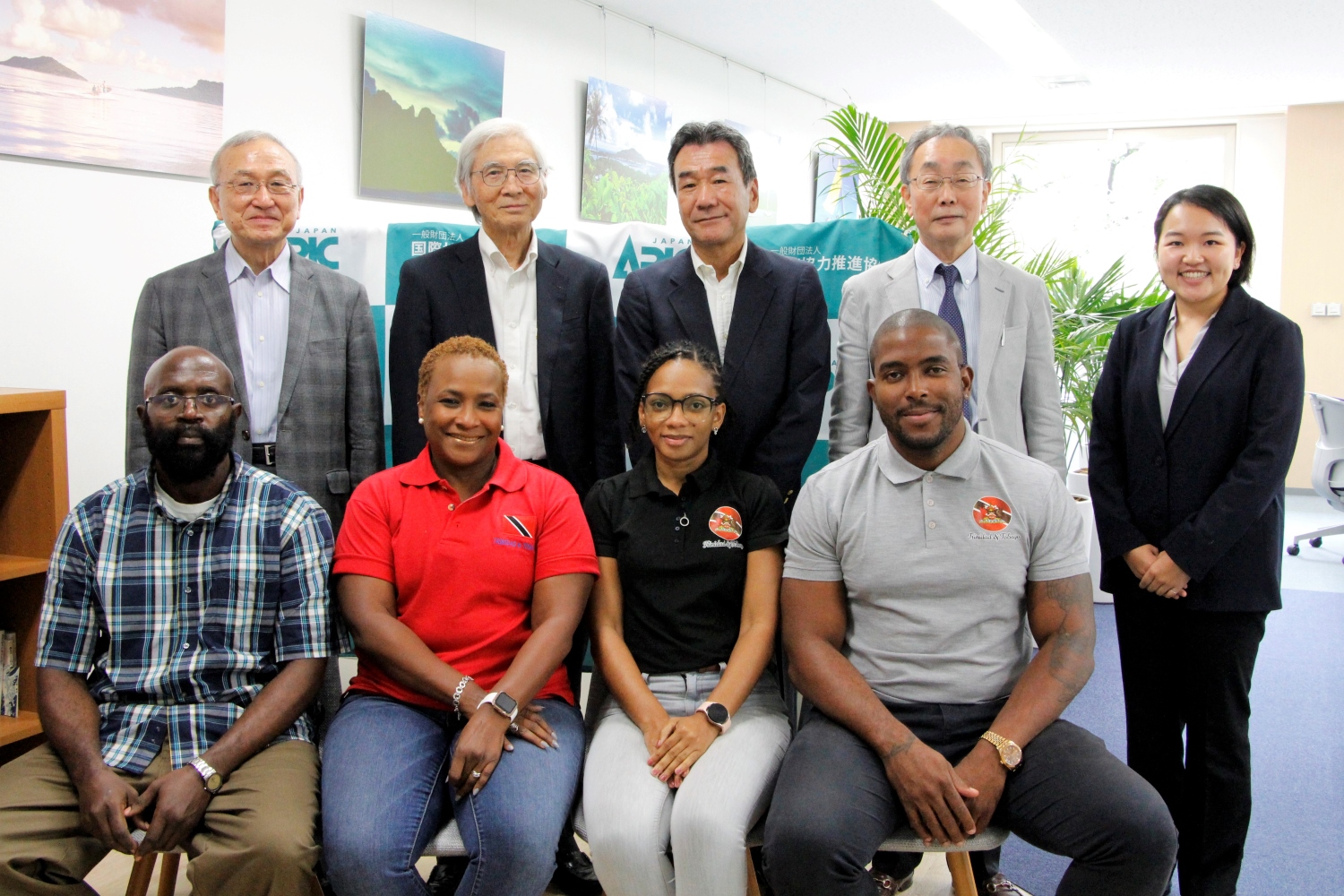 (Visiting the APIC office)
On the morning of the 26th the group visited the APIC office for the program orientation. Ms. Collis was quoted as saying "We are hoping this visit would bring some exposure to enable us, from the policy side, to utilize as a guide for the operations to implementing projects to deliver meaningful, resourceful measures for sustainable recycle and reuse. We are really excited to be here, and we're really looking forward to taking back lessons learned." In the afternoon the group took a tour of a waste disposal facility in Hikari-ga-Oka, Nerima Ward in Tokyo. There the participants learned about the current state of Tokyo's garbage collection; during the Q&A session, many questions arose such as how to separate trash upon collection, who bears the cost of collecting garbage, source of power generation of incinerators, etc. Afterward, the group visited Alfo Jonan-Jima 2nd Feed Recycling Center. This company takes food scraps from businesses and turns them into animal feed for profit. Participants took an interest in how the entire system, from electricity, production, conversion process, to non-waste producing cement, does not produce any amount of waste.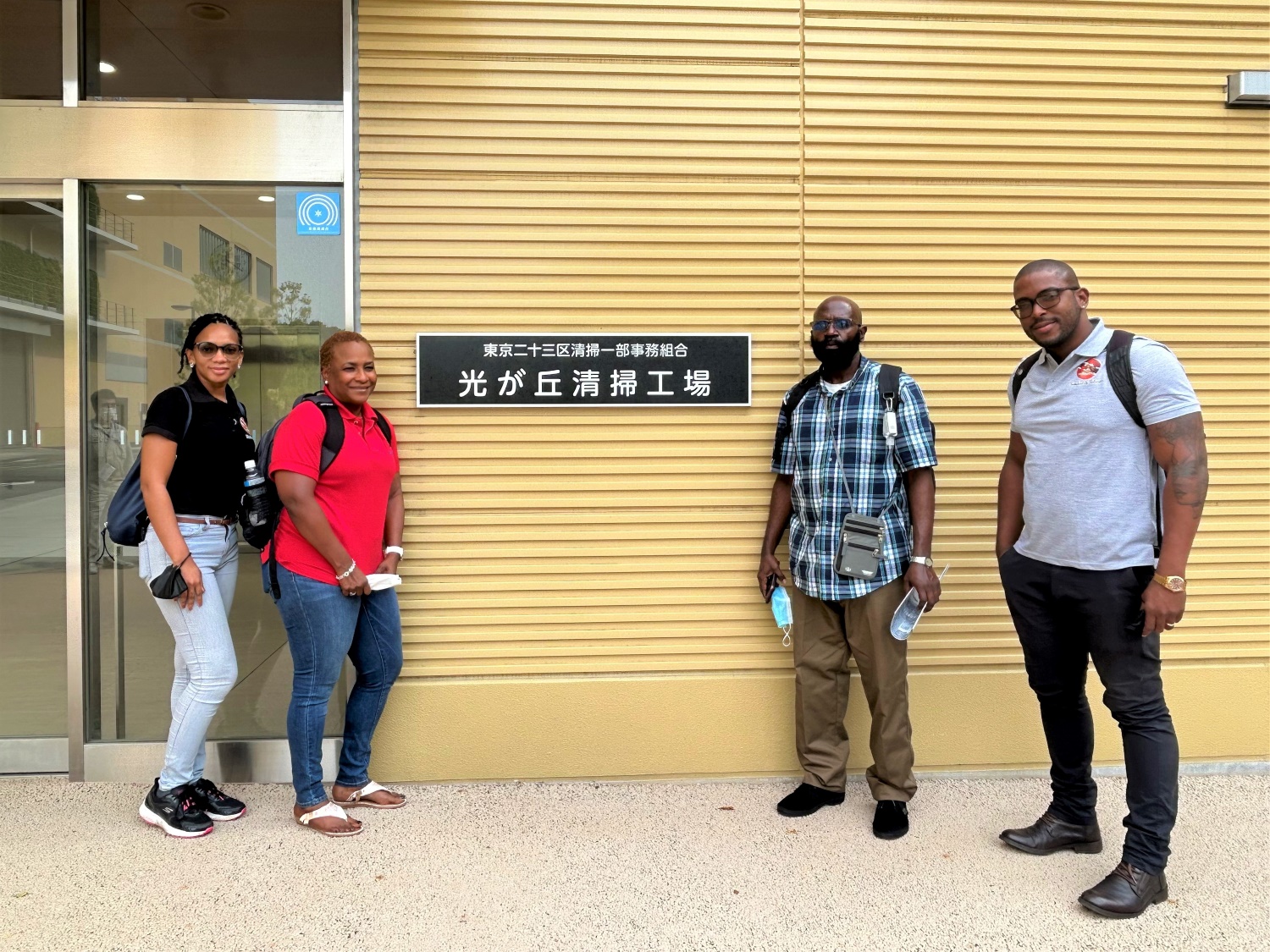 (Visiting the Hikari-ga-Oka waste facility)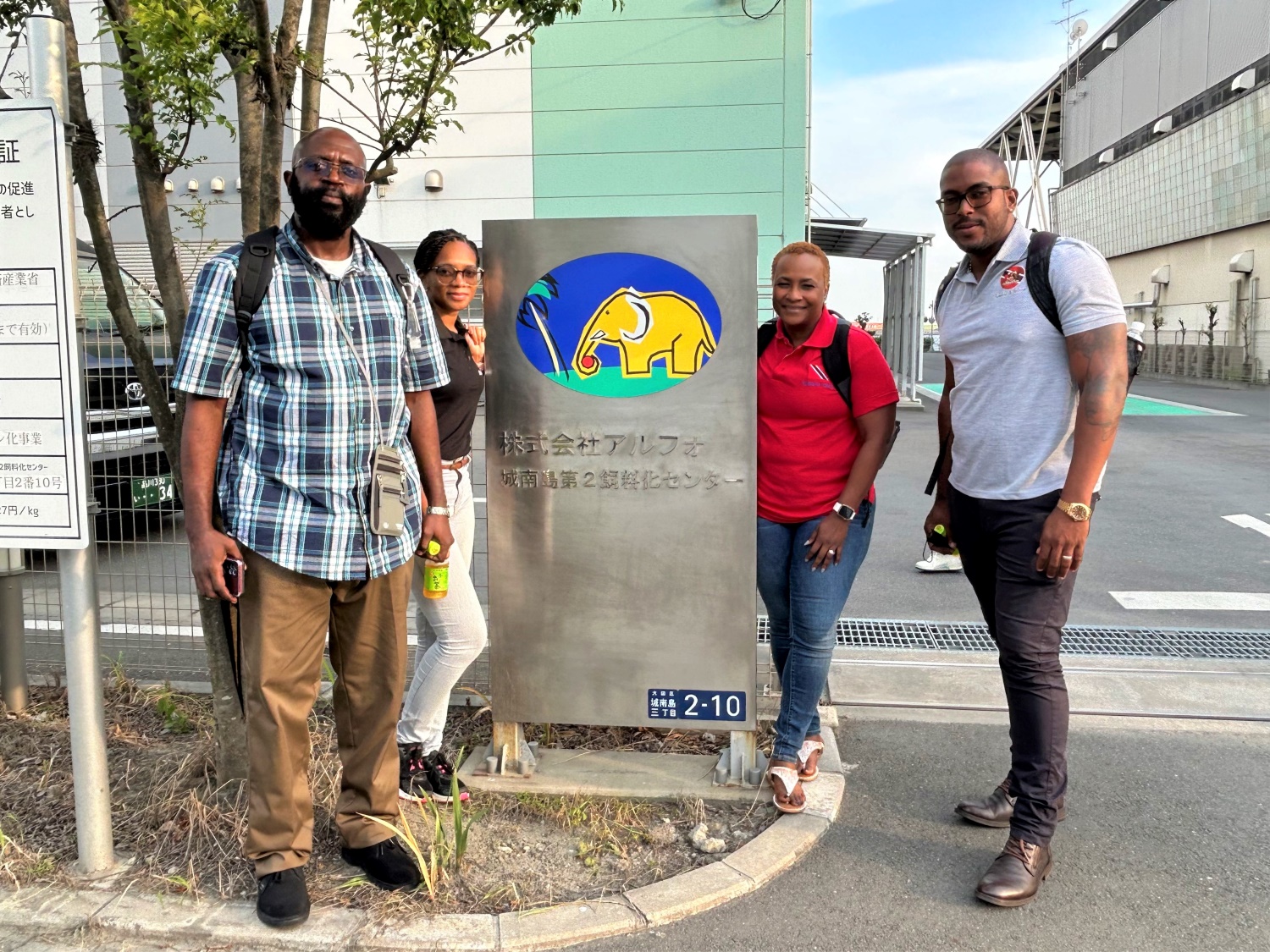 (Visiting Alfo Jonan-Jima 2nd Feed Recycling Center)
On the following day, the group left for Osaki Town in the southern Kagoshima Prefecture where they paid a visit to a final landfill site. There are cases where trash is stacked seven meters high in Trinidad and Tobago; participants could not hold back their shock, exclaiming "This is like a dream!" in reaction to the minimal amount of garbage in the landfill, the little-to-no smell and absence of flies. Following the landfill tour, the group visited a resident's home and saw first-hand how they separate their trash. Osaki Town separates their trash into 27 different categories; the group was surprised at how detailed the separation of waste is as well as the community's waste management and collection methods. Afterward, the participants received a lecture regarding Osaki's recycling system followed by a Q&A session where many thoughts regarding the day's tours and questions regarding Trinidad and Tobago's waste management challenges came to front.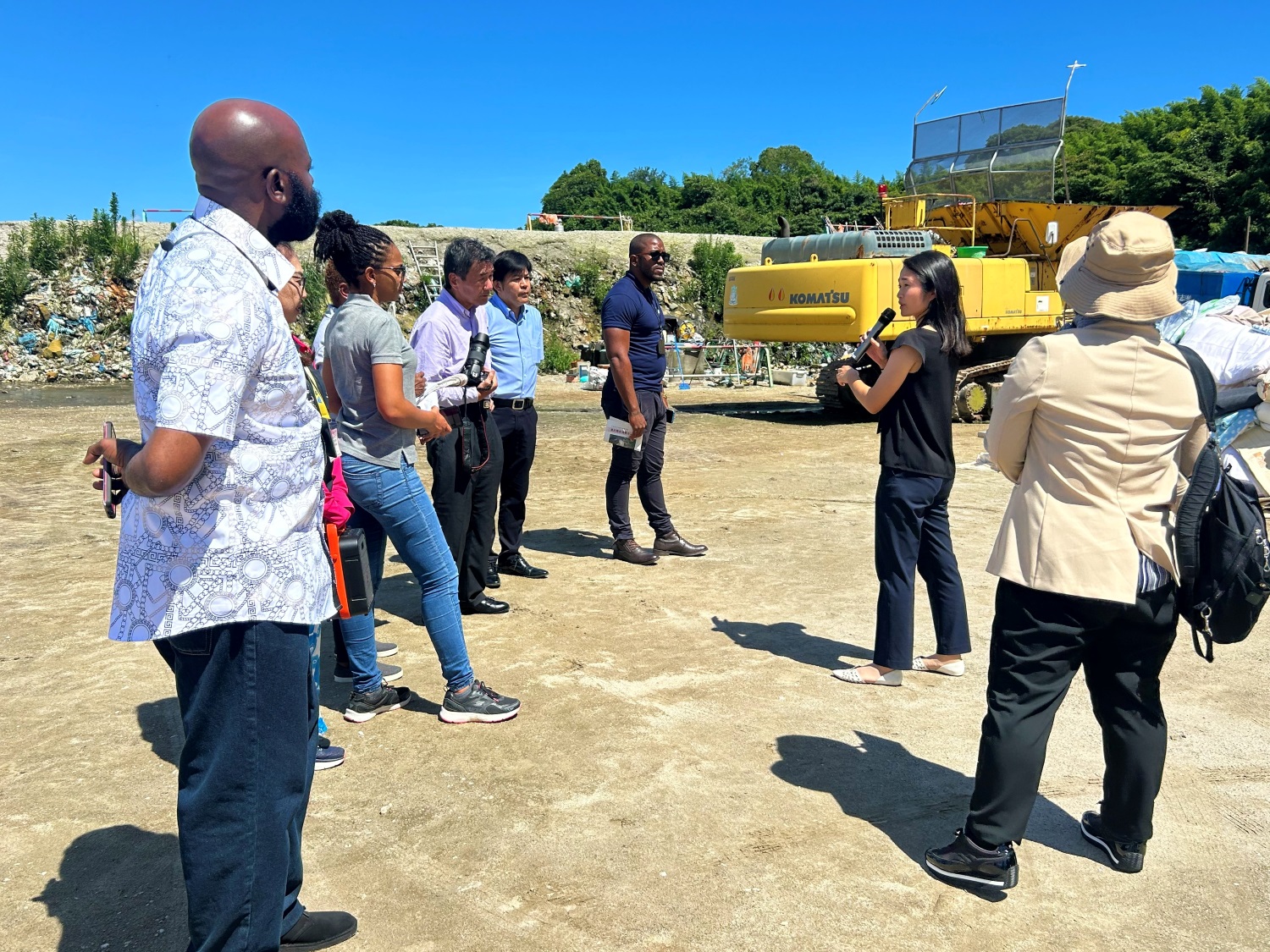 (Visiting waste disposal site)
The group paid an official visit to the Mayor of Osaki, Mr. Yasuhiro Higashi, at the town hall, receiving a warm welcome. Afterward, the group headed over for a tour to So Recycle Center and Matsuyama Organic Factory where participants got the chance to compost trash and learn about the structure hands-on.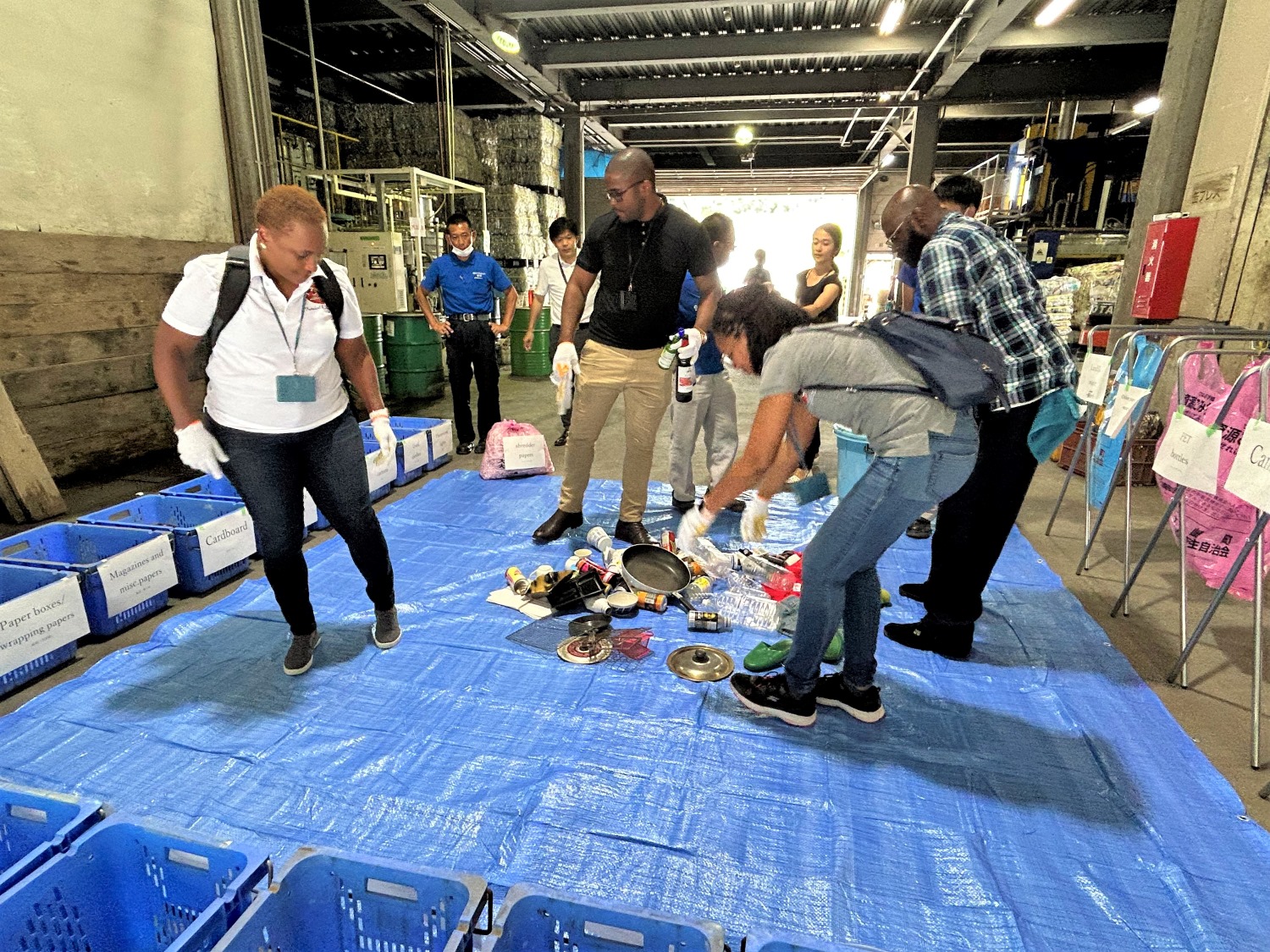 (Recycling waste into 27 categories at So Recycle Center)
On the 29th, participants visited Osaki Junior High School where they experienced Japanese school lunch, and together with students rinsed, opened, and dried used paper milk cartons. They were surprised to see "waste stations" at the school where garbage was also divided into 27 categories, commenting that education from early on was also important. In the afternoon participants created action plans that addressed ways to solve waste problems in Trinidad and Tobago. It appeared that there was some trouble creating a mutual action plan between the ERPPD and implementing agencies due to differences in status, but a concrete plan detailing mid-to-long-term goals and how to achieve said goals materialized by the end of the workshop. Various plans were created, such as introducing new legislatures, improving cooperation between sectors, strengthening resident efforts, and educating pupils on waste management. Osaki officials were impressed with the ideas that came out of the session, and offered detailed advice for things such as technology and legislation.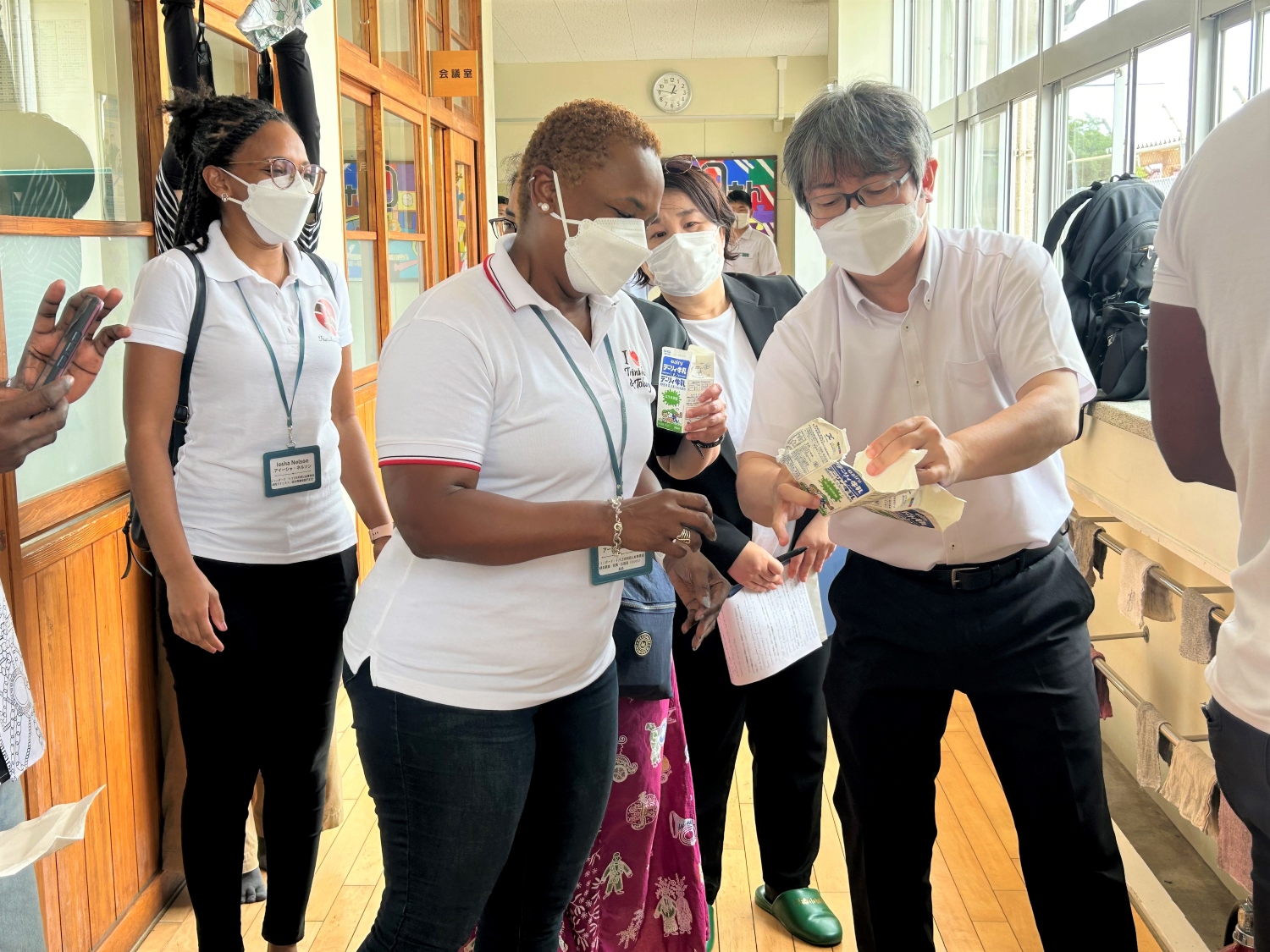 (Washing and separating milk cartons at Osaki Jr. High School)
After finishing their three-day training in Osaki Town, the group returned to Tokyo for some sightseeing and a dinner party hosted by APIC President Shigeie. Each participant gave a short presentation expressing their thoughts and outcomes from their time in Japan. Comments ranged from surprise at community efforts of waste disposal in Osaki and the cleanliness of the landfill to how they are looking forward to taking back knowledge gained to encourage cooperation between the government and private companies back home in Trinidad and Tobago.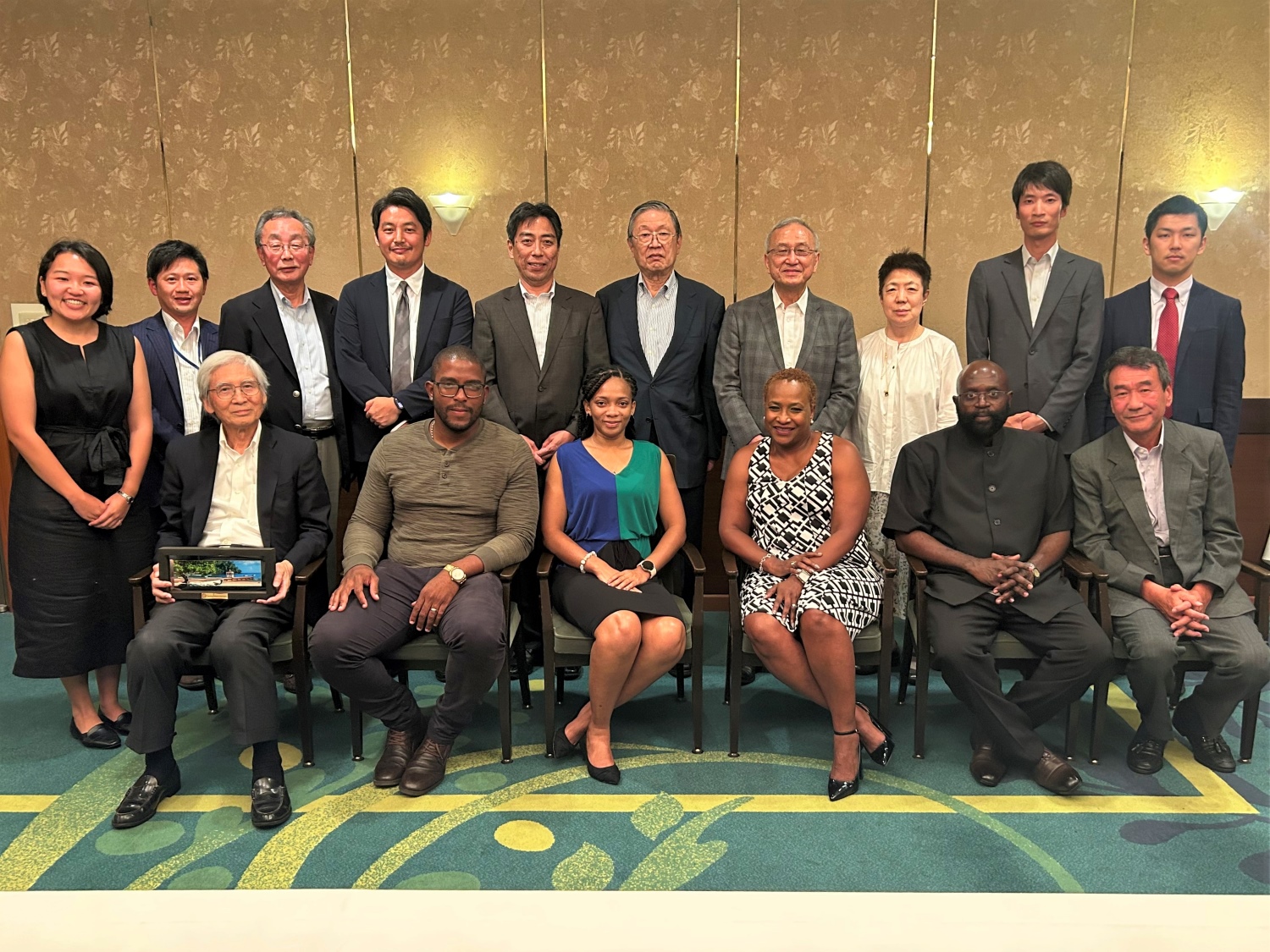 (Dinner party hosted by APIC President Shigeie)