University of the West Indies Cave Hill Campus Principal Invitation Program
2022.5.2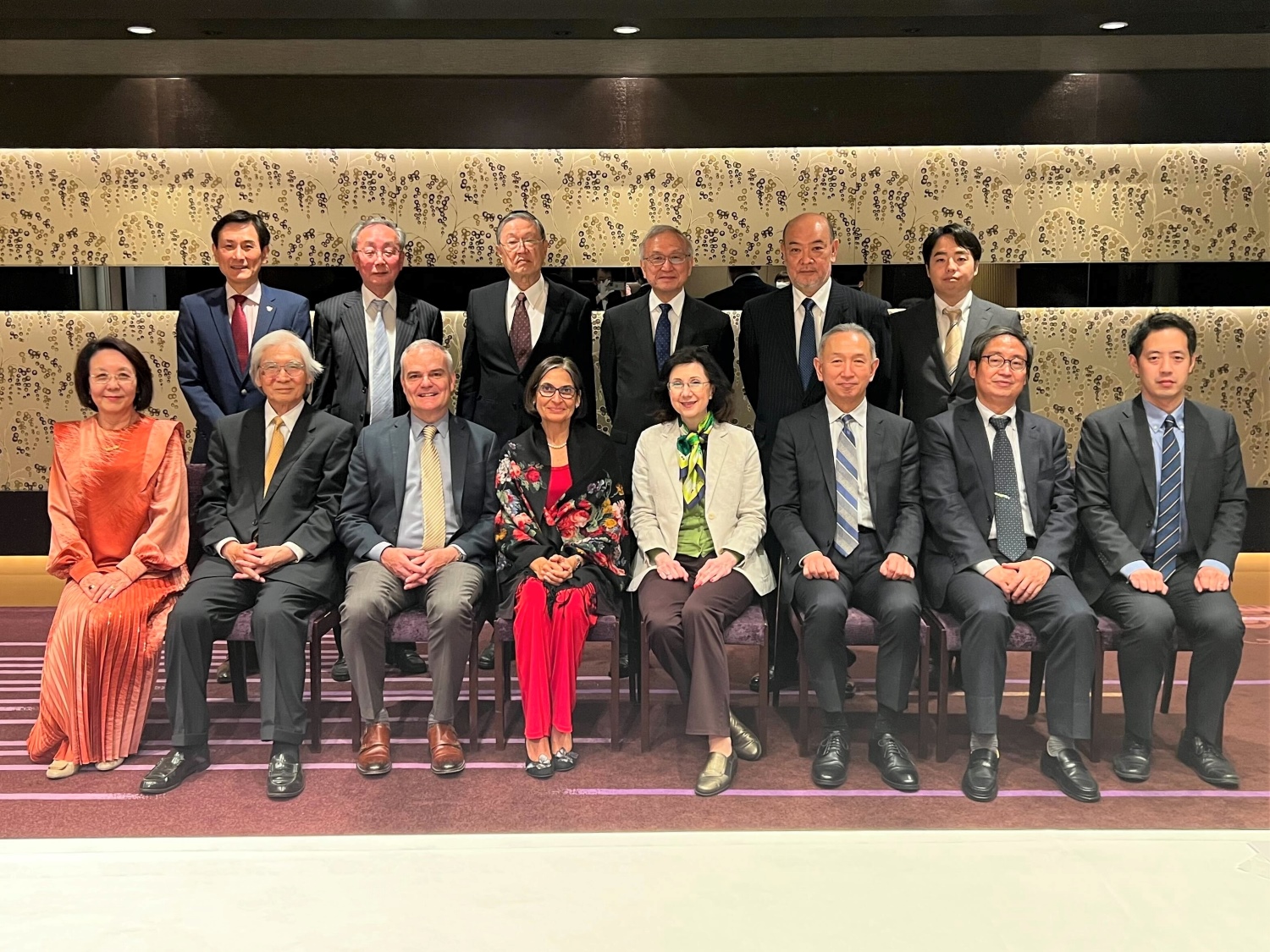 (At dinner party hosted by APIC President Shigeie)
APIC hosted Professor Robert Clive Landis, Pro Vice-Chancellor and Principal, of the University of the West Indies (UWI) - Cave Hill Campus, Barbados from April 12th to 18th, 2023. Based on a Memorandum of Understanding for Academic Cooperation between UWI and Sophia University, Professor Landis gave a lecture at Sophia University. As he is also a medical doctor, he paid a visit to Keio University School of Medicine and Kyoto University's Center for iPS Cell Research and Application where he and researchers discussed and exchanged opinions on relevant topics. His wife accompanied him to Japan, and it being their first time to visit Japan they made sure to do some sightseeing. As gardens were a special interest, the couple visited gardens and botanical gardens in Tokyo and Kyoto. This is the second UWI Cave Hill Campus Principal Invitation Program; the previous invitation took place in June 2017 with APIC hosting then-Principal Violet Eudine Barriteau.
In the morning of the 13th, Professor Landis met with Professor Anne McDonald, professor of the Graduate School of Environmental Studies (GENV) and Director of the Island Sustainability Institute, Sophia University. They discussed the effects the COVID-19 pandemic had on students' research activities, the challenges climate change poses (it just so happened that on the exact same day yellow sand from China was blowing over into Japan, and dust from Africa was flying over to Barbados). Professor Landis also received a brief outline of the work of the Island Sustainability Institute.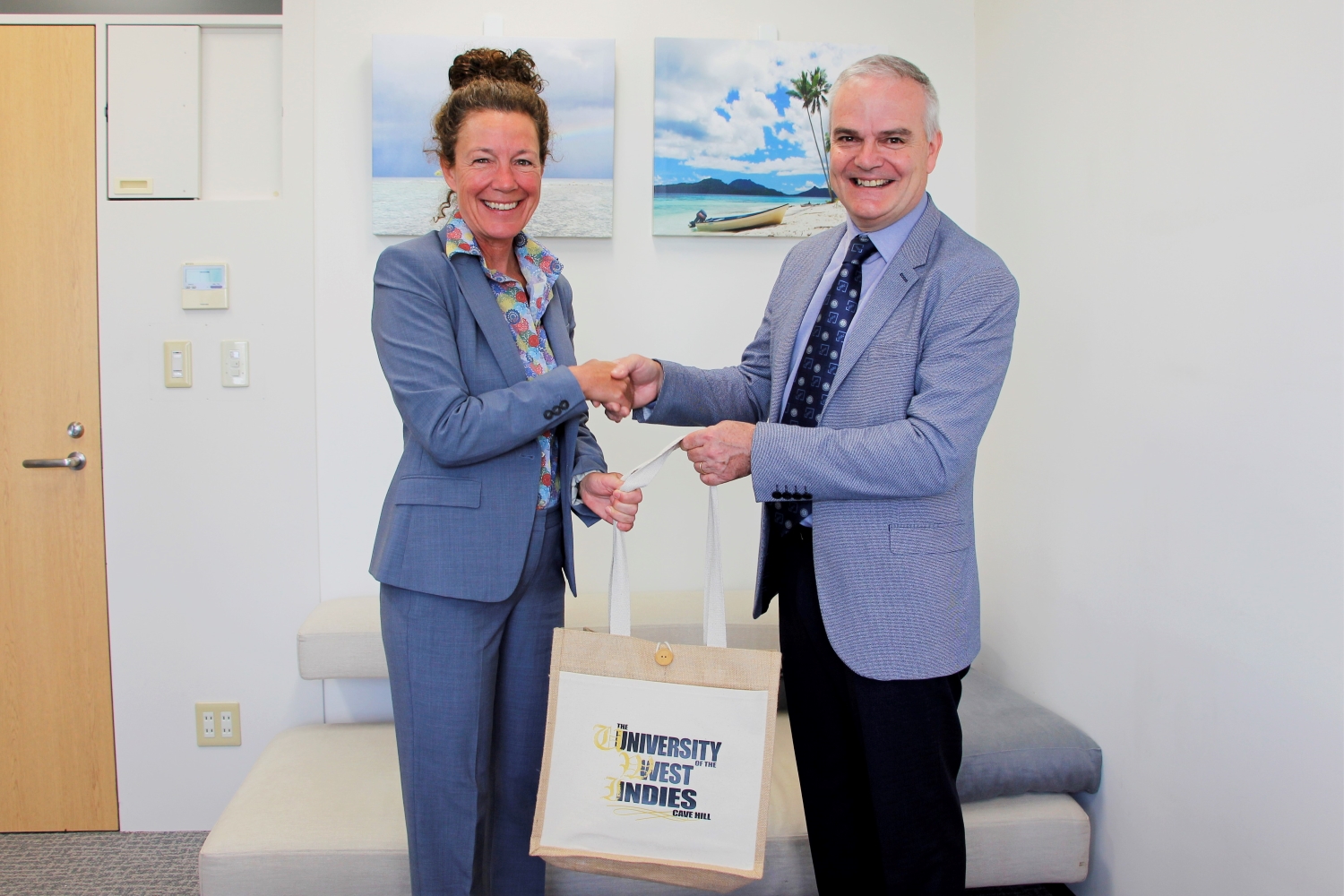 (Professor McDonald (left) and Principal Landis (right))
In the afternoon, Professor Landis was the keynote speaker in a special workshop held by GENV under the joint auspices of the Institute for Studies of the Global Environment, Sophia University, the Island Sustainability Institute and APIC, highlighting the features of the Caribbean Islands. His presentation included the following three topics: 1. Non-Communicable Diseases (NCD; chronic diseases such as cancer, diabetes, cardiovascular diseases, respiratory diseases, mental health problems etc. brought on by unhealthy eating habits, lack of exercise, smoking, excessive drinking, air pollution etc.) 2. Climate change, and 3. COVID-19. Following his presentation, GENV Director Huang gave a report on climate-change induced flood prevention measures, and lastly a panel discussion took place. One of the panelists was APIC Executive Director Shoji Sato, who posed the question regarding use of sargassum (sargassum is a large mass of a rootless type of seaweed that due to climate change is continually increasing in size and weight, mainly inhabiting the Caribbean Sea. It has garnered attention lately due to its negative impacts on local habitats). Around 60 to 70 participants, mostly GENV students, took place in the panel discussion, providing for an active Q&A session.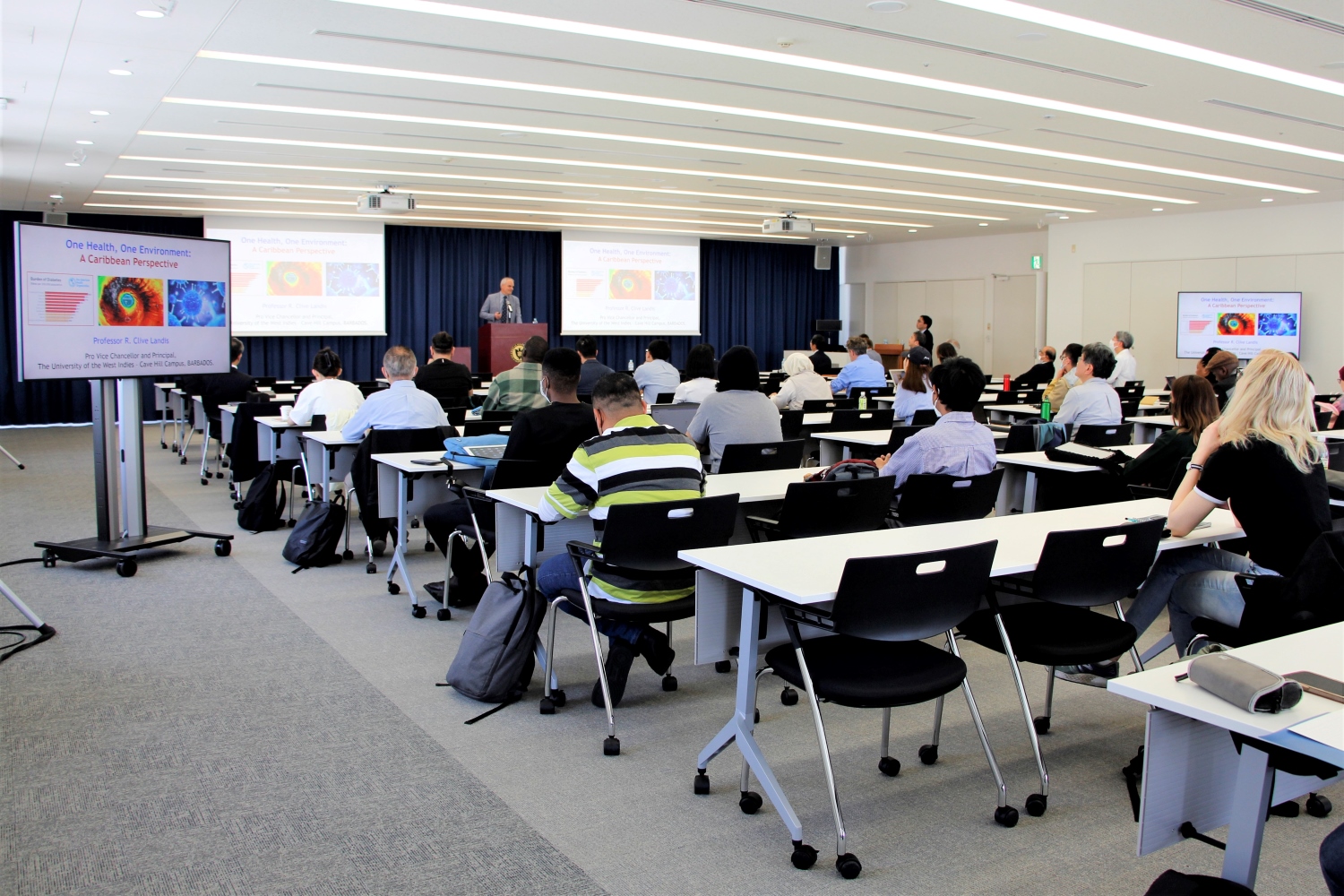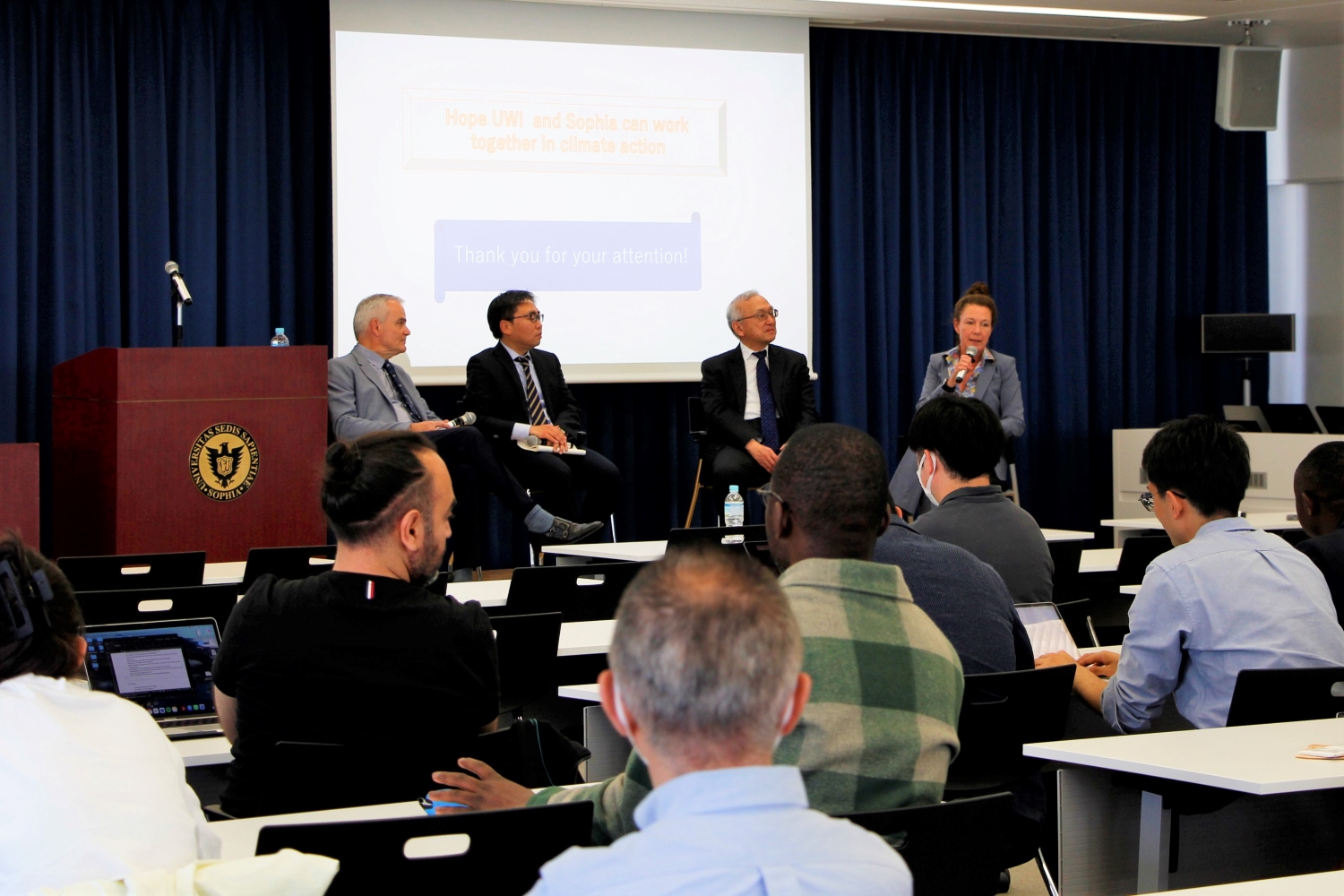 In the evening, APIC President Shigeie hosted a dinner party for the guests at Josui Kaikan Hall.
In the morning of the 14th, Professor Landis visited the Kitasato Institute Kitasato Memorial Museum where he received explanations of the various photo panels of viruses and bacteria, and the cause of stomach cancer, helicobacter pylori (he was also a cancer researcher prior to becoming Principal of Cave Hill Campus). He displayed great interest in the history of bacteria and virus prevention and treatment in Japan from the Edo Period until now, which was displayed in detail using visual aids. Professor Landis also learned about Shibasaburo Kitasato, the founder of the Institute, and took the English pamphlet about Kitasato back with him for a more careful read.
In the afternoon Professor Landis visited Keio University School of Medicine and talked with COVID-19 Protection Measures Leader and Senior Assistant Professor Ho Namkoong, Senior Assistant Professor Yoshifumi Uwamino, and Assistant Professor Masaru Takeshita, who each gave a presentation on COVID-19 prevention measures and an analysis of the results of said measures. Professor Landis was also involved in COVID-19 prevention measures in Barbados as a doctor, leading to an academically stimulating conversation between the four medical professionals. After the meeting, Professor Landis and his wife visited the Shinjuku Gyoen National Garden, taking a stroll through the expansive gardens.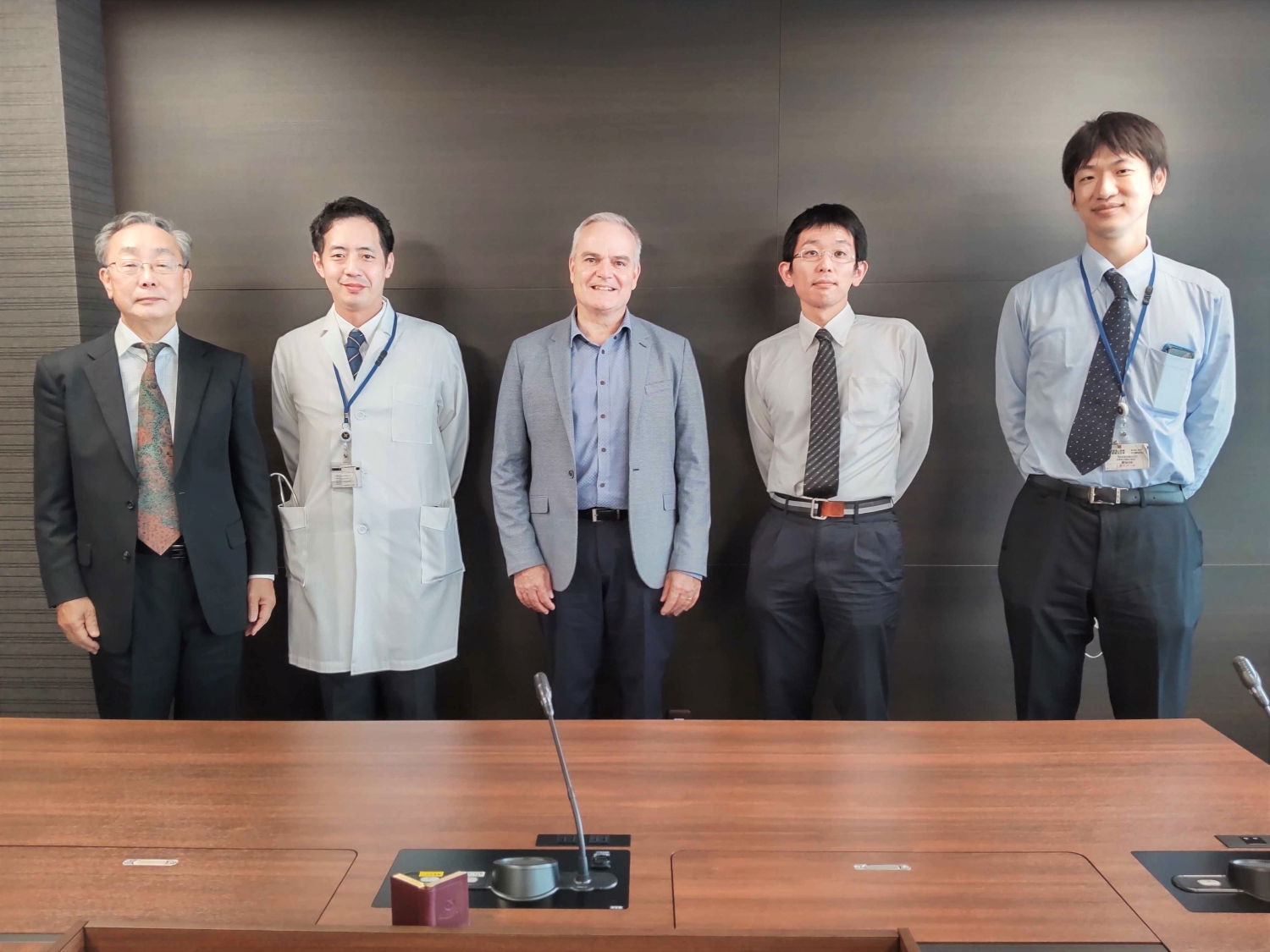 On Saturday the 15th the group traveled to Kyoto, visiting the famous Byodoin Temple in Uji where they saw the large-scale bronze statue of Buddha in the Phoenix Hall. On the way back to the hotel they learned about Chionin Temple, Heian Shrine, the Gion geisha district, and the Kamogawa River.
On Sunday morning the Landis' visited the Kyoto Botanical Garden where they took their time appreciating the Japanese Garden among others, taking time to stop and admire the plants and flowers and snap a few photos. They hoped to use what they had seen as inspiration for their garden back home in Barbados.
In the afternoon they visited Sanzenin Temple and Jakkoin Convent located in Ohara, a rural area north of Kyoto. Located well out of the city center, Ohara lets visitors feel first-hand the quiet natural beauty of Kyoto's temples and shrines. They tasted
tsukemono
, or Japanese pickles, and liked them well enough to take some home with them, along with a package of famous Kyoto tea.
After a walk through Heian Shrine in the morning of the 17th , Professor Landis visited Kyoto University's Center for iPS Cell Research and Application. At the Center he met Junior Associate Professor and Head Researcher Kazuo Takayama. Takayama talked about his difficulties in extracting the iPS cells, and explained how iPS technology can be used to treat people with genetic diseases, such as diabetes and liver diseases. In addition, Professor Landis asked Professor Takayama about COVID-19-related measures, exchanging opinions on a wide range of topics during their meeting. Afterward, Professor Landis was shown around the facilities, viewing the incubator which produced the world's first iPS cell, as well as visiting the office of Director Emeritus and Professor Shinya Yamanaka. He was very moved by what he saw, making the visit to Kyoto even more worthwhile.