News from Haiti: Vol. 10 part 2: Haiti and Japan
  Japan-Haiti Relations (Focusing on Economic Cooperation)
Contributed to by the former Japanese Ambassador to Haiti, Mr. Yoshiaki HATTA
(Water and Sanitation)
I mentioned this in my previous column, but water is an extremely important and basic element for life; however, this is a continued challenge for Haiti. The three coessential components of a) guaranteeing access to potable water b) access to sanitation facilities such as toilets and sewage and c) proper knowledge, are the foundations of a 'healthy life', which is common sense for many of us; however, it is a reality that there are countries and regions which do not have access to these.

In Haiti, the Ministry of Public Health and Population and Direction Nationale de l'Eau Potable et de l'Assoinissement (DINEPA) and other organizations are working together to implement a multi-nation cooperative program called WASH (Water Sanitation & Hygiene) which is being actively promoted in various regions. In particular, the transmission of infectious diseases due to drinking unsanitary water is caused by the lack of supply of sanitary drinking water, plumbing, sanitary treatment, as well as a lack of appropriate knowledge and its implementation. This not only makes it a hotbed for infectious diseases, but also leads to the cholera problem, which I will talk about further on.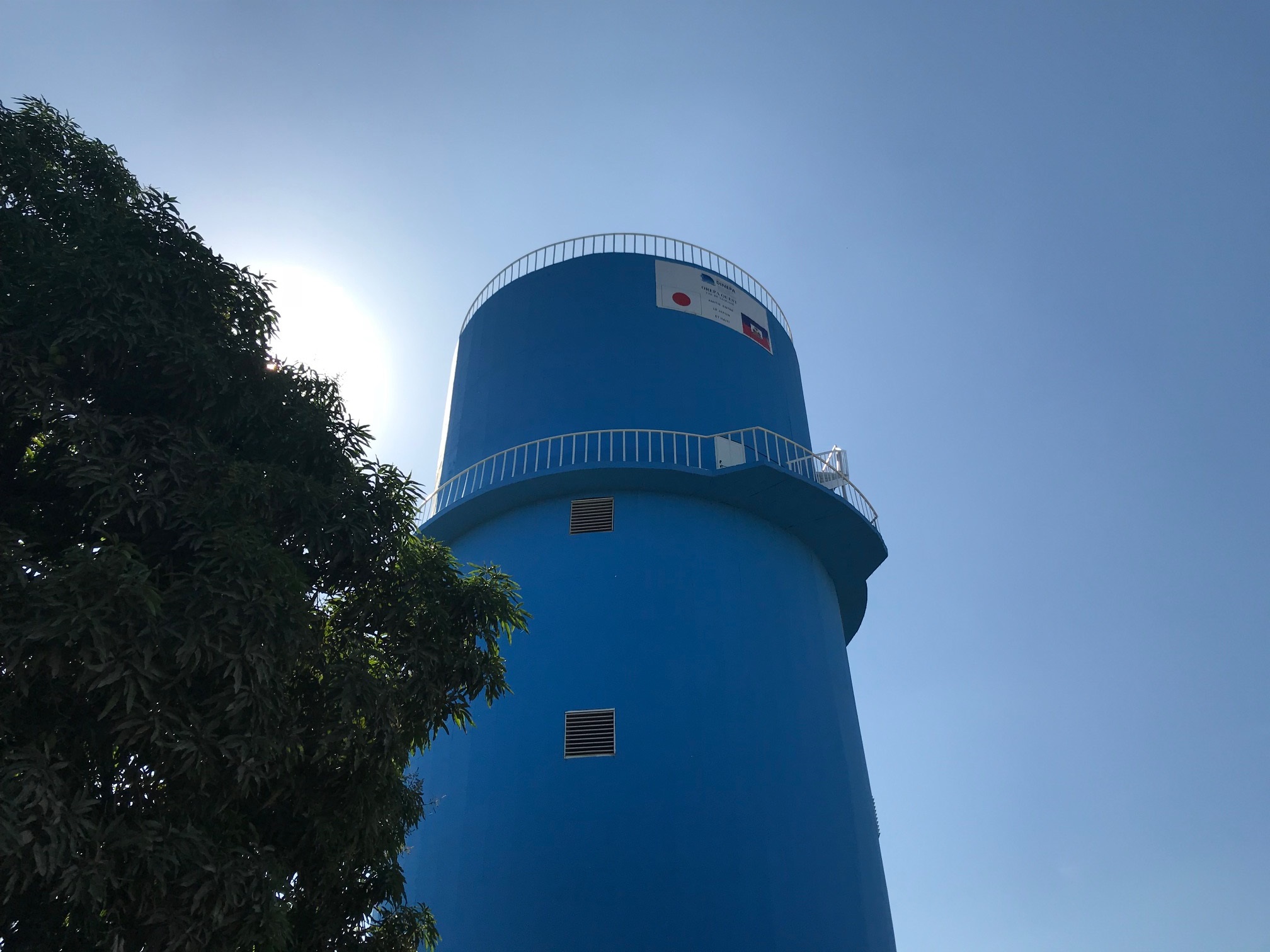 (Finished water tower in the town of Léogâne)
(Reconstruction Assistance in the town of Léogâne)
The nation's capital Port au Prince is not equipped with waterworks, and is also lacking sewage facilities. However, not too far away in the city of Léogâne used to exist a waterworks system. It sustained severe damage in the 2010 earthquake, and Japan is now involved in a project to not only rebuild but also strengthen the function of the system to cover most of the city. JICS (Japan International Cooperation System) is also managing this project, which consists of taking water from the source, maintaining the large water supply tower, laying and refurbishing major pipelines, establishing a water supply system for each household, and in order to switch to a self-sufficiency system, installing meters in each household.
There are a few things to pay attention to, and they are not limited only to waterworks. In countries such as Japan the 'user principle' is definite (for example, electricity, waterworks, use of medical care, etc.); in other words, users pay a fee for the amount they used (this amount also includes infrastructure investment and maintenance fees). On the other hand, in Haiti, apart from some urban areas, this system is either under-developed, or residents would not go as far as paying for such services, and in some cases, it is considered a free service. The essential idea and system (identifying users and collecting dues, existence of a manager, etc.) for a 'sustainable' management with minimal labor costs for the maintenance of each infrastructure (securing expendables, daily repair, support with exchanging devices with accumulated build-up, etc.) are not established. It will take a lot of time and effort, and it will be a very slow and steady path in order to gain the understanding and change the mindset of the local residents, who are the end users, as well as to implement the system. It is best to reach a steady realization of the basic principle that is the basis of other fields for sustainable development.
(Education)
I am not here to talk about the importance of education as a prerequisite to all social and economic activity, but in terms of Haiti and the category of cooperation in the fundamentals of the social sector, the education sector occupies a significant meaning. The education sector is set of all elements and makes meaning as a whole, such as starting from infrastructure of schools and schoolhouses, human resources/teachers, a curriculum and structure, and text book/school supplies etc. Just like the medical field, the educational field is a challenging one with a lot of motivation and significance but is hard to feel immediate results; however, I believe it is a sector that is extremely essential in terms of building the country's and society's base.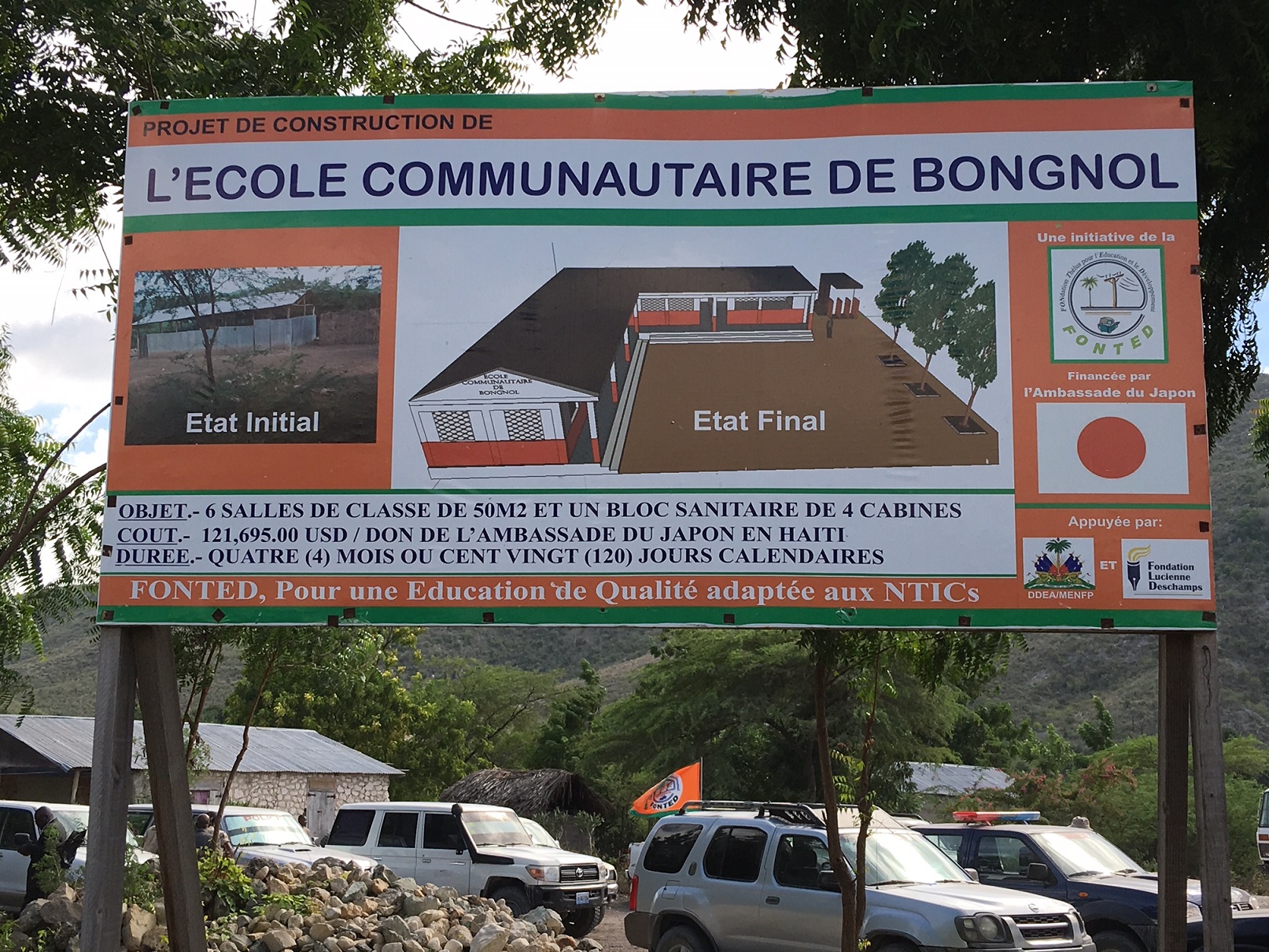 (Sign, built with Grassroots Human Security Grant aid, indicating construction plan of local elementary school)
(Assisting through Grant Assistance Project for Grassroots Human Security)
A relatively familiar form of cooperation is where Japanese embassies directly allocate the Grant Assistance for Grassroots Human Security Project, a part of the ODA scheme (further referred to as GGP) to directly support local Civil societies such as NGOs and municipalities.
Due to the fact that GGP is not a government-to-government support framework, and also since there is a limit to the amount, it is relatively easy to go through with projects in a short time. This is one of the reasons why there are many requests for GGP given to the Japanese embassy, and many of these requests are for the construction of schools. Before signing a contract with an organization seeking a grant, the embassy considers the organization's achievements, credibility, financial stability, motives, the necessity of carrying out the project, who the beneficiary will be, the sustainability of the project, etc. Through this process the embassy chooses projects that match the criteria and that can be accommodated under the fiscal budget. After the contract is signed, funds are given per project plan, and it is seen out until completion.
In general, GGP grant can cover a school in a regional community base (village, area, etc.) that has six classrooms, a teachers' room, and restroom in a separate building within its financial limits. There are many cases where applicants already have a school, usually borrowing land from a church, but the building is severely deteriorating and is in need of a roof, or it has a roof but no walls etc., and the poor educational environment has caused parents to come together to ask for a grant.
Even though it might be obvious in Japan that even though an elementary school is small, it can accommodate a few hundred people at once, and careful thought and planning is given to its construction so that in times of natural disaster it can double as an evacuation center; during election times it acts as a polling station and home base for electoral bureau; during normal times it can act as a gathering place; while classes are not in session the space is used as a job-training space. These types of plans have been made to rural areas that are lacking infrastructure so they can obtain more uses out of just one space. In terms of health and sanitation, schools are important places to give health education. With schools in mind for the center of the previously-mentioned WASH program, careful planning has been done and suggested to the project owners to include the hand-washing system (water storage tank and separate hand-washing station) and constructing slopes for the easy access.
(Cooperation through Grant Assistance)
In addition to direct funding to the above-mentioned organizations, large grants are made to the education sector as part of government-to-government support. This mainly applies to primary education, but the construction of large scale schools compared to GGP projects are now underway in Centre Department and Artibonite Department. These schools will provide a good-quality educational environment, plus provide a sturdy building that is highly earthquake-resistant and showing high resilience to the natural disasters. The consultant on this project is also Yachiyo Engineering Co. Ltd., and will be constructed by Tokura Corp. We cannot wait to see the completion and use of these current projects.
(Technical Cooperation)
Japan is not only investing in infrastructure, but it is also developing a technical cooperation program in mathematical education in terms of developing educational methods which will contribute to strengthen the ability of students in specific areas of education and creating learning materials to fit Haiti's circumstances. Mathematics are, as you know, not only meaningful in daily life, but play a critical role in economic activity, and are important in directly connecting this ability to the development of the country.
In connection with this, experts in the education field take a sample of elementary school students in projected areas and test their current academic ability, comprehension ability, etc. and after forming an initial priority, create basic educational materials based on the results, working closely with the Ministry of Education and in line with its curriculum to improve students' mathematical skills.
(Farming & Foodstuffs)
  Haiti is an agriculture-based nation, but the potential, surrounded by the ocean for a flourishing fishing industry, is not necessarily being used to its fullest. Looking at the farming sector, in the past Haiti had a high self-sufficiency rate of rice, but due to a relief measure that lowered the import tax of rice and allowed a large inflow of foreign rice into the country, the self-sufficiency rate has decreased. Currently, effort is being made to increase domestic supply and self-sufficiency.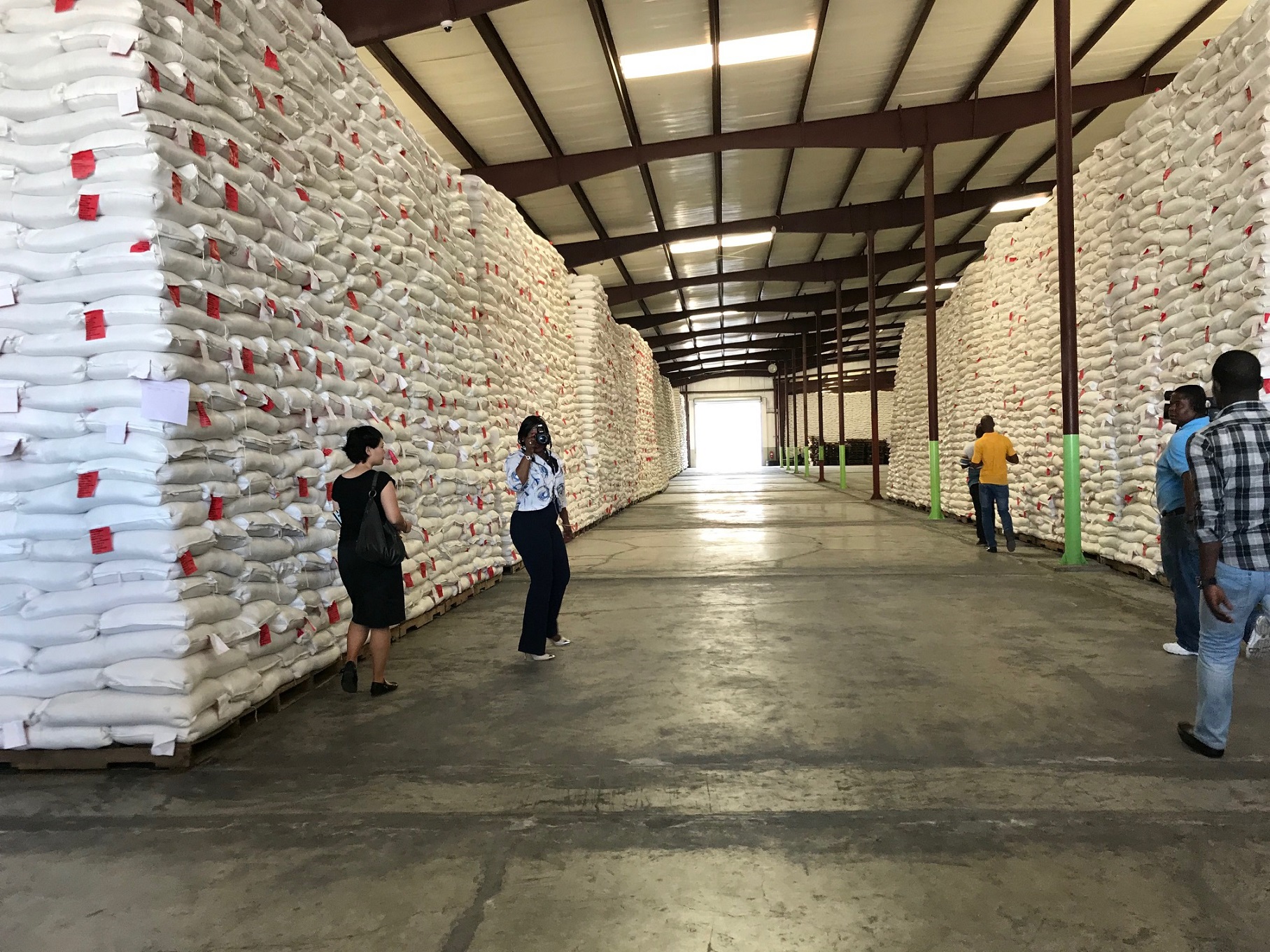 (Food aid: Bags of rice in the storage facility at the Handing-over Ceremony)
Japan has a lot to share in the foodstuff and farming sectors as well. These past ten years, Japan has been engaged in food aid, specifically rice. Sometimes the Japanese government gets comments such as "you're assisting in importing low-cost rice and selling it for a cheap price but not helping Haitian agriculture" etc., but Japan is providing assistance with the consideration of how to secure foodstuffs under a self-sufficiency rate of less than 50%. Japan's assistance is to suppress the use of foreign currency by the Haitian government in order to achieve a stable supply and to help the Haitian government control the circulation price and sell/provide to markets, and not to spend irresponsibly on making rice free in the markets. The sales from proceeds are accumulated as a fund (the term is 'counterpart fund'), which can be used by government-initiated socio-economic projects. In fact, the funds are used for projects that the Haitian government deems a priority, such as road maintenance in regional areas, repairing and building high schools, and so forth.
Current food aid is the supply of rice, but the Haitian government also voiced their opinion, saying that there is a large need for actually-sustainable farming technology support. Regarding this point, Japan has been continuing the program PROAMOH 2 (Project on Capacity Development of Agricultural and Forestry Technicians in Mountainous Areas in the Republic of Haiti) as part of its technical cooperation project.
In addition to the above activities, from the viewpoint of improving the food self-sufficiency rate and in some cases to accelerate the production of crops for export and increase their competitiveness, Haiti has also said that it is necessary to increase and make more efficient the agriculture sector on a large scale; Japan has used frameworks such as "Non-Project Grant Aid" to assist in the procurement of heavy machinery requested by the Haitian government for this purpose.
(Disaster prevention)
Haiti is an island in the Caribbean Sea, and as it is located in the path of hurricanes, it has constantly been damaged due to such storms. Haiti is easily susceptible to natural disasters such as hurricanes, but also flooding and landslides, small and large, caused by prolonged rainfall, as well as earthquakes and other disasters, thus creating a great need for disaster measures and prevention. Japan is actively involved in sharing its disaster-related know-how and technology to prevent and alleviate damages, which Japan does through its cooperation relations for all nations in the area (CARICOM). With this intention, a new clause on disaster prevention was recently added to Japan's ODA plan, which will be continuously carried out onwards.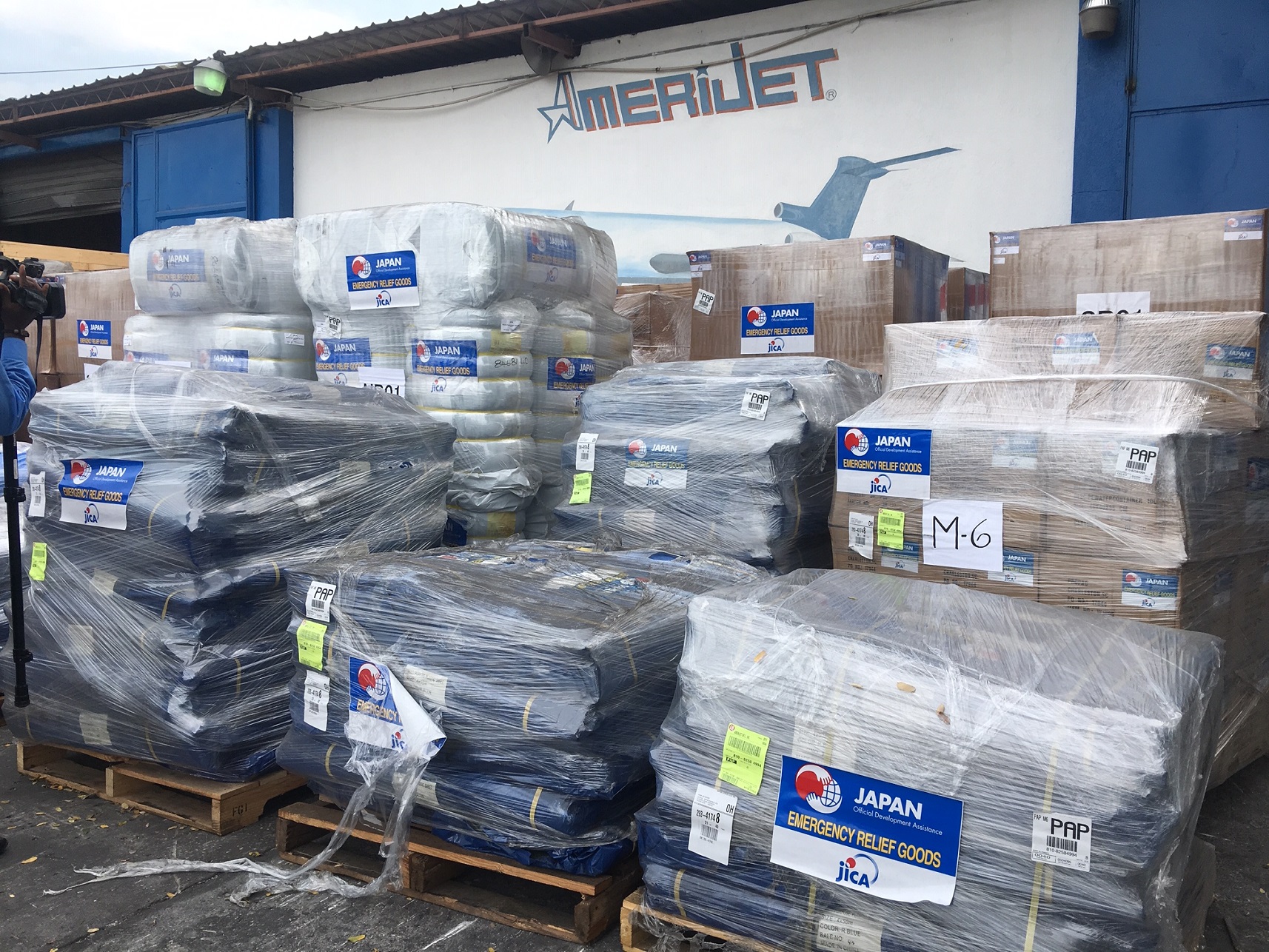 (Japanese relief goods in the wake of Hurricane Matthew, 2016)
Related to disasters, it is important to secure potable water, foodstuffs, medical supplies, shelter, etc., as an ex-post factor assistance; in the case of a major hurricane, Japan, along with other nations, provides emergency support for the affected country.
On the other hand, there is an evident delay in disaster prevention. This largely lies in a lack of knowledge, and therefore challenges are to educate and promote awareness of the people in order to reach all areas, as well as systemize to administrative policies. If these challenges are met, great strides and results will most definitely be seen. Under these circumstances, with international support hazard maps have been prepared, and Japan has teamed up with the UNDP (United Nations Development Programme) to give aid for system management and capacity building.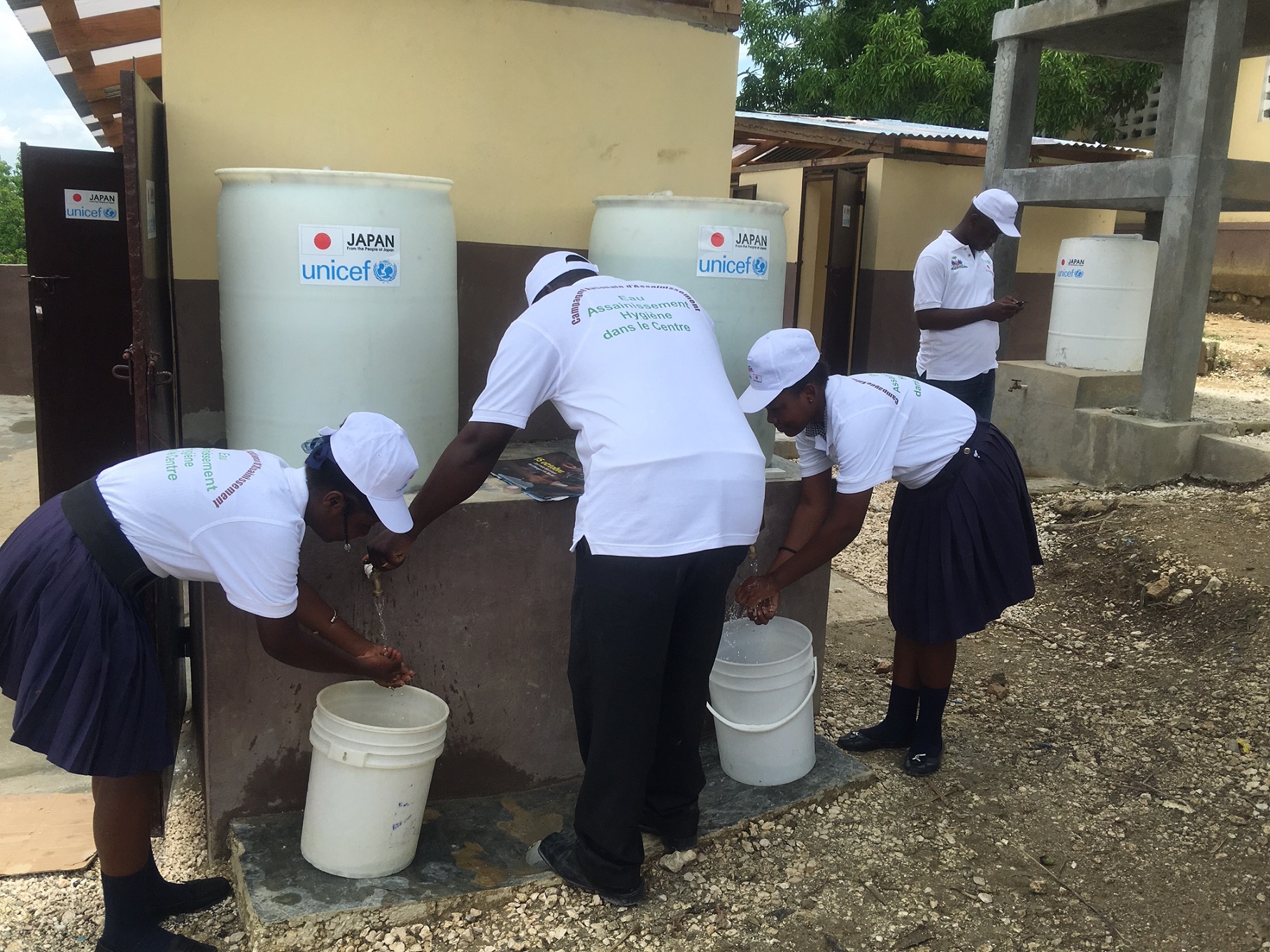 (Working together with UNICEF to promote the WASH program (giving guidance on construction of handwashing station in an elementary school))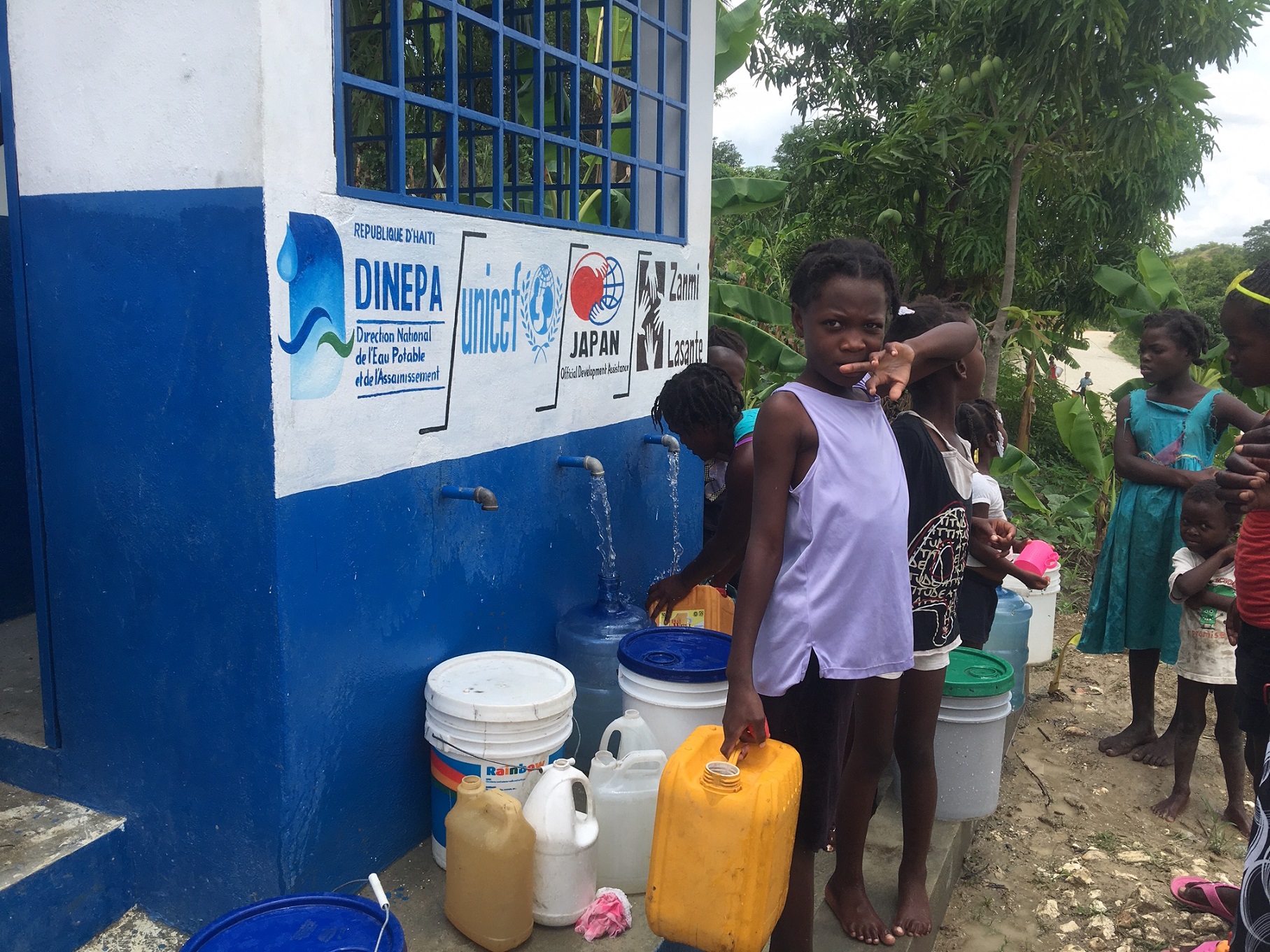 (Working together with UNICEF to promote the WASH program (constructing a public water cistern in a village))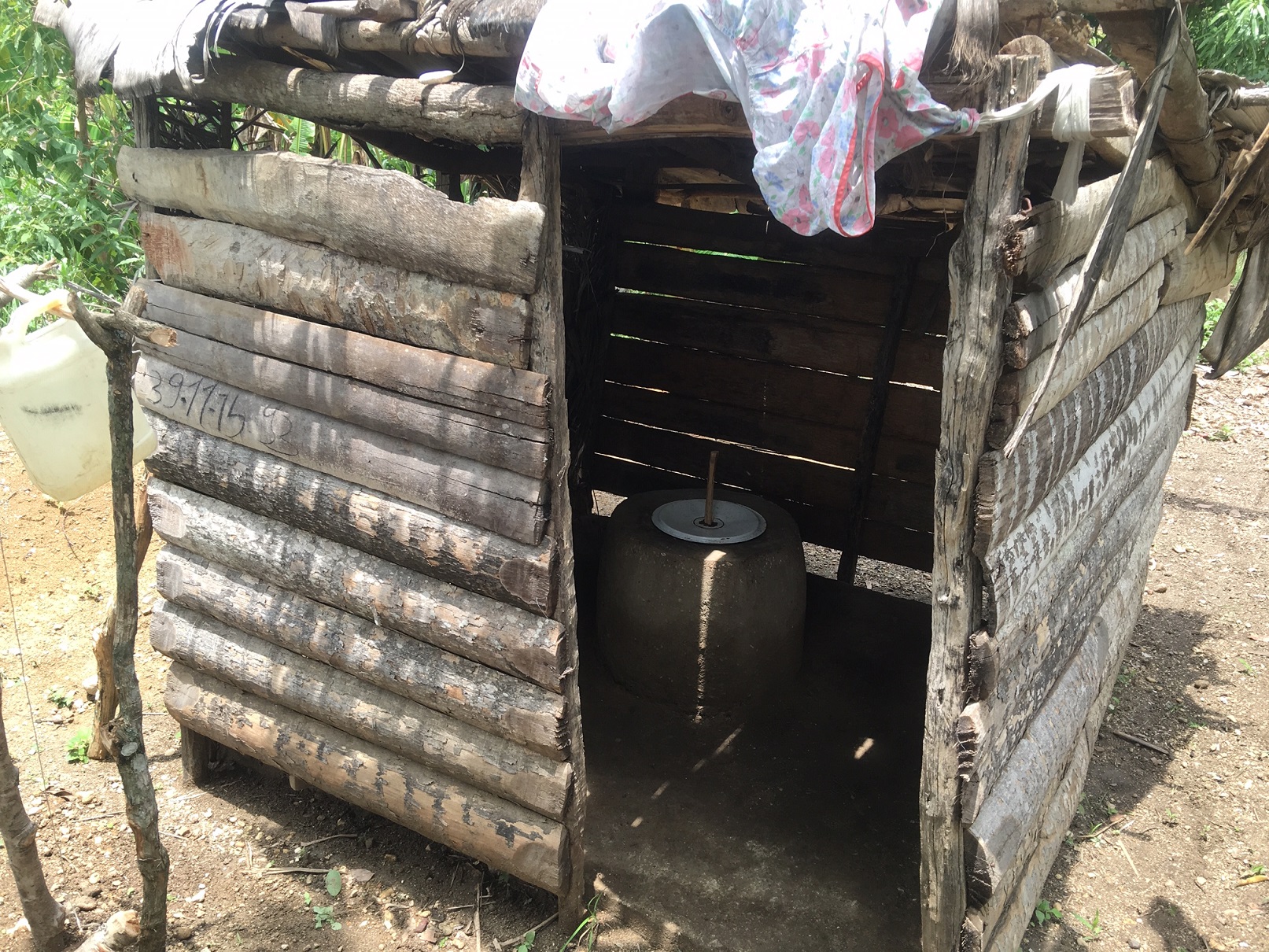 (Working together with UNICEF to promote the WASH program (self-constructed home toilet after listening to the importance of individual household toilets))
(Cholera prevention)
Haiti was not a region plagued by cholera, even if it did have diarrheal diseases. However, the UN's Peacekeeping mission brought with them the disease when they arrived in Haiti right after the 2010 earthquake, stemming from insufficient sanitation in and around their camp. The number of citizens affected by the disease in Artibonite Department increased, and in a short period of time cholera spread throughout all of Haiti, with the death toll totaling over 10,000 (In 2016, the UN under Secretary General Ban Ki Moon recognized the role the UN's PKO played in spreading the disease, promising to give support in reducing the number of cases and to those affected). Furthermore, aside from the initial response, the country already suffered from a vulnerable sanitary situation, and as soaking up the water like a sponge, the highly-infectious cholera reigned down fiercely and widely, continuing for a long time.
The obvious conclusion was the need for international countermeasures, and the demand for an increased scale in related support. One would think these measures include an epidemiological response (treatment, decontamination, isolation, etc.) and the establishment of a preventative environment (securing appropriate drinking water, creating a sanitary environment (toilet and handwashing), awareness program and education). Initially, however, the number of patients and those with related symptoms far outnumbered the number of doctors and others who could help treat and take care of the patients, creating a dire situation. When the demand for aid arose, Japan started drafting a response right away, working with UNICEF and others on an aid program focusing on providing drinking water and sanitary needs, contributing monetary funds. The near-elimination of cholera was possible due to the support of the United States, Canada, and other nations who gave assistance, while at the same time continuing various 3-years mid-term projects, and cooperating right after Hurricane Matthew during the dangerous period to offer concentrated relief effort for the cholera outbreak, as well as the continuous stratified response from emergency teams who took on local containment activities for cases of cholera. Currently, containment activity strategies and Rapid response teams have been successful thus far, and even if a suspicious case arises, it is possible to take immediate action. By reaching the situation close to full control, Haiti has expressed its thanks to Japan for its understanding and support, as well as from UNICEF and the UN.
Experiences in Haiti developing strategies for containing infectious diseases have been praised as examples to be applied when dealing with international epidemic and pandemic measures. I believe it is very meaningful that Japan has participated in creating measures that contribute to the world and to humanity. I continuously hope that one day soon Haiti will declare cholera eradicated from its land.
3. Various methods and actors
I introduced a large range of plans and projects taking place in Haiti which show what needs the country is facing. A majority of the cooperation that I talked about is Grant Aid, Grant Assistance for Grassroots Human Security Project, Grant Assistance for Japanese NGO projects, Food Aid Non-Project (socio-economic development plan) Grant Aid, Technical Cooperation (dispatching experts, receiving trainees, holding seminars, technical cooperation projects) etc., among all parts of Japan's ODA various forms of assistance. Apart from the aforementioned aid, there are other cooperation aspects and elements which I will briefly talk about below.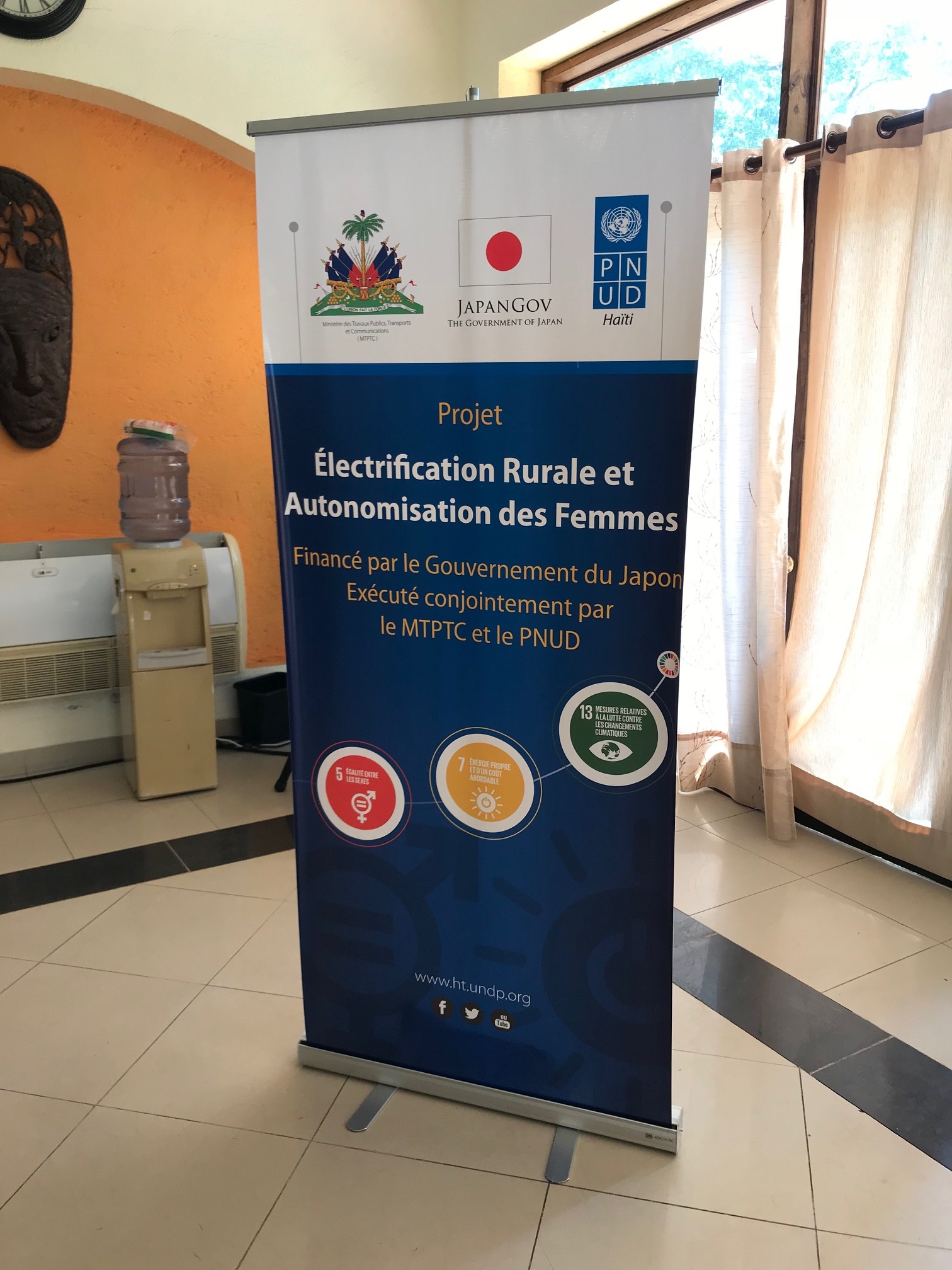 (Regional Electrification Project in conjunction with international cooperating bodies opening ceremony panel)
(Other fields etc.)
(1) Cooperation between each international organization
In addition to the abovementioned types of bilateral activities, Japan also actively sought out to engage in various types of support in coordination with the UN and other specialized institutions. Although there is a certain limitation to implementation resources due to the fact Haiti is a Francophone country, and using only Japan's manpower, by joining hands with international organizations who have field experience in system implementation/management, one can expect great synergy between both sides. While I was in office, we saw great results in cholera prevention measures by continuing and strengthening our partnership with UNICEF. I was also able to work with the UNDP to continue disaster-prevention projects, and work on a new challenge to promote the supply of electrical power to communities who were off the grid, as well as tackling the serious waste disposal problems in metropolitan areas by constructing incinerators, and so forth.
(2) Reconstruction assistance
Including human rights aid, Japan joined the international community in unison to cooperate on various aspects. The effects after the 2010 earthquake were tremendous, and Japan started implementing reconstruction-related projects immediately after, such as participating in reconstruction funds, repairing and expanding the water supply of previously mentioned Léogâne, building the St. Michel Hospital in Jacmel, and replacing two bridges in the metropolitan area.
In connection, Japan received a request for reconstruction aid from the UN'S MINUSTAH, part of the Peace Keeping Operations working to develop peace and stability in Haiti, and Japan has contributed to the restoration of many infrastructure projects, such as deploying Japan's Self-Defense Forces to Haiti, and cleaning up debris over a period of several years.
(3) Democratization support
Japan is actively involved in direct and indirect presidential and representative elections, which are the foundations of national politics. In particular, implementing elections on a nation-wide scale is a huge operation that includes an implementation system, expenses, manpower, training, and public safety. The UN, U.S. organizations, European and other nations are playing their individual parts to mobilize financial and personnel aid to carry out elections.
(4) Other types of assistance and actors
I have talked mainly about the Japanese government's role from the economic cooperation side of Japan-Haiti relations, however; there are supporters of the government-related projects which Japanese companies are carrying out on-site with Japan=quality; there are Japanese NGOs that have been working since the 2010 earthquake on restoration and past on various fields, making social contributions. There are also people who are carrying out activities under Japanese NGO cooperation support, and people who work as part of an international organization trying their hardest in Haiti; many people are involved with Haiti and Haiti=Japan relations in a myriad of forms.
(*All photos taken by the author)
(*This column reflects the personal views of the author and not the opinions of their employer)
Backnumbers are
here