News from Haiti Vol. 6: Haiti's Socio-economic Condition (part 1)
 Challenges and Policies of the Current Administration in the Economic and Social Fields
—Contributed to by the former Ambassador Yoshiaki HATTA, Embassy of Japan in Haiti
◆Overview
In this month's column I will go into depth regarding Haiti's socio-economic condition. The media consistently refers to Haiti as "the poorest country in the Western Hemisphere", and although the country faces many problems such as a developing economy does, I would like to look at in depth the scale and the features of challenges particular to Haiti.

In this volume, I will start out with a general overview mainly of Haiti's financial and industrial sectors, which will lead into the next column where I will go into more depth regarding Haiti's social side with examples for each sector.

(Difficult Circumstances for Haiti)
As talked about in previous volumes, the amount of destruction caused by the January 2010 earthquake that struck Haiti is said to be totaled at 120% of the country's GDP for 2009. The value of the Haitian gourde fell approximately 30% against the U.S. dollar from January 2015 at a rate of $1=appx. 45 HTG to a rate of $1=appx. 65 HTG in January 2018 due to economic stagnation caused by the reconstruction period after the earthquake, in addition to long-term political instability and political stagnation at the parliament as well as presidential election mayhem. Inflation is increasing at a rate of more than 10%, continuing to cause Haitian citizens difficulty and unsound national economy.

Adding to the list of offenders is Hurricane Matthew which struck Haiti in November 2016, destroying its southern bread-basket, as well as severely damaging infrastructure, homes, property, and possessions. The amount of damages outweighs the effort and money put into said areas, where the dilemma of inability to improve the area continues.

Even if one finds the key to fixing the myriad of Haiti's problems, it is almost always the case where the budget does not allow for substantial changes, encouraging the prolongation of balancing 'progress' and 'regress' on the figurative scales, to try and come up with some sort of breakthrough solution to its problems.

◆Economic Scale and National Finances
Looking at the size of the economy, Haiti's GDP is approximately 8 billion U.S. dollars (in 2016 the Japanese GDP was 4.949 trillion U.S. dollars), and its national budget is approximately 1.8 billion U.S. dollars (the Japanese budget was 199 billion U.S. dollars). Exempting financial revenue received from international organizations and ODA (official development assistance) and grant aid, Haiti's revenue comes mostly from direct and indirect taxes, as well as tariffs. During the previous administration, Haiti benefited from the Petrocaribe oil alliance tied with Venezuela (the scheme gives oil at reduced rates paid in cash and loans, and sales profits are used in the domestic budget), but under the current administration Haiti left the scheme with the debt (there are recent talks about Haiti re-joining the scheme).

(Revenue [income] Sector)
In order to establish a sound revenue system without relying on external funding, a thorough approach to assure a rigorous tax-collecting system and developing institutionalized system for tax-collecting is necessary. The re-consideration of tax rates in various areas, as well as importing tariffs, and an increase of administrative fees are all currently under consideration.

Additionally, in order to increase tax revenue, Haiti needs to stimulate its economy. Haiti is trying to increase its agricultural production, strengthen its exportable goods, and improve its investment environment in order to be able to receive foreign direct investment. Under the Moise Administration as well as several preceding administrations, importance is being placed on the Bureau of Investment and Bureau of Tourism in order to improve Haiti's revenue.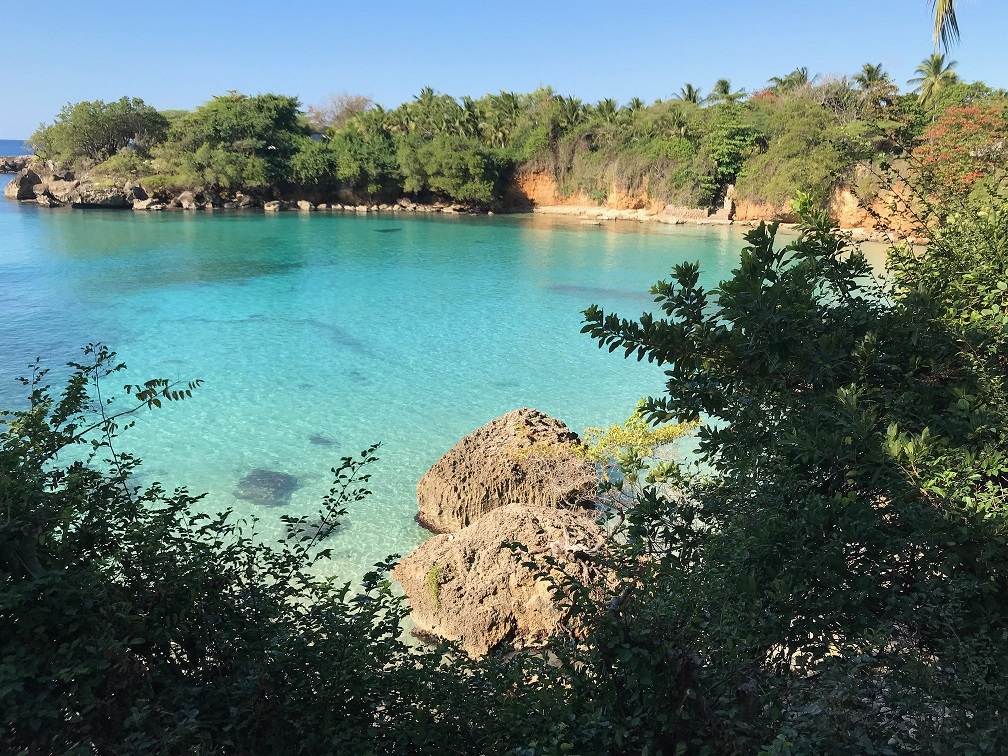 (A tourist attraction: the sea of Jacmel)
(Expenditure Sector)
On the other hand, in order to maintain healthy domestic financial affairs, there is still room for the revenue sector to tighten the purse strings. It is imperative that the government put effort into minimalizing payments and eradicating its debts, creating logical organization of its subsidies towards EDH (Haiti Electric Company) and petroleum-based products such as gasoline and kerosene.
On a more familiar note, in regards to public services such as electricity, water, trash collection etc., the bill collection system and thoroughness of collection of bills is still not enough to guarantee the operation of these services. Much effort is still needed in order to expand, better establish, and improve operations of public utilities.
(International remittances/monetary support)
Monetary support from Haitians living abroad (Haitian Diaspora) has a large effect on domestic consumption and Haiti's GDP. Haiti has been sending its people overseas in different situations; lately many Haitian immigrant communities can be found in America, Canada, France, Dominican Republic, and Chile, among others. The money sent back home from Haitians abroad totaled 2.772 billion U.S. dollars, roughly one-third (34%) of Haiti's forecasted GDP in 2017. It is not an exaggeration to say that Haitians living overseas are supporting people's lifestyles and Haitian economy.
◆Population
Haiti's challenge in regards to population is the exact opposite of Japan's. In 2017 the population of Haiti was 10.9 million, but before the 2010 earthquake the population was less than 10 million; in other words the population has effectively grown by one million in only seven years. If you include the fact that around 300,000 people died in the earthquake in 2010, this is an extremely large increase. This increase is having a strain on the educational and medical fronts, as well as on infrastructure and the improvement and strengthening of government services.
In addition to the Haitian government taking the drastic increase in population as a serious issue, international bodies are also helping to address the challenge. This is not an issue that will be solved overnight, thus continued support and effort to address these problems are imperative.
◆Economy (Commercial and Industrial domains)
There are four general challenges that the Haitian economy and industry face. The first challenge is an underdeveloped infrastructure and economic investment environment and/or lack or less administrative services or systems, which are essential to assure the people's activities related to production and commercial and economy. The second challenge is improving Haiti's trade balance and improving its macro economic level. The third challenge is Haiti's vulnerability to environmental and natural disasters in both preventative and post disaster measures. The last challenge is addressing the issue of upholding and protecting the judicial system and rights in respect to citizens' daily lives and economic activities, and the lack of personnel and infrastructure to do so.
Even with Haiti facing multiple challenges at once, there are elements helping Haiti's economy, such as an economy aimed at the affluent; agriculture and other industries made for neighboring countries; promotion of exporting goods, and advancement of the tourism industry and direct foreign investment from other countries. However, in order to pull the entire country along with it, one more step further seems necessary to guarantee economic takeoff.
If we look into the economic development phase model in general, currently, Haiti's domestic industries are agriculture and the cottage industry, as well as manufacturing light industrial products. Haiti's geographical advantages and relatively low labor wage competitiveness as comparative advantage attracts foreign community.
In order to revitalize and advance Haiti one level higher, much importance will be placed on the strengthening of a stable power and water supply, logistics, laws and regulations, stricter implementation of the tax system and incentives, as well as providing government administrative services at windows, and expediting importing and exporting procedures.
The business environment of Haiti is not highly ranked on the global scale (according to the World Bank's "Doing Business Project"); however, the Investment Bureau is putting effort into creating incentives as well as investing in the private sector. For example, the use of cell phones is very high in Haiti, along with internet connection makes for good business and a livable environment.
(Industrial Parks)
Industrial parks SONAPI (National Society of Industrial Parks) in the Capital region, and PIC (Caracol Industrial Park) in the northern area run by SONAPI, and Lafiteau Industrial Park with the Port facility (under construction) are examples of industrial areas that provide infrastructure and services such as 24-hour electrical supply, sewage and water supply, garbage collection etc. to companies so that they can focus on the production and sales side. Although other parts of Haiti do not have stable access to the above services, the industrial parks have secured these to lure businesses to Haiti.
Most of the businesses using the industrial parks are light industry, and have sub-contracts with American and European apparel companies manufacturing well-known brands. The government is hoping that once infrastructure improves throughout the country, not only will this type of industry take off, but also large foreign direct investments will be poured into Haiti, thus the government is in strong support of such areas.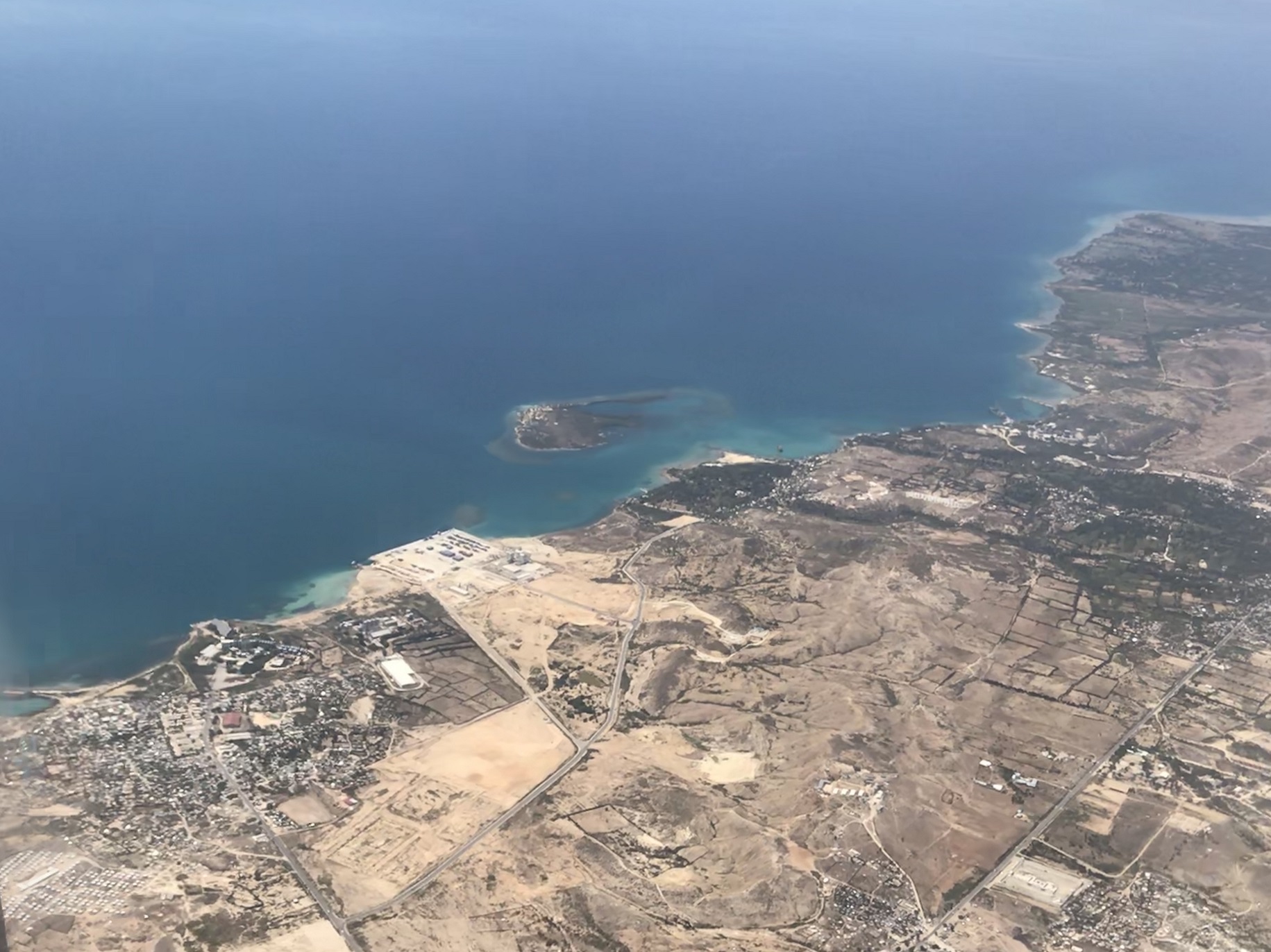 (Lafiteau port area and industrial free zone)
(Other possible exporting items)
If there were further room for Haiti to improve its agricultural sector, it would be in the exporting division, which the government is taking steps to improve its policies. The 1,700 kilometer coastline and lakes of Haiti has potential in the fishing industry, where the fish farming sector is slowly starting to evolve; however, the fishing industry has not reached modern standards, and development is still limited.
Haiti is not known to be rich in natural resources, but it does boast a goldmine in the northern area, and putting profit aside, a copper mine in Gonaïves, and a bauxite mine in Nippes. Haiti also produces limestone, high-quality calcium carbonate, and marble.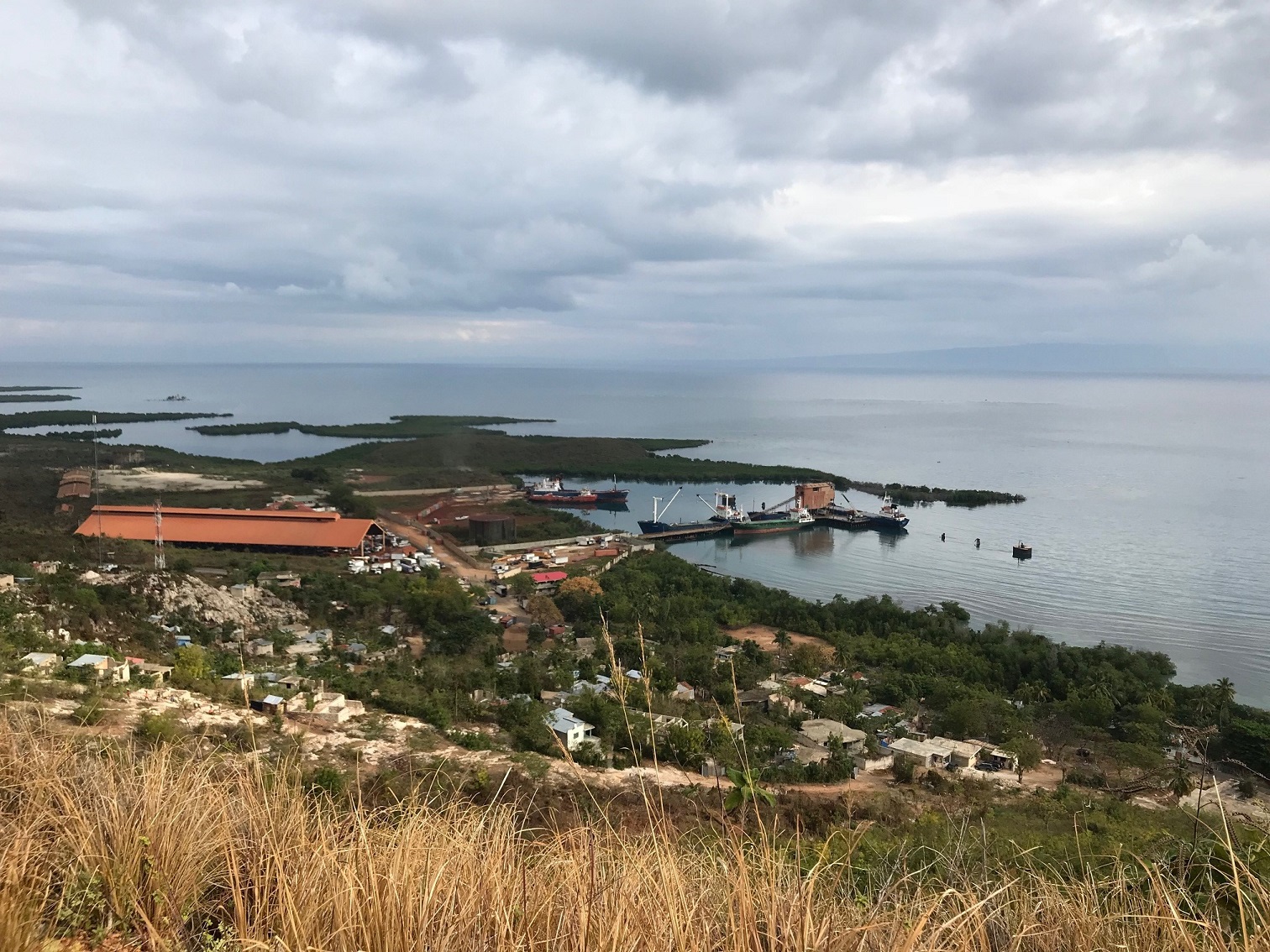 (Former location of Miragoâne bauxite shipping port)
◆Haitian Government's Development Plan
There is a National Program formulated by the previous administration to look ahead to 2030 and strategize about Haitian national development. That campaign carried over to the current administration under President Moïse, and he is pouring energy into what he calls the "Caravan of Change". Besides this campaign, Seven Major Priorities are introduced by the President.
The range of these Priorities is not only varied, but the Priorities are of a large scale that lot of efforts and comprehension on the Haitian people side will be the factor to proceed efficiently with the program. All-around sustainability of the achievement must also be considered, calling for an excellent level of leadership to keep the project going.
I will talk more about this later on, but in order to achieve such a large goal, international cooperation and/or overseas investment is a necessity to tackle with those vast and deep questions. The administration will need to work carefully to combine international cooperation and internal effort to make this campaign a success.
(Haiti Strategic Development Plan: PSDH)
Haiti has formulated other national development strategies in the past. A relatively integrative plan was formed in April 2012 under then-President Martelly called PSDH (Haiti Strategic Development Plan), which outlines his vision to make Haiti an "emerging country" by the year 2030.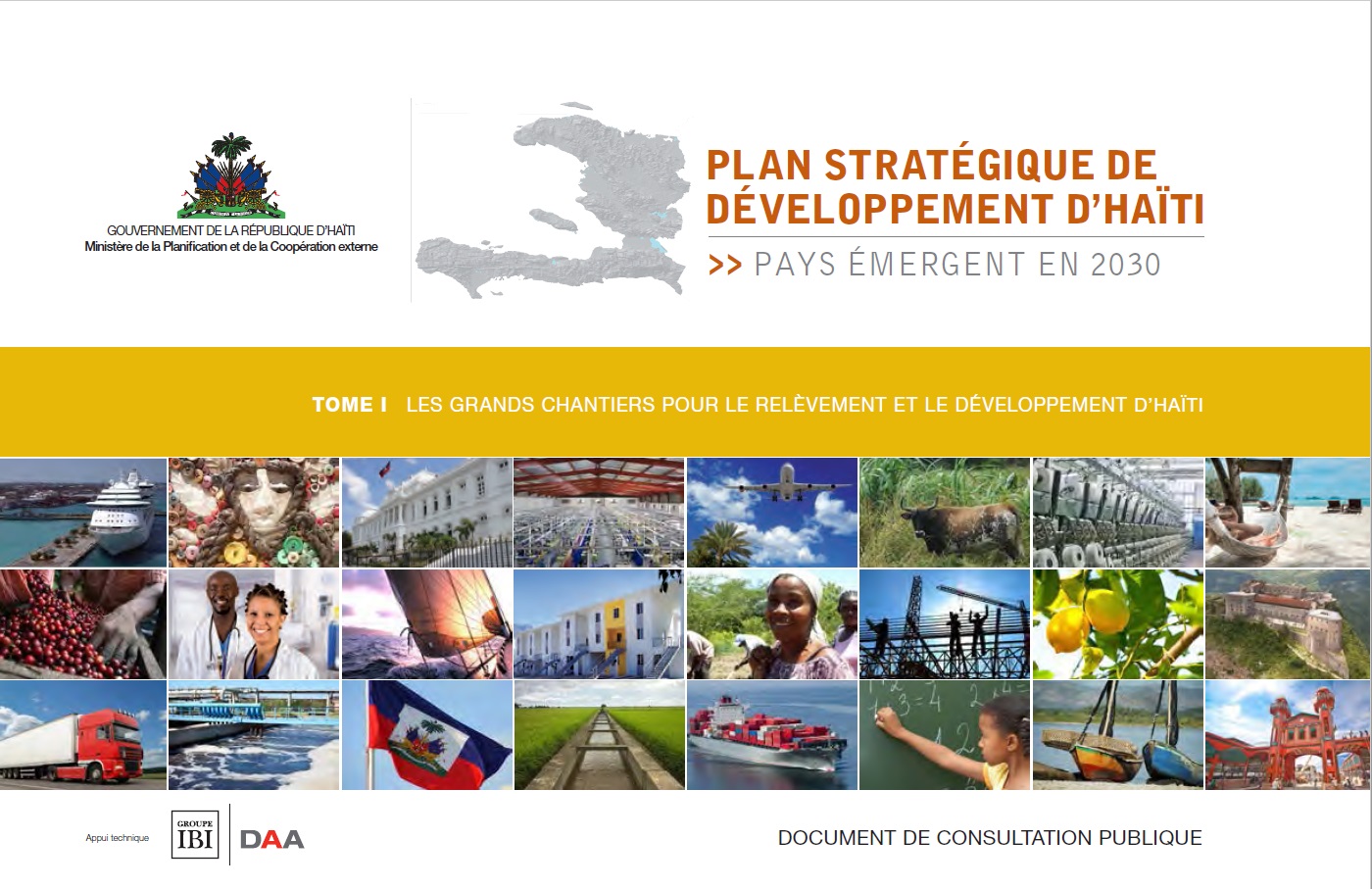 (PSDH Haiti Strategic Development Plan)
PSDH was adopted as an addition to the plan created in the wake of the January 2010 earthquake called "Action Plan for National Recovery and Development of Haiti". PSDH also touches on the concept of "refondation", which envelopes the notion of reconstruction and restructuring of the country. Through this Refondation which is not limited to reconstruction, is covering the implementation of areas that were not working to meet the standards of an "emerging country" by 2030. Thus, PSDH covers almost all areas.
The plan in 2012 tried to accomplish the following things:
1. Land reconstruction such as, Environment; flood control; logistics etc.
2. Economic reconstruction such as, Agriculture; fishing; industry; tourism etc.
3. Social reconstruction such as, Education; medical care; culture; social security etc.
4. Legal framework; democratic function; modernization of central and regional governments; decentralization of government; population control; employment improvement; environmental conservation; strengthening of a constitutional state
Although there were design plans, eventually the instability of the government and the chaos surrounding the presidential election combined with the destruction of the hurricane Mathew caused some delays and reorientation of the assets to the hurricane hit Southern part of the country.
(7 priority areas for the Moïse Administration)
One year after President Moïse had taken office, his seven high-priority goals were announced, and donor countries also recognized these goals and have decided to focus on these as well.
The seven priority areas are as follows:
1. Carry out domestic reforms; upkeep political and social stability
2. Transform Haiti into a place of investment
3. Expand the agriculture industry, improve the environment
4. Improve electricity, road and shoreline infrastructure
5. Improve water and sanitation infrastructure
6. Improve overall infrastructure, improve quality of education
7. Maintain social stability through various programs
In addition, while writing the draft of this column, large and violent demonstrations took place in Haiti in reaction to the increase of oil prices (eventually suspended). Haitian Prime Minister Lafontant resigned days after the protests, citing the violent demonstrations as the reason for his resignation. Although the administration is operating on an uneven base, it will continue to proceed with accomplishing the seven priority goals while paying attention to the needs and opinions of its people.
(*All photos taken by the author)
(*This column reflects the personal views of the author and not the opinions of their employer)
Back numbers are
here