APIC Congratulates FSM Ambassador Kasio Mida on Receiving Imperial Honors
Written by Floyd K. Takeuchi/Waka Photos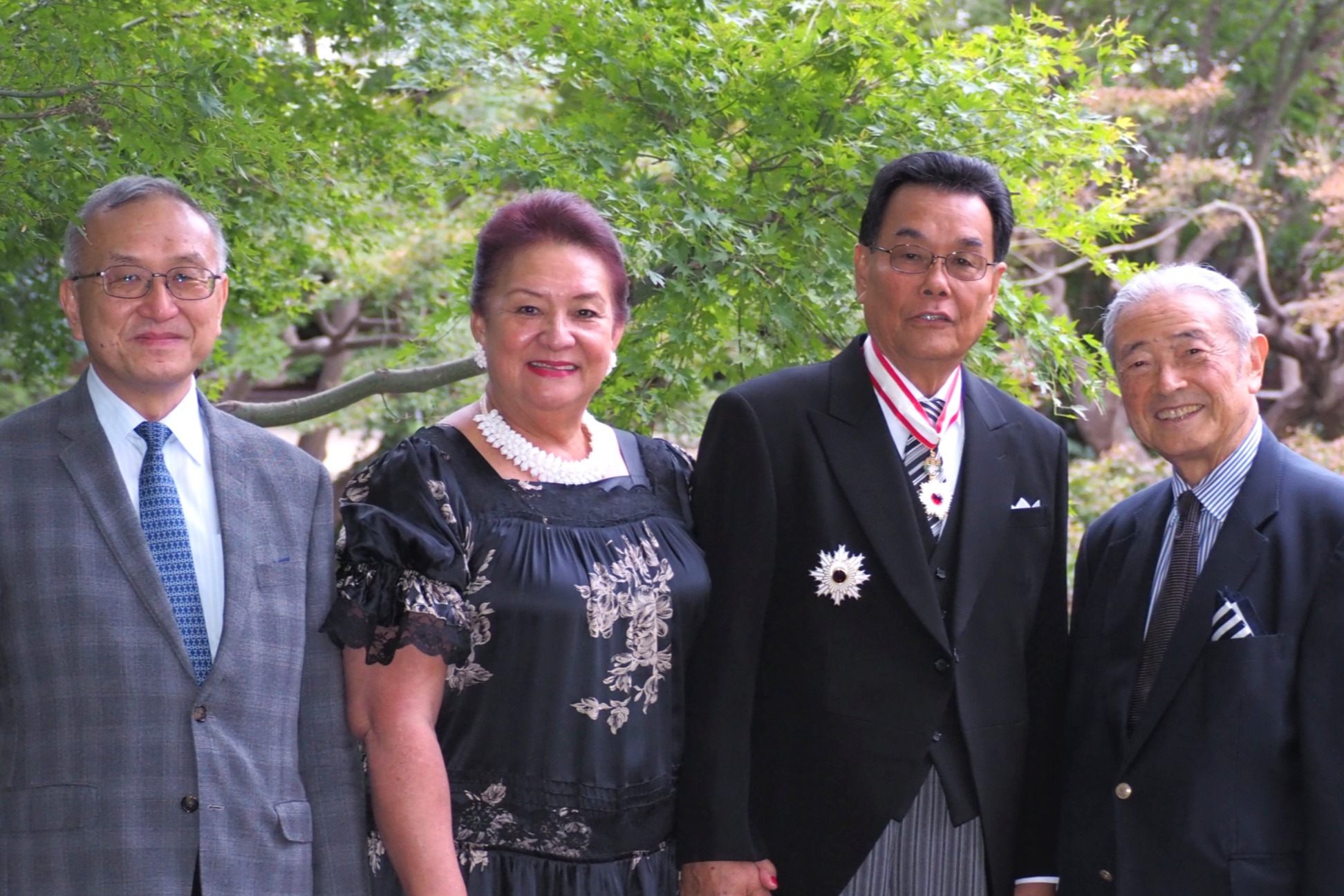 (From left: APIC Executive Director Mr. Sato, Mrs. Ginger Mida, His Excellency Kasio Mida, Sr., APIC President Sato)
TOKYO, Japan – The Association for Promotion of International Cooperation (APIC) is pleased to extend its congratulations to His Excellency Kasio Mida, Sr., former Ambassador to Japan from the Federated States of Micronesia, upon his having been bestowed The Order of the Rising Sun, Gold and Silver Star, by the Honorable Shinzo Abe, Prime Minister of Japan.
The honor is one of the highest awards that can be awarded to non-Japanese citizens for their service to promote good relations with Japan. APIC is a private foundation based in Tokyo, Japan that develops programs and initiatives to strengthen relations between Japan and the nations and people of the Caribbean and Pacific islands.
Ambassador Mida is the first citizen of the FSM, and other nations of the northwest Micronesia region, to be awarded The Order of the Rising Sun.
"There are few people more deserving of this high honor than Ambassador Mida. He has long been an active proponent of close ties between Japan and the FSM," said Ambassador Peter Yoshiyasu Sato, APIC's president and a career diplomat in Japan's foreign service. Everyone who knows Ambassador Mida agrees with him.
Following the presentation of the Order of the Rising Sun, Gold and Silver Star by the Prime Minister, Ambassador Mida had an audience with His Majesty Emperor Naruhito at the Imperial Palace on November 7.
APIC hosted a dinner in honor of Ambassador Mida on November 8th at The Tokyo Club, the oldest social club in Japan.
Ambassador Mida served as FSM Ambassador in Tokyo from 2004-2008. He was also nonresident ambassador to the People's Republic of China and Republic of Korea. He previously served as FSM Consul General in Honolulu from 1986 to 2004. After Tokyo, he served as Chief of Staff to FSM President Emanuel Mori.
Ambassador Mida is a graduate of Xavier High School in his native Chuuk state, and of Rockhurst College in the United States. He is married to the former Ginger Porter of Pohnpei state. She currently serves as FSM Postmaster General. They have nine children.
---
The conferment of the honor has been introduced in the local newspapers of the Pacific countries.
APIC congratulates former FSM Ambassador Kasio Mida on receiving Japanese Imperial Honors
(The Kaselehlie Press)
Japan honors FSM ambassador
(The Marshall Islands Journal)
Former FSM Ambassador Kasio Mida receives Japanese imperial honors
(Marianas Variety)
APIC congratulates former FSM Ambassador on receiving Japanese imperial honors
(Island Times)
Ex-FSM envoy conferred with Japanese imperial honors
(Saipan Tribune)