University of the West Indies St. Augustine Campus: Principal Invitation Program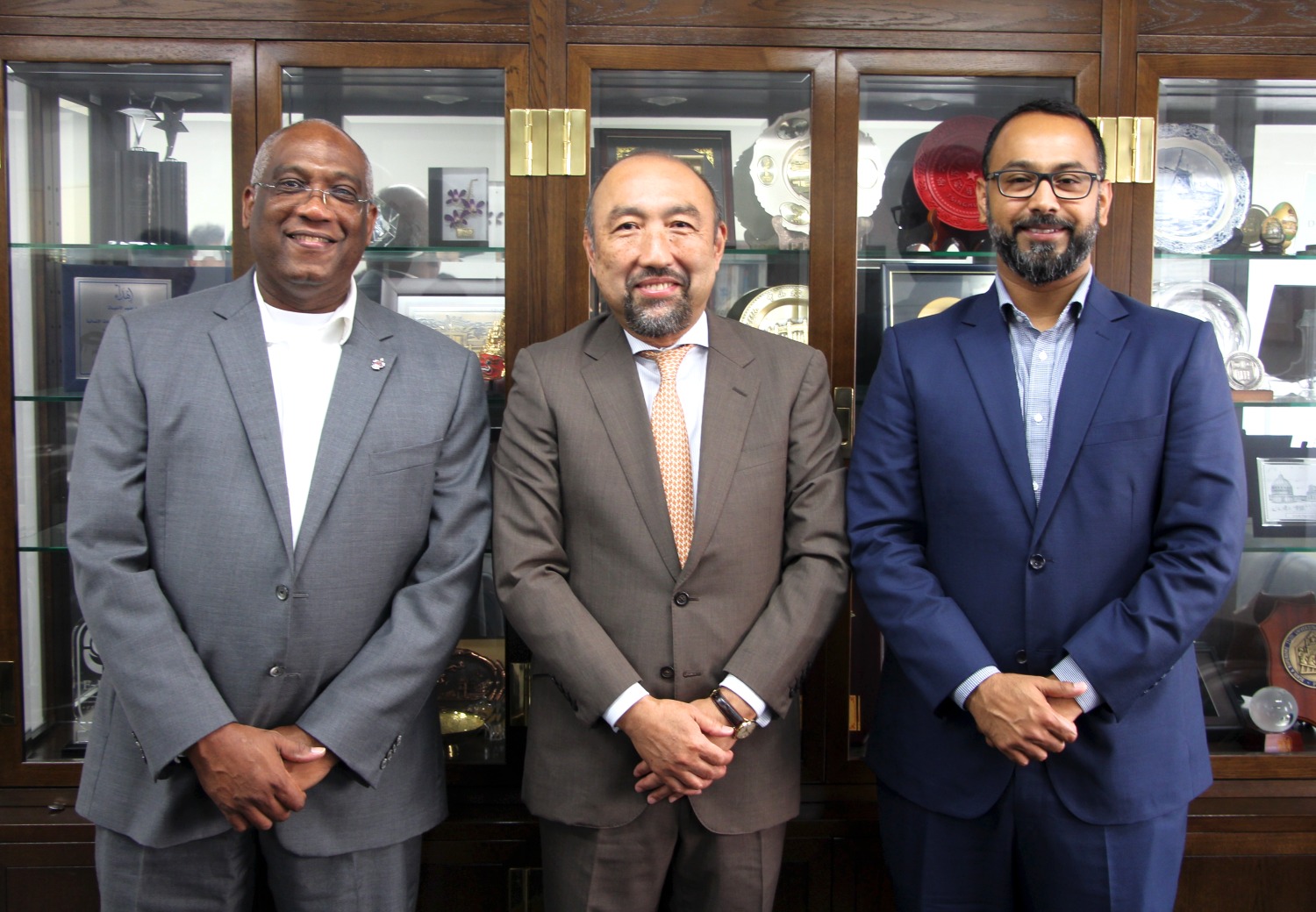 (From left: UWI St. Augustine Campus Principal Copeland, Waseda University Vice-President for International Affairs Mr. Morita, UWI St. Augustine Campus Director Office of Institutional Advancement and Internationalization Mr. Singh)
APIC invited the principal of the University of the West Indies (UWI) St. Augustine Campus, Dr. Brian Copeland to Japan from September 23rd to 30th. The purpose of the trip was to strengthen ties between Sophia University and UWI; the two institutions have already signed an MoU and thus this trip was to better fortify relations between the universities and the Japanese-Caribbean relations.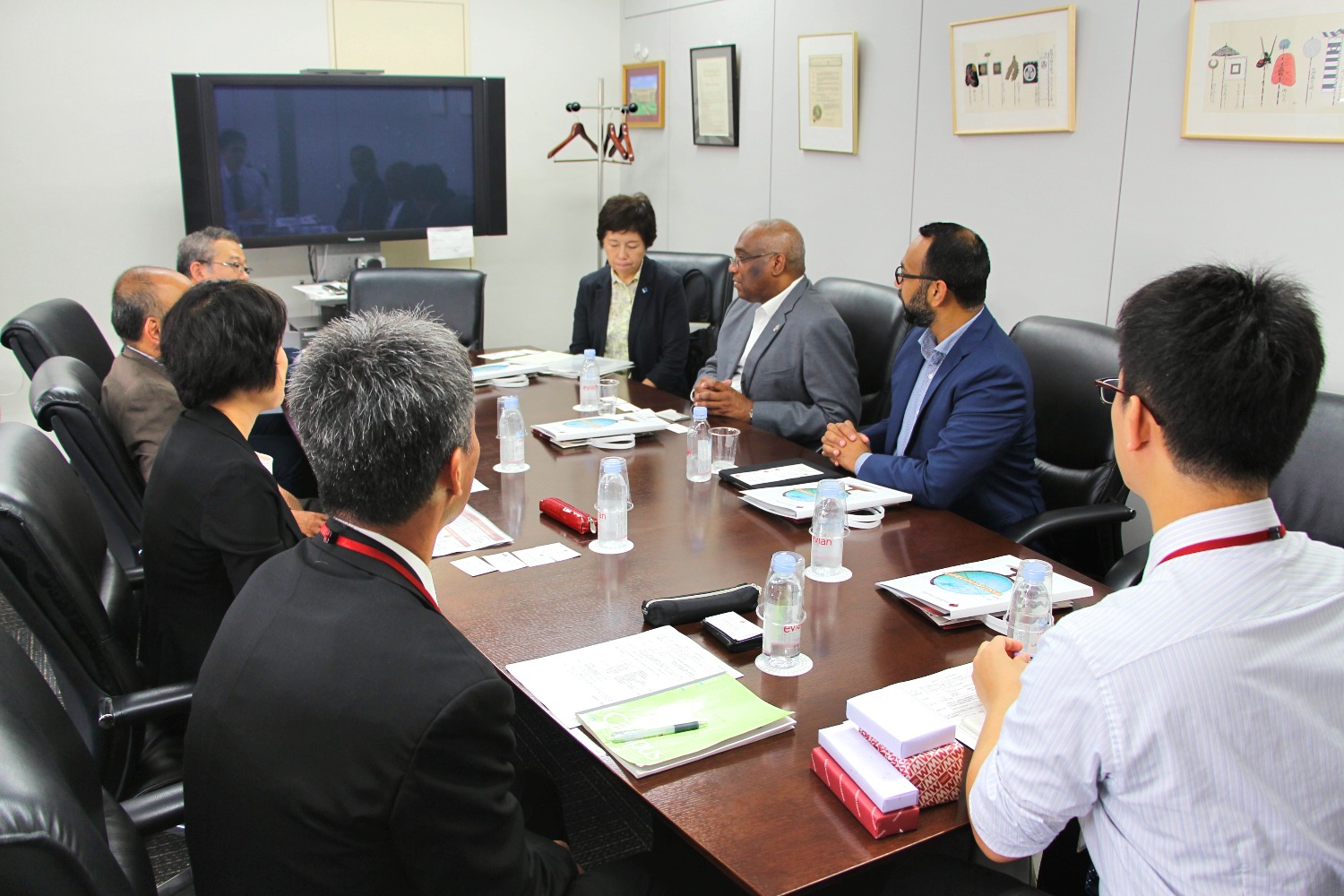 (Meeting taking place at Waseda University)
The theme of Principal Copeland's visit to Japan this time was broken into three parts:
1. University Venture (Intellectual Property Program)
2. Small-midsized Company Start-up Support Program
3. Modern Farming & Forefront of Agricultural Technology
Principal Copeland focused on visiting places and people in connection with the above topics from the 25th to 27th. He first visited Waseda University in relation to the University Venture, talking with Mr. Morita, the Vice-President of International Affairs, and Ms. Shimaoka, Associate Professor at the Center for Research Strategy of Waseda University. After an informal discussion, Dr. Copeland received a briefing from the manager of the Center, Mr. Sako. Waseda University is taking an active role in promoting and supporting the 'Industrial-Academic-Government Co-operation' movement; the University is trying to find out how it can return its intellectual property to society, and how much innovation can be made with the Co-operative Movement, among other topics. These themes were discussed as well during the briefing.
On the evening of the 25th, APIC President Peter Sato held a dinner reception at the Tokyo Club. In attendance were officials from the Ministry of Foreign Affairs Central-South America Department, Sophia University, and executives from Japanese companies doing business in Trinidad and Tobago.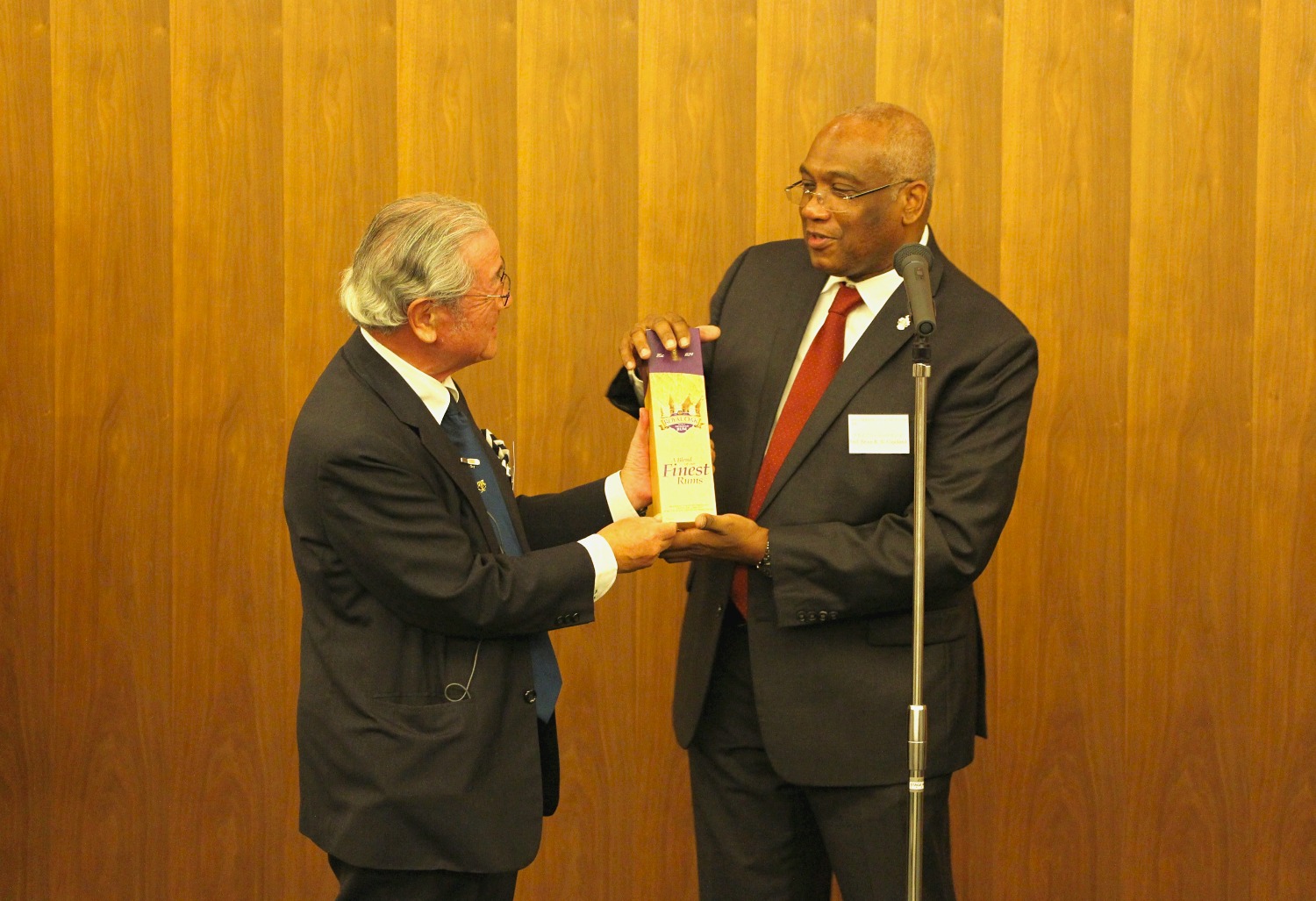 (Principal Copeland receiving a memorial gift at the dinner reception)
On the 26th, Principal Copeland visited the Tokyo Metropolitan Industrial Technology Research Institute where he met and talked with the corporate planning division manager Mr. Kondo and the head of the division, Mr. Kobayashi. Upon talking with the gentlemen, Principal Copeland expressed that "UWI does not have a sufficient system in place in regards to promoting our research accomplishments. The opportunity to discuss this topic has been very fruitful".
On the 27th Principal Copeland visited Routrek Networks' verification agriculture testing site. Routrek Network has developed a technology-based irrigation and fertigation method called "ZeRo.agri"; Principal Copeland showed interest in this new farming technology.
On the 28th, Principal Copeland visited the Meteorological Agency observing and learning about tsunami, typhoon, and earthquake surveillance and immediate alert functions. Trinidad and Tobago is also very prone to natural disasters such as Japan, and observing Japan's system sparked Dr. Copeland's interest.
On the same day he also visited Sophia University where he met and had a discussion with President Terumichi. Both prinicipals' fields of study are very similar, so the two got off to a good conversation, ending with a pledge to deepen the ties between Sophia University and UWI.
In addition to visiting universities and corporations, Dr. Copeland requested an audience with the Japanese Steelpan band "Stars on Pan" in the evening of the 28th. The steelpan is the traditional instrument of Trinidad and Tobago, and has been officially recognized as such. Principal Copeland gave an explanation of his patented "G-Pan", an electric version of the steelpan, which the band members listened to with interest. Dr. Copeland said that he was "happy to see Trinidad and Tobago's musical culture being introduced in Japan. When the band comes to Trinidad and Tobago I hope they will contact me".
On the 29th, Dr. Copeland and group travelled to Kyoto, visiting Kinkakuji-temple and nijo- castle. APIC Executive Director Sato hosted a lunch that day with Kyoto-style bento and green tea with Japanese sweets, giving a short respite from a busy schedule.