APIC has invited Principal of Cave Hill Campus of The University of West Indies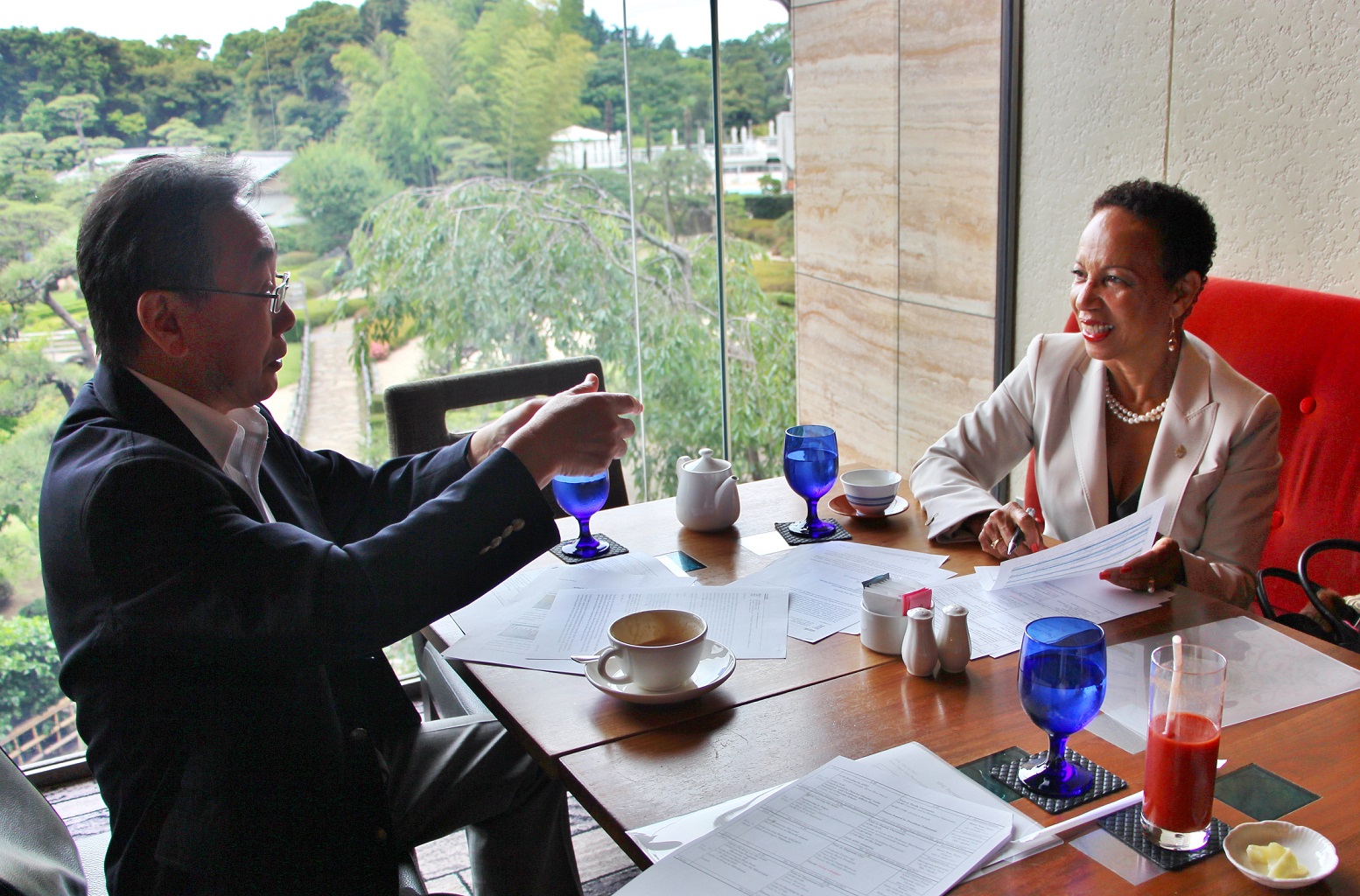 (Briefing by Mr. Araki, Director and Secretary-General of APIC)
APIC has invited Principal of Cave Hill Campus of The University of West Indies (UWI), Violet Eudine Barriteau. She spent a total of nine days in Japan, from June 10th to 18th, 2017. The principal will visit Tokyo for three days, followed by Nagasaki, Hiroshima, and Kyoto.
On June 12th, Principal Barriteau, after the briefing session with Director and Secretary-General of APIC, Mr. Araki, visited Tsuda University, and met with Ms. Yuko Takahashi, President of Tsuda University.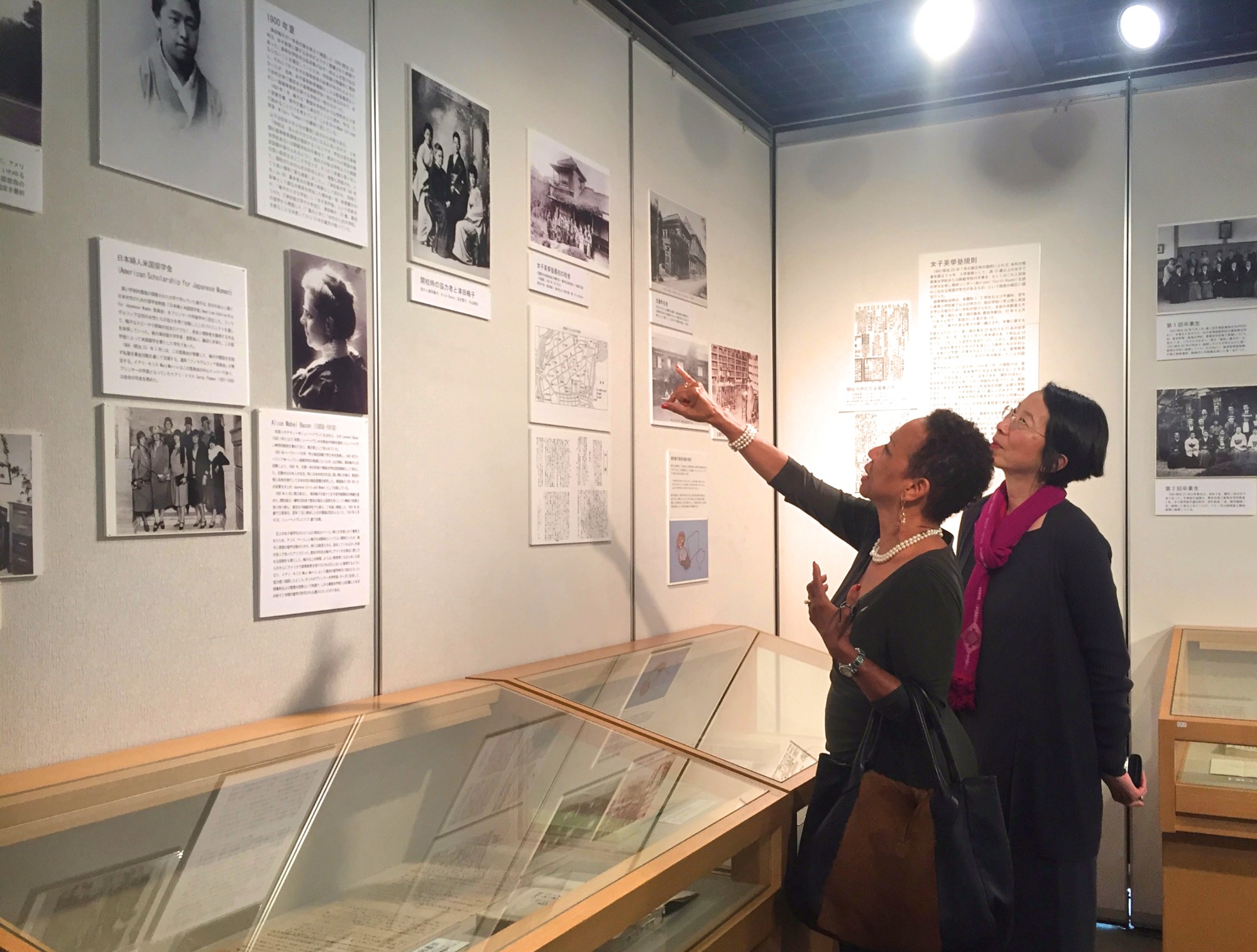 (Principal Barriteau and President Takahashi at Tsuda University)
On June 13th, Principal Barriteau visited Sophia University and met with Professor Anne McDonald at the faculty of Graduate School of Global Environmental Studies. She also met with Mr. Toshiaki Koso, Chancellor of Sophia School Corporations, and Mr. Yoshiaki Terumichi, President of Sophia University. Sophia University and (UWI) has signed a MoU in 2015. They have conducted many seminars in accordance with the MoU.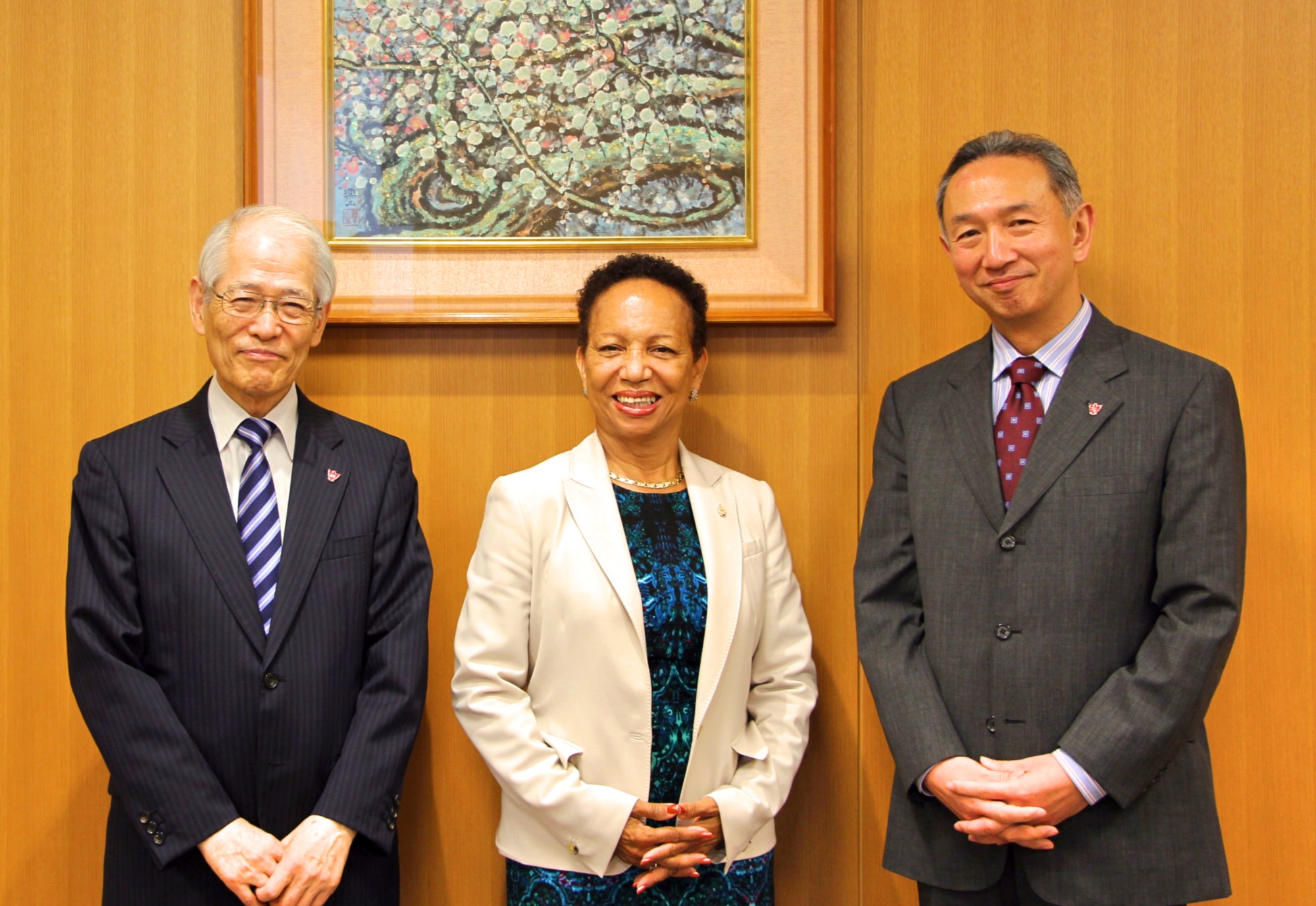 (Principal Barriteau with Chancellor Koso (left) and Presidnet Terumichi (right) at Sophia University)
Ms. Shekira Thompson visited Japan in January 2015 on "Pacific Islands and West Indies Students Invitation Program" is now visiting japan to enroll at the graduate school of Sophia University. Principal Barriteau also met with her.
Ms. Thompson is an alumna of UWI, Cave Hill Campus. She said, "I had not made up my mind what to do after graduation before I came to Japan, but after the visit I came to have an objective for studying at the graduate school in Japan". Principal Barriteau showed her interest in the potential of the program.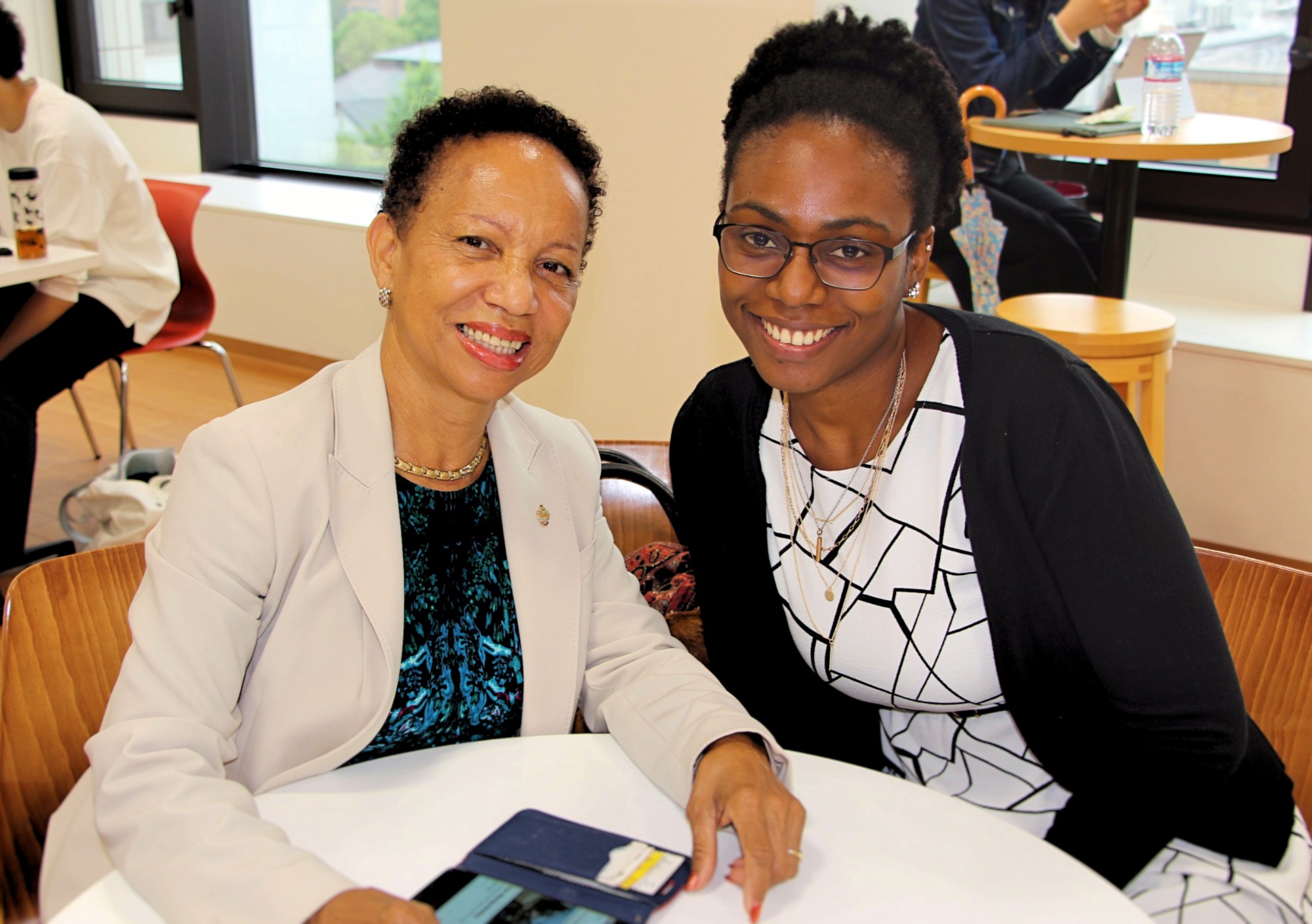 (Principal Barriteau and Ms. Thompson at Sophia University)
A reception party was held on the same day at The Tokyo Club.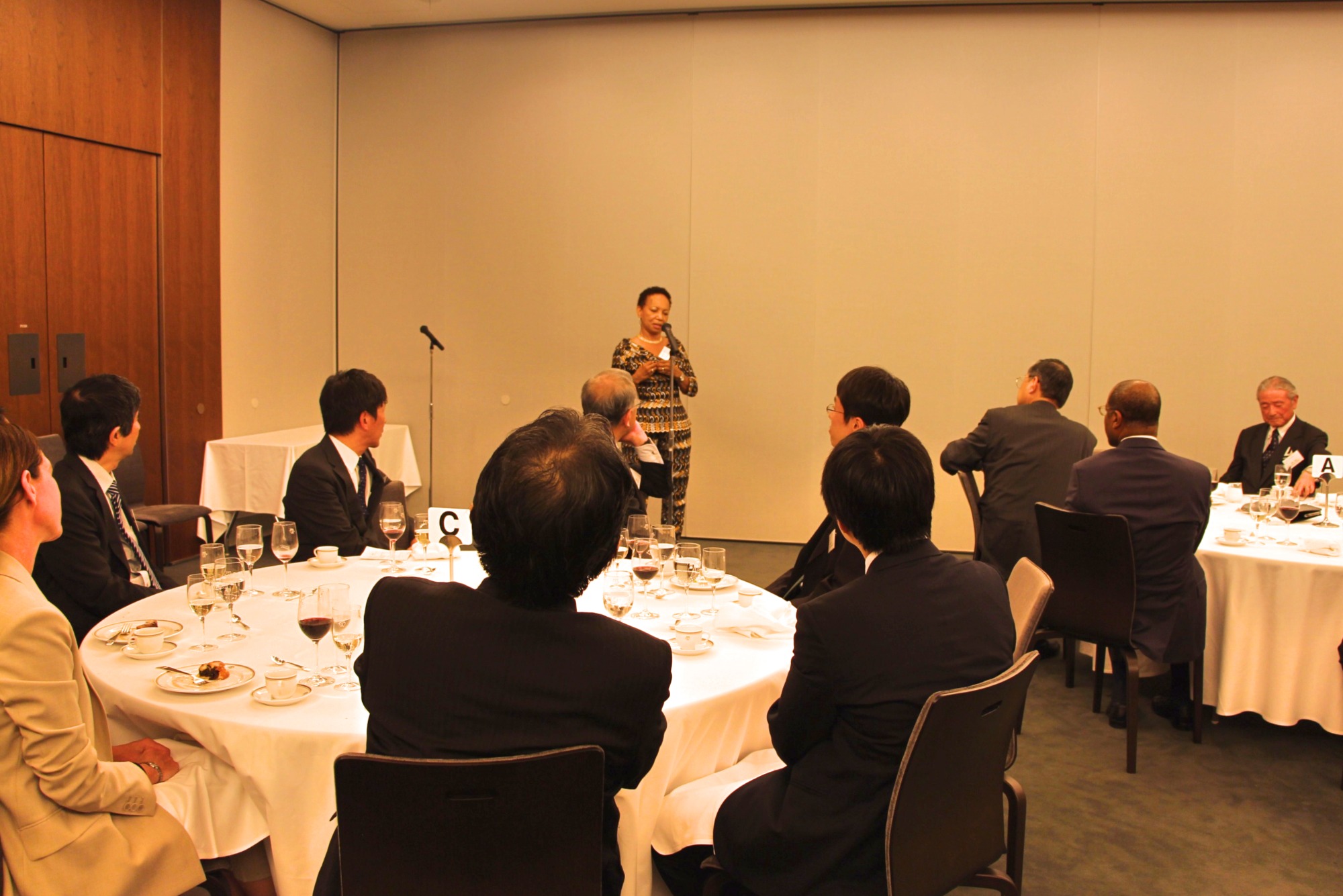 (Principal Barriteau making remarks at the reception)
After her stay in Tokyo, Principal Barriteau visited Nagasaki, Hiroshima, and Kyoto respectively.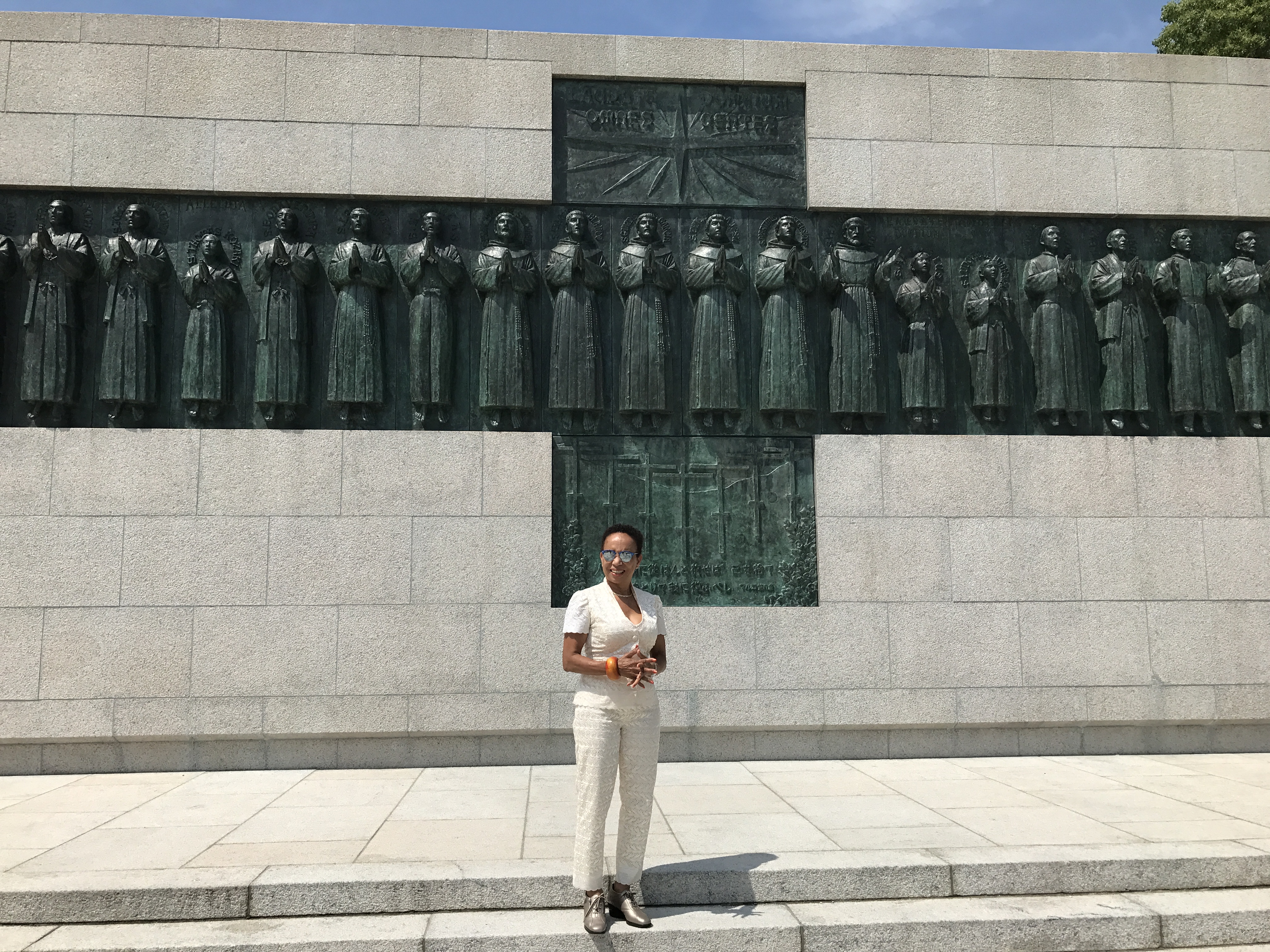 (Principal Baritteau at Twenty-Six Martyrs Museum in Nagasaki)
On the first day of the regional visit on June 14th, she visited Nagasaki and learned many things with regard to the history of punishment of Christians, and the damage caused by the atomic bomb dropped on Nagasaki. She was particularly moved by the atomic bomb memorial since it was her first time to see it in person. She paid close attention to every exhibit in the Nagasaki Atomic Bomb Museum.
Principal Barittea visited Hiroshima following her visit of Nagasaki. She observed mainly the damage caused by the atomic bomb, and afterward took a walk around the site while listening to an explanation of the Hiroshima Peace Park and the Atomic Bomb Dome, learning in greater detail about the damage the bomb caused at Hiroshima Peace Memorial Museum. She also had the opportunity to listen to a talk about the dropping of the atomic bomb by a designated A-bomb Legacy Successor. The stories the Legacy Successor told were heart-wrenching, needless to say they moved the Principal to tears.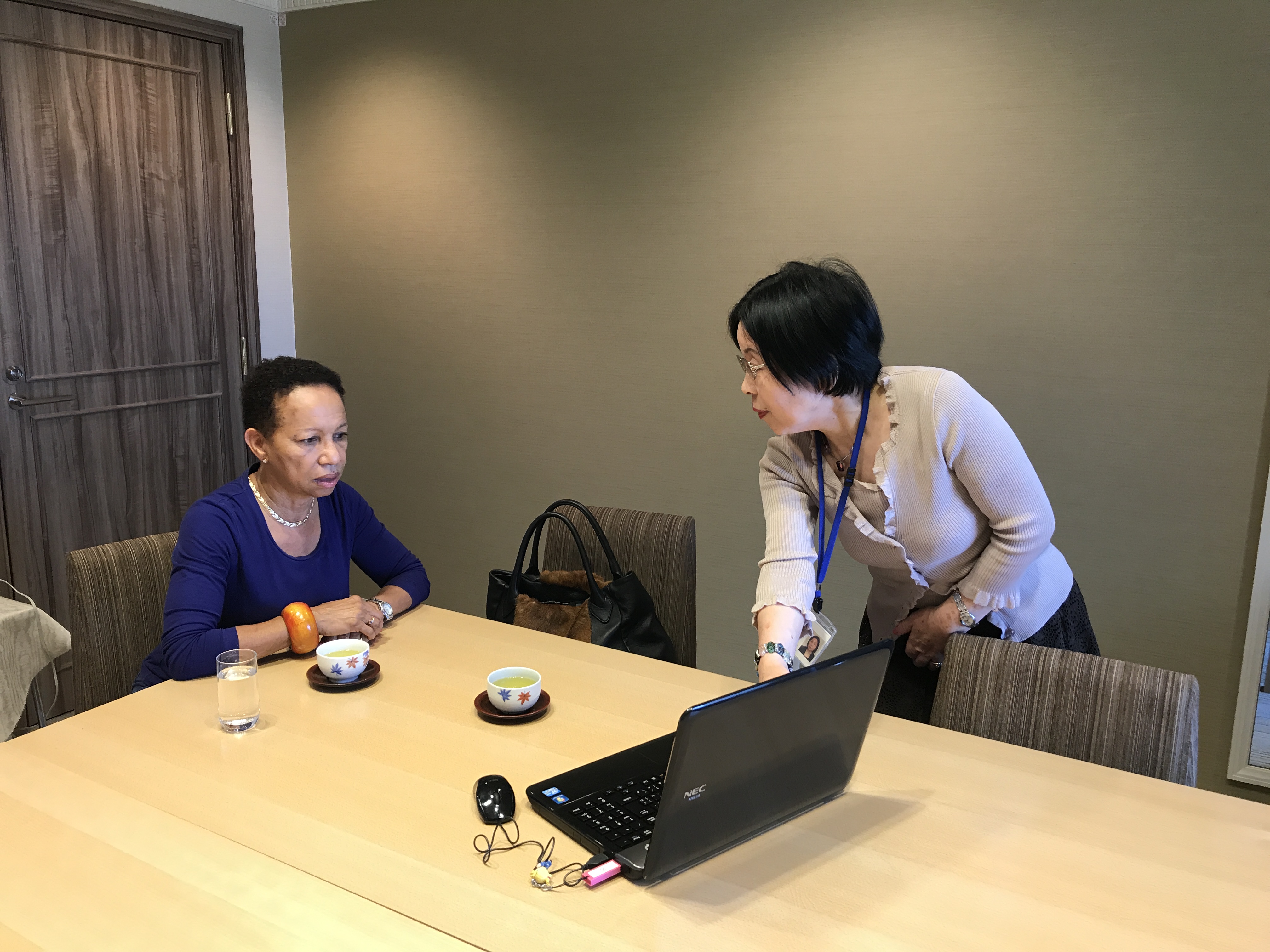 (Principal Barriteau listing to a talk by a successor)
She spent June 16th and 17th visiting Kyoto, where she and Professor Emiko Ochiai of Kyoto University exchanged ideas and opinions on various topics. Both women's field of interests are quite similar, and so their conversation seemed to be fruitful for both parties.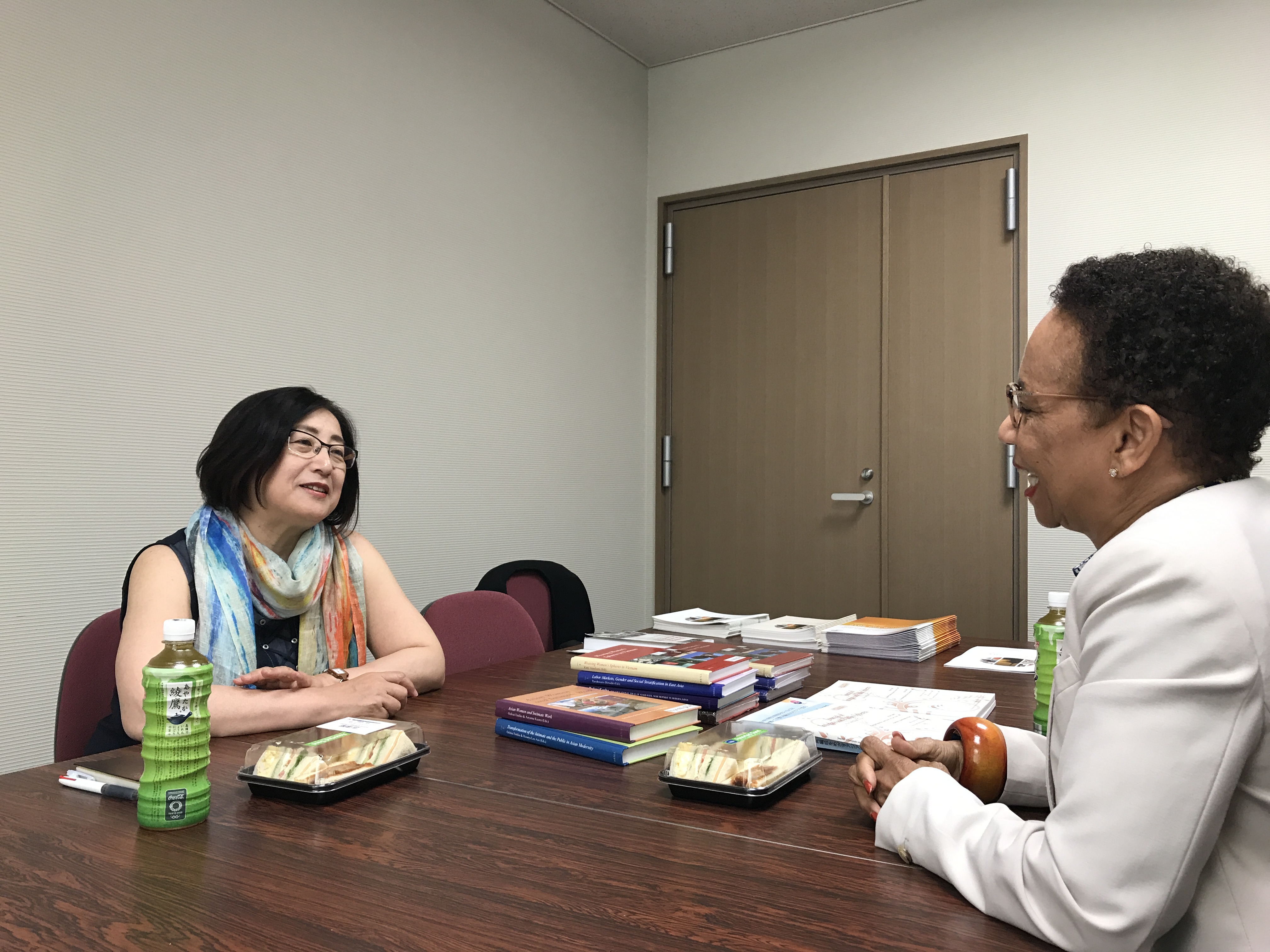 (Professor Ochiai (left) and Principal Barriteau at Kyoto University)
Following their converstation, Principal Barriteau enjoyed traditional Japanese culture, experiencing traditional Japanese kimono and participating in the Japanese tea ceremony.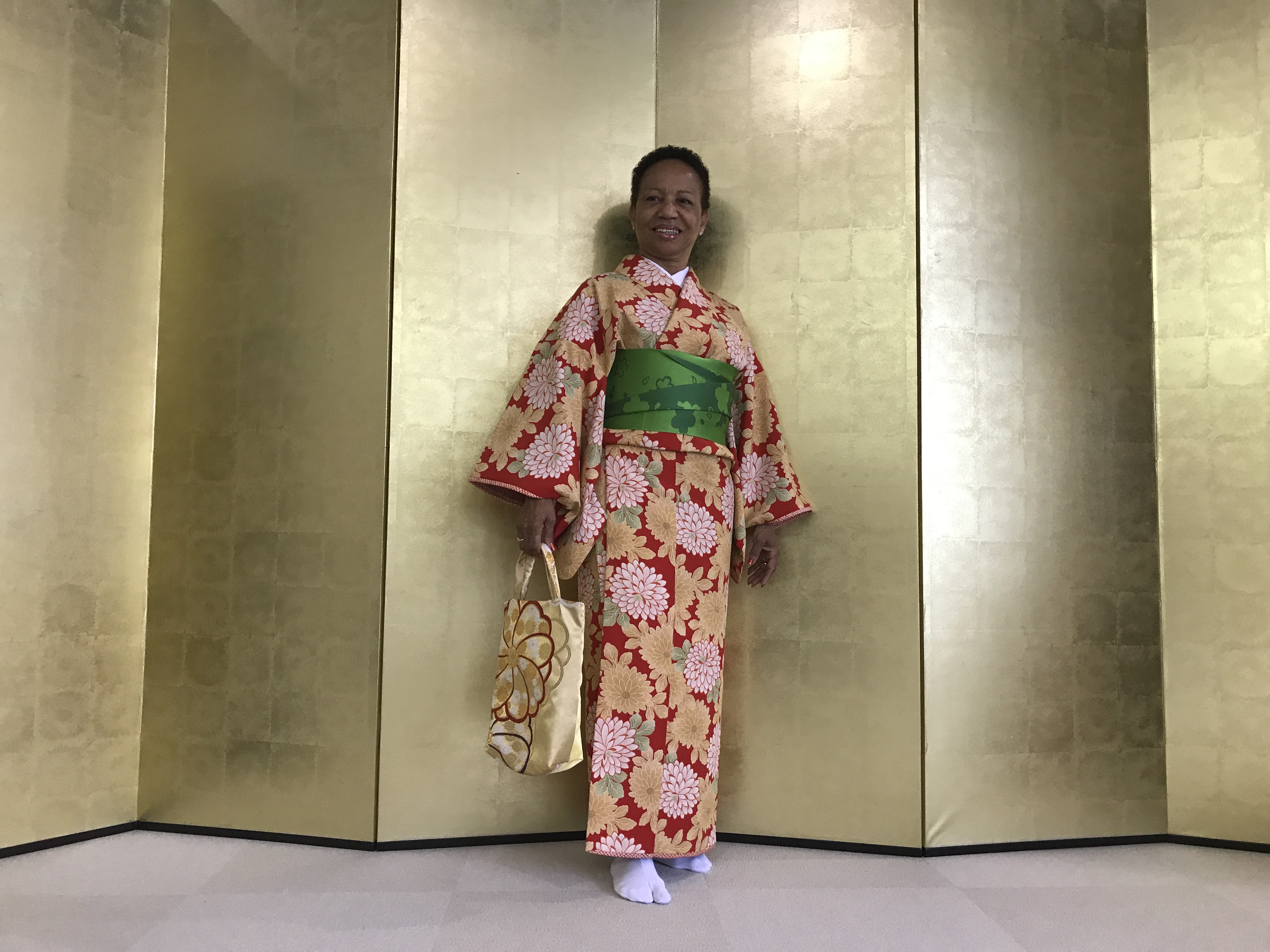 (Principal Barriteau in kimono in Kyoto)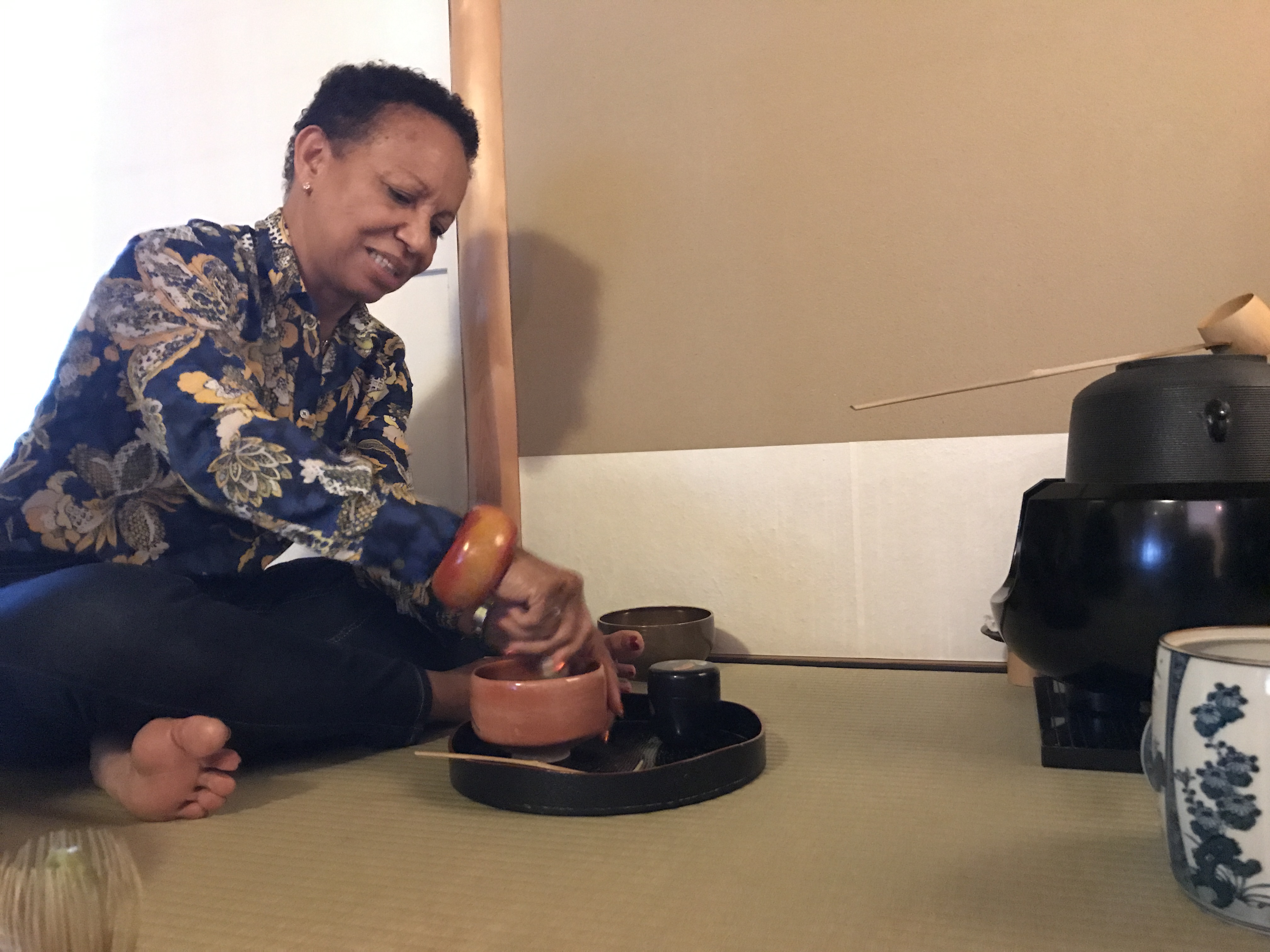 (Principal Barriteau experiencing Japanese tea ceremony)
On her final day, Principal Baritteau visited some of the most famous spots in Kyoto, including Kinkaku-ji (The Golden Pavilion), Nijo-jo (Nijo Castle) and other well-known landmarks. Her last day focused on the history and culture of Japan, particularly the ancient culture of Kyoto. Although her stay in Japan was short, it was packed full of education and professional-related experiences .