Creation of the Caribbean Islands Exchange Program
Prime Minister Shinzo Abe in Attendance; a Memorandum of Understanding (MOU) Signed Between the University of the West Indies and Sophia University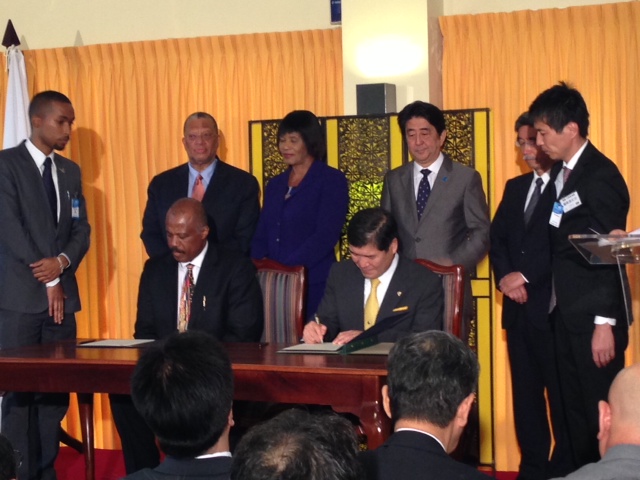 (Photo provided by the Ministry of Foreign Affairs of Japan)
During Prime Minister Abe's official trip to Jamaica (30 September to 1 October), an official signing of an MOU between the Caribbean Islands and Sophia University, which was initiated by APIC, was held in the presence of Prime Minister Abe and Jamaican Prime Minister.
The MOU is one of the projects that APIC has been planning as "Japan-Caribbean Friendship Cooperation Project". This MOU was realized in consultation with the Ministry of Foreign Affairs and Sophia University, and signed by Sophia University and University of West Indies.
Thus an official signing of the MOU took place during Mr. Abe`s official visit to Jamaica. Based on this MOU, APIC is planning to invite students from the Caribbean Islands to Japan to study.
On the Web page of the Sophia University's website, there is an article on Mr. Abe's visit to Jamaica:
"On Sep 30 2015 Sophia University signed MOU for academic Cooperation with the University of the West Indies. Sophia University was in the preparation in signing the academic partnership with the University of the West Indies as participating in Supporting Development Cooperation Projects in the Caribbean Region offered at Association of Promotion of International Cooperation (APIC). Witnessed by Japan Prime Minister Shinzo Abe and Jamaica Prime Minister Simpson Miller, MOU was signed by Sophia University President Takashi Hayashita and the University of the West Indies Vice Chancellor Sir Hilary Beckles."
http://www.sophia.ac.jp/eng/info/news/2015/10/globalnews_1617/10022015?kind=1
On the same day the MOU was signed, the Prime Ministers from both countries signed a Joint Statement on Enhancing the Partnership between Japan and Jamaica (J-J Partnership). In the following article it says:
"They also welcomed the proposed launch of the exchange programmes between Sophia University in Japan and the University of the West Indies using the JCFCF and looked forward to their progress."
http://opm.gov.jm/joint-statement-on-enhancing-the-partnership-between-japan-and-jamaicaj-j-partnership/
About the University of the West Indies:
"A Caribbean regional institution duly constituted by Royal Charter. The headquarter situated in Kingston, Jamaica, the main campuses are located in Mona, Jamaica, Cave Hill Barbados and St. Augustine in Trinidad. Established in 1948 the university delegates higher educational institutions of the area offers bachelor, master and doctrine degrees in Humanities, Social Science, Natural Science, Engineering and Medicine."
(cited from the Sophia University Official Website)