Palau Environmental Seminar: Opinion Exchange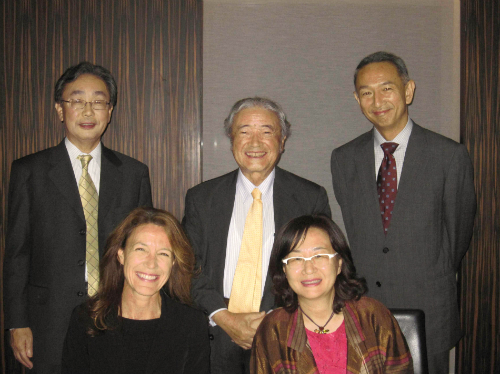 APIC President Peter Sato invited Sophia University Graduate School of Global Environment Studies Professor Anne McDonald and UN Environmental Affairs Officer Dr. Jihyun Lee to the Tokyo Club on May 21st for an opinion exchange session. Dr. Lee was in Japan to attend the founding anniversary of Sophia University Graduate School of Global Environmental Studies.
The Association for Promotion of International Cooperation (APIC) is supporting environmental protection projects in the Pacific Islands region (cooperating with the Micronesia Conservation Trust), and as part of APIC's support they have asked Professor McDonald to give a lecture at the planned Palau Environmental Seminar.
Professor McDonald has been researching on the theme of woodlands and environmental protection, and from 2008 to 2012 was founding director of the United Nations University-Institute of Advanced Studies Operating Unit Ishikawa Kanazawa, and was also involved in registering the Noto Satoyama Satoumi as a UNESCO world heritage site. Other activities include member of the national committee for promoting environmentally sound agriculture under the Ministry of Agriculture, Forestry, and Fisheries; committee member of Countryside Satoyama conservation and utilization under the Ministry of Environment; she has also been a member of numerous governmental committees, giving high hopes for environmental conservation proposals in the Pacific Islands region.