7th Pacific Alliance Leaders Meeting Commemoration: An evening of international friendship between Japan and the Pacific Islands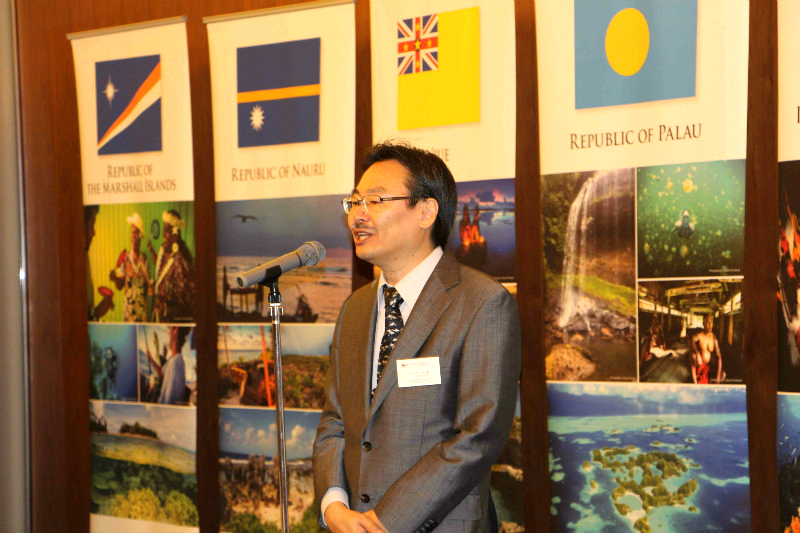 (Photo: The Pacific Islands Center, Director Mr. Ogawa Kazuyoshi)
On May 8th, a dinner was held for promotion of the "Pacific Festa 2015" event which will start on May 21st. In attendance were government officials, ambassadors from the Pacific Islands, university affiliates, and guests with connections to the region.
The "Pacific Festa 2015" will take place for four days at the Ark Hills Karajan Square in Minato ward, Tokyo as a joint event with the 7th Pacific Alliance Leaders Meeting taking place on May 22nd and 23rd in Iwaki City, Fukushima prefecture. The event will introduce culture and items of the Pacific Islands region, as well as introduce Japan's relationship with the area and simultaneously aim to give momentum for the upcoming Pacific Alliance Leaders Meeting.
On the 8th, over one-hundred people gathered from difference sectors to cultivate their ties with the Pacific Islands.
The following is APIC President Mr. Peter Sato's opening address (Japanese only).
ご挨拶
 第7回太平洋・島サミット(PALM7)が2015年5月22日及び23日に福島県いわき市で開催されます。
 この機会に、一般社団法人太平洋協会、国際機関太平洋諸島センター、一般財団法人国際協力推進協会の共催で島サミット地域に関心を寄せている関係者が一堂に会し、いわき市でのPALM7を盛り立てると共に、ご参会の方々の横の連絡を一層密にし、この地域と日本との関係を一層強化する一つの切っ掛けになればとの思いで、ご案内させて頂きました。
 大勢のご参加を頂き厚く御礼申し上げます。共催団体に代わり、衷心より御礼申しあげます。
 外務省の中根外務政務官、太平洋島嶼国議員連盟会長・古屋圭司衆議院議員に於かれましてはご多忙のところお運び賜り真に有難う御座います。
 また、フランシス・マツタロウ閣下(駐日パラオ大使)はじめ島嶼国の大使方のご参加に対しましても深甚なる感謝を表明致します。
 東日本大震災から四周年の年にPALMが7回目を迎え、福島県「いわき市」において首脳がご参集されることになり、感慨を深くいたします。
 丁度ひと月前の四月、天皇皇后両陛下のパラオご訪問(4月8日、9日)がございました。その際のお言葉、慰霊碑訪問などは多くの日本国民の心を動かしました。まさに、この地域の人々と日本国民の気持ちの交流が一層豊かになったと感じた次第です。
 PALM7のキャッチフレーズは「いわきから太平洋への誓い、共に創る豊かな未来」(英語では、"We are Islanders ~Commitment to the Pacific from Iwaki, Fukushima : Building Prosperous Future Together ~")です。
 太平洋島嶼国との強い連帯感を改めて決意していることを示すものであり、大変重要なメッセージだと思います。
 PALM7は、いわき市はじめ東北地域の復興・発展を応援する趣旨もあると受け止めておりますが、いわき市から地元の日本酒「又兵衛」をご提供いただきました。ご賞味下さい。
 PALM 7並びにその関連企画のご成功を心から祈念申し上げ、ご挨拶と致します。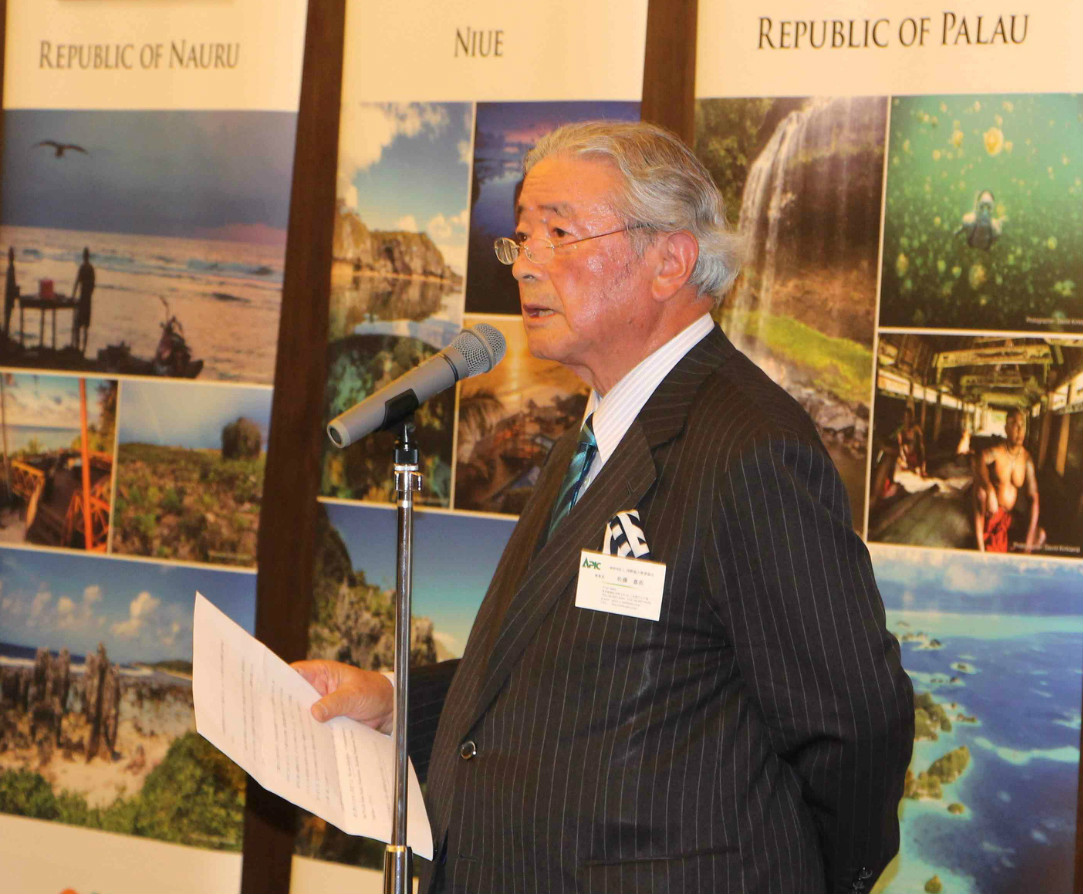 一般財団法人 国際協力推進協会
理事長   佐藤 嘉恭