5th Term Xavier Exchange Students & 2nd Term APIC-MCT Exchange Students Enter Sophia University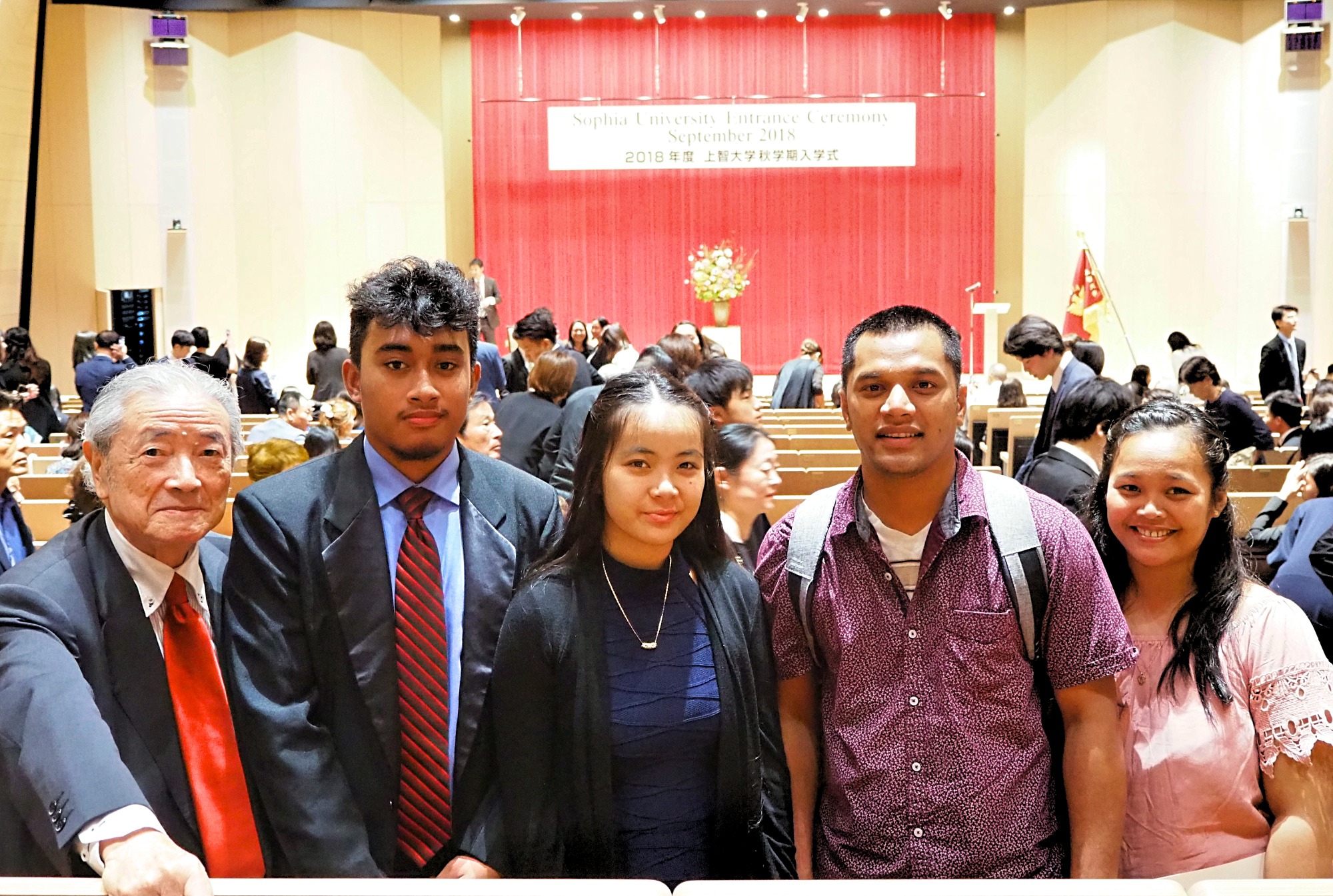 (From left: APIC President Peter Sato, Mr. Charley Jr., Ms. Arnold, Mr. Rufus, and Ms. Waguk)
On September 21st, 2018, Sophia University Yotsuya Campus's 2018 Fall Entrance Ceremony was held, with two exchange students part of the 5th term Xavier High School Exchange Program, Ms. Chloe Arnold and Mr. Paul Charley Jr. attending, and three students part of the 2nd term APIC-MCT Exchange Student Program, Ms. Tamae Waguk and Mr. Lajkit Rufus, attending the events.
The Xavier Exchange Student Support program was started in April 2014 between APIC and Sophia University, stemming from the Sophia-APIC Xavier High School Exchange Student Scholarship. The program between Sophia University, APIC, and Xavier High School appoints exchange students from Xavier to Sophia University under the Memorandum of Understanding (MoU) between the three members. Under the MoU, students from Micronesia, Palau, and the Marshall Islands are admitted regularly to Sophia University where they receive educational support, and help foster relations between Japan and the international community.
The Xavier High School Exchange Program Scholarship Fund started in April, 2014, as part of an agreement between Xavier High School (located in Chuuk State, Federated States of Micronesia), Sophia University, and APIC. Sophia University has designated Xavier High School as one of its associated overseas schools, and signed an MoU (Memorandum of Understanding) with Xavier to continuously accept exchange students into the university. The signing of this MoU launched an exchange program that supports human resource development of the Micronesia region (Republic of Palau, FSM, Republic of Marshall Islands), and which facilitates international exchange between Japan and the world. Currently, there are a total of seven students invested in their studies at Sophia University who are receiving scholarship as part of this program. The two new graduate students will be studying at Sophia University Graduate School under the agreement that APIC and the Micronesia Conservation Trust have founded. One of the main purposes for its founding is to develop human resources in the area of environmental protection. APIC has joined hands with MCT and put in effort into programs such as "The Clean Water and Lifestyle Improvement Project" to help protect and improve the Micronesian environment. The program with Sophia University will aim to produce graduates who will be active in shaping environmental policies by providing a high level of field-specific knowledge during their studies.
The APIC-MCT Exchange Student Scholarship Program is based on an agreement between Sophia University, Micronesia Conservation Trust (MCT), and APIC. Its purpose is to develop human resources from the perspective of environmental protection by creating a program with a goal of receiving a master's degree after completing the master's program at Sophia University Graduate School of Global Environmental Studies. Until now, APIC has joined with MCT and put great efforts into projects such as the 'Clean Water and Lifestyle Improvement Project' and others. From now on, APIC will continue its exchange student support in order to develop human resources who will receive a high-level specialized education at Sophia University so that they can take part in environmental government administration. There are currently four students taking part in the program, each of whom is spending their days researching their respective topics.
Both programs are opportunities for students in the Pacific Island region, where it is hard to receive a higher education, to go on and complete a bachelor and/or a master's degree. APIC plans to continue its support for students who come to Japan from the Pacific Islands so that their experiences in a different culture will bring about understanding which will be the foundation for strengthening relationships.