Water Tanks Donated to Pohnpei, FSM for Drought Aid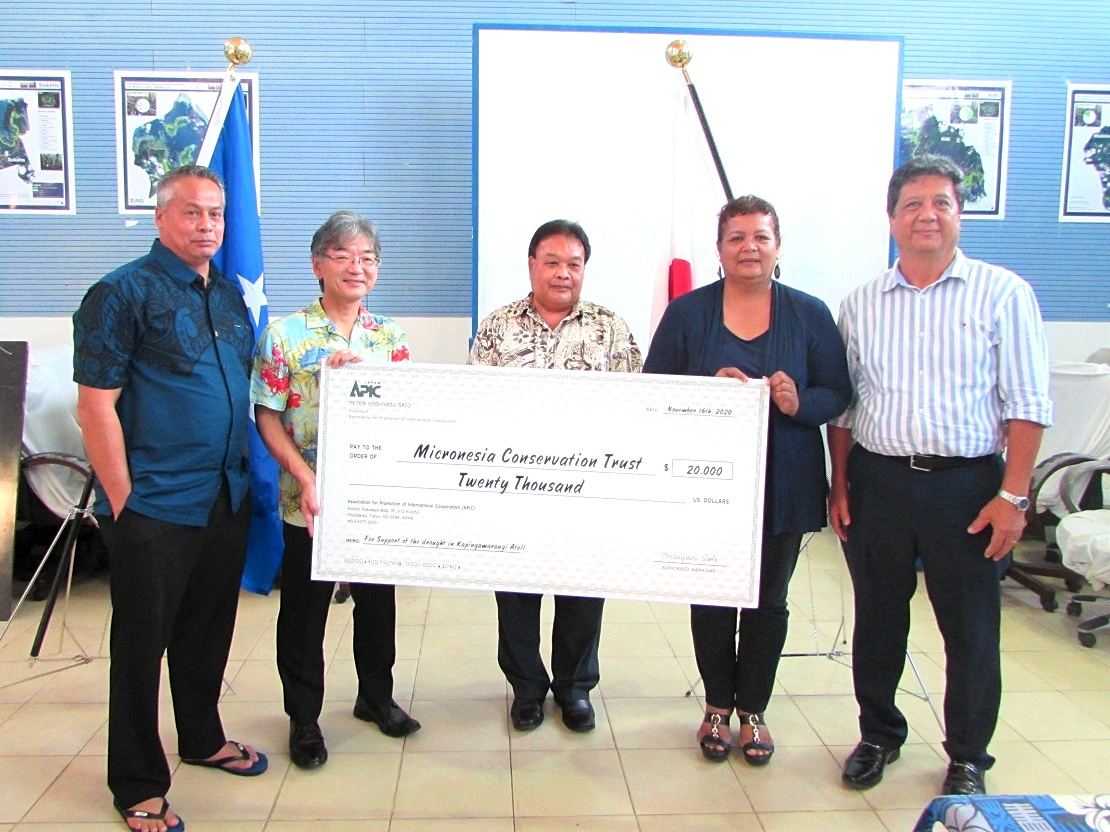 (Displaying Memorial Cheque at the Presentation Ceremony)
APIC received a cooperation request from MCT (Micronesia Conservation Trust), and in response donated $20,000 USD in order to purchase and ship eight 1,000-gallon (3,785 liter) water tanks to the state of Pohnpei, Federated States of Micronesia. The tanks are intended to aid in staving off serious droughts which have affected the Kapingamarangi Atoll.
According to MCT, the Kapingamarangi Atoll (situated 740 km south of the capital) has been suffering from a drought for over several months, negatively affecting underground wells and water collection facilities, as well as food resources. The current facilities are not able to endure long-term natural disasters such as severe droughts, and so the collective 8,000-gallon water tanks will ensure drinking water for all 500 residents of the island. APIC also donated $20,000 USD in April 2020 to Weno Island in Chuuk, FSM for the installment of ten water tanks to relieve damages done to the region due to severe droughts.
The Presentation Ceremony of the Ceremonial Cheque on November 17th was held at Pohnpei State's government offices, with around 40 people in attendance, including the Japanese Ambassador to FSM Mr. Hidenobu Sobashima, Governor Oliver of Pohnpei State, Lieutenant Government Perman, State Senator Ludwig from Kapingamarangi, and MCT Executive Director Kostka. The Presentation Ceremony started with words of thanks and prayers from Special Assistant to the Governor, Mr. Kappel, followed by an explanation of the program's aim and APIC's support, as well as words of appreciation from MCT Executive Director Kostka, Ambassador Sobashima, and Governor Oliver.
Ambassador Sobashima mentioned the historical connection between Japan and Micronesia, and the friendly, cooperative relationship that has been built over time. He mentioned how the Japanese government has carried out various development cooperation projects, and how support on the private level, such as APIC, is also being conducted. After his remarks, a message from APIC President Sato was introduced, with the following statement: "APIC is pleased to be able to cooperate with MCT and help reduce the damage caused by severe droughts in the Kapingamarangi Atoll and Weno Island. The 18 tanks that were purchased and strategically placed will reduce the probability of damage from droughts of the same scale from occurring again".
The installation of the tanks went smoothly, and APIC hopes that the donated tanks will be another symbol of the friendship between Japan and the Federated States of Micronesia.
Japan's Association for Promotion of International Cooperation (APIC) Supports Drought Recovery of Pohnpei Remote Island, Ambassador Sobashima and Governor Oliver Speak at the Ceremony
Micronesia Conservation Trust and Japan Embassy Handover Tanks and Supplies
Japanese private foundation supports Kapingamarangi drought recovery
(The Kaselehlie Press)