Interview: Yoshito Honda, APIC Trustee (Toshin International Corp. Honorary Chairman)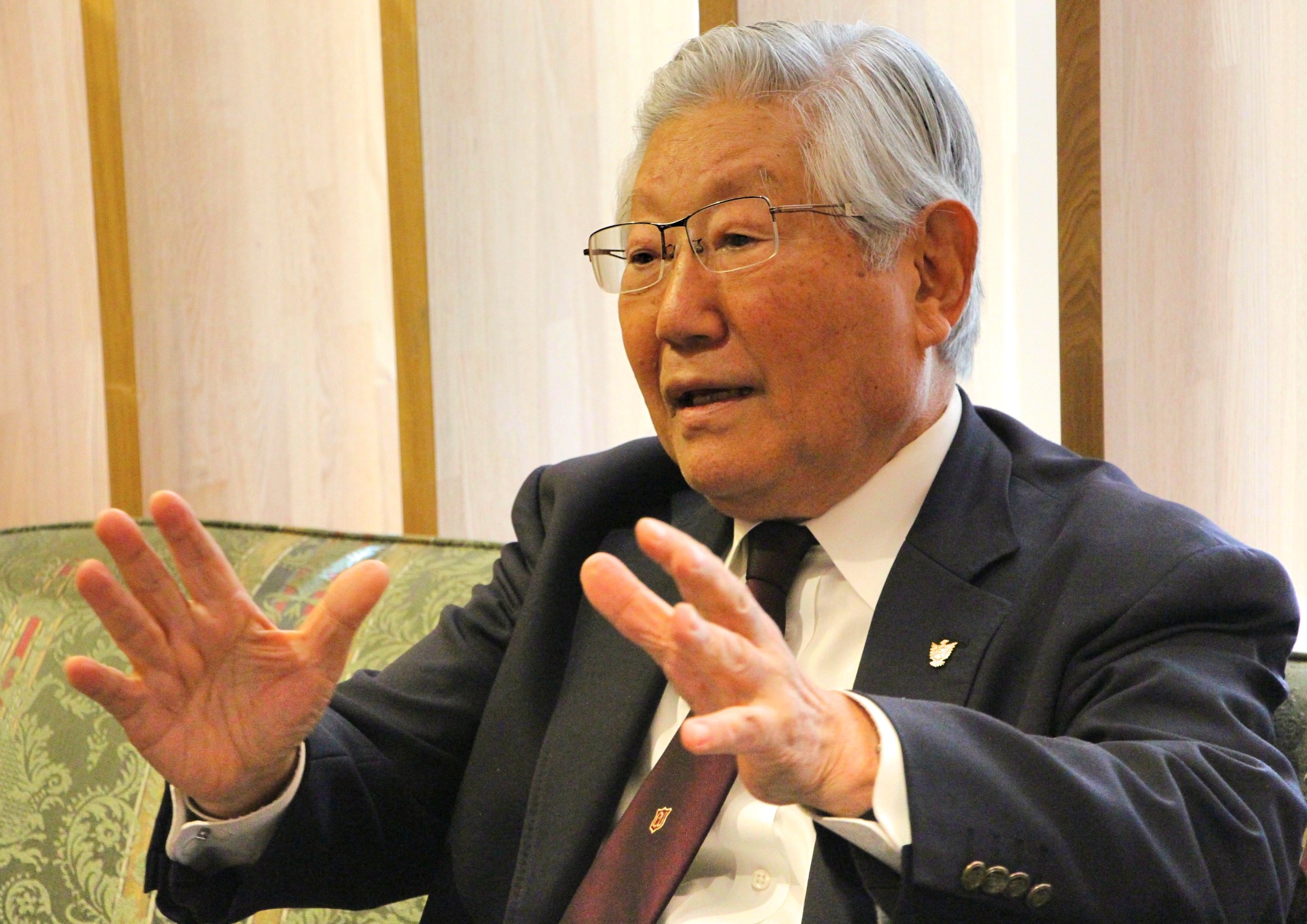 APIC's intern students conduct at least one interview with an APIC director and/or trustee during their internship, which is then published in APIC's bi-annual members magazine. This time they interned APIC trustee Mr. Yoshito Honda (Toshin International Corp. Honorary Chairman), asking him about his experiences from when he was a student to adulthood, and his views on international cooperation, as well as a message for the younger generations. Interviewers: Ms. Inamura and Ms. Nakata of Sophia University.
◆Sophia University in the Past
Q1. When you were studying economics at Sophia University, the number of professors outnumbered students, very different from how it is today. Can you tell us about any memories or events from that time?
I have a lot. Actually, Sophia University was not my first choice of universities. I tried to get into a national university but failed, and after consulting with my high school college counselor Sophia was the only school I could send a recommendation letter to in time. My high school excelled at both academics and sports, and I decided to join the baseball team after seeing my school go to Koshien. However, at the time, Sophia's baseball team was at the bottom of the third Tohto University Baseball League, and watching them practice from the top of the riverbank in their dirty uniforms without their hats, I lost all interest in joining the team. However, the team manager had heard that I used to play, and fervently solicited me, so with an impertinent enthusiasm I joined the baseball team.
However, once I joined, I found out that the coach was an American priest who gave all orders in English, both during practice and during games. I loved English since I was in middle school, and I was happy that this made it worth going to Sophia. One day when going back to the locker room in the afternoon after practice during summer vacation with my uniform on, I met a friar who was a real baseball fan. He turned out to be the school president of that time, the Father Takashi Oizumi. This encounter was the beginning of a close friendship and tutelage under Father Oizumi. This sort of connection between student and school president would have been unthinkable at any other school. When talking to my high school friends who went on to different universities, no one believed me when I told them. I started to like Sophia because of this, and my affection lasted during and after my studies, which is why I believe I was entrusted with various matters concerning Sophia. I would've spent a boring university life, and perhaps may have even transferred to another school if I hadn't joined the baseball team.
At the time, Sophia was a small, at-home school with more priests than students. During my sophomore year, the word "men-only" started to disappear from the admission requirements, and Sophia became a passive co-ed institution. After the war, Catholics asked Sophia University "Japan has nothing. What do you want?" to which Father Bruno Bitter responded "We do not need anything, but please send us many educators", and at Sophia there were actually many Fathers from overseas who held doctorate degrees. It was from this time that Sophia garnered a reputation as being an international institution. These were such good times that even when it got dark outside, I didn't want to go home.
I was in the economics department, but I don't recollect studying seriously. However, I do remember that Monday morning to evening English class was quite fun. However, I was no match for the homework that was assigned each class. The teacher was a foreign Father, and used no Japanese in class. He was a stickler for time and once class started, he locked the classroom door; even if you had a late slip, he still wouldn't let you in.
What my time at Sophia taught me was the mind of philanthropy and service. Sophia's motto is "Men and Women for Others, with Others". Other universities can't go this far, but everyone will leave Sophia after studying for four years with something. This may be due in part to the Fathers' influence, but this is indicative of what the school possesses. There are great Sophia alumni to whom I bow my head to in respect, such as those alumni who gathered together the day after the Great Hanshin Earthquake to volunteer and help the area, or those who started the Japanese Olympic Committee for the Special Olympics (Note 1). Of course, the Sophia Alumni Association has groups that are volunteering for the East Japan Disaster as well.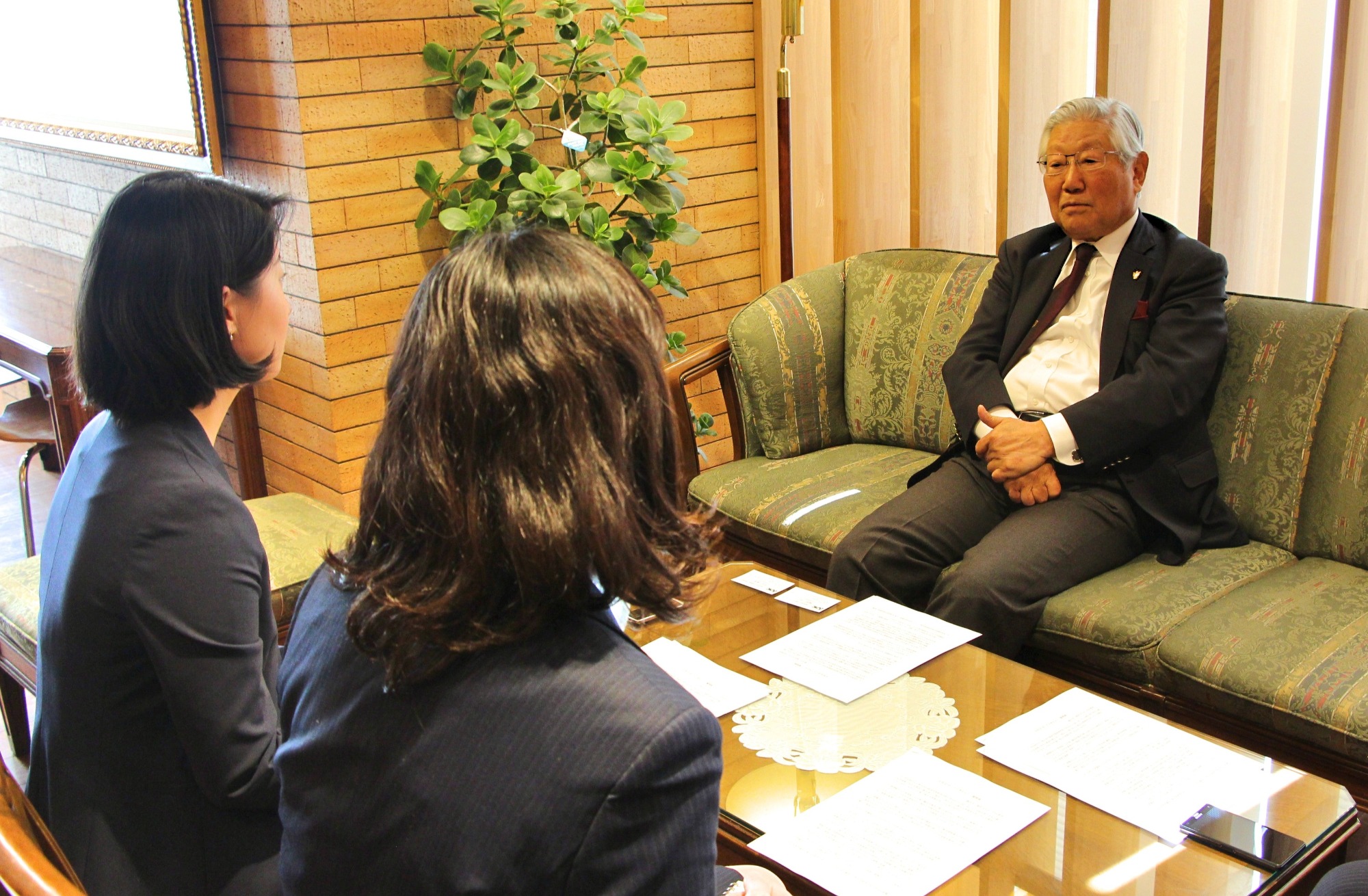 (During the interview)
◆Thoughts on Starting a Company
Q2. You are the founder and current Honorary Chairman of Toshin International Corp., which deals with freight and passenger ships, and sale of oil and gas. Can you tell us about the reasons behind and goals you had when founding the company?
After graduating, I entered a small company that dealt with the sale of oil and transport. The following year, somebody tapped me asking if I would be interested in being a shipbroker between foreign shipping companies with a large transport fleet and Japanese oil companies. At the time, there weren't many people who could speak English, and so I took the offer right away, thinking it was for me. In order to secure a business partner, I had to go to New York, but immigration wouldn't give me a visa unless I had someone who could guarantee my identity at my final destination. I was in a tight spot when my previously mentioned baseball coach from Sophia invited me to help him lead a summer session for Sophia students in America that summer. It was 1964, the year of the Tokyo Olympics, but nonetheless there were 40 students who wanted to go and study in America during that summer. I obtained a visa as the leader of the summer session and landed in America. While the students were busying studying in Los Angeles, I was in New York securing my new client. Later on, I went to London and found another client, and from then on I went to New York, London, Norway, Sweden, and other countries on a yearly basis for business negotiations and work. When traveling for work, I was the intermediary between Japanese and Western businesses, negotiating for the Japanese. This is when I felt that the Japanese are very selfish. In a negotiation there is always a buyer and a seller, and both start off on an even foot, 50/50. The scales change and it goes to 60/40, 30/70, etc., but at that time when a Japanese knew they had the upper hand they would make quite extreme demands, and I remember experiencing a number of embarrassing occasions standing in the middle of the two parties. One time when I was in London, a pedestrian crossed right in front of a taxi, and the cabbie got out of the car and instead of yelling at the pedestrian, he helped her cross the street safely. I saw this and I immediately thought that Japan must change its ways as soon as possible.
In this sense I was still young, and I would often argue with some of my unreasonable Japanese clients. What I learned at Sophia about the importance of understanding foreign countries' cultures and history came into use during this job. A few years later, I took some of the people who worked under me and created my own company. We created a network between oil, shipping, and trading companies using negotiated contracts, which at that time meant being given large business once gaining the client's trust. Right now, I am doing my best to leave the business up to my successors and stay out of everyone's way. Japanese have relaxed, and maybe because of the increase in global trade, but I feel that there are more compassionate Japanese than before.
◆Mutual Understanding: Meaning behind APIC & Sophia's Cooperation
Q3. You mentioned that Japanese have a hard time putting themselves in the shoes of others, but Sophia University has been chosen as a globalization leader model university, putting effort into educating leaders of tomorrow and international exchanges. APIC is promoting international understanding, and expanding its programs related to international development efforts. What are your thoughts on the meaning of APIC and Sophia working together? Also, what shape do you hope these ties will take in the future?
APIC's projects which are promoting international cooperation are based on taking into account the other party's stance and mutual understanding (Note 2). Sophia University is currently gathering students not only from South East Asia, Europe, and America, but also from South America, Africa, and other places around the world and making its campus globally diverse. This is not just language-wise, but also, I think in order to develop international talent by deepening mutual understanding between countries. On the other hand, APIC is not only working with exchange students from the South Pacific and Caribbean regions, but expanding its projects and support in these regions in various fields. I believe that it will be very meaningful to the expansion of both organizations' relationship if they deepen their ties, and I think it would be great if not only students but teachers and professors become involved and form a closer relationship.
(Visiting Xavier High School in Micronesia, which APIC runs a full-scholarship exchange student program)
◆Words of Wisdom to the Youth
Q4. We've gathered that you have placed importance upon "standing in somebody's shoes" since you were a student. Do you have any other advice for students and/or young generations?
What I want to emphasize most is don't be afraid of failure. Unlike my generation, there are different types of learning that aren't just studying at your desk, such as internship programs. However, young people these days don't want to get hurt and are afraid of taking chances, and always cushion themselves in case of failure. Even when a great opportunity shows itself, they lack the backbone to take it. This is a bad thing in both business and society. When you have a strong feeling overcome you, the other party will want to cooperate with you. When asking a question, a lot of Japanese use the expression "I might be wrong, but…" or "I might anger you if I ask this, but…" before asking what they want to know. Young people these days don't get back up after taking a fall, and the more straight-A student they are the more they hate falling down, but there many things to learn from falling down, so I strongly urge students and others to fall hard while they're young.
Another thing which is more personal, is learning from the Chinese classics. Just knowing about the five Confucian virtues and the significance of the four morals of Confucian thought will help improve yourself. I would like for the younger generations to think about the importance of improving your inner-self more than studying and academic knowledge. It doesn't have to be Chinese classics; it can be Japanese literature or historical novels; anything goes just as long as you read books other than those for school.
◆'The Sophian'
Q5. This standard is what motivates you to keep being involved in Sophia University?
I'm not in love with my school, but I am a Sophian, inside and out. Sophia calls students, parents, educators, and alumni the "Sophia Family". The Sophia University now feels like an alternate universe from when I was a student, but the coordinate axis, in other words, the educational philosophy hasn't changed since the school's founding, even through the war until now. Post-graduation, while I was delving into my work, I managed to be the baseball coach for five years, was the executive of the economics department and alumni association, and still indeed enjoy communicating with many Sophia graduates to this day.
Note 1) In 1968, US President Kennedy's sister, Eunice Kennedy Shriver founded the Special Olympics for the mentally disabled, who at that time did not have many opportunities to enjoy sports. Sophia University graduate and former Japanese Prime Minister Hosokawa's wife, Kayoko (1966 Sophia Graduate of English Literature) Hosokawa started the Special Olympics in Kumamoto in 1994.
Note 2) APIC's activities include sending Japanese students to Micronesia on the 'Micronesia Exposure Tour', inviting world leaders to Japan to educate on the subjects of environment and tourism, projects to let exchange students experience Japanese culture, etc.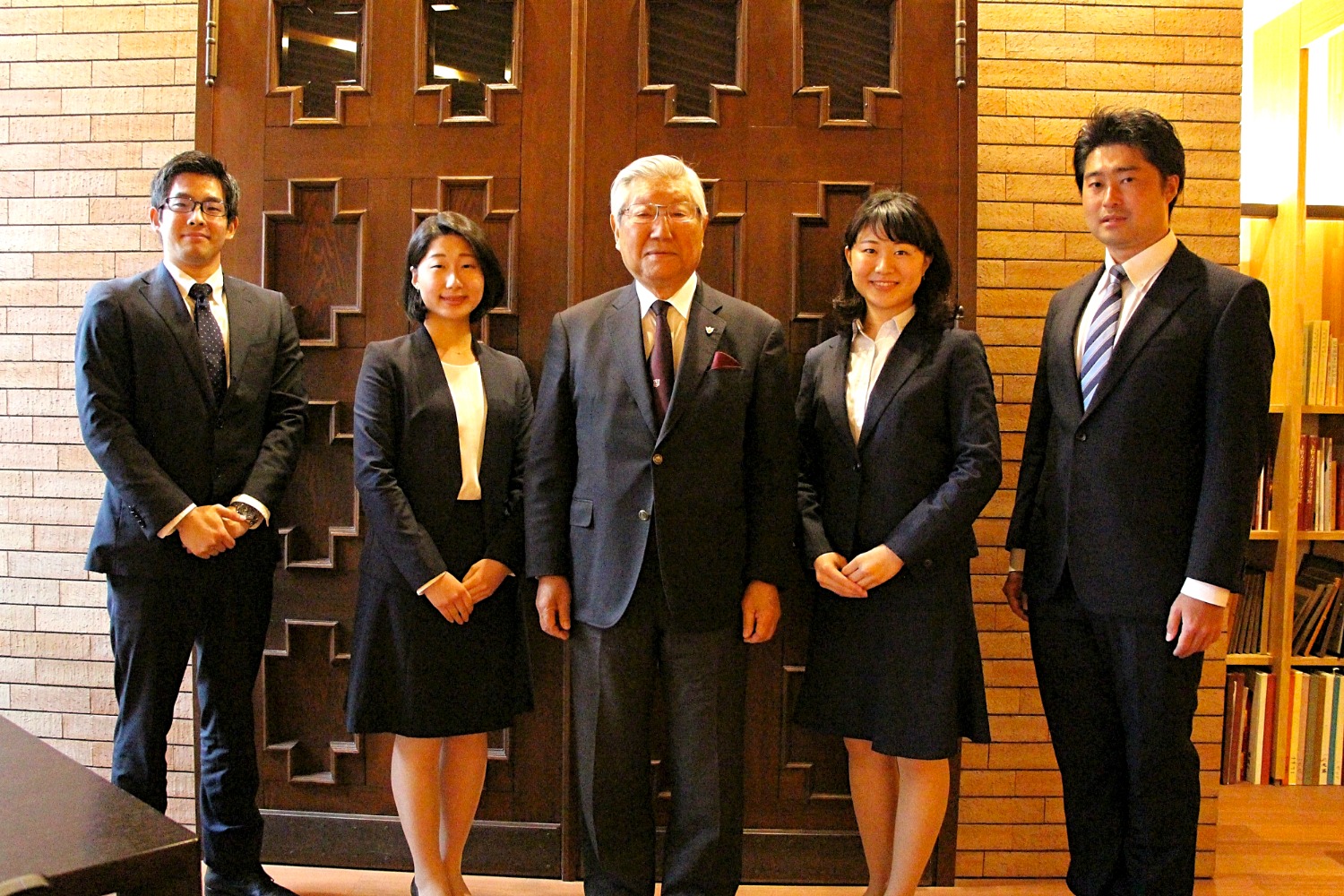 (From left: Interns Mr. Kinpara, Ms. Inamura, Trustee Honda, Ms. Nakata, and APIC Director Mr. Haga)
Career
1961: Entered Miki Industries (Oil product sales division)
1963: Joined Toshin Tanker Corp.
1966: Left Toshin Tanker, founded Honda Ship Broking Firm
1990: Named Executive Vice President of Miki Industries
1994: Closed Honda Shipping Agency Firm
Founded Toshin International Corp. and named President
2001: Named Japanese representative for the Port of Los Angeles
2003: Named Director of Japan Shipbroker's Association
2005: Named Chairman & President of Japan Shipbroker's Association
2014: Named Honorable Chairman
2015: APIC Trustee
1971-2008: Sophia Alumni Association Executive Director
2000-2006: Sophia Alumni Association Vice-Chairman
2006-2009: Sophia Alumni Association Chairman
Sophia School Corporation Trustee
(As of January, 2019)