Interview: APIC Director and Outside Auditor of Ajinomoto, Hiroshi Murakami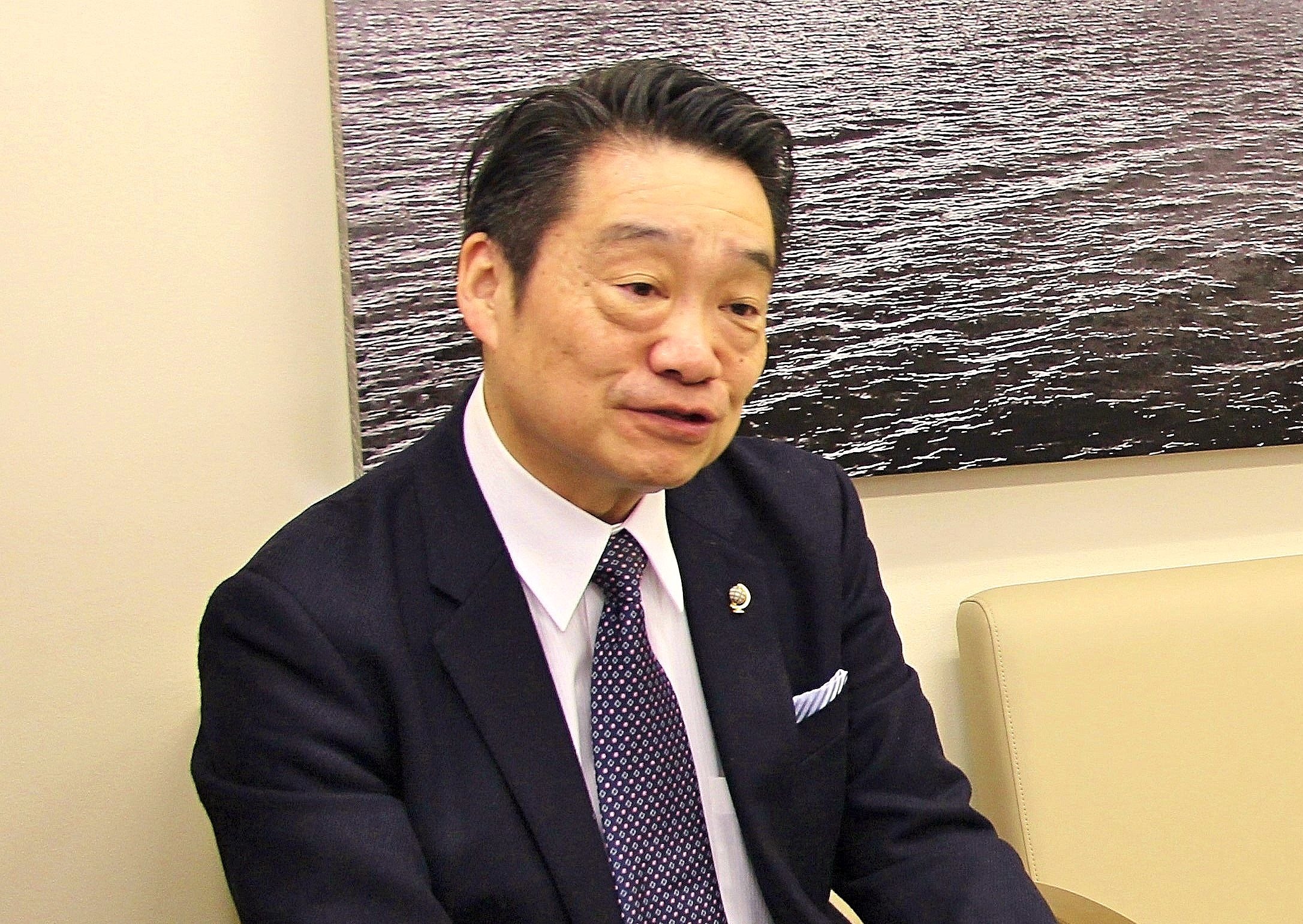 APIC's intern students conduct at least one interview with an APIC director and/or trustee during their internship, which is then published in APIC's bi-annual members magazine. This time they interviewed APIC Director and outside auditor of Ajinomoto, Hiroshi Murakami, asking him about his views on international cooperation through his experiences, as well as a message for the younger generations. Interviewer: Ms. Yamamoto of Sophia University.
Q.1 What prompted you to become a director of APIC? As a director, what are some of APIC's activities that you think are especially important?
The directors of Tsuda University and the directors of APIC have friendly ties, and a request to sign a cooperation agreement between the two parties is what started me on my journey as an APIC director.
I worked at Toray for over 40 years, and while I was Director-General of the International Department that looks over all overseas projects, I attended APIC's monthly 'Lecture Meeting Regarding Global Issues'. I became acquainted with APIC President Peter Sato and Executive Director Shoji Sato, and they later on asked me to assume one of the director posts in APIC. These posts were traditionally held by government officials, but APIC also wanted people from the business world to take part in APIC's board, and thus they invited me to join. I have only been on the board for a little over a year, but I hope to be able to contribute, if only a little, from the position of looking at international cooperation from a global business perspective.
Q.2 When you were a student, what did you think about the future ahead of you?
When I was a student in the early 1970's, there were still remnants of the student protests of the '60's. Not many students went to class and studied seriously like nowadays; right before an exam there was always a strike, so I never once took an exam while I was in college. This gave me the opportunity to do what I liked in my extracurricular activities, and hold study sessions, as well as work part-time and travel. Finding a job after college was not as hard then as it is today, so I don't think I really thought hard about what my future might be like. However, thinking back on it, I was subconsciously drawn to Toray's corporate philosophy of "contributing to society through the creation of new value with innovative ideas, technologies and products". I visited various manufacturing companies, but Toray was the company that I felt best fit me, and so I entered Toray.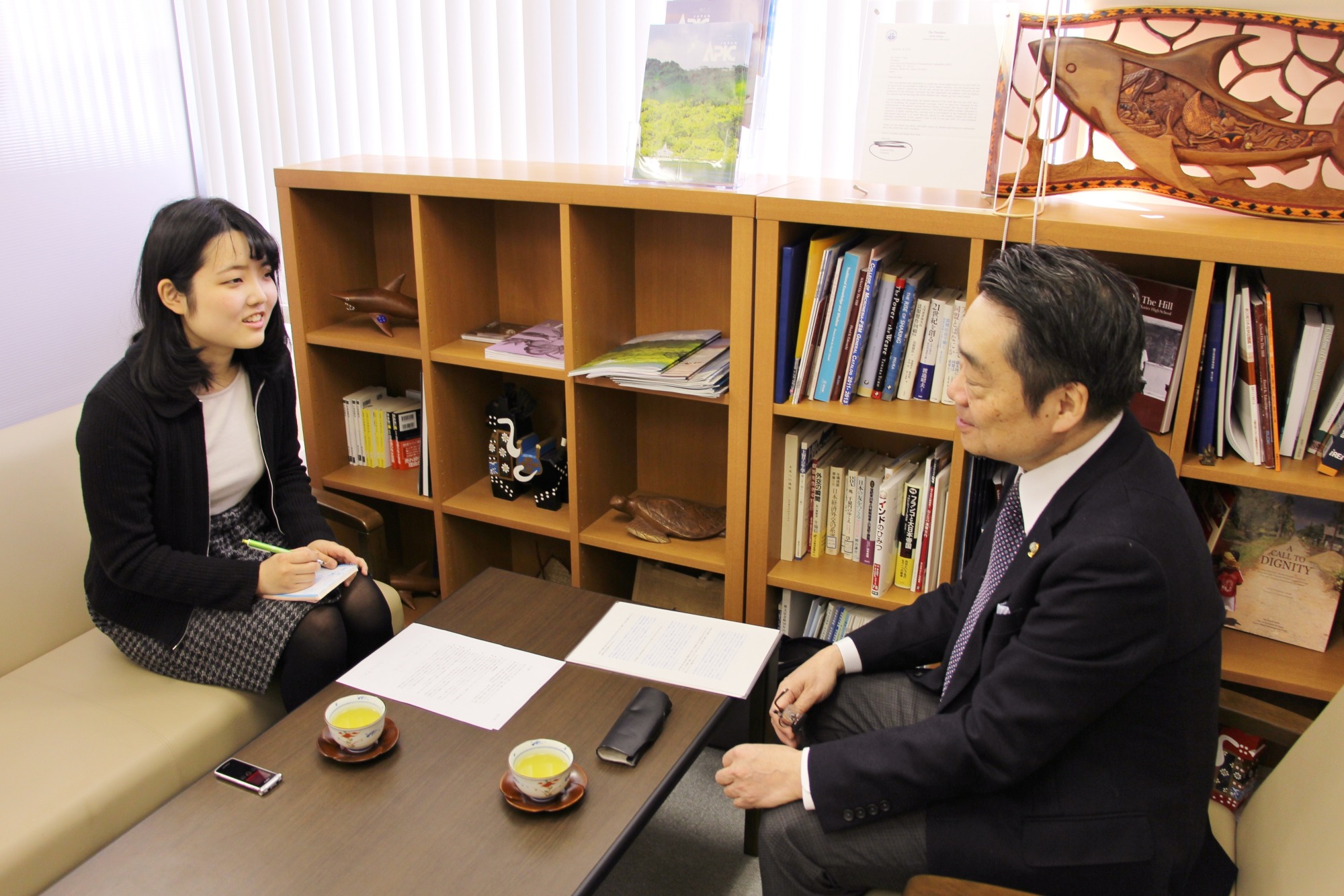 (During the interview)
Q.3 I heard that when you first entered Toray about 40 years ago, almost right away you involved with planning the first-ever plastic PET bottle in Japan. Compared to when you first entered Toray, what are some trends of current Japanese companies?
When I first entered Toray, America was just beginning to bottle its cola in plastic bottles. In Japan as well, companies were racing to develop those types of plastic bottles, and I was in charge of writing up the "PET bottle materials commercialization" business proposal. Now, over hundreds of millions of PET bottles are on the market in Japan, and the fact that I wrote the original business proposal for this product is the pride of my salaryman career.
Toray's globalization started in the 1960's when Toray ventured into the Southeast Asian markets of Thailand and Indonesia and started producing fibers. Toray then went into the American and European markets in the 1980's, followed by China in the 1990's after Deng Xiao Ping's economic reforms. I never thought that I would go overseas, but since the product I was in charge of was going to enter the American market, I got caught up in the wave of globalization and eventually spent a total of 12 years in America. I believe that for the current student, "setting foot in the real world is the equivalent of confronting globalization". All Japanese companies must also think on a global base in today's times.
Q.4 You have experience working in America and expanding business projects in the developing nations of Asia. While global companies are expanding, many problems are reported by the press, such as human rights etc. What points do you believe Japanese companies must improve when going into the foreign market?
Including my stay in America, I have been to over 30 countries on business, including Asia, the Middle East, Russia, and Africa. Toray employees who are stationed overseas make up around 60% of the company, and I also spent half of my time traveling the world. Proceeding with business, management, HR and labor; all of these areas, if done the Japanese way, will not work out overseas. It is necessary to adjust these according to the country's culture and customs, and local mentality. I believe it's important to have a good relationship with the local government and partners while doing business overseas.
One of the reasons Toray went overseas is because of the low production costs; however, not only Toray, but our business partners must also pay attention to HR-related problems such as child labor and bad company culture, etc. It is required to check if funds have not leaked to militant groups in order to purchase "conflict minerals". In order to business on a global scale, it has become normal to think using the global standard; in order to do this educating future global leaders and improving company structure is necessary.
Q.5 In order to promote the use of carbon fiber, there are many examples of Toray contributing to environmental safety. What do you believe Japanese companies must contribute to international cooperation?
Toray's corporate philosophy is "contributing to society through the creation of new value with innovative ideas, technologies and products". Toray's carbon fibers make it possible to lighten the weight of automobiles and airplanes, which in turn reduces the amount of CO2 released. This is how Toray is contributing to the environment. Also, Toray has developed a water treatment membrane that takes salt water and turns it into fresh water, helping to solve the problem of water shortages. While I was stationed in America, these types of Toray's activities were widely acknowledged, and we were awarded the UN's Humanitarian Award for our activities, and I actually attended the awards ceremony. Toray believes that "materials have the power to change society", and is working on developing new materials. This is a little-known fact, but Toray and Uniqlo worked together to develop Uniqlo's 'heat tech' apparel. As an outside auditor of Ajinomoto, I am involved in the "KOKO Plus" project, working together with the local Ghana government and international organizations and universities to develop and broaden the project's outreach. KOKO Plus aims to improve nutrient deficiency in babies by mixing Koko into baby food. Now the project is part of Ajinomoto's CSR (Corporate Social Responsibility) activities, but if the project gets headed in the right direction there will be economical benefits for Ajinomoto as well. Whereas before CSR focused solely on social values, I think the trend will turn to companies using CSR as the base of their activities to work toward CSV's (Creating Shared Value), which contribute to society and to the company's economic benefits. I believe that companies must sustainably contribute to society while balancing social value (CSR) and their economic value.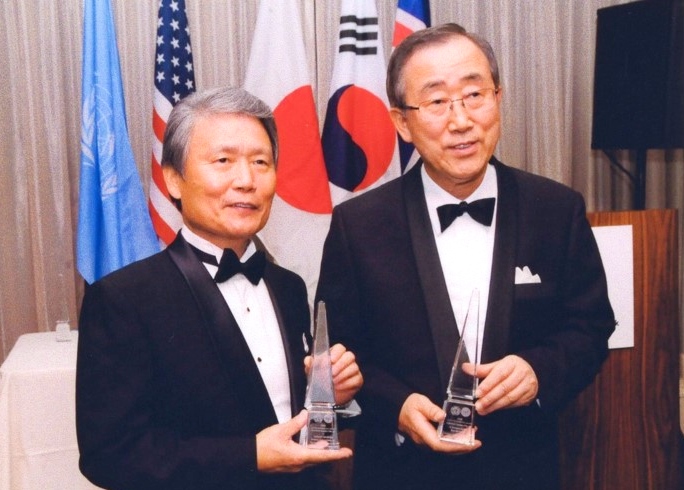 (2008 Humanitarian Awards Ceremony with then-UN Secretary General Ban Ki Moon (right) and Sadayuki Sakakibara, President of the Japanese Keidanren (then president of Toray))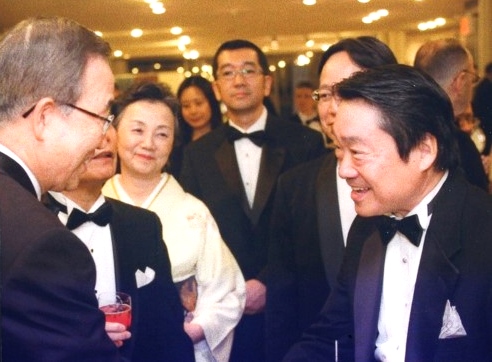 (At the awards party shaking hands with Ban Ki Moon. Photos presented by Mr. Murakami)
Q.6 What do you believe is Japan's strength in international cooperation?
I believe that manufacturing companies such as Toray and Ajinomoto must do just that-manufacturing-to contribute to society by helping solve problems such as lack of water, food shortages, and environmental problems. However, there are limits to the power of only one company, so it's necessary for public and private studies to work together. I believe this type of teamwork is what Japan is best at. This public and private cooperative teamwork can be called Japan's strength in the field of international cooperation.
Q.7 As a current visiting professor at Sophia University, what do you emphasize to students in your class about the development of global talent?
I am in charge of two courses at Sophia University. The first class is for freshman; I invite a lecturer from a company and have them give the students a topic which the students then solve as employees of that company through discussion, and then present their findings to the rest of the class. In the end, it turns into a competition and the students ambitiously approach the challenge in front of them. The second is for juniors. After learning about the history, background, DNA, inherited technologies, and efforts put into product development and globalization, we take a look at the problems these companies are currently facing and try to explain in as much detail as possible
how
the company is trying to solve those problems. At the end of the course I have the students fill in a questionnaire, and 90% of the students say that after taking the course their view of manufacturers changed. What I particularly pay attention to in my classes is to make the students realize what they need to do in their remaining student life to be prepared for the working world. I myself thought that once I retired from Toray, I wanted to be in a position to tell the younger generation about my 40 years at Toray, and I have been lucky enough to be able to teach at Sophia as a visiting professor.
In the upcoming generations, globalization is an unavoidable wave, whether you like it or not. I emphasize that the onset of globalization must be understood, and that the response should not be to 'run away', but to accept it and stay standing up. I advise my students that "if you run away, you're letting go of luck that walked right up to you". If they decide to accept the wave of globalization, I want them to make a goal and spend their time as students who have an abundance of opportunities to search for things they are lacking within themselves. If they know precisely what their strengths and weaknesses are, they can expand on their strengths and improve their weaknesses. In order to do this, it is important that they have a goal and don't give up easily and run-away half-way through. I use Lincoln's words "where there is a will, there is a way" in my class. I also emphasize the following three points in my class in order to develop global talent: 1. Respect others and clearly express your opinion 2. Be fair and reasonable, and 3. Keep improving yourself.
Q.8 In addition to working on projects in the Pacific and Caribbean regions, APIC is also taking part in projects supporting the development of younger generations and exchange students. Please tell me what you hope for in the younger generations in this time of globalization and diversification.
There are unlimited possibilities for the next generation. Various encounters are waiting for them in their life, and some of them will be destined. Even if they don't have a concrete dream at the moment, no matter without fail find a road if they have a goal and keep trying without giving up. There is a saying that goes like "fail fast, fail cheap, fail smart". I think it's fine if you repeatedly fail while you're still young.
There has been talk that there is a decline in Japanese students studying abroad; Japanese students staying holed up in Japan is very unfortunate. I want students to have a goal and take on a challenging spirit, and be proactive when it comes to taking on challenges. APIC also has an intern program. By experiencing early on an internship, it will be easier to discover your next goal. I believe by taking part in APIC's internship program, students are lucky to be able to experience globalization and diversification. I want everyone to use this opportunity to connect it to the next step in their lives.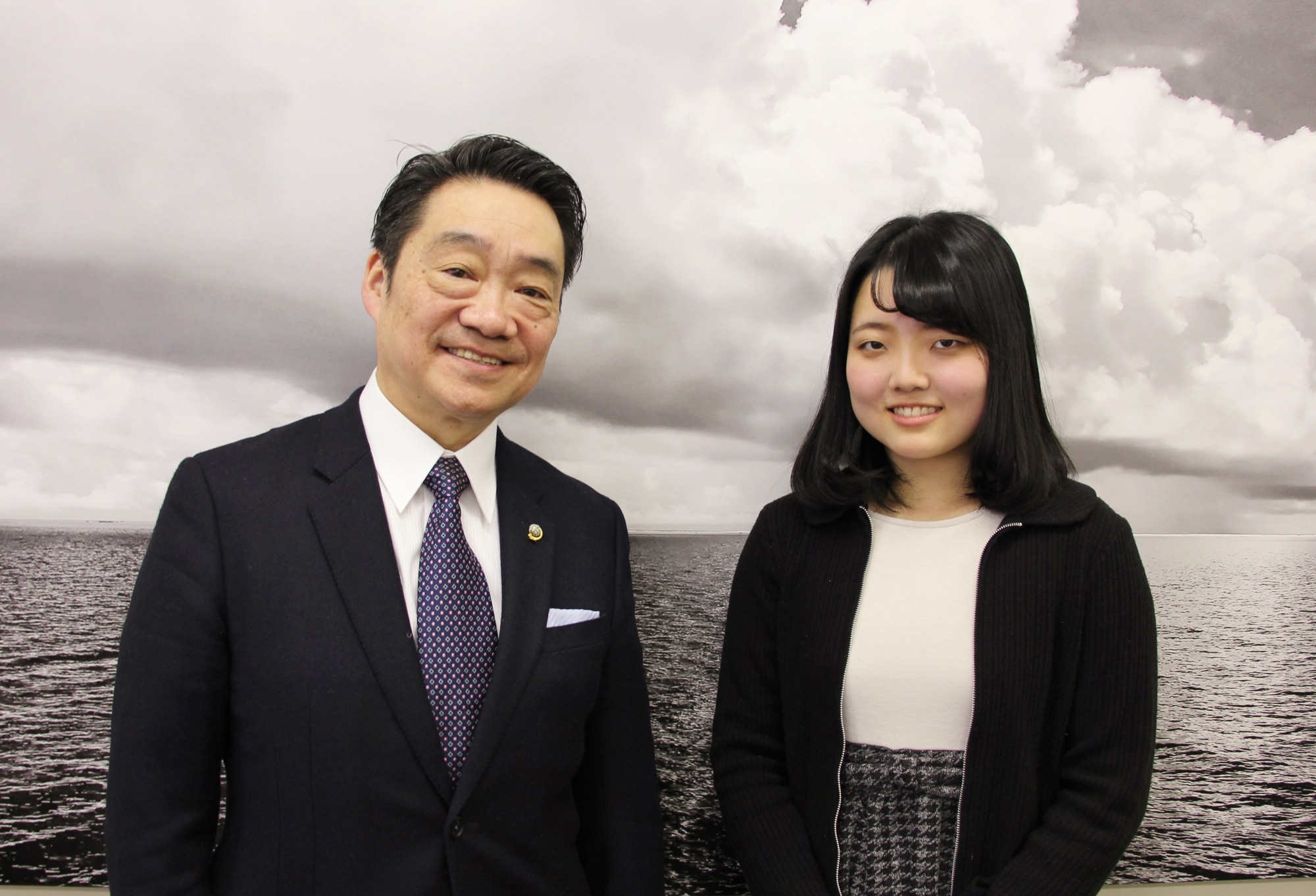 (Director Murakami and Ms. Yamamoto)
Brief History
1975: Graduated Kyoto University, Law Dept.
1975: Entered Toray
2000: Vice-President of Toray Industries (USA)
2008: General Manager of all USA operations; Toray USA Representative; Toray Industries President
2011: Senior Managing Director of International Operations
2013: Executive Director, Overseas, International Operations
2016: Retires; Toray Advisor; Outside auditor of Ajinomoto; Visiting Professor at Sophia University
2017: Joins APIC Board of Directors
(As of January 2018)