Interview: Ryokichi Hirono APIC Trustee (Seikei Univ. Professor Emeritus)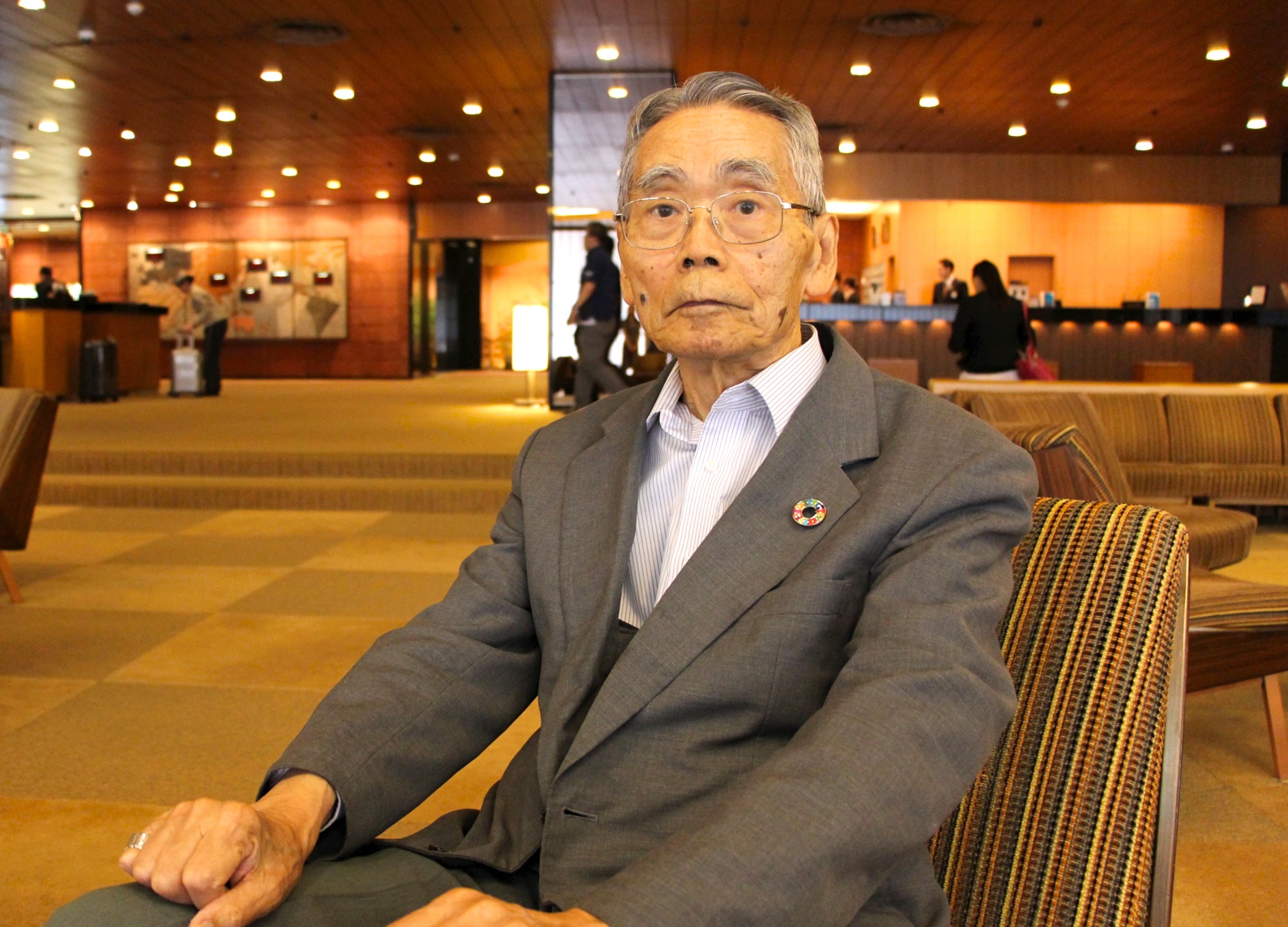 APIC's intern students conduct at least one interview with an APIC director and/or trustee during their internship, which is then published in APIC's bi-annual members magazine. This time they interviewed APIC trustee Professor Emeritus Mr. Ryokichi Hirono, asking him about his views on international cooperation through his experiences, as well as a message for the younger generations. Interviewers: Ms. Kawakami and Ms. Tachikawa of Tsuda University.
Q.1 We heard that you have experience working in the United Nations and the Japanese Ministry of Foreign Affairs. What motivated you to work in this field?
What got me started was an invitation. The reason why I accepted that invitation was because it was right after the end of WWII and I had an interest in international development issues. Japan bounced back after the war due to aid from sources like foreign nations, the UN, and the World Bank. I thought to myself, what is it I can do to play my part? And thought that it was my turn to give back to other developing nations what Japan had received after WWII. This drove me to decide to work mainly in the field of international development. This field is a very diverse one; teaching at universities, writing theses, taking part in international conferences, etc. These are all important; however, international organizations have a very strong influence, which is why the discussions held there have direct influence. You can give your honest opinion to everyone, while at the same time learn from everyone. This is why I undertook my job with a deep interest in issues regarding international cooperation.
Additionally, the American movie 'How Green Was My Valley' which played in Japan immediately after the war, had a profound effect on the way in which I viewed and approached environmental issues. Another movie that struck me was the 1938 French movie 'Prison sans barreaux', which I saw around the same time as 'How Green Was My Valley'. What struck me was how thorough resistance to the strong beliefs of freedom, equality, kinship, anti-Nazism, and peace were fought against with meticulous strategy and planning, shaping my principles of these concepts. I believe the origin of my attraction to the promotion of international cooperation not only toward developing countries but the world as a whole began with the American occupation after WWII and their overwhelming support toward economic and democratic recovery, and the straightforward response of the Japanese people with their diligence, spirit of self-reliance, and fighting spirit.
Q.2 As a trustee, what are your thoughts on APIC's activities?
As its name suggests, APIC is aiding Japan in the promotion of international cooperation. While the challenges and range of activities of the international cooperation field have grown since the time APIC was founded, there have been large changes to Japan's status and internal matters, as well as with the rise of China and Indonesia; for these core reasons the scope of APIC's international cooperation-related activities have expanded. In the midst of changing needs and the domestic-international environment, Japan's government policies toward international cooperation are also shifting. Naturally the direction, size, field, region, and methods have changed compared to some ten, twenty years ago. It is thus natural that the priority of APIC's activities will change as well. Climate change and environmental problems are among the world's most serious issues, next to poverty and human rights. This is a matter of life or death for the South Pacific and Caribbean islands, and APIC's latest activities surrounding this problem have been highly recognized. I hope that APIC will continue to further the understanding of its activities to the Japanese people of every level and Japanese businesses. I think that it is important to create another platform alongside APIC's informative 'Lecture Meetings' and 'International Cooperation Discussion Gatherings', where younger generations can express their opinions in a new style. It is important for the young generation to pay attention not only to what is in front of their eyes, such as job searching and anime etc., but to the world at large and the problems it is facing such as environmental problems, poverty, refugees, security, and so on. I think it would be great to have a place where they can talk with adults who are slightly older than tem, like professors and politicians. As global citizens responsible for the future of this world, I want younger generations to actively use APIC's platform to express their ideas and opinions regarding how to solve the various problems the world is facing.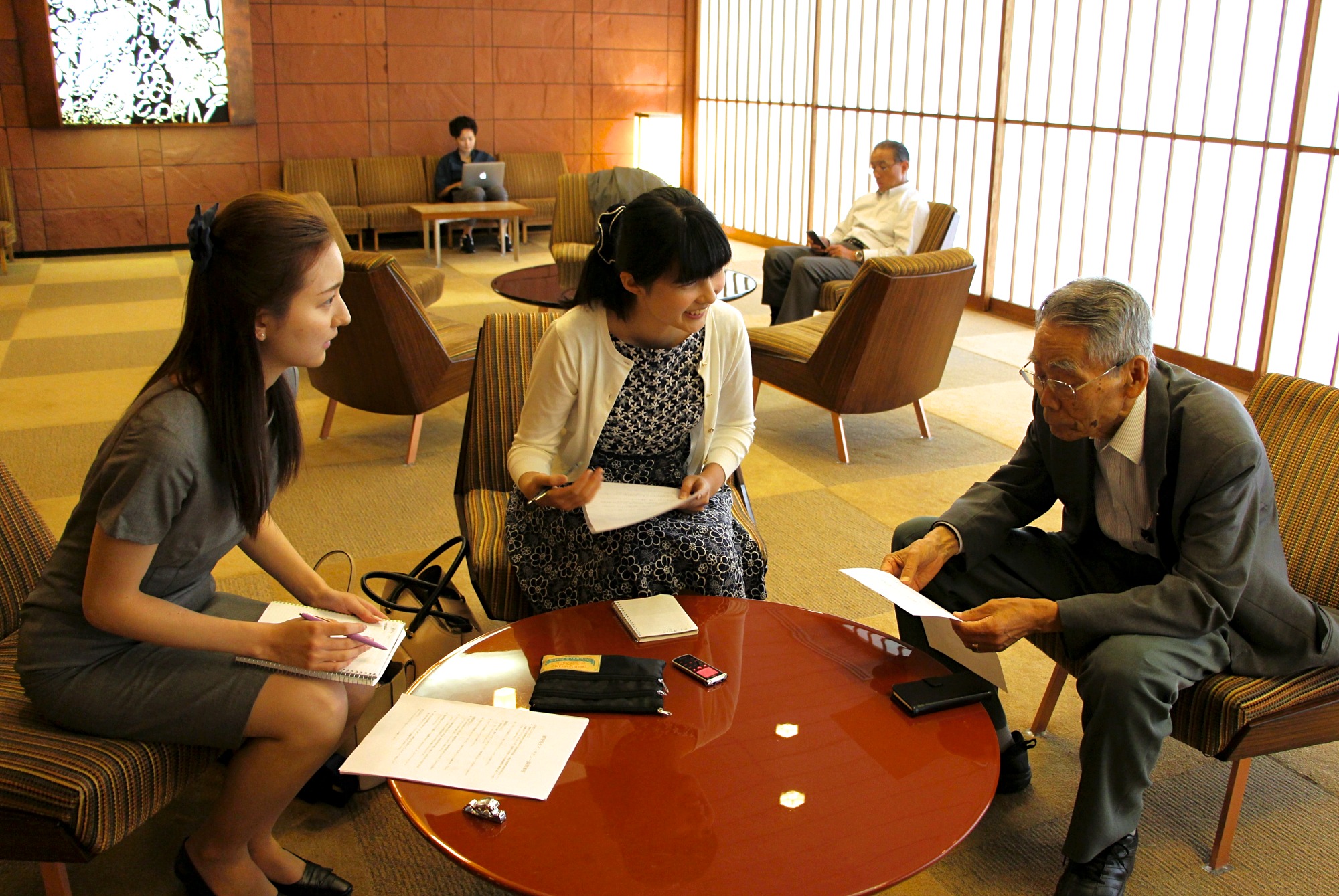 (During the interview)
Q.3 Through your extensive experience in the realm of international cooperation, what do you believe is the most important aspect?
I believe there are three important aspects. The first is an acceptance and respect of diversity. Human society is diverse in terms of race, religion, and culture, but nature is also full of diversity like trees and animals. All life on earth and minerals fossilized together are extremely diverse. International cooperation exists on top of this; it is not about one nation unilaterally enforcing philosophies or systems on other peoples or countries. I believe it is important to build together a peaceful "sustainable, inclusive and fair international society" full of hope fully understanding that everyone is different. Although the final goal of reaching the summit of Mt. Fuji may be the same for all, there are a myriad of paths leading to the top.
The second is for everyone to work together toward a common goal after accepting their differences. For example, in order to achieve the 2030 Agenda Sustainable Goals set by the UN 2016-2030, the economic, technological, social, and cultural resources and assets of each person, group, local area, and country must be used to the fullest extent, and self-reliance and self-help are indispensable to achieving this. International cooperation that lacks self-help is not sustainable. Self-help, cooperation, public assistance are the basic principles of international cooperation. This is where it is required to protect the indispensable international rules that were agreed upon in order to build a peaceful, "sustainable, inclusive and fair international society" full of hope. In order to make these rules well-known to each individual and group, every affiliated and unaffiliated nation has a responsibility, and the breaching of these rules means rejection of international cooperation.
The third is to know and understand your country, have your own ideas and thoughts, and to communicate these clearly to the other party. Foreigners expect Japanese to talk about certain areas of interest, such as Japan's past, present, and future plans. Without a proper understanding of Japan there is no point to talking about international cooperation and such. Japanese who are engaged or involved with international cooperation need to learn and study Japanese history, economics, sociology, politics, culture, traditions etc. Information gained through reading books, newspapers, and mass media is needless to say important, but above that is your opinion formed through your own experiences, and to express that opinion accurately is essential. In these terms, I believe that the ability and motivation to communicate correctly what one has learned about Japan is very important.
Q.4 In 2015, the UN's SDG's, which include environmental problems, were newly established. What do you think is necessary in order to reach these new goals?
There are three important points to focus on in order to achieve these SDG's. The first is that the nations of the world have thus far come together to help solve various problems. What has become apparent is that the order of priority of which problems to tackle first is different for each nation, and thus each country's framework for solving problems on an international level did not always function properly. Since agreeing upon and establishing the SDG's, it is important to build a win-win system for bilateral, interregional, and world-wide ties, and pay attention to the differences in the conditions and nature of economic technological, social, environmental, and cultural aspects. In order to achieve this, firstly it is desirable to promote the economic, technological, social, environment, and cultural cooperation of neighboring countries based on their comparative advantage; the ASEAN cooperation agreement is an excellent example of this, as are the EU, NAFTA, and Mercosur. However, in order to reach the UN's SDG's, chain reactions stemming from Trump's "America First", or the recent rise in nationalism of European countries saying "our country first" must be stopped, and the promotion of international cooperation must be urgently attended to.
The second point is at the base of the SDGs is the philosophy of "leaving no one behind". This not only refers to countries, but helping also people and the individual is an extremely important concept. If you look at all the issues like poverty, human rights, education, environment, natural disasters, etc., the group most affected by all of these is the poorest class. Up until now, these issues were considered as a country, but the SDGs are focusing on reducing the impact on the socially vulnerable. In order to do this, mutual understanding between all countries, governments, regional bodies, private companies, and citizens' groups is a must, as well as mutual cooperation. Simultaneously, cooperation and partnerships (SDG #17) between all nations are necessary. In Japan as well these types of cooperation ties are beginning to form, but there still needs to be more support placed in for those who are living at the base of society.
The third point is about the SDGs and the MDGs. The MDGs (Millennium Development Goals) were decided upon in 2000 by all member nations of the UN to be completed by 2015. The MDGs focused on problems mainly developing countries were facing; the SDGs, which were founded after the MDGs, focus not only on those nations but developed nations that are also facing similar problems. The issues of child poverty, youth employment problems, income and regional disparity, the increase of government debt are problems that were once thought of as developing countries' problems, but since the 1980's and the globalization of the world economy, these issues have become more serious in developed countries as well. As seen by the signing of the Paris Agreement in fall 2015, the rise of sea levels due, glaciers melting, the increased frequency and increase in size of natural disasters all due to climate change affects every country, no matter if developed or developing, and is a serious problem affecting all the people of the world at this very moment. These problems are not to be tackled only by nations, but main domestic groups and bodies all form ties together to help solve these problems. The promotion of international and domestic cooperation to its fullest will be seriously tested in the upcoming years as all citizens of the world can live in a safe and fair peaceful society, restoring and maintaining a 'green earth' which is sustainable for all living things on its surface.
Q.5 Do you have any words for the young generations who bear the responsibility of shaping the world's future?
What I want for the younger generations is for them to "open your eyes to the world, and challenge yourself to the unknown". The founder of the Sapporo Agricultural College left these words of encouragement behind him "Boys, Be ambitious!" Believe in the saying "where there is a will, there is a way", and do not give up no matter what hurdles you face. I want them to tackle problems globally or locally seriously with the mindset of "Better Late than never!" with eyes open to the world. You can also say "Think globally, act locally". I also hope for students to go overseas, or stay in Japan and enthusiastically talk to and exchange opinions and ideas with exchange students and foreigners on problems facing Japan and the world If these types of youth increase and stand together, I believe it's not unrealistic to say that the SDGs can be reached by 2030.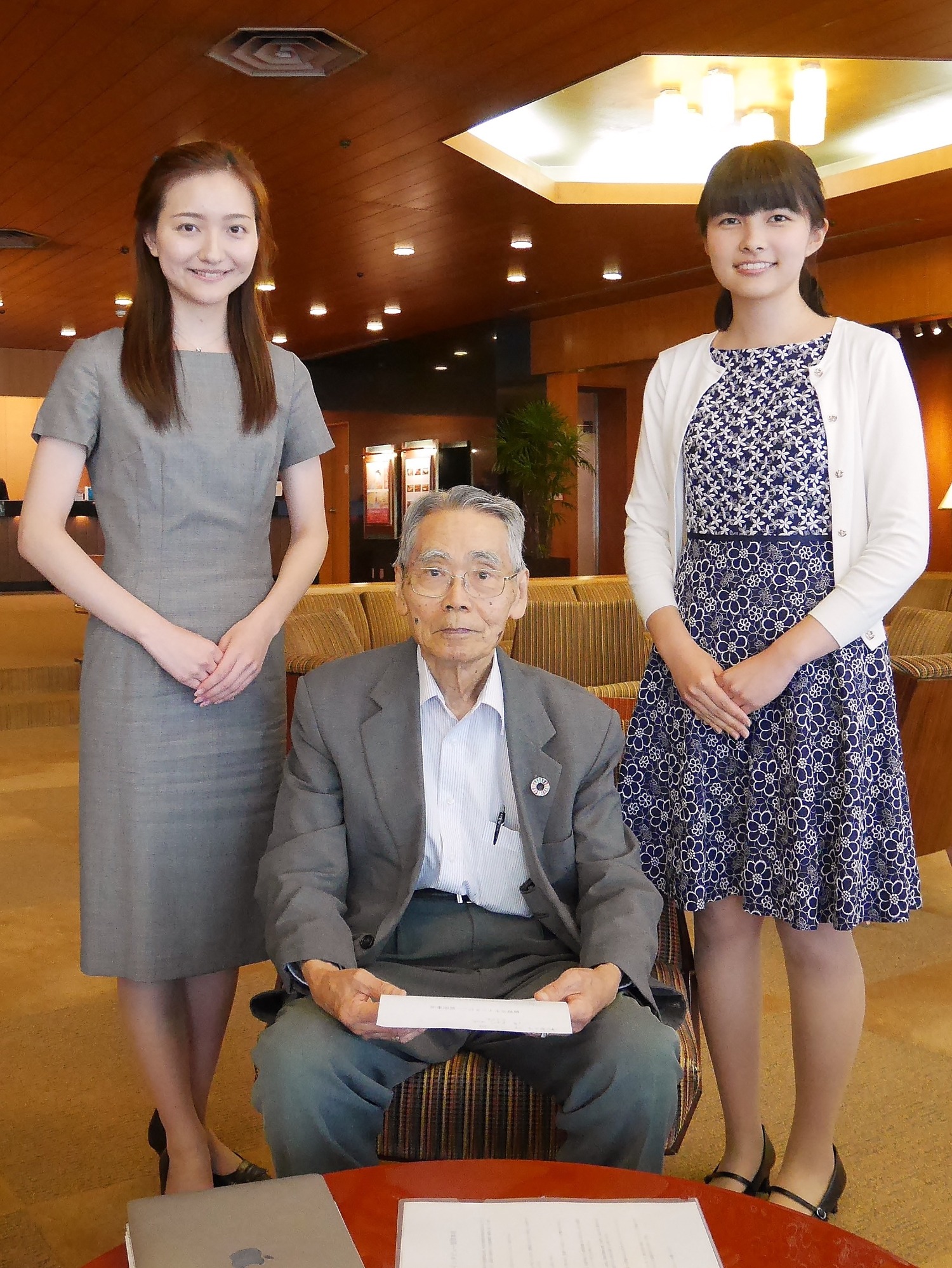 (From left: Ms. Tachikawa, APIC trustee Prof. Hirono, Ms. Kawakami)
Brief History
1959-60: University of California Berkley
1960-61: Economist for the Japan Management Association (JMA)
1961-98: Full-time lecturer at Seikei Univ. Political Economic Div. & Ass't Prof.; Prof.of Economics Div., Graduate Prof.of Economics & Management
1990-2011: Visiting Prof. at National Graduate Institute for Policy Studies (formerly Saitama University Graduate School)
1998: Professor Emeritus of Seikei University
1999-2003:Teikyo University Graduate School International Studies Professor
(As of January 2018)