Interview: Kansai Gaidai University Professor Dr. Osamu Kataoka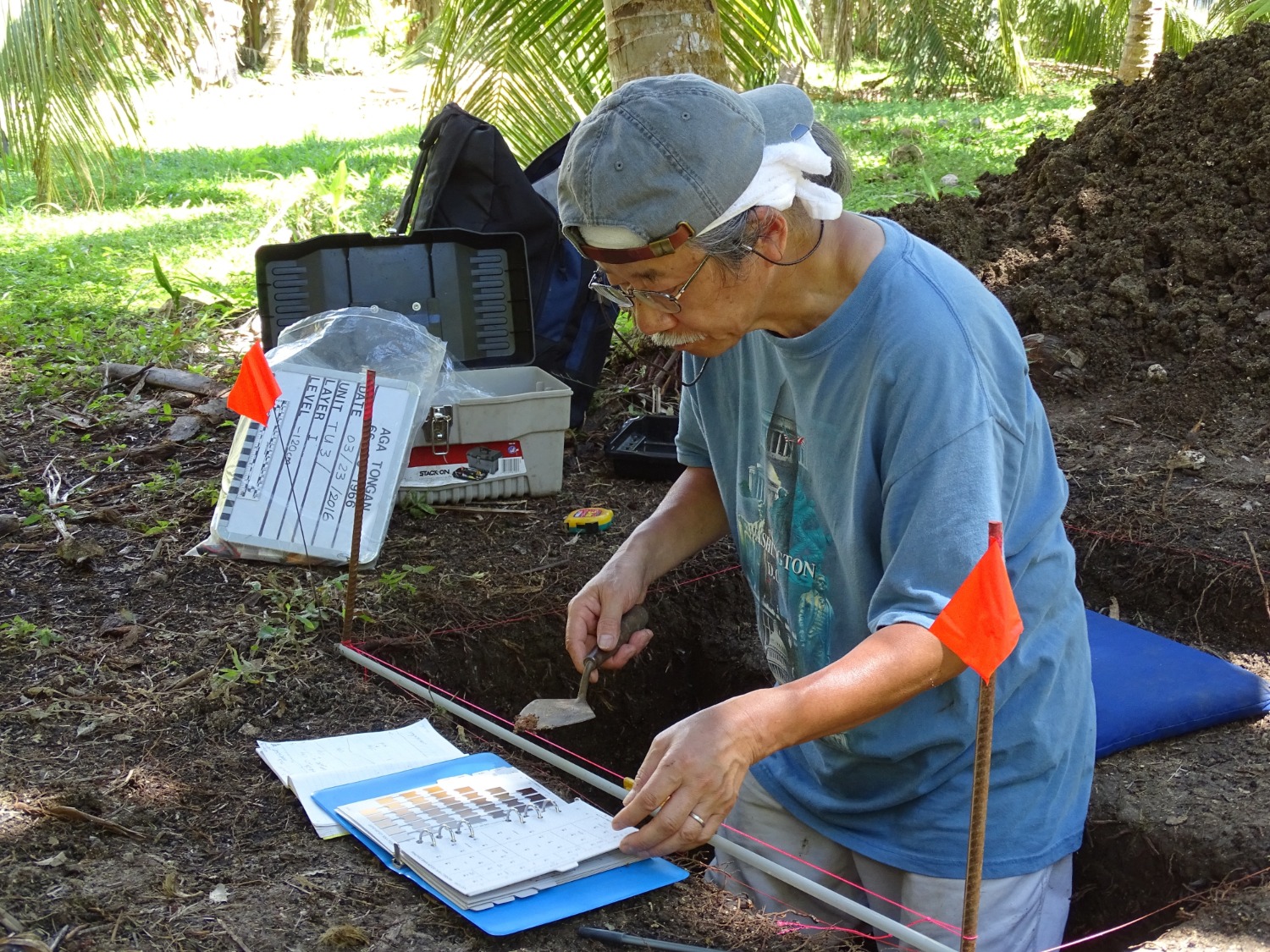 In 2016 the Nan madol ruins were registered as a UNESCO World Heritage site. APIC interns conducted an interview with Kansai Gaidai University Professor Osamu Kataoka, who has spent many years researching, excavating, and protecting the ancient ruins, asking him about his thoughts on archeology. (Interview conducted on April 11, 2017. Intern: Mr. Ohgaki)
Q.1. What triggered your interest in archeology?
It's not a very cool and exciting story, to be honest. It happened in the summer of 11th grade, when I was 16 years old. At the time, the Japanese political and cultural atmosphere was buzzing with political movements and social movements, where a lot of people were tuned into issues of the times. I was living a lethargic and passionless life. You probably know about this time of my life. My previous 10th grade homeroom teacher and lifelong teacher, Mr. Yoshinori Segawa showed me the world of archeology.
I was given the opportunity to take part in the excavation survey of Takatsuka-yama, a Yayoi period ruin in Hirakata, Osaka. Of course, as a high schooler I hadn't the faintest idea about what archeology was. However, the first time I held the shovel in my hand and dug up pottery and stone tools it was like my head had burst-it was like I had been attacked by this strange power. That was the second I became hooked on archaeology.
Q2.What do you find interesting about archaeology?
The general image of archaeology may be one where archaeologists dig up old buildings, graves, tools, pottery and such and research about prehistoric peoples and cultures. Actually, from the beginning of the human race to now, everything that is in the past is part of archaeological scope. While there are archaeologists researching on the Bronze Age, tens of thousands of years ago, there are others who are researching recent industrial ruins and ruins from WWII.
There is a certain excitement about excavating sites and digging up artifacts from the ground. However, it is a process of connecting dots to dots to make lines, and connecting lines to lines to make a plane through analyzing excavated tools, pottery, buildings and burial sites. This may be a cliché, but the excitement in archaeology is how all the pieces start to fit together like a jigsaw puzzle, slowly, piece by piece.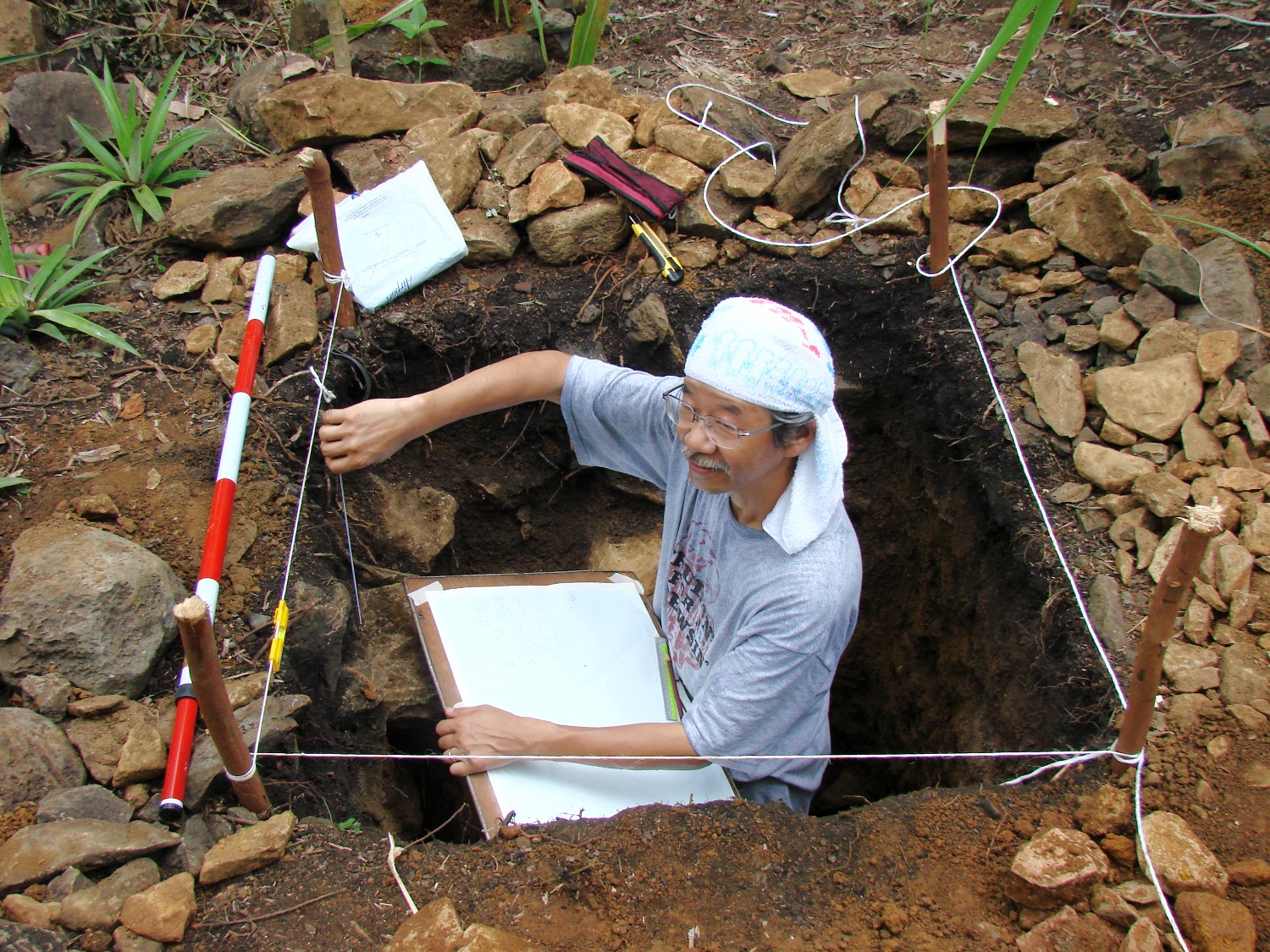 ((Professor Kataoka at an excavation site (courtesy of National Museum of Ethnology))
Q.3 How did you become interested in Micronesia?
After graduating from university, I started a job with the Hirakata City Cultural Property Excavation Research Association, and spent all my time working as part of the excavation team. I graduated from college with a degree in economics, so I traveled to America four and a half years later to learn the fundamentals of archaeology, and I thought that I wanted to specialize my research in graduate school.
Although I made my decision to study overseas, I was not proficient in English and an unstable economy were two fatal problems I carried. In the end, I chose to study at Guam University's department of anthropology. This was in December 1979. Once I became used to the classes, I received my permit to work, and I took a part-time job at an archaeological research center in Guam, working on the weekends, and during the summer. I was quite poor at the time, and my friends and professors helped me through. I treasured my time there gaining essential knowledge and experience with excavation surveys and categorizing relics. At the time, archaeology of Guam, Saipan, and the Mariana Islands was behind the times, and thus I was able to have a glimpse into a very fascinating world. This moment helped direct me in my future and toward Micronesia.
Q.4 Please tell me about your involvement in the Nan Madol Ruins?
Three years after entering Guam University's anthropology department, I received my bachelor's degree and final made my way on to the master's program. At the time, if one wanted to study pacific archaeology, they had to go to Oregon University in America. I had decided that this was my field, and so off I went to study at Oregon University under Dr. William Ayres.
Dr. Ayres had been doing research on the Micronesia Nan Madol Ruins, and the famous Moai statues on Easter Island in Polynesia. While I was studying for my master's, he suggested that I join the site survey, which was the start of my work with the ancient site. That was in 1984. The first time I laid my eyes on the magnificent Nan Madol ruins I was amazed; I decided to make it the topic of my doctorate's thesis. After graduating from Oregon University I took a job at my current place of work, Kansai Gaidai University.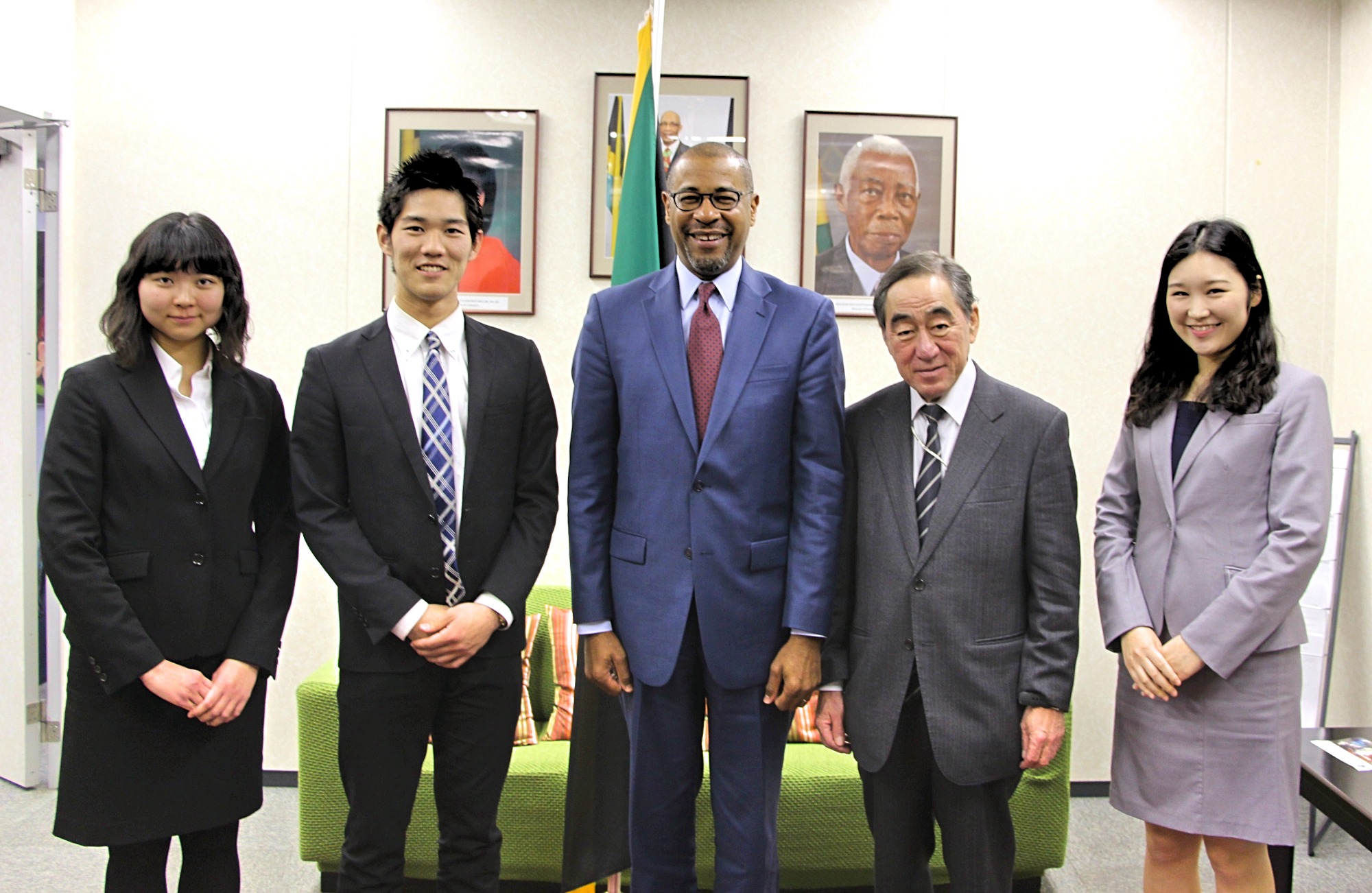 (Nan Madol Ruins)
Q.5 What is the significance behind APIC's Nan Madol Preservation Project?
The stigma behind UNESCO's 'World Heritage in Danger' is caused by problems with the state of preservation and poor management of the site. Enormous rocks that were piled on top of each other start to age and collapse under the weight, the thick overgrowth of the mangrove and large trees combined with the aftermath of tourists, the rise in sea levels due to global warming and such are contributors to the deterioration of the landscape. The preservation of the entire Nan Madol Ruins will need international support as its base in order to launch preservation efforts. On the other hand, in order to heighten the awareness of the importance of preserving the site to locals, educational and informational activities will play an important supporting role.
APIC is contributing in supporting 1. Building a multi-purpose center which includes information and training rooms 2. Educating locals to become guides and experts 3. Creating a Nan Madol Ruins handbook 4. Making a supplementary reader for lower grades about the Ruins to be used in classrooms.
These efforts will help deepen visitors' and locals' understanding and awareness of the importance of preserving the Ruins, which I believe will eventually help to shake off the stigma of Nan Madol being a 'World Heritage in Danger'.
Q.6 What is the position of archaeology in universities?
There's a big difference concerning whether a university has an archaeology major or not. For example, Kansai Gaidai is a foreign languages university, so archaeology courses, Oceanic culture theory, and anthropology courses are offered as a general elective. Rather than a place that nurtures future researchers and experts, the electives focus on developing a wider world view along with the acquisition of a foreign language as its base.
Universities that have an archaeology major offer courses based on educational principles regarding locality and expertise of each university that pinned on the underlying basics of the significance and meaning of archaeology. Courses related to archaeology are offered in the humanities department; there are many different names and types of departments and courses such as department of cultural properties, historical culture department, cultural properties studies major, cultural heritage studies major, archaeology and folkloric studies major, etcetera. Students should think about their future before choosing which department to go into.
I believe there are many courses offered that help connect studies to jobs post-graduation, such as a 'buried cultural properties protection laws' administrator, museum curator, conservation technician, researcher in graduate school, professor, expert, lab researcher, and others.
Q.7 Do you have a message for students who are interested in pursuing archaeology?
Archaeology is an academic field that understands and interprets human culture, society, and history from the birth of man to today, based on physical evidence from archaeological sites. Excavation surveys are the basis of research, and patience, a steady will, and physical strength are necessary for analyzing, measuring, and other work included in categorizing artifacts. These might be aspects that are needed in all fields, but what is most important is an understanding and interest in the chosen field, and a fondness of the subject.
People take part in politics, economics, religion, arts, and a myriad of other activities, thus archaeologists frequently consult with research results in different fields such as cultural anthropology, natural anthropology, and others. Also, we need to use conservation science and scientific analytics when we excavate and find pottery, analyzing base soil, rock samples from stone tools, analyzing pollen, and preserving artifacts. As you can see there are many fields that come into play under the word 'archaeology'. To help you find a future research theme, read many books and papers, use your eyes and look at things, feel things, and keep a broad curiosity.
Nowadays, exchange of information between researchers has reached a global level. Reference material is now not only limited to Japanese, but to many other languages. Also, I highly recommend improving your English or the language of your chosen field in order to broaden the publication scope of your research papers and/or presentations.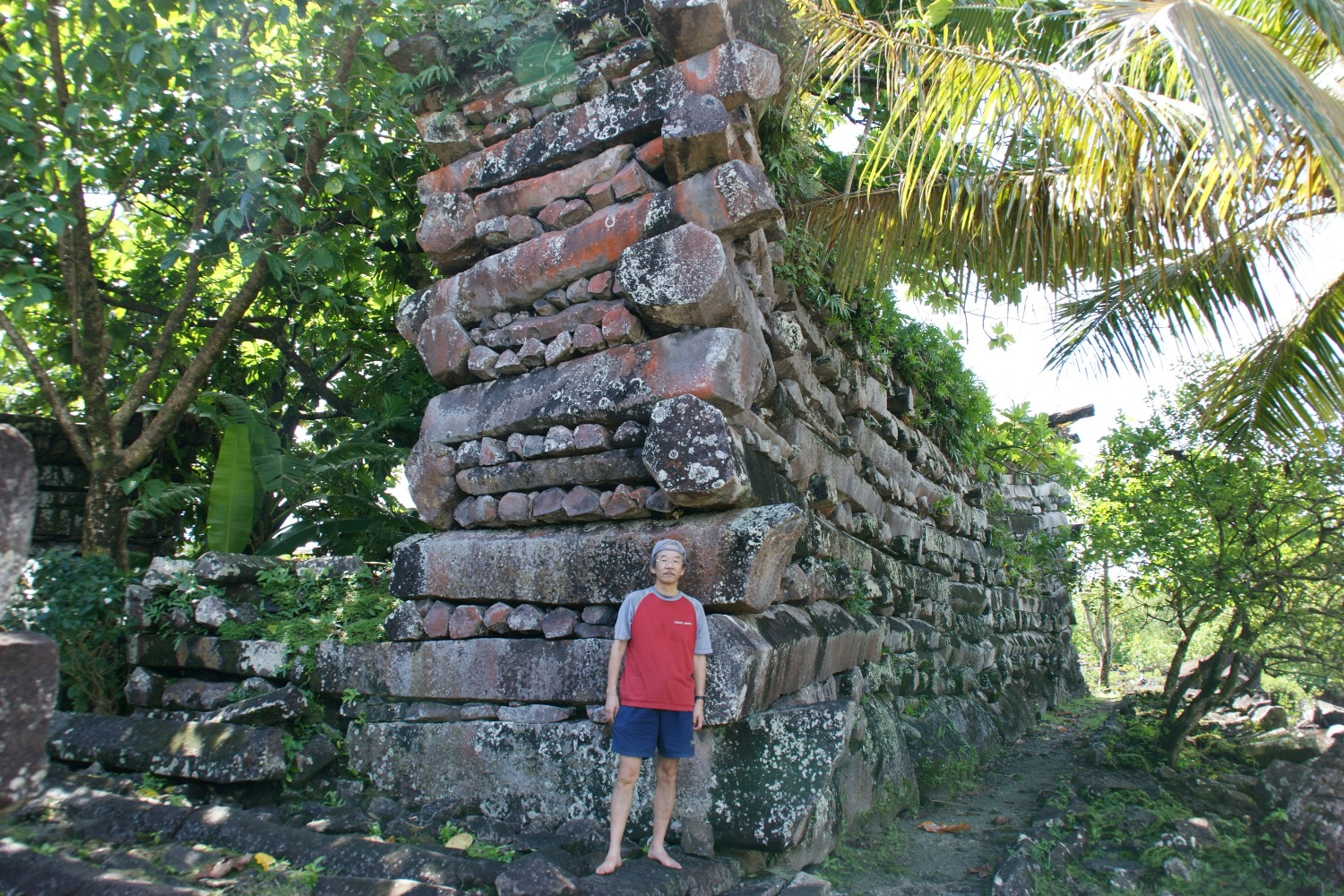 (Professor Kataoka next to the Nan Madol Ruins (courtesy of National Museum of Ethnology))
Brief History
1974: Graduated Ryukoku University Economics Faculty
1974: Hirakata Cultural Heritage Research Survey Association Survey Member
1982: Graduated Guam University Faculty of Anthropology
1996: Received his PhD from Oregon State University in Pacific Archaeology
1994: Associate Professor at Kansai Gaidai University
2007: Member of Federated States of Micronesia Cultural Heritage Specialists
2008: Language Department Professor at Kansai Gaidai
2017: International Culture Research Lab Researcher at Kansai Gaidai University
(As of July 2017)