Interview: Sophia University President Yoshiaki Terumichi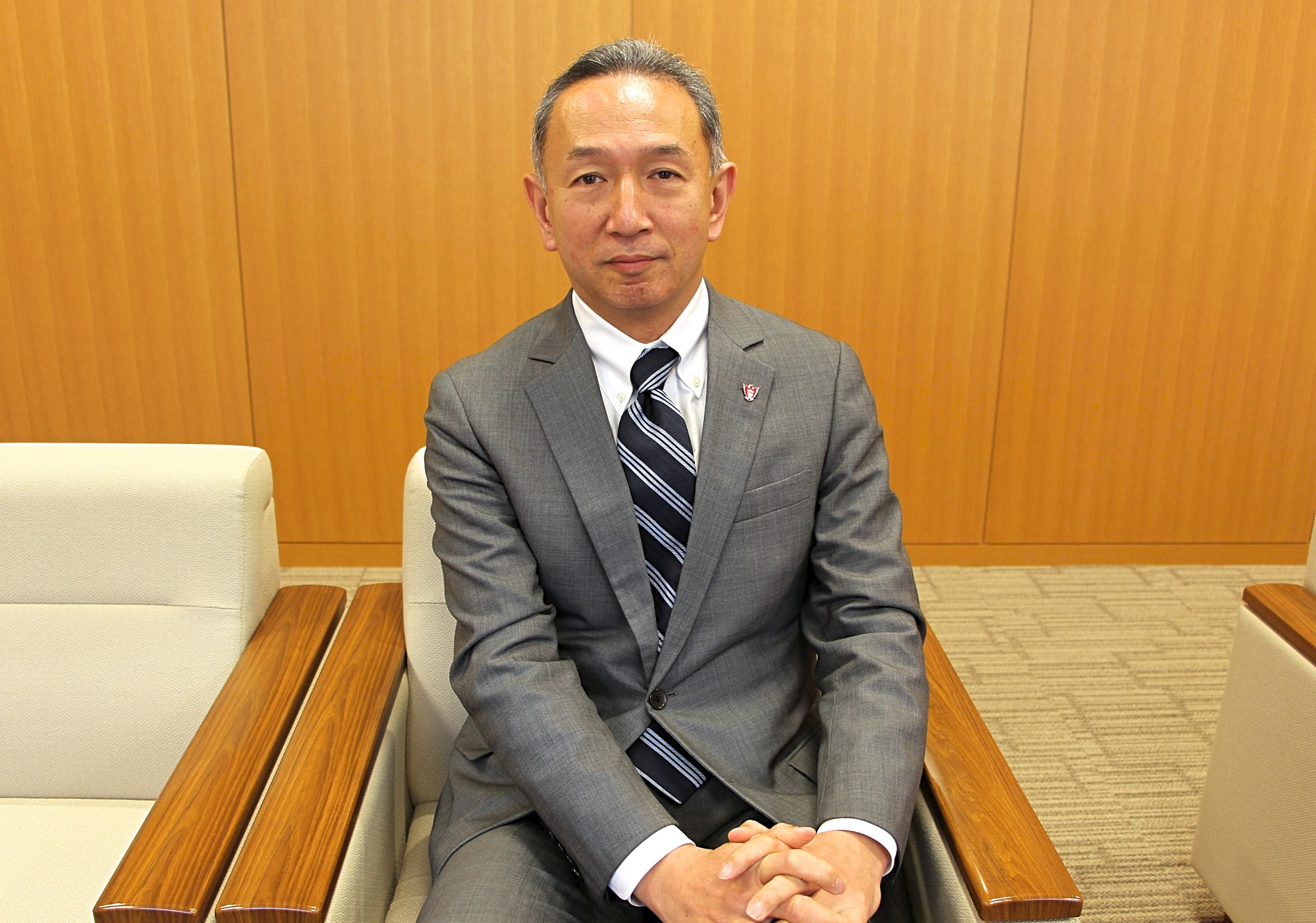 In December 2014 Sophia University and APIC signed a comprehensive MoU (Memorandum of Understanding) regarding education cooperation in order to strengthen both organizations' cooperative ties. APIC interns interviewed the president of Sophia University, Mr. Yoshiaki Terumichi, about what Sophia is aiming for in the future, and about the school's relationship with APIC. (Interviewers: Ms. Baba and Ms. Takei of Sophia University).
Q1. Upon your new appointment as President of Sophia University, please tell us about your ideal vision for the university.
The ideal vision that Sophia has fostered throughout its educational transitions is extremely prescient and I don't believe that it's something that will change because of globalization.
However, the times have changed in recent years to where the future doesn't look good in the short-term, and the challenge of how to educate and produce talent who can cope with the globalized world is something that I believe we have to change now using a proactive approach. Looking at the earth, there is a plethora of problems that are occurring because of an unbalance between the local state of things and the global efforts in response. It is Sophia's educational philosophy to develop students who can take both a global and local view and look at international society from a bird's-eye view.
On top of this is Sophia's Christian humanism values and the university's philosophy and motto of "Men and Women for Others, with Others". I believe that right now is really the perfect time for all the Sophians who adhere to this philosophy to be active in society. It is Sophia's vision to be able to produce students who are rich in human nature and who have a global outlook while looking at things on a local level with consideration.
Also, I hope for all Sophia alumni to always remember that they are there to always work alongside others, and no matter if they are in the business world or not, to think and expand their businesses while considering how to give back to society and how to create a convivial society.
Q2. Please talk to us about your programs and/or initiatives to develop human resources who think on a "global" scale.
Take, for example, a joint lecture by Toyota Tsusho and Africa Development Bank titled "Development Support and Business Development in Africa". Although it's common to stand in the position of the side providing international cooperation support, it's necessary to proactively create a way for the local side to become independent and not just keep handing out donations. The AFDB undertakes a structure where funds from a global level reach the local level, and by developing businesses in the local area Toyota Tsusho is able to create jobs for the local residents. The goal of this course is to see how these are combined, and to see if, in the end, local economic activity will actually appear, starting from the global perspective.
Of course, Sophia's programs are meaningful by themselves, but they are structured to be viewed as a whole. For example, in the "UN intensive training program", while it provides an opportunity to learn about policy making on a world-wide level, Sophia also offers a "Learn from Africa" study tour program in Benin, which makes us call to mind our need to provide aid to said region. I want students to experience both of these types of programs. The reason being that by experiencing the local situation and understanding the needs of the local residents, as well as getting to see where, as an international body, top-level policies are created and debated, students can start to think about situations such as when this policy will actually reach and affect the local residents, or will this clause actually be effective for the recipients of this policy, etc. These types of programs which contain various facets and are designed with the whole picture in mind are what Sophia is focusing its initiatives on.
Q3. What kind of person is, in your perspective, an ideal global human resource?
The definition of the commonly used term "global resource", in my opinion, is someone who has language and communication ability, and someone who can understand the diversity of cultures and religions.
However, those are the basic elements that define the term, and I earnestly hope for our students to have the power to hold a positive outlook on a globalized society, and to move on to the next stage of having that power live within themselves. Exactly because the short-term view of these current times is not a good one, the key for global human resources is having a positive outlook on society.
For example, when talking about general aid to developing countries, in current circumstances the aid goes to create conditions that emulate those of developed nations in terms of social systems and implementation of technology. However, these developing countries also have a future ahead of them, and what's missing from this picture is the question "is it really a good thing for these countries to take after the current Europe and Japan?". In other words, the ability to have a broad view of things means to be able to think from the position of the other, to walk a mile in their shoes. This ability to have a broad perspective also applies to oneself. These ever-changing times demand that students take a good look at themselves and do some self-analysis of what skills and logic, or what knowledge should be acquired during their four years of undergraduate studies, and will those skills be of use when the student plays a central role in society in the future.
Q4. What are your thoughts on the relationship between the establishment of The Global Internship Program and the learning that goes on in the faculties and departments of Sophia?
Obtaining a degree through studying at the university's faculties is the most important thing for students. This has two sides to it. The first is to develop an expertise in a certain area which, when the student enters society in the future and holds conversations with others, a relationship based on trust is built as they both know what the other's background is. The other is to develop the thinking process, which will aid in creative problem-solving and the steps needed to take to solve a said problem, from the perspective of each student's area of expertise. The place where students can demonstrate these skills in adult society is in the internship program. Sophia's program in particular holds a three- or four-week internship program where we want students to experience the workplace and what a "global outlook" truly means. For example, in media communications, we want students to understand how "global" information enters and reaches Japanese society. Our hope is for students to exert their experiences in the classroom in a professional setting, working with the help of professionals in that field.
Q5. Please tell us about what your expectations are for students in the science field in terms of international cooperation, including your own personal experiences.
Technical cooperation plays an extremely large role in international cooperation, and we hope for students in the science and maths field to contribute to the development of global human resources in terms of the future.
As for myself, it is common for science students to enter the manufacturing industry, which of course is a good thing, but in the case of students here at Sophia University, I would like to encourage them to by all means proactively use their technical knowledge, problem-solving and analytical skills for international cooperation. For example, in terms of my expertise in the rail industry, opening train lines in developing countries has a very big impact. One train of thought is that once a station is constructed, a town then centers around the station and the number of people centered around the station increases, and employment problems are solved. However, alongside not having any logical ground for this scenario, there's no idea for where a good location to construct the station would be. This is where those in the science field have the ability to demonstrate their knowledge and skills. Given this reason, I want science students to think about how they can use their expertise for the sake of residents in such local areas.
Q6. In three years the 2020 Tokyo Olympics are scheduled to take place. What are your thoughts on how Sophia University will take part?
Currently, Sophia is holding a lecture titled "Introduction to the Olympics & Paralympics", and in addition next year two more subjects will be added. In a liberal arts education, programs that delve into knowledge of the Olympics and Paralympics, or becoming familiar with the challenges of a symbiotic society and universal manners through the Olympics and Paralympics, are expanding. In Sophia's case, alongside energizing the public about the upcoming Olympic and Paralympic events, we stand in the position of becoming material for experiences detailing what opportunities and experiences will become the way to realizing an ideal symbiotic society. This is because Sophia University believes that the existence of the Olympics and Paralympics is important in order to create one part of what is our ideal peaceful and rich symbiotic society. From the perspective of a multi-cultural symbiotic society, it connects to Sophia's motto of "Men and Women for Others, with Others". The Olympic events cross borders of race, religion, ethnicity, making it a great opportunity to deliberate on how we should go about creating a multi-cultural society.
Also, many faculty members are doing research on the Olympic games. There are professors researching prosthetics, researching language translations of the games, etc. Students and professors alike hold a big interest in the games, and of course we are thinking about how to contribute as a university organization, but we are also emphasizing this as an opportunity to educate our students. Our current initiative is to think of the Tokyo Olympics and Paralympics as not just a sports event, but as an opportunity to think about the importance of realizing a symbiotic society through the Olympics and Paralympics.
Q7. The Micronesia Exposure Tour (for-credit) will begin this year; please tell us about the meaning behind the APIC-Sophia Agreement.
Sophia's Educational Department has local research-level connections with over half of the world. However, until now we weren't able to reach into the Micronesia and Caribbean regions, but with the help of APIC and our cooperative ties, Sophia is able to use these areas as teaching and/or research themes, in particular Sophia is very grateful that we can voice ourselves in regards to the environment. The existence of something that seems close but far is actually farthest from reach, and this is a program that I think other universities will have trouble imitating. It is crucial that our attention reaches all the way to the Micronesia and Caribbean regions, or to interact with students in other similar regions, and so Sophia would like to continue to strengthen our ties with APIC while consulting APIC about bilateral student exchanges.
Q8. The students who participate in The Micronesia Exposure Tour (for-credit) will go as ambassadors of Sophia University. What in particular do you want them to pay attention to?
This might sound a bit timeworn and childish, but I want the students to listen to the dreams that the Micronesian students have. From the perspective of student exchange, students can easily go to South East Asia and get an understanding of the current situation, but most people don't have an understanding of the current situation in Micronesia. What's more than that, it's hard to recall that people live there, and just like us there are young people who have a lifestyle, just like us, and who have dreams for the future. For example, if there is someone who someday wants to enter the Ministry of Foreign Affairs, or someone who wants to reinvigorate the fishing industry, it's not a problem of which is better, as both have equal importance. I want students to feel for themselves what kinds of qualitative differences there are between their future dreams and why they exist between people who live on the same earth at the same time as Sophia's students. I also want our students to ask about what their apprehensions are; for example, there might be a sensitive reaction from the local residents regarding environmental problems or rising sea levels. This is why I want the students from Sophia who are participating on the Micronesia Exposure Tour to talk with the local youth, so that they can get an understanding of what people feel are causes of concern in global society.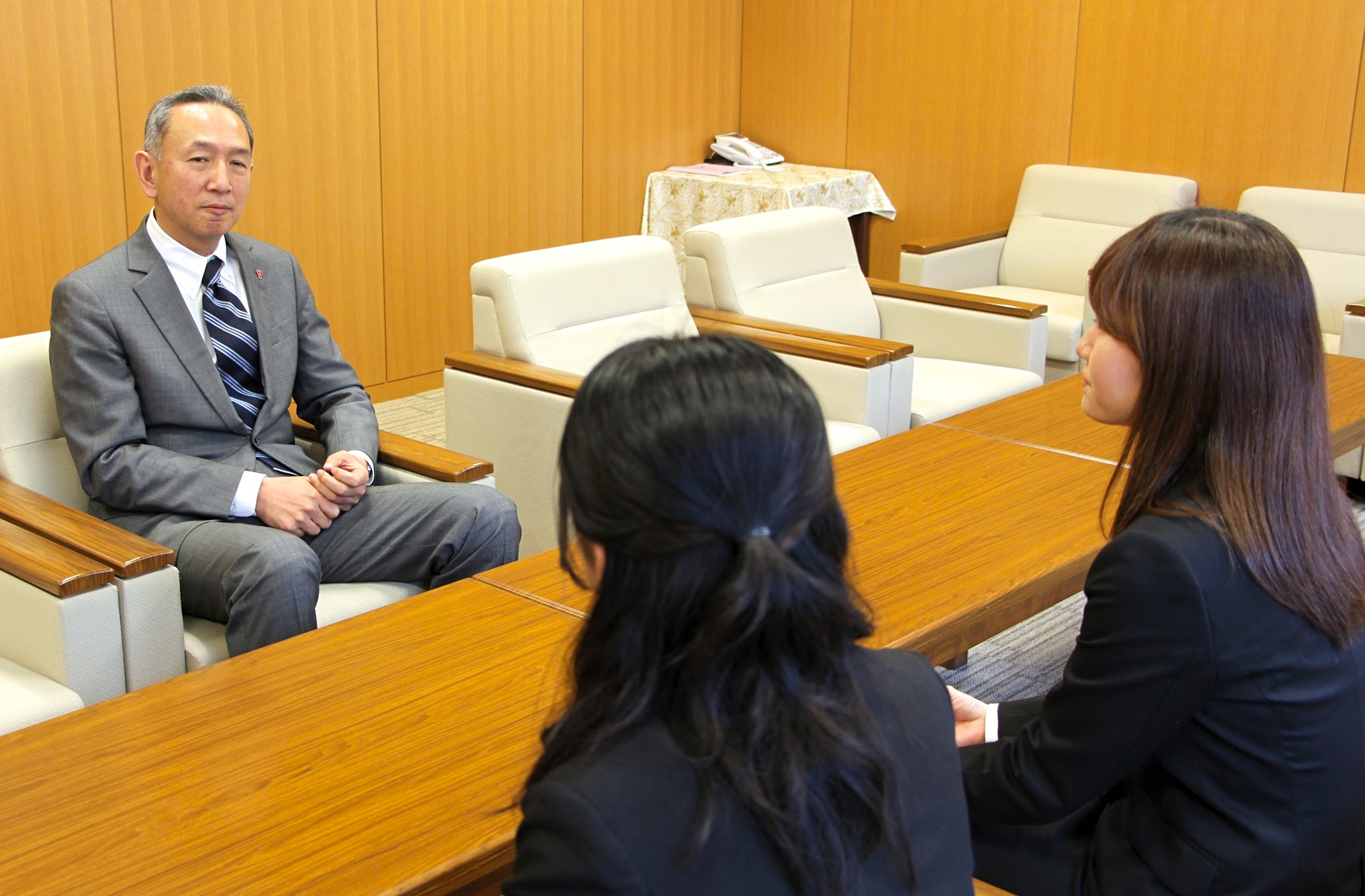 - Biography
1994: Assistant, Institute of Industrial Science, University of Tokyo
1998: Assistant Professor, Mechanical Engineering, Faculty of Science and Technology, Sophia University
2004: Professor, Mechanical Engineering, Faculty of Science and Technology, Sophia University
2008: Professor, Department of Engineering and Applied Sciences, Faculty of Sciences, Sophia University (undergraduate restructuring)
2004: Assistant to the Student Director, Sophia University
2005: Head of Office of Student Affairs, Sophia University
2006: Supervisor, Sophia University Volunteer Bureau
2008: Department Dean of Department of Engineering and Applied Science, Faculty of Sciences, Sophia University
2010: Head of Admissions Center, Sophia University
2011: Vice-President for Academic Affairs, Sophia University
2014: Executive Director for Global Academic Affairs
2015: Director of Human Resources Center for International Cooperation
2017: President of Sophia University
(As of July 2017)