Interview: Mr. Kunio Senga, CEO of Save the Children Japan (SCJ)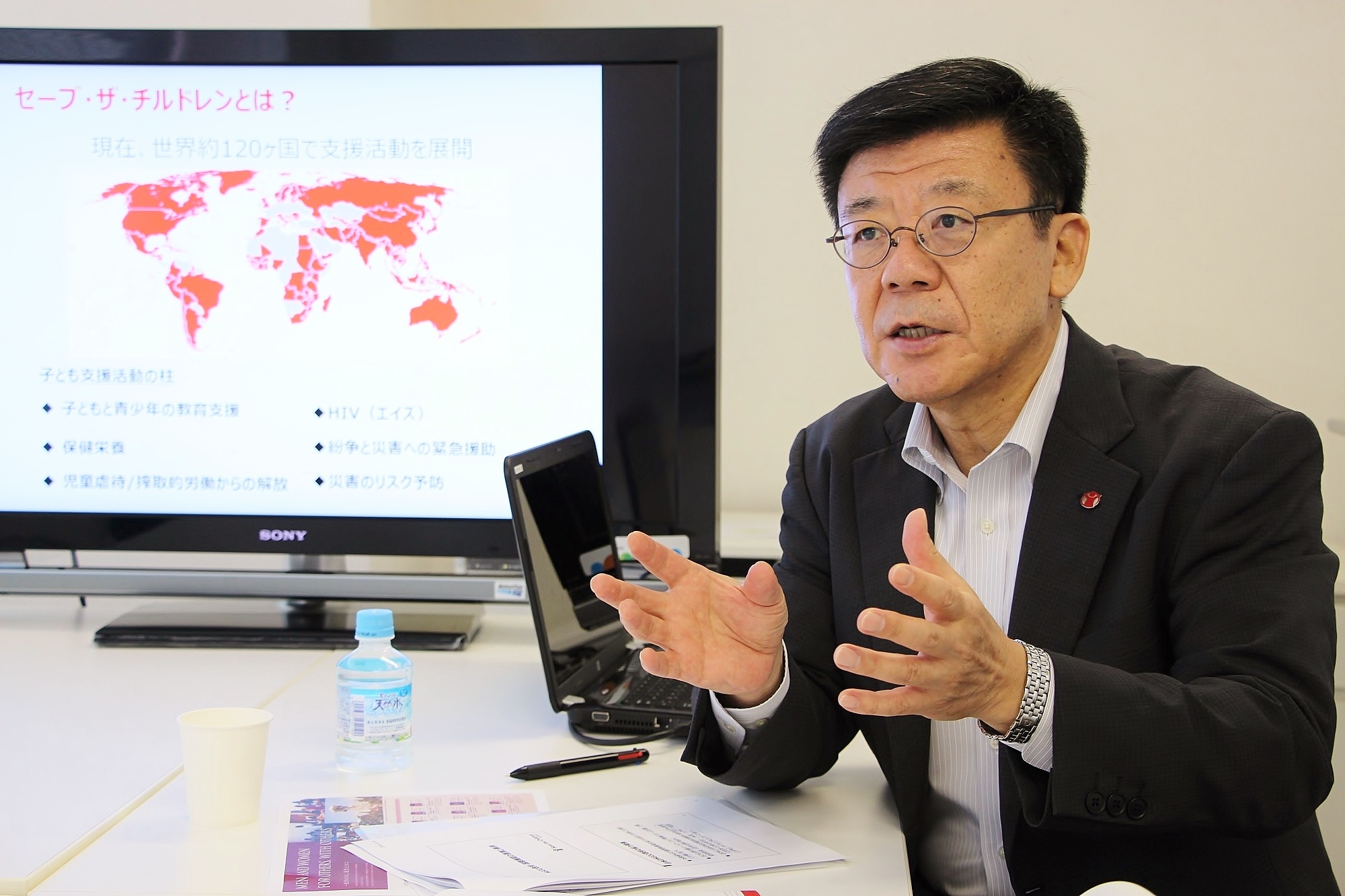 On August 25, 2016, the interns at APIC from Sophia University interviewed Mr. Kunio Senga, Chief Executive Officer (CEO) of Save the Children Japan (SCJ) as part of their internship program.
Q. What are SCJ's activities at present?
SCJ was established in 1986 by the Crown Princess Michiko with her friends responding to the proposal made by Queen Anne, the Honorary President of Save the Children UK. Now, we are implementing children support programs in Japan and overseas in cooperation with different stakeholders such as the governments, private enterprises and civic organizations under an international alliance. As for the areas we are working, Asian countries count for 80 percent. The main fields we are supporting are education, health and nutrition, child protection and emergency response. Our activities are based on UN's SDGs (Sustainable Development Goals). We inclusively support all the nations, both developing and developed countries, covering not only economic development but also environmental problems and social issues, so that every child can benefit from development.
Q. What is the current situation of NGOs in Japan?
NGOs are considered as partners equal to the governments or the enterprises in Europe and America, whereas in Japan, they have yet to grow to be recognized as they are in Western countries. It is hard to deepen the understanding of NGOs among the common citizenry since NGOs are generally recognized as gatherings of volunteers and are not necessary to promote big projects using funds, which do not let them appear on media.
In October last year, there was a meeting that three representatives of NGOs, including me, and three numbers of the National Diet went to the United States and held discussions with the people of the Department of State, the White House, USAID (Agency of International Development) and NGOs. In the United States, NGOs are recognized as strategic and equal partners. This is because the information government agencies can get or the fields they can work are different from those NGOs have or where they work. Therefore, government agencies and NGOs cooperate together, providing the information each other, so that they can promote their projects better. Accordingly, NGOs have grown by financial support from the government, which covers not only direct expenses to implement projects but also indirect expenses such as administrative expenses.
On the other hand, NGOs in Japan receive subsidies from the government, which can only cover direct expenses. This leads to the contradiction that the more projects NGOs promote, the weaker their financial strengths become since they do not receive subsidies to cover indirect expenses or administrative expenses. If we look at Japanese ODA, only three percent of the funds contributed by the Japanese Government is awarded to Japanese NGOs. In such situation, there is a movement to reconsider NGOs' roles in Japan and SCJ is also working to enhance the linkage between the government.
Q. International support may entail a danger of one-sided interference in domestic affairs. How does SCJ attempt to avoid such situation?
Save the Children has its offices in 120 countries all over the world. Each office carries out field surveys and hearings at their place to investigate the needs of the local people and to grasp the situation constantly, and we establish our strategies of support. We also share the framework of our support plans with the local people and make a system under which the local people lead the plans as a driver. This is how we try to avoid one-sided support and we also provide them with capacity building so that they can work independently.
Q. What are SCJ's activities to address SDG?
Every goal of SDGs such as poverty, inequality or climate change etc. takes long time to solve. It is required for children to expand knowledge about what surrounds themselves because it is children who will be affected by these problems. SCJ provides a comprehensive supports for children to develop their physical strength, intelligence and ability in order that they will independently be able to cope with these problems.
Q. What kinds of activities has SCJ done with private enterprises?
As for a case of activities implemented in partnership with a private enterprise, I would like to introduce a learning support project in India with Ricoh Co. In this project, while Ricoh will sell projectors, SCJ provides opportunities for teachers to learn the effective way of using them, thereby, improving the quality of education as well as increasing sales. We are contributing to society, considering CSR (Cooperate Social Responsibility) and CSV (Creating Social Value), which is a part of CSR.
As for a case of activities implemented in partnership with the governments, we gave support in the field of development of software infrastructure such as human resources development as a consultant in 2006, under JICA's Grant Aid for Community Environment. In addition, World Bank's Policy and Human Resources Development Fund (PHRD), which is funded by the Government of Japan, is increasing partnership with NGOs for social development and solving poverty issues.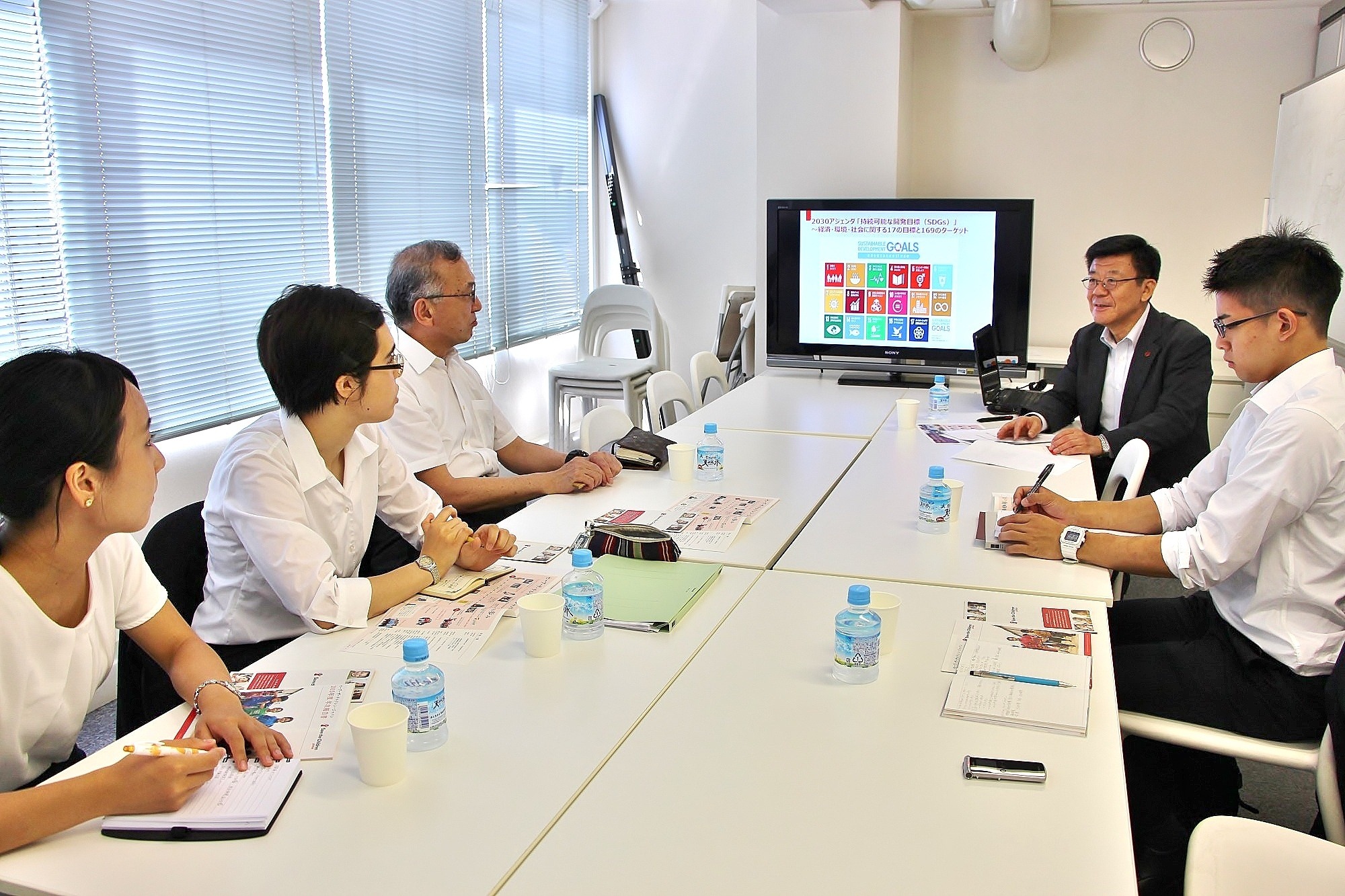 (During the interview)
- Biography
After graduating from a high school in Japan, he got a Bachelor's degree at Ateneo de Manila University in the Philippines. He worked at International Labor Organization in Manila and entered Asian Development Bank in 1984. He worked for 30 years experiencing a number of senior position such as Director-General and South Asia Department. Currently, he is working for Save the Children Japan as Chief Executive Director (CEO) and involved in development projects. He was also appointed an advisory board member of Sophia University Human Resources Center for International Cooperation last year.
(As of January, 2017)