Interview: Jamaican Ambassador to Japan H.E. Mr. Clement Philip Ricardo Allicock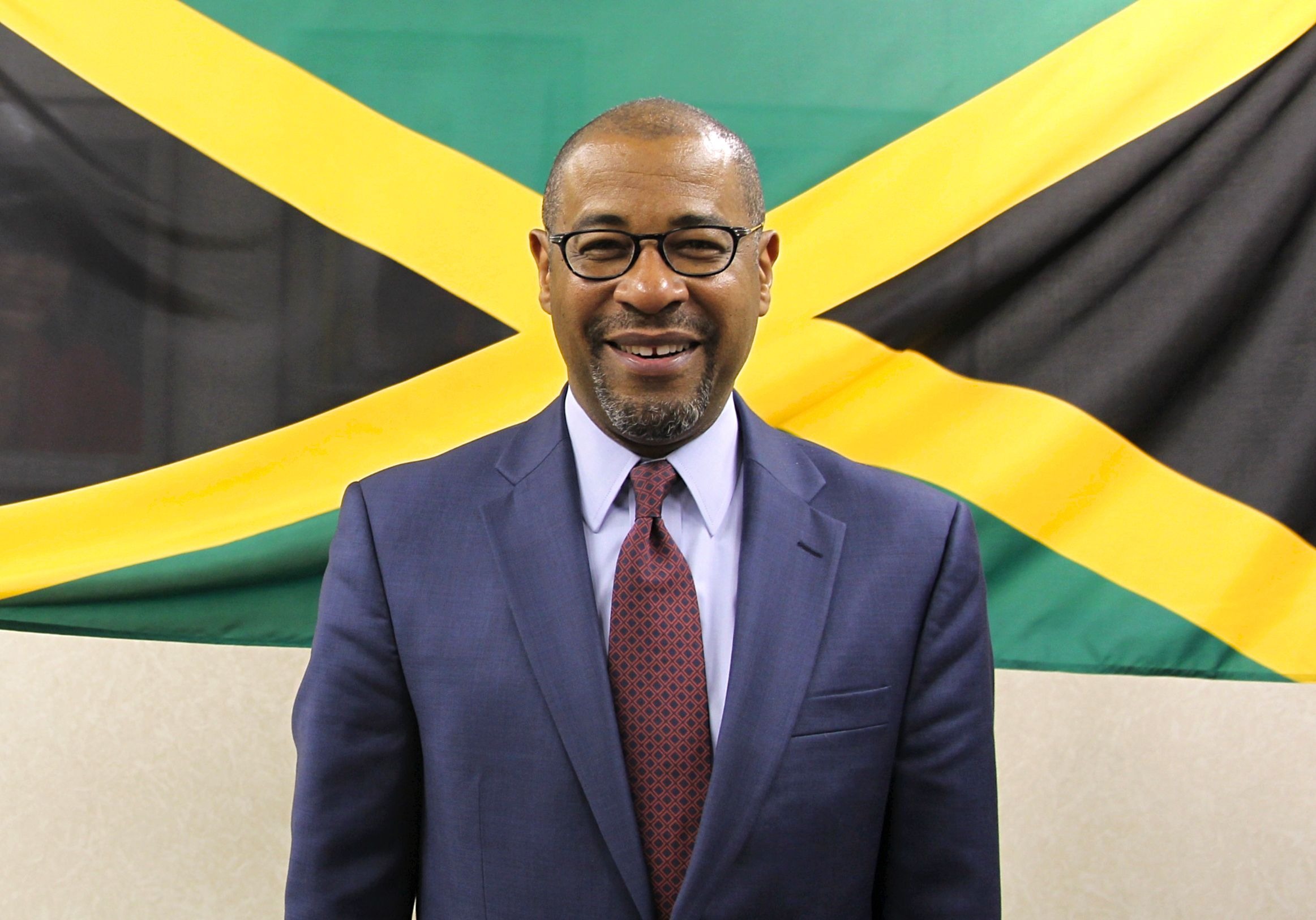 APIC interns conducted an interview with His Excellency Mr. Clement Philip Ricardo Allicock of the Jamaican Embassy in Japan regarding the relationship between Jamaica and Japan, culture, and economics. Former Japanese Ambassador to Jamaica Mr. Takase also joined the interview. (Conducted on February 18th, 2016. Interviewers: Mr. Aoyagi of Reitaku Univ., Ms. Watanabe of Sophia Univ., Ms. Matsuo of ICU)

Q. What is your opinion on the decrease of travelers from Japan to Jamaica in recent years?
This problem has to do with the change in times. In the 1990s, when Japan was leading the world economy, it was possible to travel to Jamaica with a transfer in Atlanta, making the trip shorter than it is now. However, once flights began to transfer at New York, the flight became a minimum of 20 hours. The length of travel and high cost of airfare has brought upon this problem.
We should increase the number of visitors from Japan, and we have welcomed a new tourism director as well as carrying out initiatives such as cooperating with the Jamaican internal tourism industry. In particular, we are targeting those who have been to Jamaica 20, 25 years ago. 60% of visitors to Jamaica are repeaters who have been to Jamaica once before. Also, recently, since there's a trend of young Japanese women going abroad, we are focusing on the young female group. We want to work so that there are benefits for both countries.
Q. We've heard that Jamaica is prone to droughts; what measures are you taking in this regard?
Currently in Jamaica, under the National Water Sector Policy it's required to for all newly-constructed houses and business properties to install a water storage tank, and for pre-existing buildings are being asked to install as well. Before these measures were put into place, citizens were voluntarily using these tanks, but it is only recently that the government made it a policy.
Awareness towards food security has grown recently. We give assistance to those in the agricultural industry, making initiatives to proactively consume their products and give them revenue.
Q. Please tell us about recent trends in cultural communication between Japan and Jamaica?
Jamaica and Japan have a strong relationship in the sports sector. Japan gained interest in Jamaica's sports with the movie 'Cool Running' based on the 1988 Winter Olympics, where the Jamaican bobsleigh team made their first appearance. The most important thing about bobsledding is a quick start. Just like the short-distance runner Usain Bolt represents, Jamaica 's good at sprinting. Sprinting and bobsledding are similar in that they both require quick starts. When Jamaica's Track & Field representative held their camp in Tottori Prefecture, they were moved by the facility's environment and the hospitality they received. This led to Tottori and Jamaica's Westmoreland Parish to sign an agreement this March. This the first agreement signed by a Japanese administrative region, and is wonderful news.
Cultural exchange such as music and food culture will also increase. The yearly event held in Tokyo "One Love Jamaica Festival" is a typical event that promotes bilateral ties between Jamaica and Japan. A similar event is held in Osaka as well. I believe that with cultural exchanges such as these, ties between Jamaica and Japan will continue to deepen.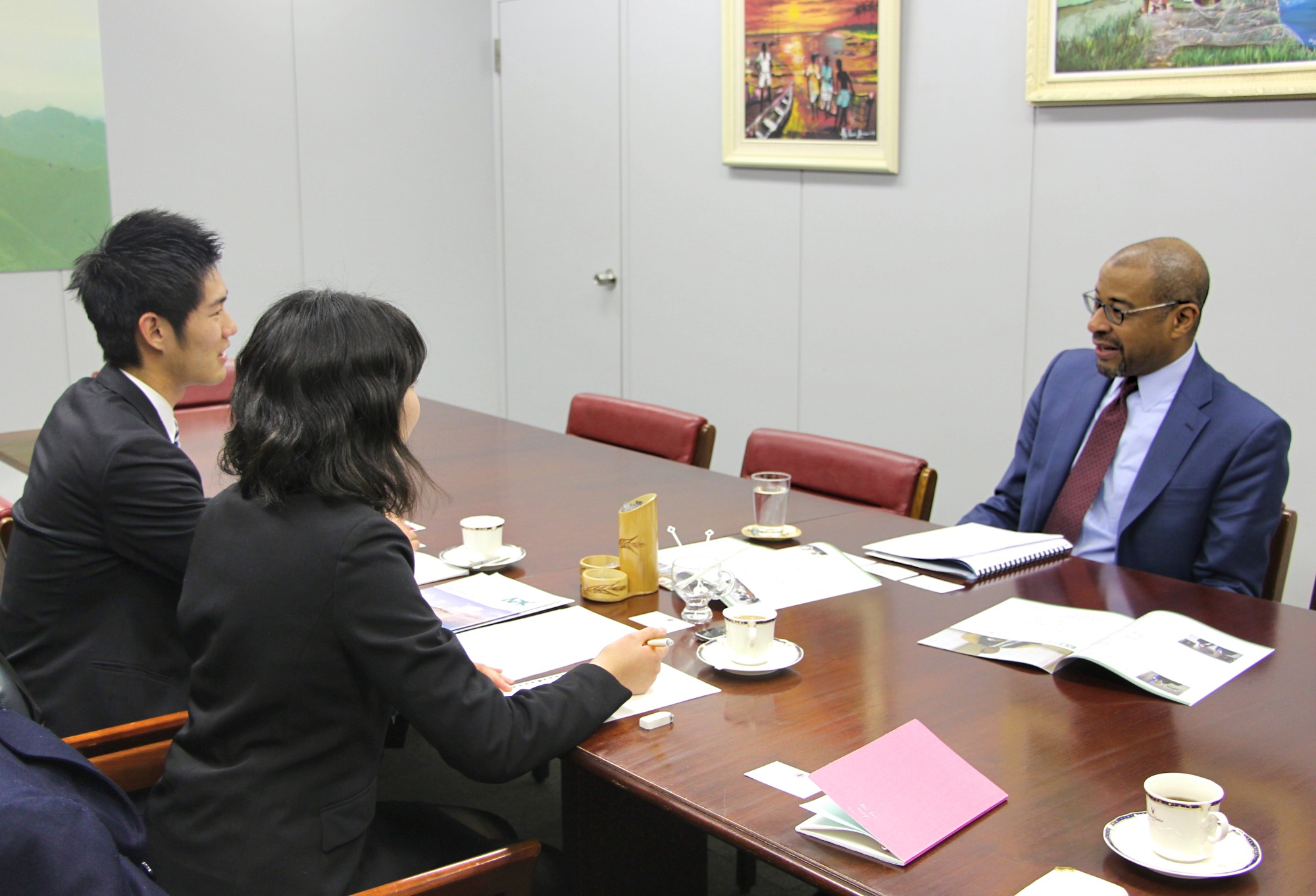 (During the interview)
Q. What do you think of recent diplomatic relations between Jamaica and Japan?
I believe that Jamaica and Japan have been diplomatic partners for a long time. In 1962 Jamaica became independent, and two years later formed diplomatic relations with Tokyo in 1964, celebrating 50 years of diplomatic relations in 2014. Recently, in 2013 Prime Minister Portia Simpson-Miller visited Japan, and last year Prime Minister Abe visited Jamaica. The meeting of the two heads of state are taking place frequently, and I feel that the building of a progressive relationship for the next 50 years is underway.
This is slightly off topic, but with the order of the alphabet, in international conferences Jamaica and Japan are often next to each other. It's inevitable that there will be many chances to converse, which is an important factor in creating bilateral relationships.
Q. Lastly, please tell us about the forthcoming trend in Jamaica's place in CARICOM?
Jamaica is currently taking a center role in CARICOM. One reason for this is as most of the countries in CARICOM are English-speaking, Jamaica has the third-largest English-speaking population in the Western hemisphere. Additionally, I believe the serious-thinking character of Jamaicans of the axis "freedom" and "justice" also have an effect. Unfortunately, they say we "are strongly assertive and aggressive"…
From here on out, as the nucleus of CARICOM, I am certain Jamaica will bring together every nation to a stronger level and work on solving problems.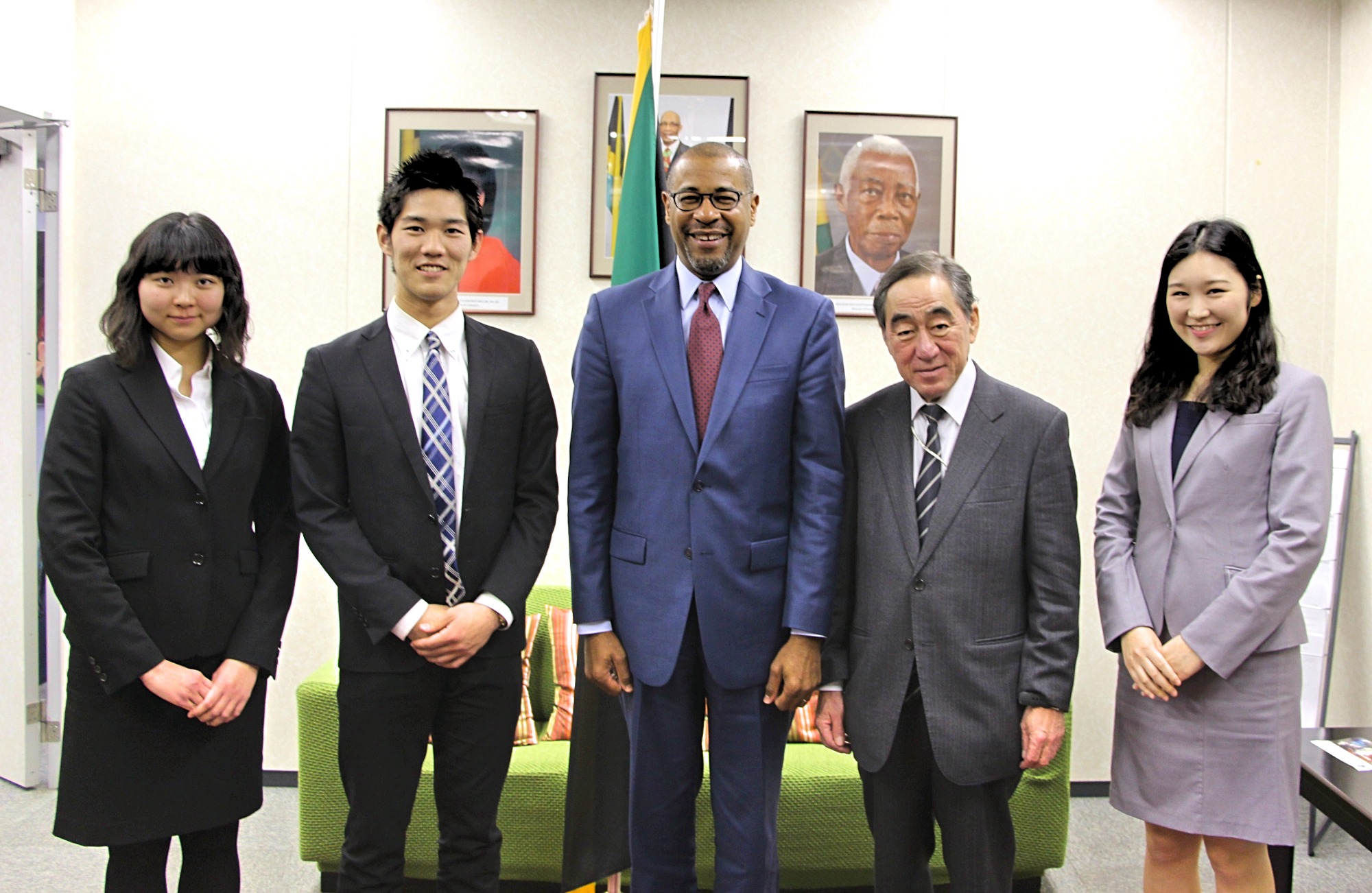 (From left: Ms. Watanabe, Mr. Aoyagi, Ambassador Allicock, Former Ambassador Takase, Ms. Matsuo)