News from Haiti Vol. 7: Haiti's Socio-economic Condition (part 2)
 Current condition & challenges of Haiti's basic social services
Contributed to by the former Japanese Ambassador to Haiti, Mr. Yoshiaki HATTA
In the previous column, I talked about the general condition of Haiti's overall national finances, industries, socio-economics,etc. This time I will be talking about more typical, concrete, specific themes relating to Haiti's society.

Firstly, looking at the severe socio-economic condition, there are various areas which face extensive and varied challenges. Some of those areas are: 1. Lack of and/or underdeveloped extremely basic social services and infrastructure essential to live ordinary daily life 2. Under 50% self-sufficiency on food/alimentation 3. Insufficiency on educator and professional training and related infrastructure, and a constant lack of educators/teachers 4. Insufficiency of and/or dysfunctional healthcare, social security, etc.

◆Basic Social Infrastructure and Services
Before getting into the economic-social field, it is important to state that there is huge necessity to develop and establish services and infrastructure which assure health and wellness on individual level. Living in Japan it may be difficult to feel and imagine the reality of this, so I will talk in some detail about the subject.

(Current state of water & sewage supply system)
First and foremost, water and sanitation are indispensable elements in order to live healthily. However, in Haiti's capital Port-au-Prince which boasts a population of over 2 million people, the reality is that there is no established water supply and sewage system. The first thing that comes to your mind may be "without a working water system, how do people get drinking water? Or water for cooking, bathing, hand washing?" Of course there is a treated drinking water supply system, where water from treatment plants are filled into tanks (water trucks) which are then driven around the city to reach each house's water storage tank, usually found underground.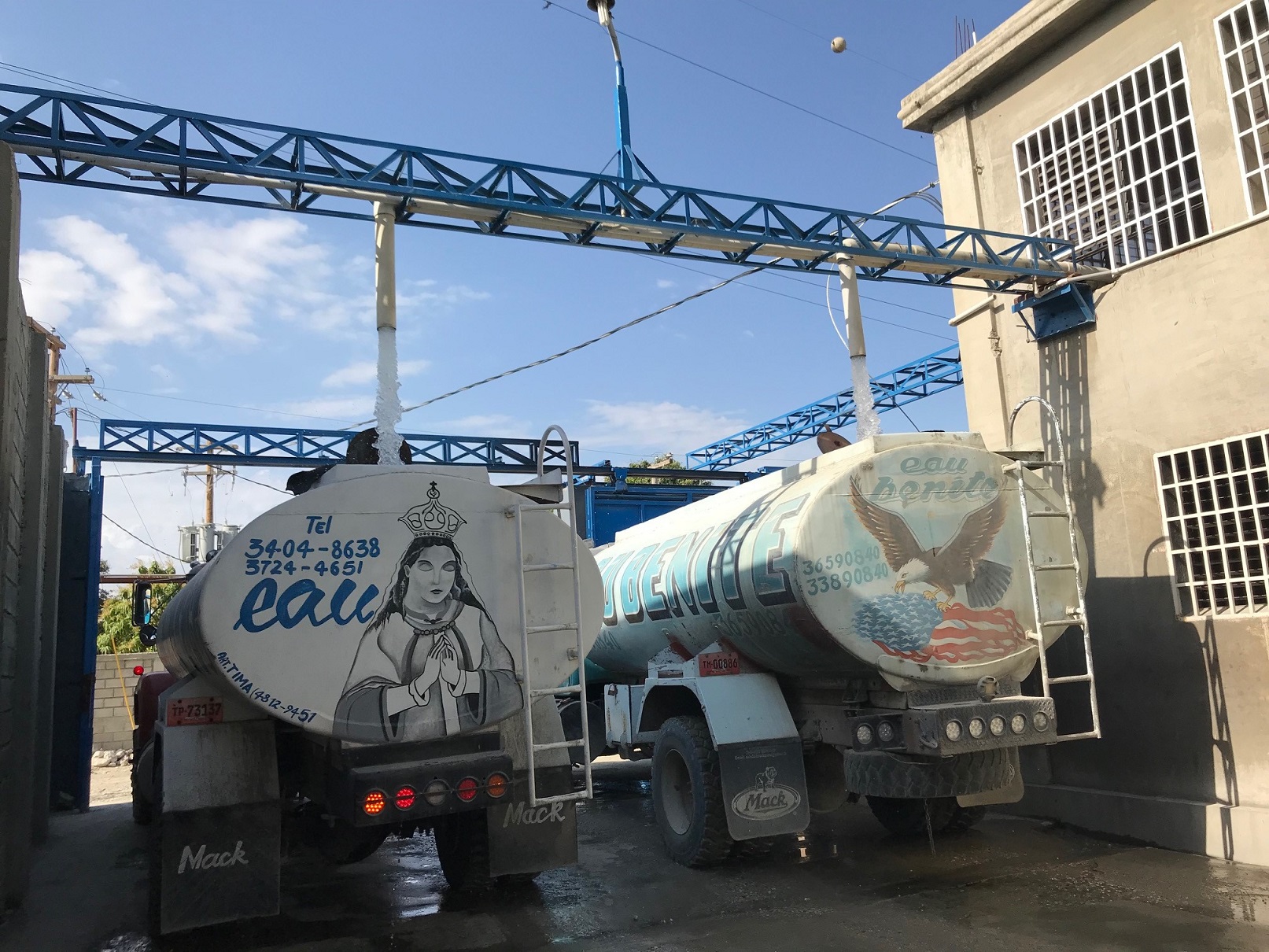 (Water tanks being filled at water treatment plants)
In Haiti, hotels that look classy at first glance have the same water system, and civilian houses such as mine are no different. Every month, water trucks stop by and fill water storage tanks, and every day people use an electric pump to pump up water from a storage tank to the tank on the roof, and with the pressure of gravity the water is directed to bathrooms and kitchens, providing people with water for their daily needs.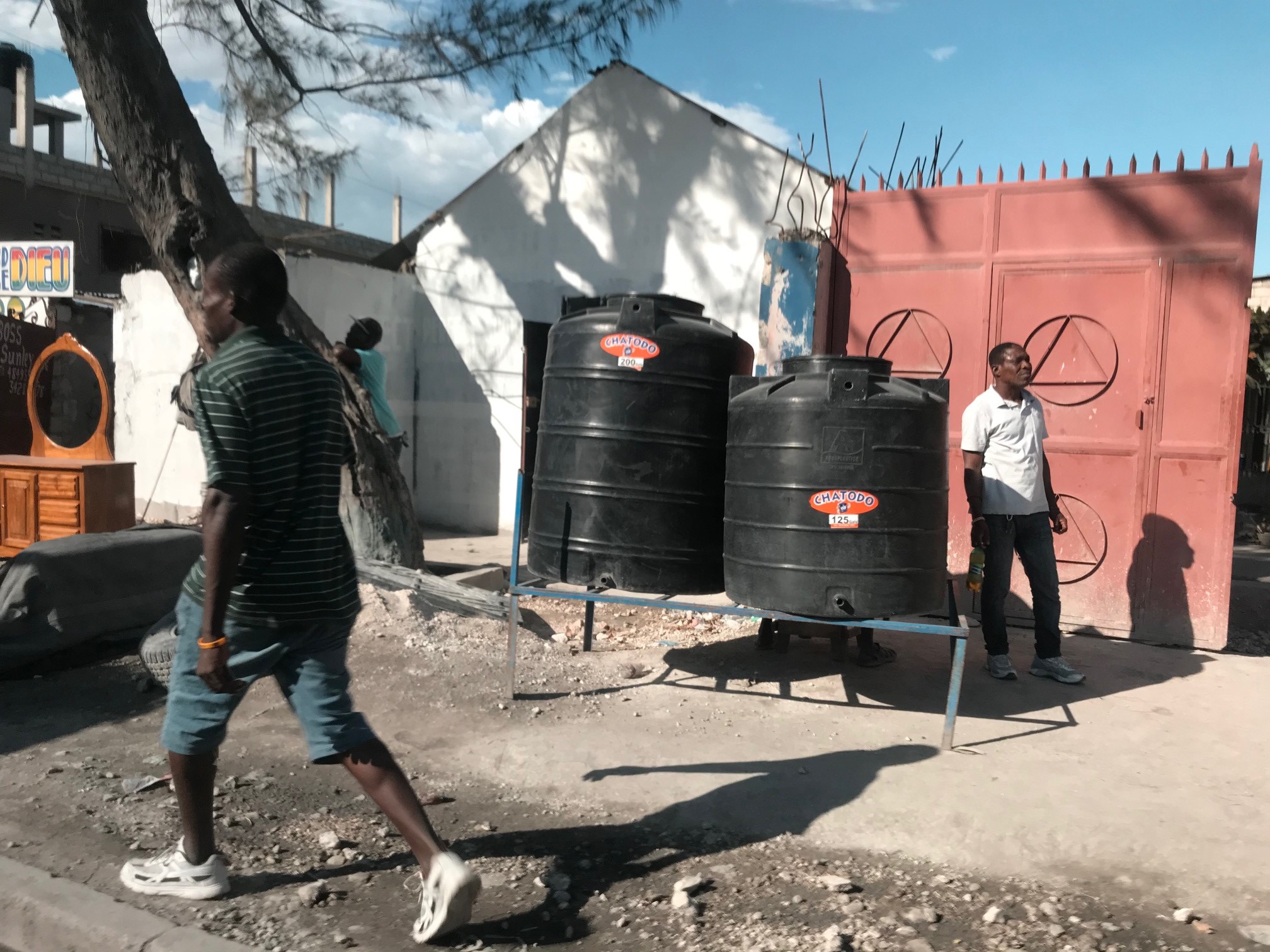 (Water tanks that are placed on roofs being sold in the city)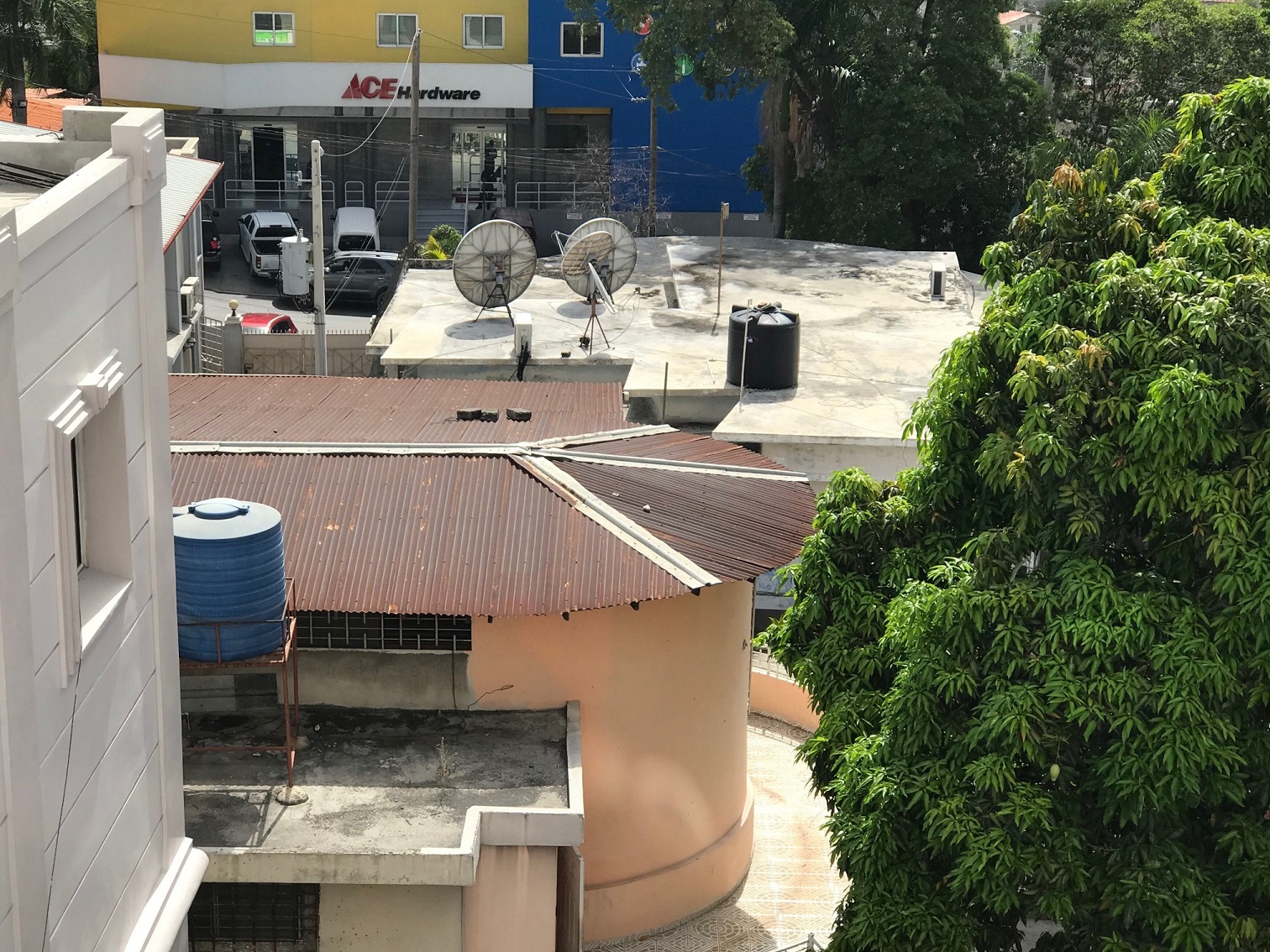 (Water tank on top of a roof)
There are houses which collect rainwater in pipes and buckets for daily use, but there is room for improvement in these methods and can be exploited further.
Additionally, there are five-gallon (approx. 19 liters) bottles of water among other amounts sold, and packs of bottled water are also available, giving the capital a fairly well-guaranteed access to clean drinking water. At one point, cholera spread throughout the country claiming many lives and heightening the fear of contaminated drinking water, leading to the custom of buying clean water. However, in the rural areas of Haiti there are instances where there is not even a single water supply hydrant in the whole village, and nowhere close by to purchase potable water. These areas are facing the reality of being unable to avoid drinking contaminated water.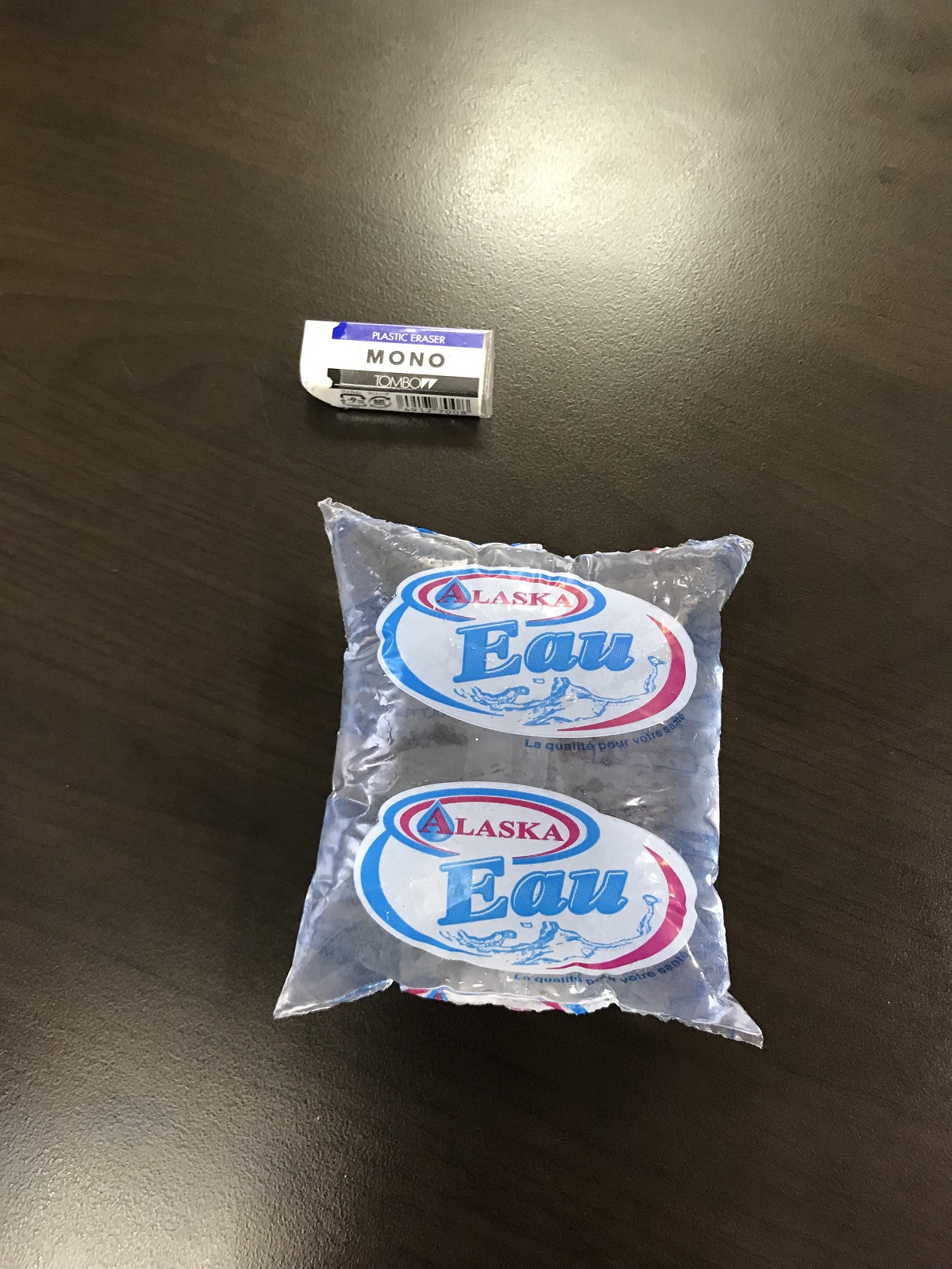 (Water packs commonly sold in the streets)
Furthermore, there is no system set up for the treatment of greywater, and thus most of this water is disposed of in a dry well (septic tank system), seeping into the ground. For this reason, waste water in places such as improperly set dry wells and poorly-functioning gutters will overflow during hard rains and take their contents with them towards and dump them near the ocean and facing residential areas.
Regarding the current condition of water supply, not only Haiti but other developing countries face the same problem, especially in rural village areas where children must go draw water from far outside the village. In many cases, children are obliged to skip school to fetch water, and in the case where they (girls) get a lift from vehicles passing by, they are asked for something in return, which is causing a regrettable social vicious spiral; this social problem surrounding a stable water supply is complex and huge.
(Electrical Supply)
In Haiti, even in the capital area there is still no 24-hour electrical supply. Since the supply amount is limited, it makes it necessary to share power, and thus there are planned electrical supply times. Therefore, excluding the times when there is power, the rest of the day people must go without electricity. In the homes of the wealthy, they may have solar panels installed or use storage batteries and inverters to accumulate and supply electricity. Another alternative is to use electric generators, but without use of the above choices, one must use either fuel or battery-powered lamps to light up indoor spaces.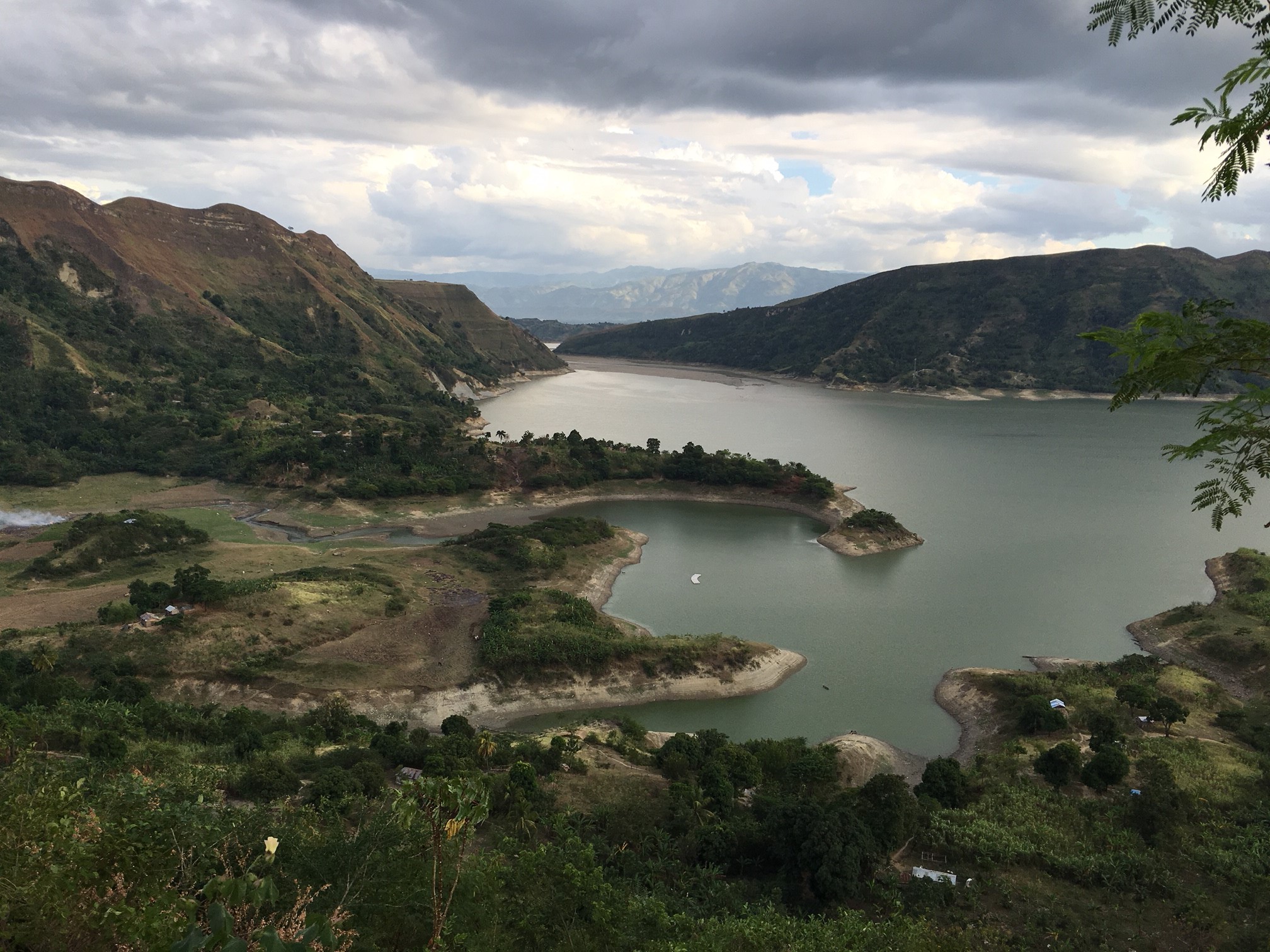 (Péligre Dam)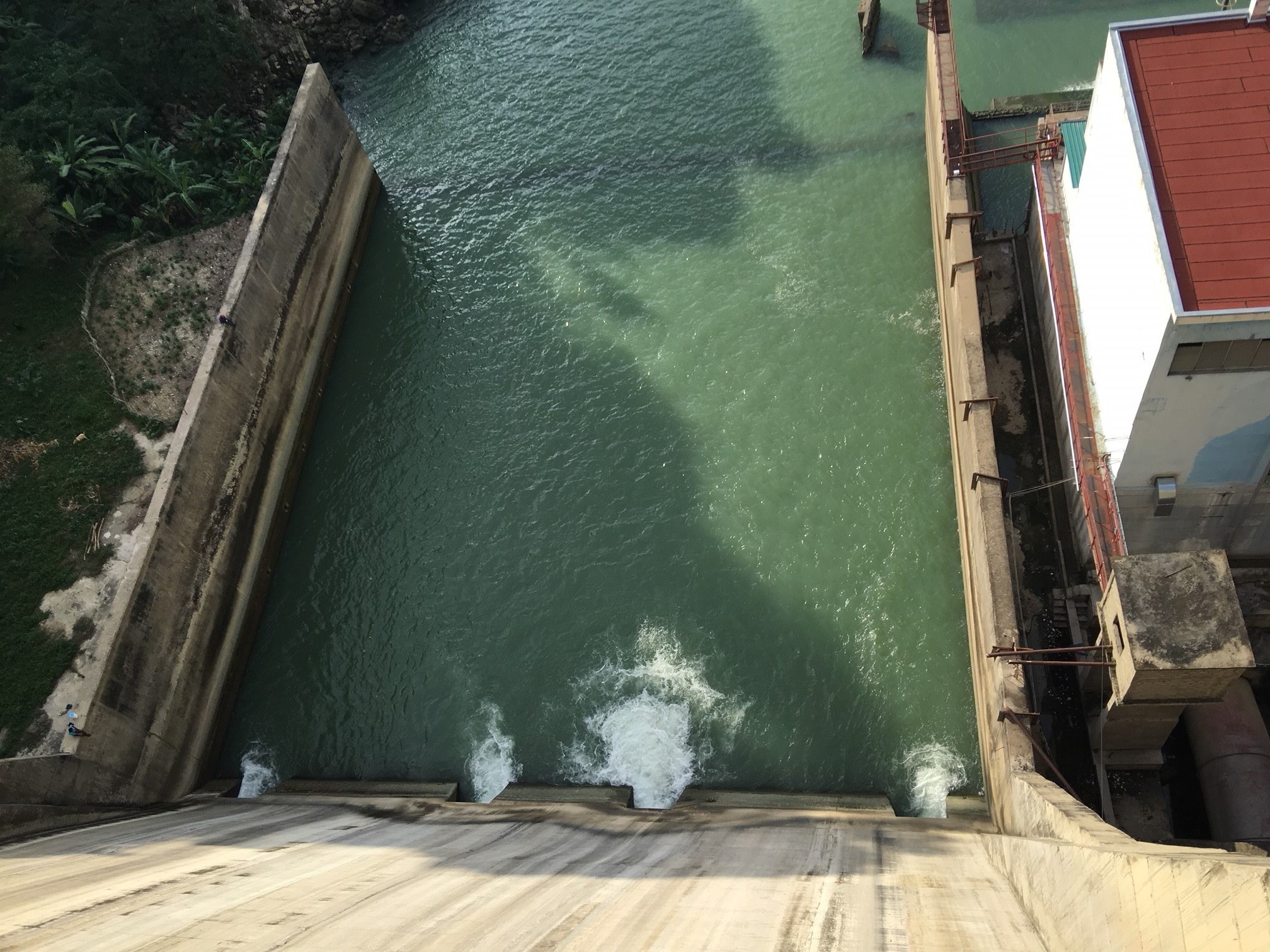 (Péligre Dam and hydroelectric station)
It is easy to imagine how the lack of a stable power supply affects the daily lives of people living in Haiti; in addition to not having electricity and lights during the nighttime, the usage of refrigerators and freezers to store food is also severely limited, as well as is the use of other electrical devices.
Furthermore, electricity is essential for shops, hotels, restaurants, and most basically in the industrial and economical sector, such as factories. Electricity is also imperative in public services, schools and hospitals. For the investment sector, the need for Haiti's industrial and investment sectors to pull the country's economy ahead is huge, but facing a handicap of seeking for stable electricity or water supply etc. is a barrier to this end. For that reason, as I mentioned in the previous column, the Haitian government is focusing on supplying its industrial parks providing full water and electrical supply etc. in order to attract large overseas companies and direct investments.
Taking into account the current situation, President Moïse pledged to deliver 24-hour electricity supply to the entire country within two years of his taking office.
The electricity supply problem in Haiti not only includes power generation, transmission, and the power grid, but also the managing and operational side, including the common use of a bill collection system for users of the grid. Therefore it is necessary to approach the problem in a strategical way that includes three parties: building of infrastructure, establishing maintenance cycle and system, and residents' participation.
(Waste Management)
The waste management problem in Haiti has become quite serious. Excluding a few people, the idea of disposing and processing garbage has not taken hold, and it is normal to toss things away wherever one might fancy (public roads, rivers, ravines, etc.), which unfortunately is flooding this beautiful Caribbean island's cities with trash. Gutters which are supposed to carry out water are clogged with garbage; waterless rivers are filled to the brim with trash. Literally adding fuel to the fire are plastic bottles and Styrofoam boxes being dumped along with other trash into these garbage pits.
(Garbage buried in a gutter, limiting its functionality)
The profuse amount of plastic waste (bottles, bags, etc.) in Haiti is one of the factors of ocean contamination that is being focused on worldwide at the moment. There are publicly-run recycling systems, as well as private corporations who hold recycling initiatives; however, the maintenance of garbage (solid waste) processing plants are still insufficient and are slow to improve. Currently, although there is some progress, the problem is too large to tame in a short amount of time, and once garbage piles up in places such as streets and sidewalks, they will be set on fire and burnt. Needless to say garbage is not separated and recycled like in Japan and elsewhere, so it is common to get a sore throat from the drifting smell and smoke of burning garbage while sitting in your own home.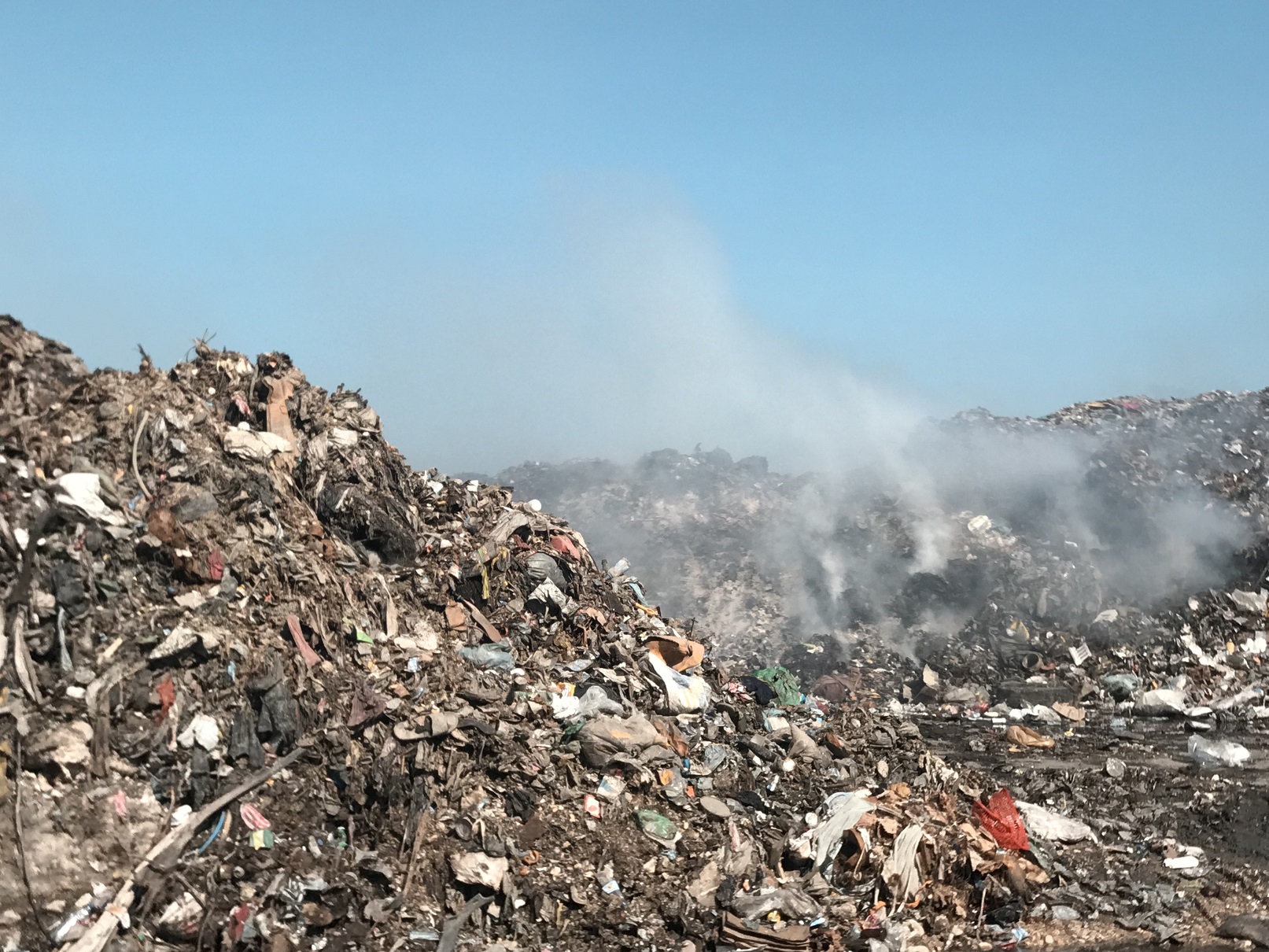 (Carrefour garbage dump: burning small sections of piled-up garbage)
Aside from the necessity of securing a hygienic daily environment, it is also necessary for Haiti to immediately address and start to fix its serious garbage (solid waste) problem in order to promote its tourism industry and to lure investors to its shores.
◆Food & Self-Sufficiency
Most of Haiti is hilly landside, but in the flatlands they grow rice, sorghum, corn, bananas, sugar cane, and other crops. In the hilly lands there are coffee farms and banana fields, with maintained layered fields, with vegetables growing in relatively high altitudes. People also raise livestock and poultry to a certain degree. Despite this, the self-sufficiency rate is around 50% due to poor efficiency of small farms, need for improvements in modernizing farm work, as well as vulnerability of natural disasters.
Coffee has always been one of Haiti's commercial crops, but it has taken a hit due to low crop yield because of disease, as well as farms taking a big blow from destructive hurricanes. The quality of Haiti's coffee and its cocoa beans are excellent, and one would hope to have an increase in these crops being exported to the international market. In order to enlarge the size of export, stable yield and quality control can be enhanced through further investment.
Riding on the 'organic' boom, Haiti is operating large-scale banana plantations; exporting organic bananas is one of President Moïse's strengths. Additionally, most mangos produced in Haiti are being exported to the United States, among other destinations.
There are two sides to Haiti's foodstuffs and farming policies. In general terms, the first goal is to raise its self-sufficiency rate and lower its amount spent on procuring food from the international market with foreign currency. The second goal is to sell its products in the international market; neighboring United States is a potential big market and can also count for such needs in CARICOM member countries, and this can lead to improve the economic condition of the country.
◆Education
Haiti is facing a grave challenge regarding its educators, who are supposed to be the motivating force supporting the upcoming generation. To start with, there is a chronic lack of not only educators, but also school houses for elementary education. Fortunately, one can feel that parents in both cities and rural areas alike want their children to be educated; over 80% of children in urban areas are enrolled in schools. In contrast, around only 50% of children in rural areas are enrolled in schools due to situations described in previous paragraphs, such as fetching water and a lack of infrastructure. Furthermore, lunch is not always provided at school, and so in most cases classes end for the day at noon, and thus there is a restriction on the usage of classrooms. Although communities face many obstacles to educating their children, such as a lack of public school facilities, teachers, and small, inadequate surroundings, they will pull together and support each other by sharing spaces and creating shifts. There are also many instances of parents in villages and communes along with NGO's raising money to borrow church land to run private schools. It costs money to receive an education, yet even if you travel to a small hamlet over an hour by major roads, you will still see children's school uniforms neatly worn and girls with ribbons in their hair commuting to school.
However, school fees and supplies can take a toll on the household budget; one can guess that the start of the new school year in September and right before Christmas are times of the year where the most money is spent.
In Haiti, there are public institutions of higher education (universities) such as Haiti National University, and others in each province. Each institution has its restrictions, but vigorously promote university-level education. Furthermore, private universities including the prestigious Quisqueya University in Port-au-Prince are supporting the continuation of higher education in the nation.
There are also many challenges facing good-quality high schools, vocational training schools, special needs schools, and informal education.
◆State of Medical Care
The state of medical care in Haiti is complicated. There is a gaping difference between the medical clinics with trained doctors, up-to-date medical instruments and operating rooms and ICUs for the people who can afford it, contrasted by the lack of practically any medical care in some provincial cities. Furthermore, although there is an insurance system in place in the capital area, there are cases where even though medical insurance covers a procedure or doctor's visit, there are limits to the services available, hospitals that take said insurance, etc., failing to create a satisfactory standard in medical care.
Regarding preventative healthcare, similar problems that are apparent in other developing nations exist in Haiti as well. Additionally, issues such as maintaining local roads, remote communities located in the hills and only accessible by four-wheel drive vehicles, and the difficulty of dispatching emergency vehicles also plague the nation. In the provinces, it is many times the case where maintenance and location of top-rank general hospitals are insufficient, and referral systems are either non-existent or non-functioning. These uncovered areas are patched together by individuals and communities, but there is a limit to the extent of their efforts.
There is a chronic national financial crisis that creates a shortage in the national budget for public health sector. In 2017, only 4.3% of the national budget was allocated to the public health sector, clearly not enough to support the upkeep and management of hospitals in the nation. It is hard enough to renovate and innovate old and out-of-date medical equipment, let alone open up a new health care center. Knowing that these circumstances are at odds with each other, the health sector is receiving support from NGO's and other nations to develop Haiti's health and medical field; in order to sustain and improve its system and services, it is necessary to increase the allowance in the national budget in order to secure a bigger allowance of national funds (7% of the 2018-19 budget is projected to be allotted to the healthcare sector; if this proposal is accepted it is safe to say things are going in a good direction). A lack of budget also means lack of wages for hospital workers, doctors, nurses; there are instances where employees in related fields held a general strike, shutting down medical services. It is hoped that there will be more effort provided to assure a stable medical service to its citizens.
(*All photos taken by the author)
(*This column reflects the personal views of the author and not the opinions of their employer)
Back numbers are
here