News from Haiti Vol. 3: Haiti's Cultural Aspects part 1
 Talking about Haitian Art
—Contributed to by the former Ambassador Yoshiaki HATTA, Embassy of Japan in Haiti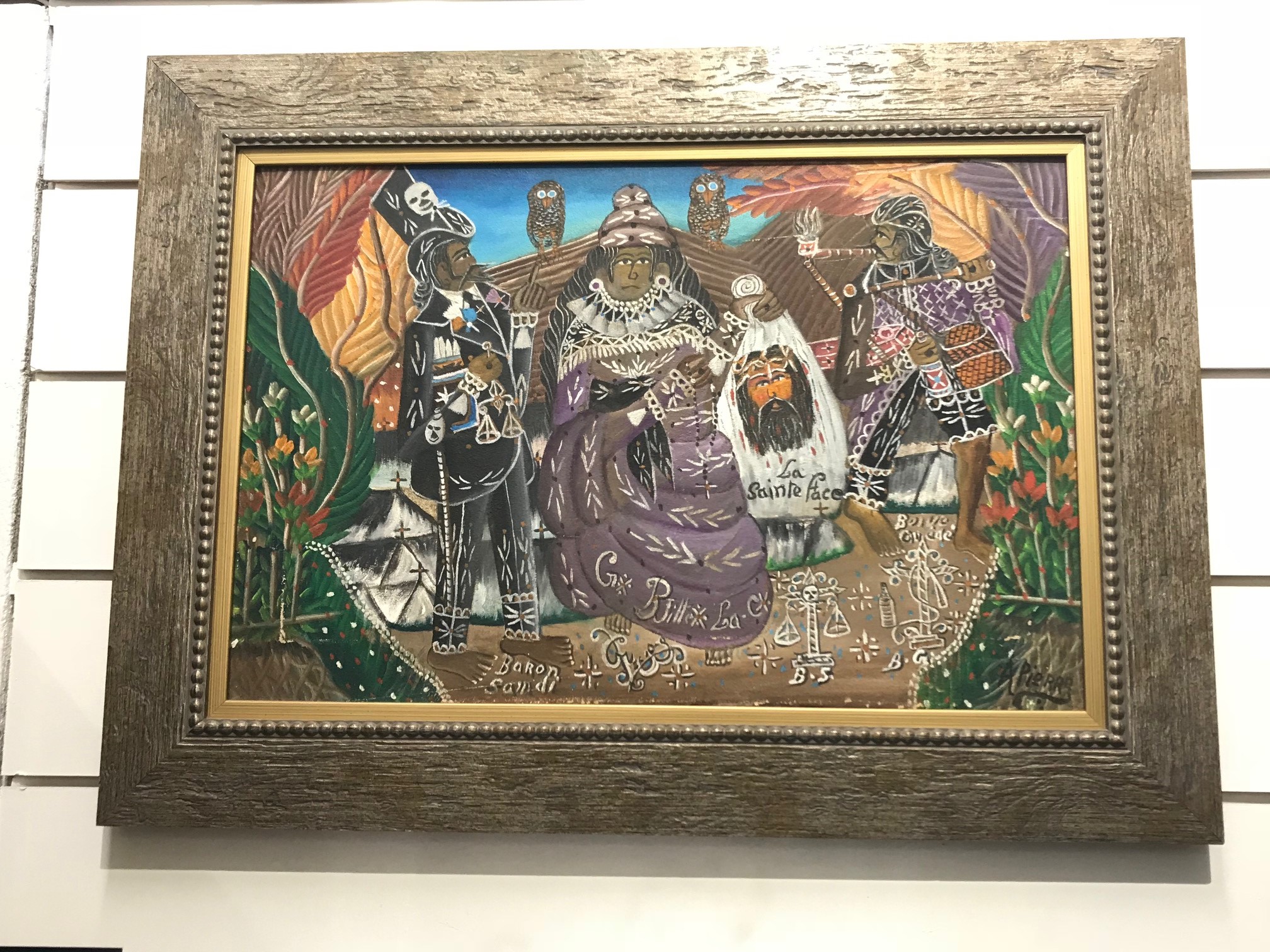 (Vodoo painting)
Haiti's art culture is alive and thriving. Haitian art has its own definitive style, created by Haitians. There are different types of styles and new up-and-coming artists continually create their own unique styles. These are grouped under the generic term "Haitian Art" in English.

As I have talked about in previous volumes, the economic situation in Haiti is difficult and it can be a struggle to lead what one might consider an ordinary life. Thus one might suspect that it is not easy to be able to afford the time and finances needed to create not just art, but art of a certain quality.

Interestingly, and surprisingly, however, artwork is all over the country. Solid walls on city corners are full of brightly-colored paintings for sale, as well as many Haitian Art specialized art galleries having hundreds of archives selling artwork to connoisseurs. This time I have asked for the co-operation of Gallery Nader in Pétion-Ville for this column.

Starting from the beginning of Haitian art to the present day, there are around 300 famous Haitian artists. These artists have their own style and techniques, rendering them a spot in Haitian art history.

In order to find out more about the origin of Haitian art, we need to look at the long period of Western influence on Haiti. It seems that painting was part of the culture brought from Europe, and it integrated naturally into Haitian lifestyle. Art schools were established fairly quickly after Haiti gained its independence in 1804, and well-known artists appeared sporadically throughout the times.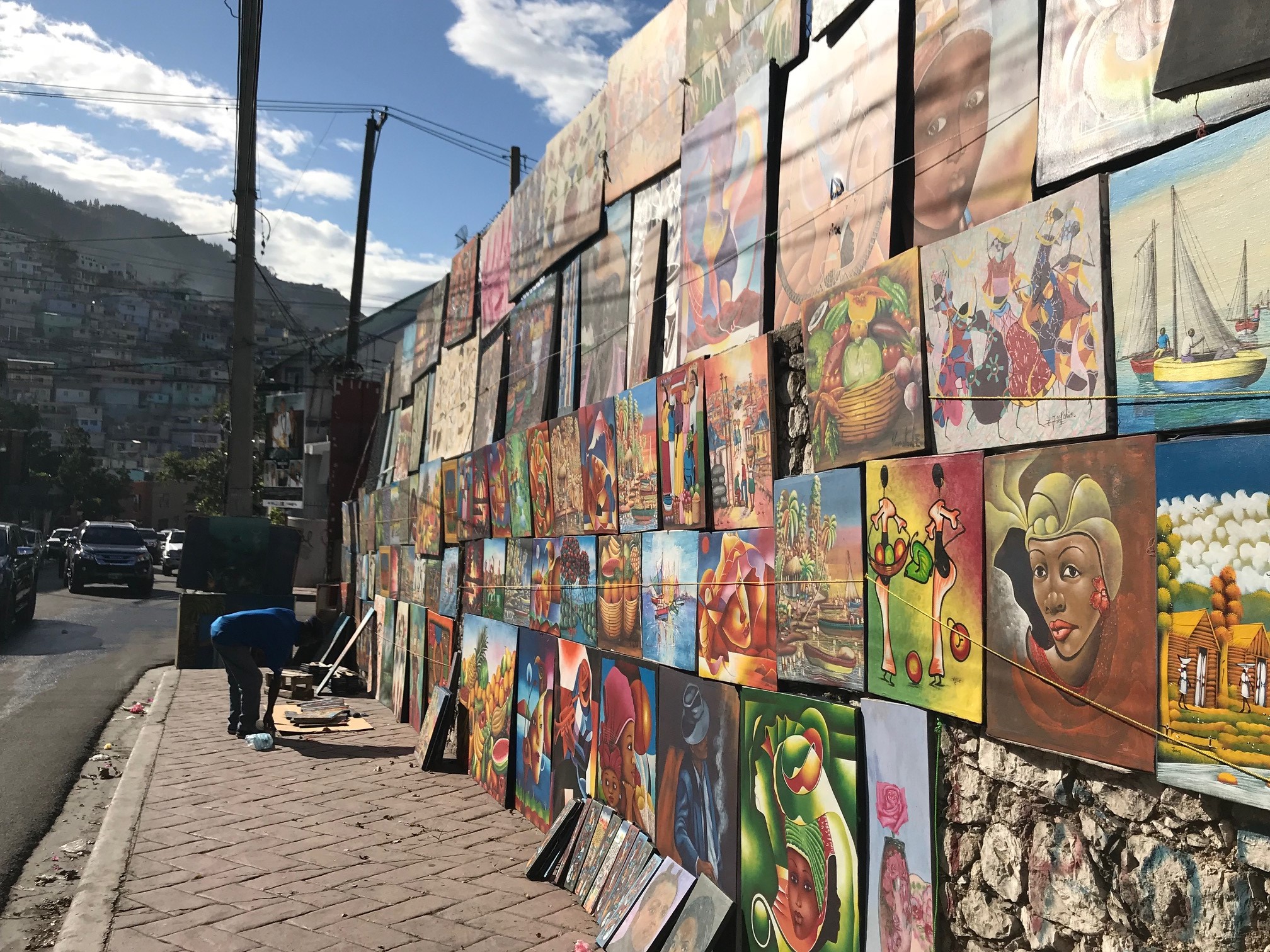 (Haitian art for sale on a city street)
◆Haitian Art Centers
In 1943 American water color artist Peter DeWitt came across paintings by Haitian artist Hector Hyppolite, and is said to have instantly fallen in love with his works. DeWitt opened an art gallery in Port-au-Prince the year after in 1944 called the "Centre d'Art", claiming to be the first public gallery to display Haitian artwork no matter their origin. DeWitt's gallery attracted artists from all of Haiti, where they exchanged opinions and ideas, and created a suitable environment for creating art. The Centre created and focused on one style of painting, called "naïve" or "primitive" style, and helped introduce this style mostly to the American and Canadian market. However, in 1950 artists who were once part of the Centre left because of the focus on the American market, differences in development of style, etc. left and made a new art and design center called "le Foyer des Arts Plastiques". Following this split, an increasing number of artists who followed their own style while further developing their techniques appeared on the scene, eventually creating the group "l'école de la Beauté", with artists such as Bernard Séjourné and Emilcar Similien.
Looking at the Centre's collection of "primitive" works, one can see there is already a definite style to many of the pieces. The simple lifestyle of people and nature are the main themes, with unique lines and color combinations. Paintings depicting Paradise and other imaginative motifs are abundant with different artistic expressions; they contain a certain limited depth, making them characteristically Haitian and popular among her fans.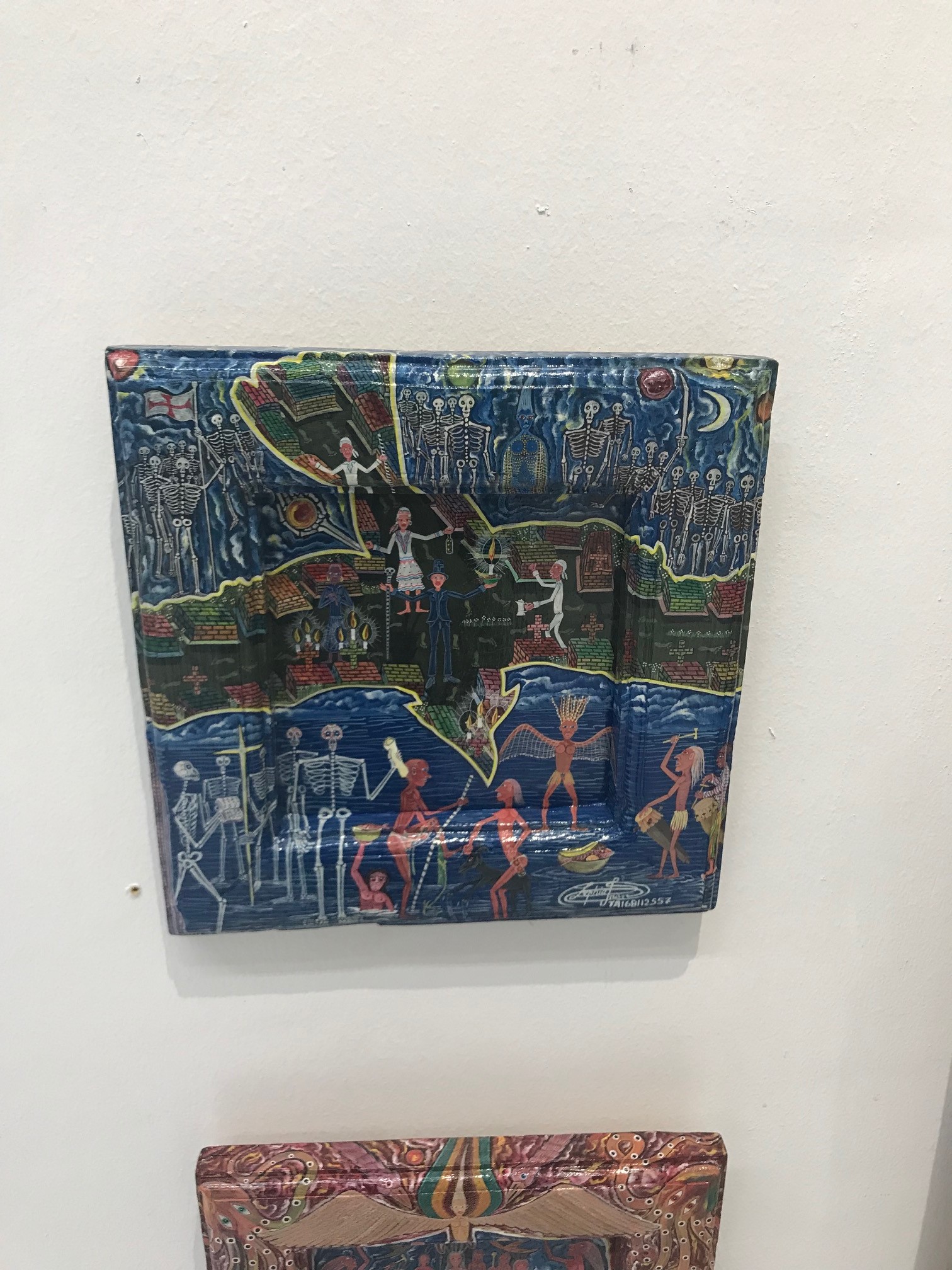 (Modern Vodoo artwork)
◆Vodoo Religious Motifs
On a different theme are motifs from the Haitian religion Voodoo.
Loa
are the spirits of Haitian Voodoo, and the most common
Loa
is the Loa of death, "Baron Samedi", acting as the motif. Additionally, sirens (mermaids), skeletons, exorcism, life, death, and sex are all themes in Voodoo art. This is a genre that knows lot of imaginations, no taboos, and some pieces can be quite frightening, even grotesque, and may require a certain level of interest in the religion and art before viewing. There are also (Flower-like) magical prayer design called Vévé (Which represent Loa) frequently used.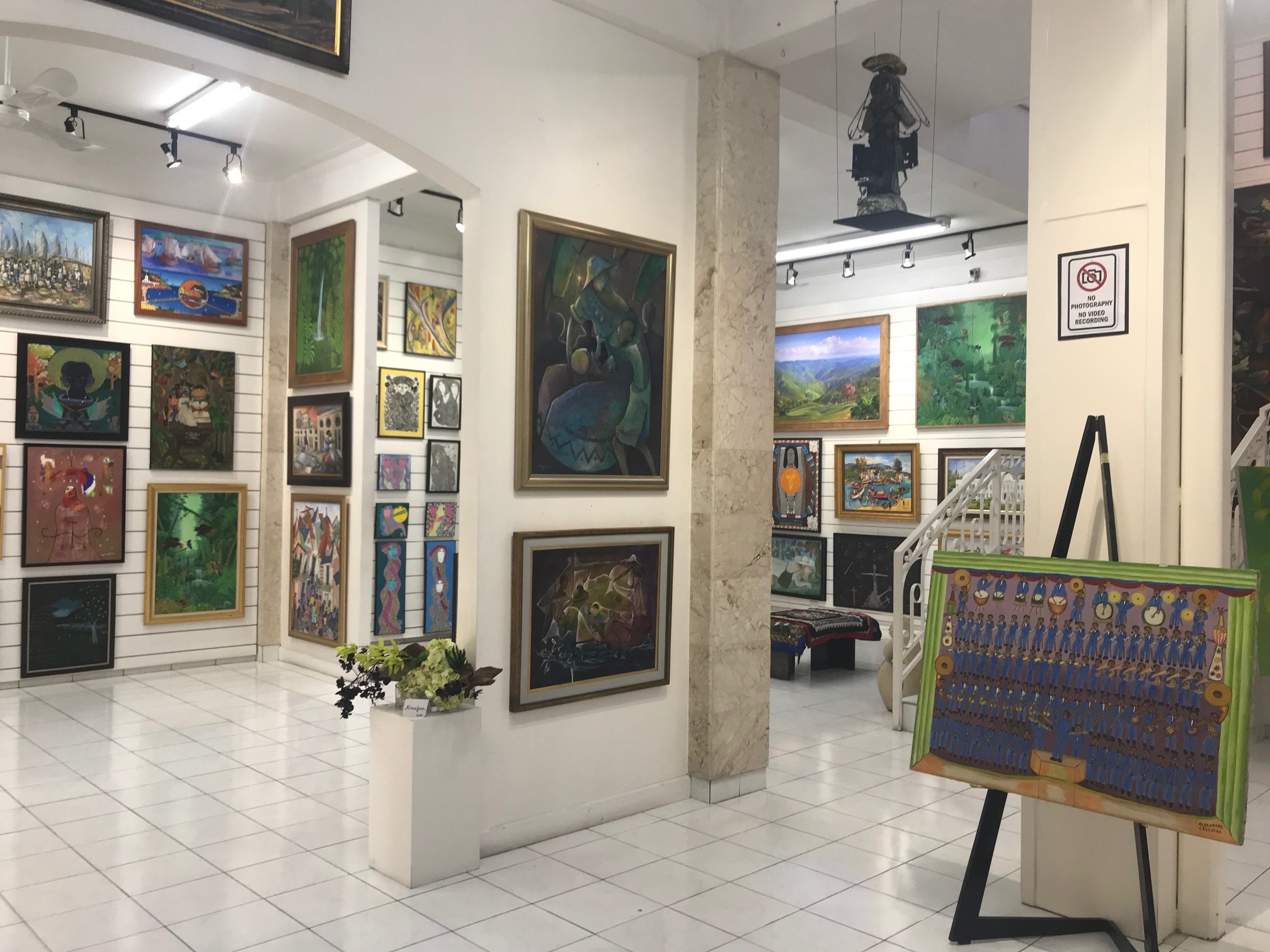 (Artwork gallery)
◆World-recognized Haitian Paintings and Art
As Haiti developed and its art culture flourished, French novelist and Minister of Cultural Affairs André Malraux visited Haiti and was reportedly strongly impressed by the paintings of the "Saint Soleil" school.
Additionally, French wine Chateau Mouton Rothschild used artwork from Haitian artist Bernard Séjourné on their label in 1986, further boosting the value and reputation of Haitian paintings and work in the art world.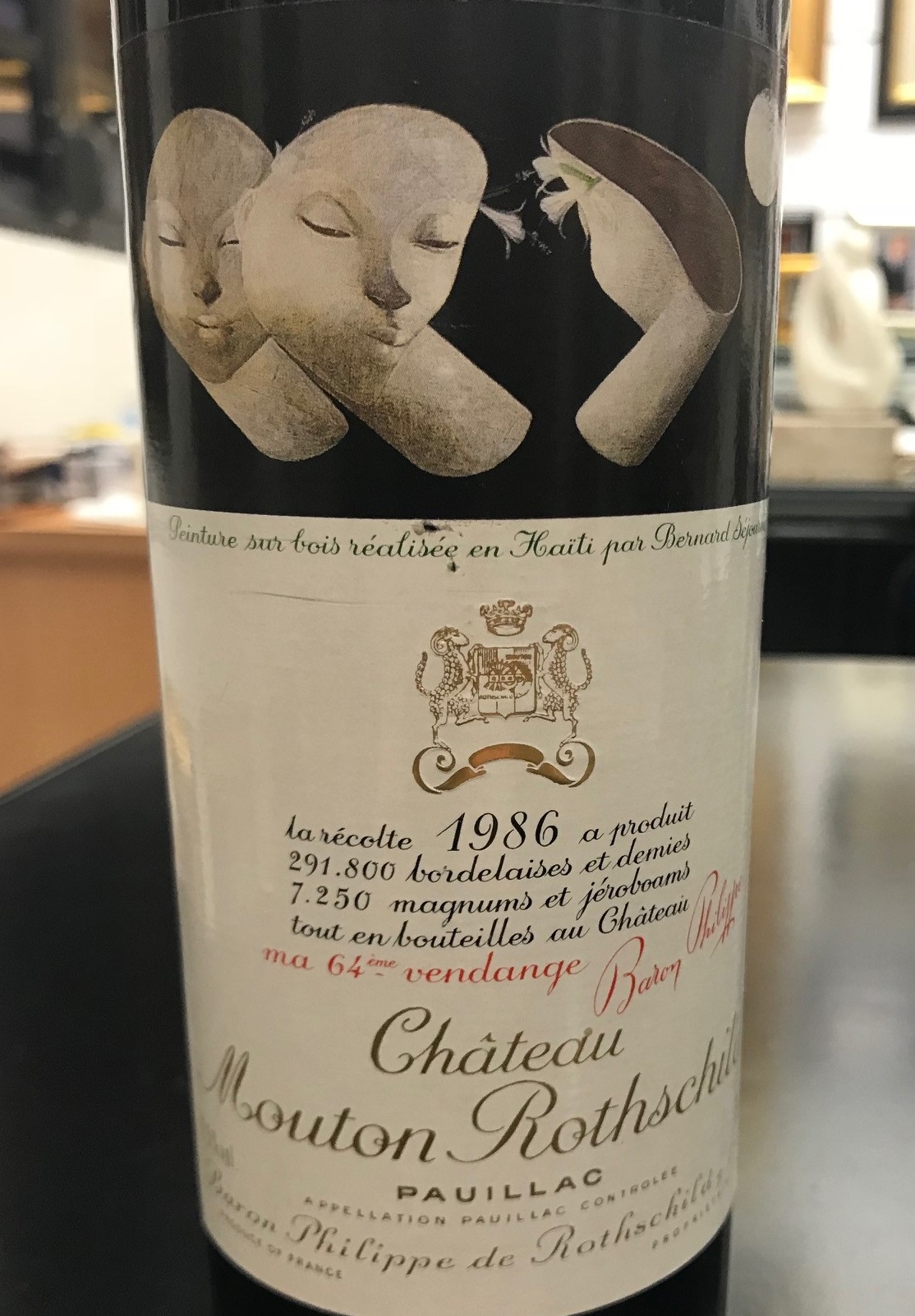 (Haitian art on a bottle of Chateau Mouton Rothschild wine)
Haitian art has been on display countless times in Japan; the Haitian depictions of natural landscapes, the combination of trees and birds on the theme of jungles are quite popular in Japan.
This month's column gave an overview of Haitian art, in particular paintings; however, Haitian art also consists of wooden carvings, stonework and other sculptures. Haitian art is not only paintings and sculptures; it also includes media such as unique steel drum art and Voodoo flags, all using interesting colors and imaginative motifs that continue to fascinate not only European and Americans, but has also reached international acclaim.
(*All photos taken by the author)
(*This column reflects the personal views of the author and not the opinions of their employer)
Back numbers are
here