Ambassador Update Series: Finishing My Service in Samoa (Part 1)
Contributor: Previous Japanese Ambassador to the Independent State of Samoa,
Mr. Gen-ichi Terasawa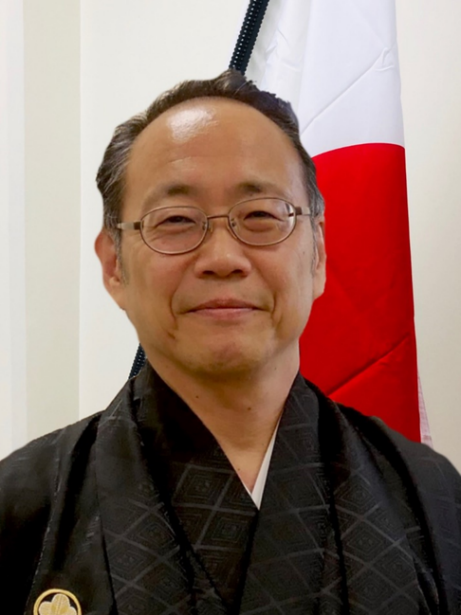 (Author))
I finished my two years of service in the Independent State of Samoa (hereinafter "Samoa") in December 2021 and retired from the Ministry of Foreign Affairs (MoFA) upon my return to Japan. When I met with APIC president Shigeie, I was invited to write an article for this column, "Ambassador Update Series". My speciality while I was employed at MoFA was South Korea and the Korean Peninsula; however, as for time spent in Oceania, I was assigned to service as a councilor in the Federated States of Micronesia ten years ago (at that time I worked under Ambassador Shoji Sato, who is currently APIC Executive Director). My recent time in Samoa was my second time in the region, and as it was my last assignment from MoFA I feel a special connection with the region. The following is my report of my findings during my time spent in Samoa, which includes not only my subjective views but may also contain factual errors. Thus I am writing this with the premise that this piece is open to criticism and admonishment from those with superior knowledge than myself. Needless to say, I take full responsibility for the personal views stated in this piece.


Measles Outbreak

Samoa is an island country located in the South Pacific Polynesia region, with a land area 1.3 times the size of Tokyo and a population of 200,000 people. During my two years as ambassador I experienced various situations, but my main work was providing support in the heath sector, including but not limited to COVID-19. Thus, I will center my narrative around my experiences working in the heath sector while ambassador.

When I first arrived for my position in November 2019, the first thing that was waiting for me was the measles outbreak which had occurred that fall. The outbreak took the lives of over 80 people, mainly children, who are an important asset in the future of the nation. In response the Samoan government issued a state of emergency and set up an aid coordination meeting with development partners stationed in the country. Apart from myself, the head of each mission among Australia, New Zealand, the UK, the USA (Chargé d'Affaires), and China attended the meeting. The residential representatives from the United Nations and the World Health Organization (WHO) were also invited. It took place right before my presentation of credentials, but this was not the time to worry about formal procedures. This was an issue that directly affected humanity and therefore I decided to take part. At the meeting, the WHO local representative cited the low vaccination rate against the measles (there was an anti-vaccination tendency among local residents) as to why the outbreak occurred. Mentioning a shortage of doctors, nurses, vaccination shots, and medical equipment the Samoan government requested support from their development partners. Australia and New Zealand had already signed an agreement to deliver aid in preparation for the issue of Samoa's state of emergency; this ensured the deployment of a medical support team and supply of medical goods was issued promptly. Samoa was previously a colony of New Zealand, but in 1962 it was the first island in the region to declare independence (the Western Samoa declared their independence, separated from the Eastern American Samoa), but as it remained part of the British Commonwealth, member countries and NGOs participated in aid programs. The local WHO representative office conducted a general coordination of medical support from participating countries and NGOs and created an aid list; the flags on the list of participating nations which sent medical teams continued to increase day by day. From a humanitarian point of view, and to underscore the meaning of the outcome documents of the eighth PALM (Pacific Islands Leaders Meeting) in 2018 which Japan and Samoa co-chaired, I made the decision that it would only be natural that Japan contributes an appropriate amount of aid to Samoa. There was an acute lack of health workers in response to the number of increasing patients (mostly children), causing the Samoan government to call out for additional medical team support from its development partners. I immediately reported Samoa's aid request to headquarters in Japan and strongly demanded a medical team be dispatched quickly. The Japanese government's response was swift; the framework for international emergency aid during natural disasters was immediately put into place, and a group of doctors, nurses, and pharmacists were split into two teams to be dispatched as the Japanese relief team to take action against infectious diseases (based on the "Japan Disaster Relief" law, JICA undertook the job of dispatching relief teams under the orders of the Japanese foreign minister). With this, the Japanese flag was added to the WHO's list of countries providing medical relief teams. Due to the prompt and apt action of Japan and other countries early on, the measles outbreak came to an end in late December, and the Samoan government lifted the state of emergency. The Japanese medical relief team remained in their stationed regional hospitals right up until they pulled out of Samoa. The Prime Minister of Samoa made a statement expressing his deep gratitude for all nations including Japan that deployed medical relief teams to control the measles outbreak. I would like to take the opportunity here to once again offer my sincere appreciation for everyone at JICA and the medical relief team for their effort.

On another note, I was watching China's movements during the time of relief efforts. At the time, China had five to six doctors in the nation before the measles outbreak as part of their continuous aid. Neither of them was respiratory experts. I paid close attention to see when China would dispatch medical relief teams to battle the measles outbreak, but China donated 100,000 USD in medical supplies, but never sent a medical team. Thus, the Chinese flag never appeared on the WHO's list of international medical support teams. Thinking back on it now, reports were starting to come out that an unknown respiratory disease was spreading in China. This was the time that the novel coronavirus, which would later spread across the world, had been detected in Wuhan, Hubei province. One can infer that the Chinese government prioritized the managing of the domestic situation and thus ordered their respiratory infectious disease experts to stay in the country.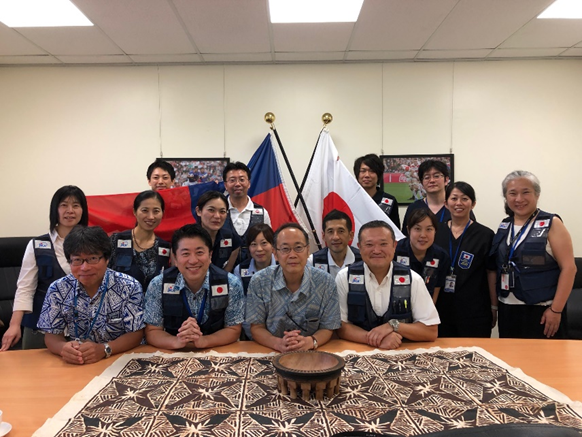 (The 1st Japanese Medical Relief Team dispatched to Samoa to fight the measles outbreak)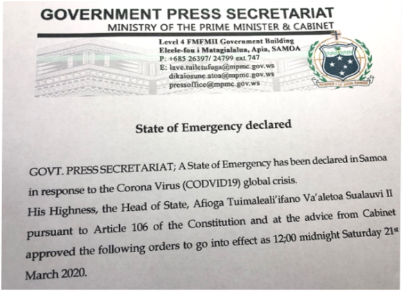 (Samoa's "State of Emergency" response to the COVID-19 Pandemic)
COVID-19 Pandemic
It was only a moment that the measles breakout had come under control when on January 30, 2020, WHO publicly stated that the "novel coronavirus constitutes a Public Health Emergency of International Concern (PHEIC)". In March it was declared a global pandemic (hereinafter COVID-19 pandemic). Samoa's response to this was quick-the government declared a national emergency and took a series of preventative measures. The previous experience with the measles outbreak taught the Samoan government, society, and their development partners a precious lesson on how to deal with infectious diseases. If Samoa had not experienced the measles outbreak, the island nation would have experienced a massive number of victims to the COVID-19 pandemic. At the time, the world had not yet acquired vaccination against COVID-19, and thus if a community transmission had occurred in the small, medically vulnerable island, the situation would have become irretrievable. There was no way to prevent the virus from entering except to put strict border measures into place. Alongside these quick and bold border measures, the government also helped develop community awareness about the effects of hand washing, wearing masks, and avoiding the 3Cs.
During this time there were comments from the media criticizing the initial measures the Samoan government took in regards to the handling of the measles outbreak the year prior. In April 2021, there were suspicious views among media that the administration at that time, in preparation for the general election, had a sense of crisis that the failure of COVID-19 measures could prove deadly for their chances of re-election. In any case, I believe Samoa did the best of their abilities given the situation. As a result, until I left my post in December 2021, there were no cases of community transmission, thanks to strict quarantine procedures which each and every person returning to Samoa undergoing, to prevent a community infection (as of January 21 2022, there were reports that 15 positive cases of COVID-19 were confirmed from travelers from Australia to Samoa during their quarantine. They were strictly separated from the outside. Thus, any community transmission has not yet been confirmed, but the Samoan government has just in case declared a "social lockdown".).
Neighboring nations Australia and New Zealand also took strict border measures to prevent the infection from entering. On the other hand, these actions blocked a major source of income from the tourism industry, which is the main industry of these island nations; they also made it difficult for citizens to work abroad. The UN residential office in Samoa published a report in August 2020 on the impact that the COVID-19 pandemic had on Samoa's economy. Approximately 11% of all households reported at least one family member had lost their job due to the pandemic; almost all of households had experienced either a considerable or slight decrease in income and had either started home farming and/or raising livestock , also leaning on relatives and friends living in nearby Australia and New Zealand to send money home in order to support their family. These findings were based on research conducted from the beginning of 2020, thus considering the bankruptcy of many hotels and restaurants, the latest economic effects of the COVID-19 pandemic would most likely be even more serious than reported. The challenges I faced at that time were to not only strengthen the frail medical system, but also to decide what should be done in order to aid in Samoa's economic and social recovery from the COVID-19 pandemic as a development partner representing Japan.
I believe that the aid Japan provided to developing countries around the world to combat the COVID-19 pandemic was resolute and speedy. The key factor in ending the situation is the equal distribution of safe, effective, and quality-guaranteed vaccines. In order for the COVID-19 vaccine to be provided quickly at a fair price and equally among developing countries, the international community established a global supply mechanism called COVAX (COVID-19 Vaccines Global Access Facility) in April 2020. Japan, alongside other developed nations, initially contributed 200 million USD to the AMC (Advance Market Commitment), and another 800 million USD in June 2021 for a total contribution of 1 billion USD (the current total as of January 2022 is 9.6 billion USD from the entire international community). It is due to this mechanism that the world, including Japan, was able to ensure a proper vaccine.
Samoa and other Pacific Island countries received the COVID-19 vaccine through COVAX, but were not able to acquire an adequate amount. Japan, including the aid for vaccine doses from COVAX, declared its intent to supply 3 million doses of the COVID-19 vaccine within 2021 to the island countries at the 9th Pacific Island Leaders Meeting (PALM9) in July 2021. Within those 3 million, Japan allotted 110,000 doses of domestically manufactured vaccine to Samoa. The vaccine reached Samoa in August 2021, and vaccination operations became expedited, reaching the initial vaccination goal within 2021. In addition, Japan donated essential cold chain equipment ( ultra-low-temperature freezers, vaccine transport vehicles, etc.) and negative pressure rooms (aka isolation rooms) to keep infected patients.
Although Australia and New Zealand provided aid to Samoa to combat COVID-19, I believe that Japanese aid of vaccine doses and medical equipment was far ahead of others in terms of timing and scale. Of course, humanitarian support is not a competition but is a cooperation between the strength that each of the development partners possess. However, with regards to visible aid, speed is an important factor. Prime Minister Fiame's gratitude during the Vaccine Presentation Ceremony as well as media coverage on Japan's efforts were widely recognized.
As a side note, in the first half of 2021 domestic and international media reported on how China pushed its vaccine globally and was trying to increase the hype around its effects, developing into "vaccine diplomacy". China tried to have Samoa accept its vaccine, but Samoa declined because at the time WHO had not yet confirmed the safety and effectiveness of the Chinese vaccine. Only thirteen-fourteen hundred doses of the vaccine were approved for import to be administered to the Chinese embassy staff and Chinese construction workers dispatched to Samoa on China-supported projects.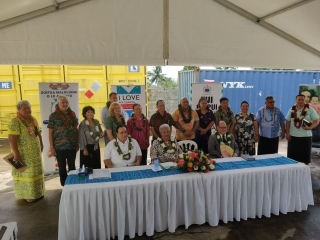 (COVID-19 Vaccination Presentation Ceremony (August 23 2021). Seated center is Prime Minister Fiamē Naomi Mata'afa)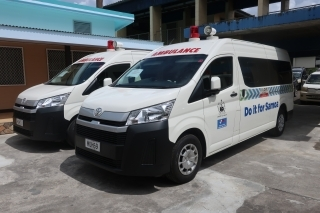 (Donated ambulance from Japan)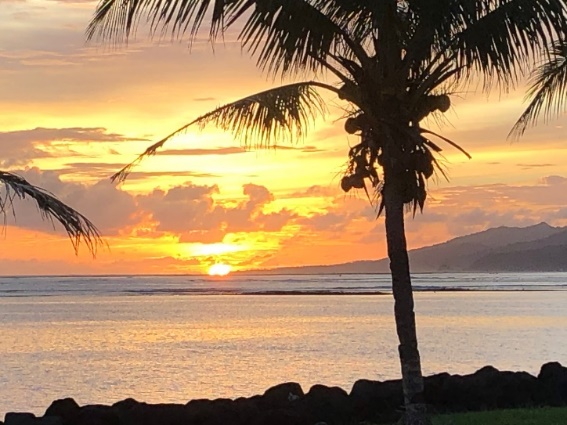 (Samoa's tourism industry was heavily hit by the effects of the COVID-19 pandemic)
(Continue to
part 2
)