Past "Pacific & Caribbean Islands Student Invitation Program" Participants Take Part in Japanese Speech Contest in Trinidad & Tobago
2020.8.28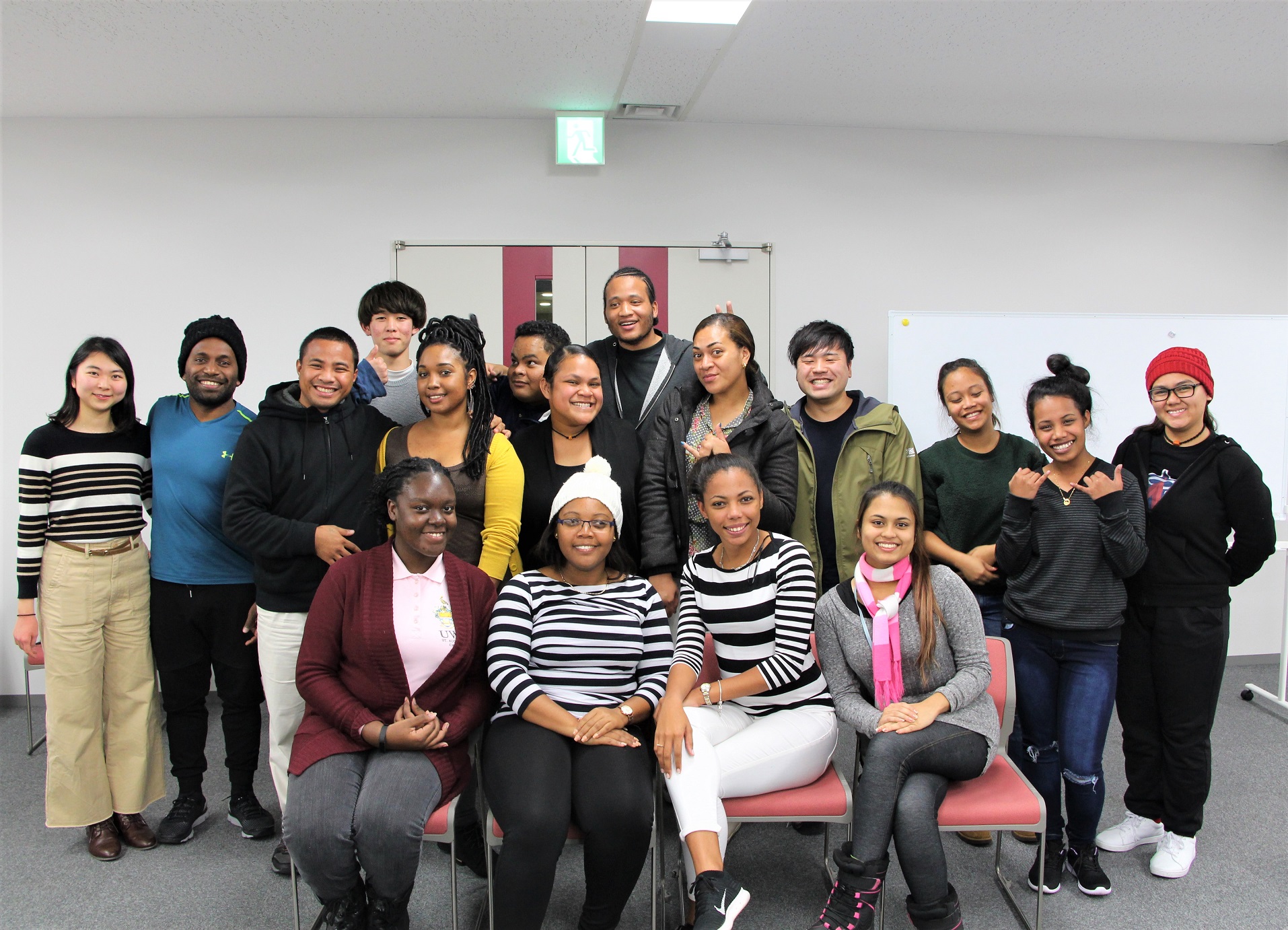 (Photo from January 2019's "Pacific & Caribbean Islands Student Invitation Program 2019" Gabrielle (front right) and Aidan (front left).)
On August 21st, 2020, the "3rd Japanese Speech Contest" was held with the cooperation of the Japanese Embassy in Trinidad & Tobago and the University of the West Indies St. Augustine Campus Center for Language Learning (CLL). The contest consisted of three levels: beginner, intermediate, and former residents. In the beginner and intermediate levels students who had previously participated in APIC's "Pacific & Caribbean Islands Student Invitation Program" showed their skills and took home awards that day.


In the beginner level Ms. Gabrielle Motilal took home a prize, and in the intermediate level Ms. Aidan Roberts also received an award. Both young women came to Japan as participants in the January 2019 program.
The speech contest was held online due to concerns over the pandemic, but it garnered a total of around 60 participants, including presenters, judges, and general participants. The Japanese Ambassador to Trinidad & Tobago, Abd. Hirayama and his wife were also present, with the ambassador giving the opening remarks, and his wife the lead judge. Gabrielle and Aidan both gave interesting talks that were worth listening to about what they discovered during their time in Japan and their one-month experience at Sophia University.
Gabrielle talked about how her trip to Japan in January 2019 was the motivation to start taking Japanese lessons. She mentioned how she come to Japan with her natural cheerfulness as her weapon, enjoying her campus life in Japan, and even though the language wall was present, she actively communicated with Japanese students. According to her, it was a challenge to keep up with the Japanese classes at Sophia, but she continued classes when she was back home at the CLL.
On the other hand, Aidan had already been studying Japanese and was furthering her studies at the time of the 2019 Student Invitation Program. During her stay in Japan she actively sought out Japanese students and talked with them, participated in field trips using the Japanese she had learned up to that point, being proactive in gaining new knowledge. After returning home, she continued her Japanese studies, contributing to the smoothness of her Japanese speaking skills.
Also, in the general participants were two people from Trinidad & Tobago now living in Japan, one as a JET Program English teacher and another a graduate school student; students who are considering coming to Japan were also in the audience, which created an opportunity at the event's end for information exchange between participants and audience.
At the end, after Ambassador Hirayama expressed his support for the students and the judges gave their commentary, there was time for all participants to talk with each other. Although the event was held online and faced some restrictions, it was a fulfilling event for all who took part.
-Gabrielle Motilal's script is
here
-Aidan Roberts' script is
here
Ambassador Tatsuo Hirayama, Japanese Ambassador to the Republic of Trinidad & Tobago gave his remarks on Japanese language education on the island.


Japanese Language Education in Trinidad & Tobago
Approximately 14,000 kilometers away from Japan in the Caribbean Sea, Trinidad & Tobago's Japanese language-learning scene is thriving. At the Center for Language Learning at the University of the West Indies (UWI) in the nation's capital, Port of Spain, they have taught over 1,400 students Japanese in the past 20 or more years.
The speech contest was started three years ago as a way to exhibit the daily progress of Japanese language students in their courses. Due to the pandemic, the campus continued to be shut down, and so the CLL held the contest successfully online with nine students presenting their respective speeches. The unprecedented situation allowed people to participate and listen to the speeches from overseas, widening the range of participation and reaction.
Listening to everyone's speeches, each student has a different motive and attach a different meaning to their acquisition of the Japanese language. However, their strong interest in the language is apparent, whether it be from Japanese anime, Japanese cuisine, or Japanese friends that they happened to befriend. Their passion that drives their curiosity to learn about Japan can be felt, and I would like to help them on their journey.
There is a growing number of people who start with an interest in Japanese culture, who go on to study Japanese language, one day study in Japan or gain working experience at the JET Program, who come home to Trinidad & Tobago and use their newly attained experiences and knowledge to widen the public knowledge of Japan. This type of positive cycle broadens the ring of connections and brings about the Japan Friends Group.
For a long time, the CLL has supported local Japanese language study efforts, and I cannot thank it enough. Their efforts were rewarded last year and received an award from the Minister of Foreign Affairs. Also, I would like to thank the Japan Foundation, APIC and others, and ask for their continued support.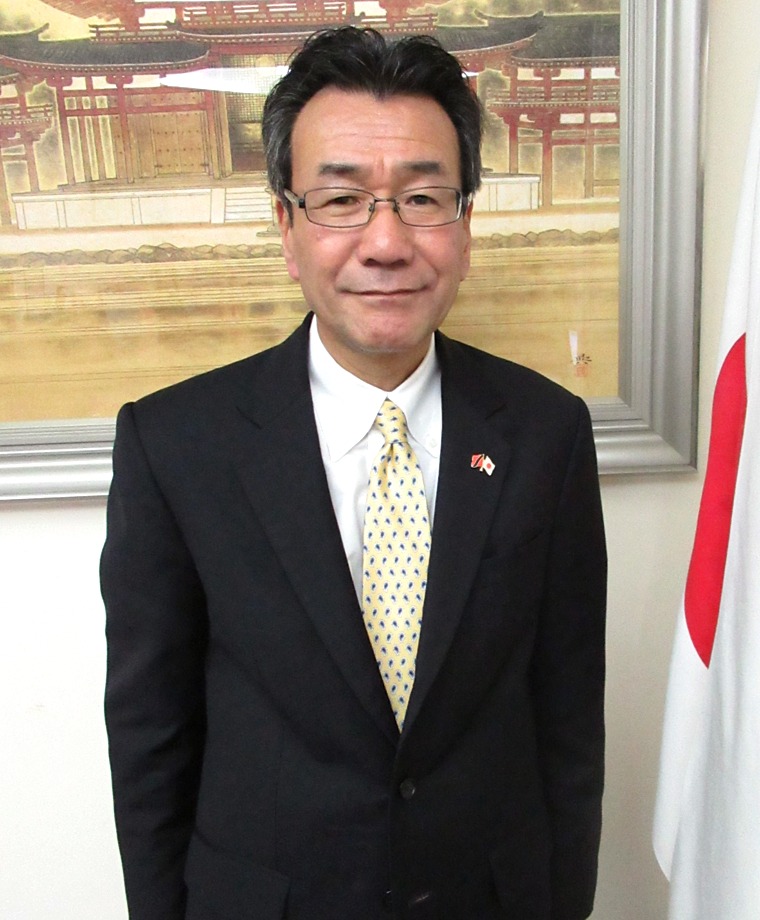 Ambassador Hirayama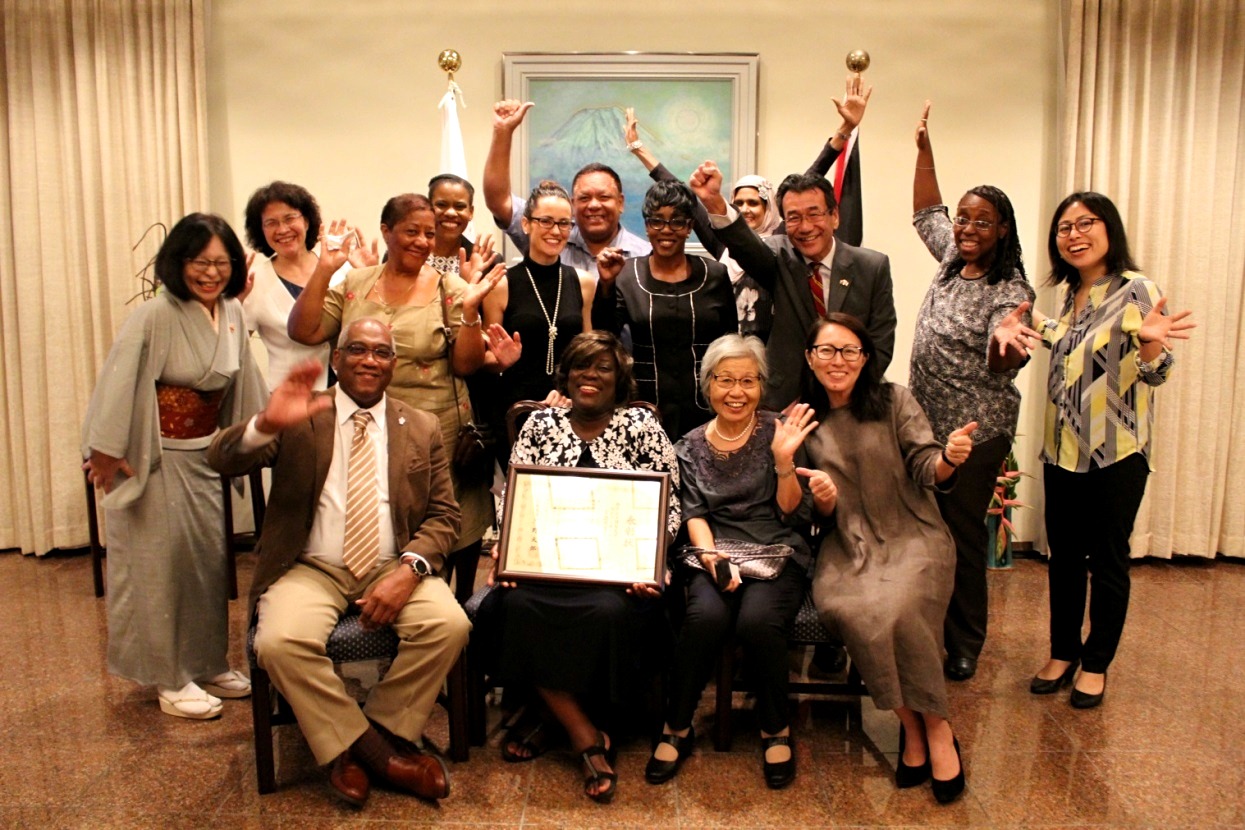 (Commemorative photo taken with UWI's St. Augustine Campus Center for Language Learning Affiliates with the award presented by the Minister of Foreign Affairs)
-Japanese Embassy in Trinidad & Tobago Public Relations page:
https://www.facebook.com/JapanEmbTT/posts/3445408822169378?__tn__=-R
-APIC's "Pacific & Caribbean Islands Student Invitation Program 2019"
http://www.apic.or.jp/english/events/101-eng.html