Pacific and Caribbean Student Invitation Program 2020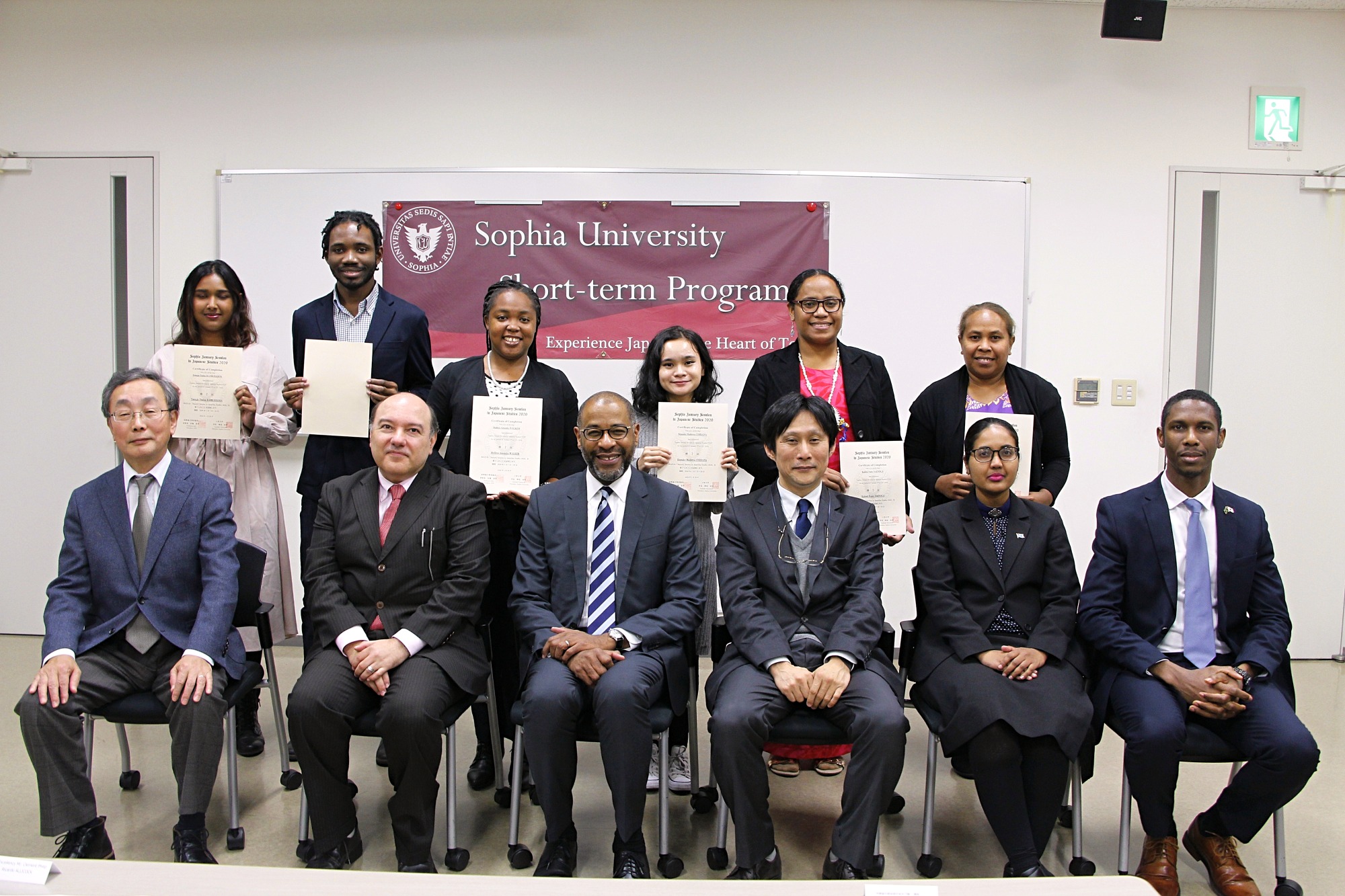 (At the Presentation & Farewell Party, Sophia University)
Six students from six countries in the Pacific Island and Caribbean Island nations came to Japan for approximately one month from January 6th to 31st, 2020. During their stay in Japan, students attended Sophia University's short-term intensive "January Session in Japanese Studies".


The students were required to take a Japanese class, and were able to choose two classes out of four classes "Japanese Businesses and Economy", "Current Events and Media in Japan", "Japanese Education", and "Current Japanese Culture and Society". Each class included a field trip, interview report, presentations, etc. where students learned about Japanese economics, culture, media, and education. Also during this period students further deepened their understanding of Japanese culture and lifestyle through their time spent in Japan. This was the fifth time the program took place since its inception.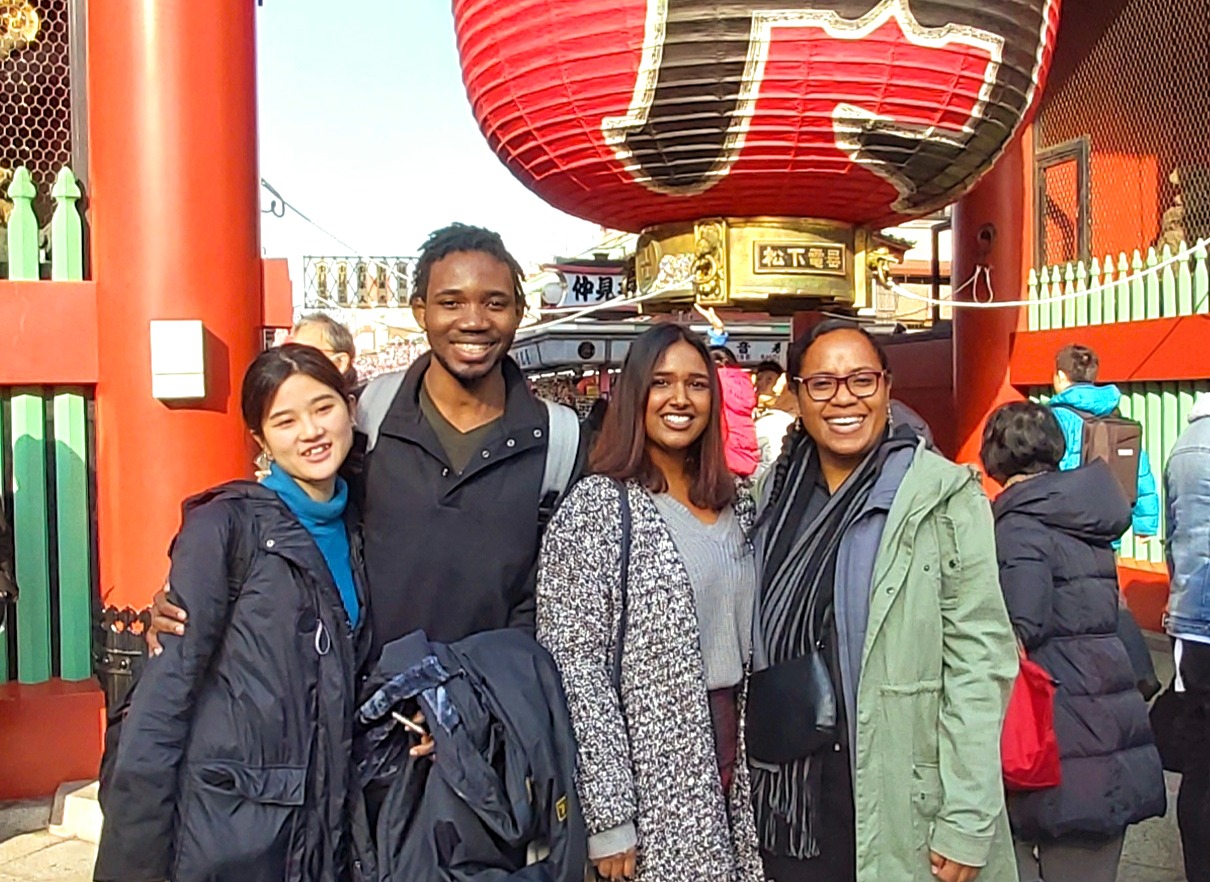 (At Asakusa)
APIC, in addition to providing support for the students while in Japan, in order to provide a more fulfilling program and to facilitate the communication between the exchange students and Japanese students, hosted events on the weekends during the program.
On the 11th students toured Tokyo, including Tokyo Sky Tree and Asakusa. Students experienced traditional Japanese culture and crafts at a shop that has been making dragonfly charm accessories from a long time ago. The students were all focused on making their own original dragonfly key holder; some students treasured their keyholder and kept it with them all through the program. This will surely be a keepsake of the program and give them good memories whenever they see it once back in their home country.
When visiting Odaiba on the 18th, the students experienced the magical and beautiful world of Epson teamLab Borderless digital art exhibit in the Mori Building Art Museum. Afterward the group went window-shopping at a large-scale shopping mall nearby. It was a cold, rainy day which eventually turned to snow, which was exciting for those students who had never seen snow before.
The bus trip to Kamakura on the 25th took students to Hokoku-ji Temple, Tsuruoka Hachiman-gu Shrine, Komachi-dori Street, Kotoku-in Temple, and Hase-dera Temple, providing for a busy and fulfilling day. Kamakura was the last trip during the students' stay in Japan, and they looked sad to leave.
In order to support these weekend events, former Japanese student participants of Sophia University's Micronesia Exposure Tour and former APIC interns joined the group as volunteers. This exchange helped not only the exchange students to understand more about Japan, but the Japanese students to better understand their own country and culture through these interactions.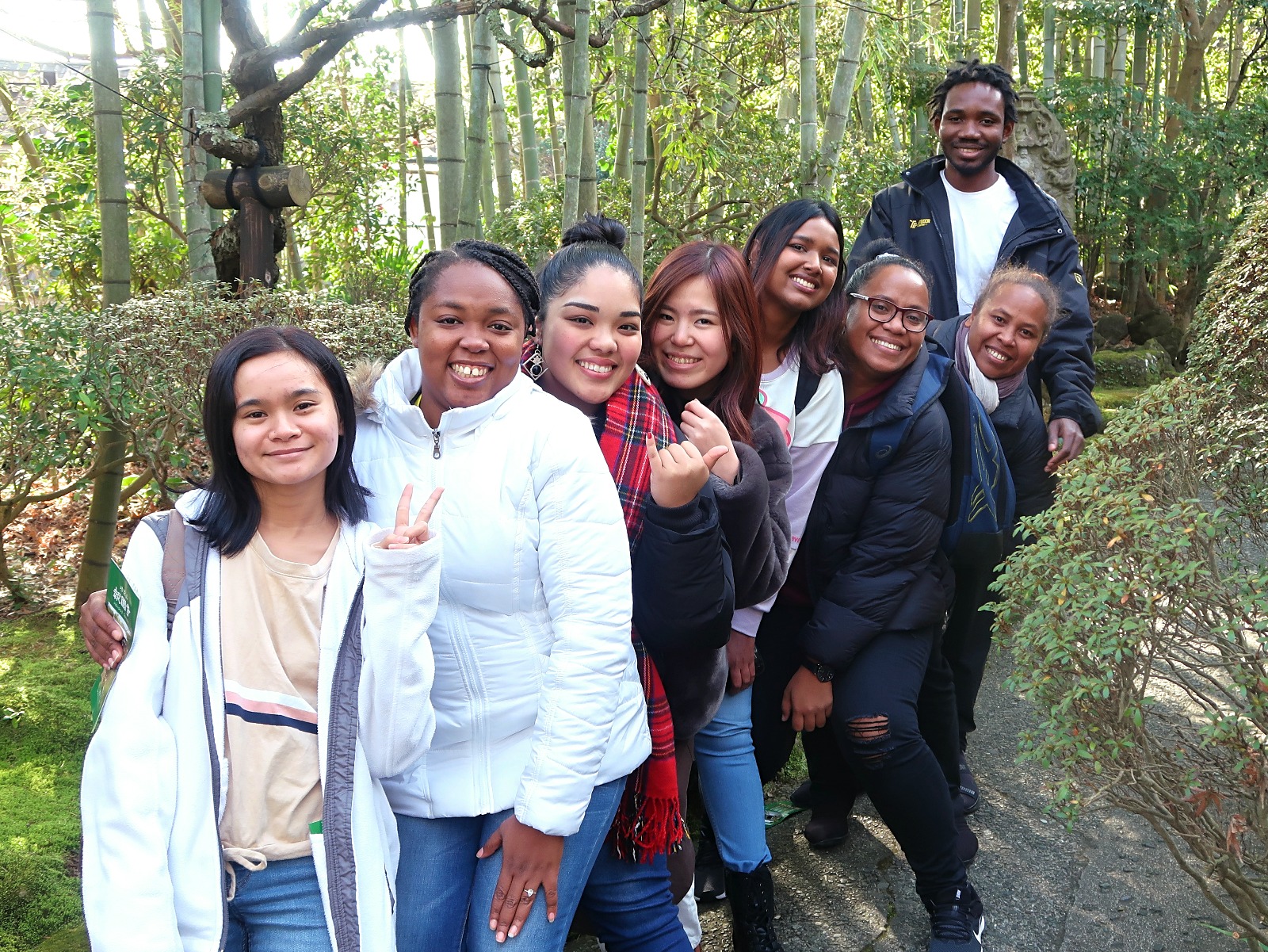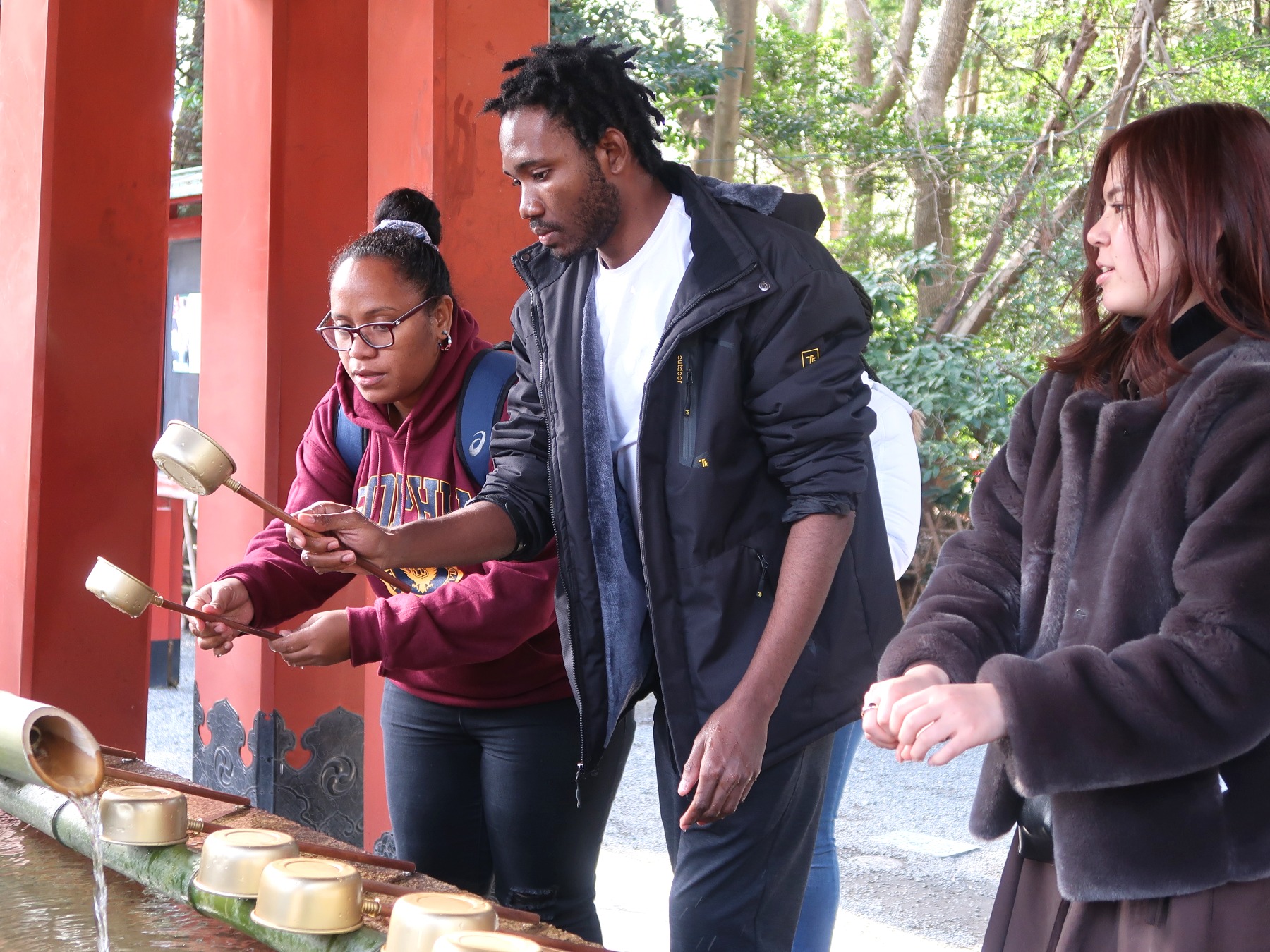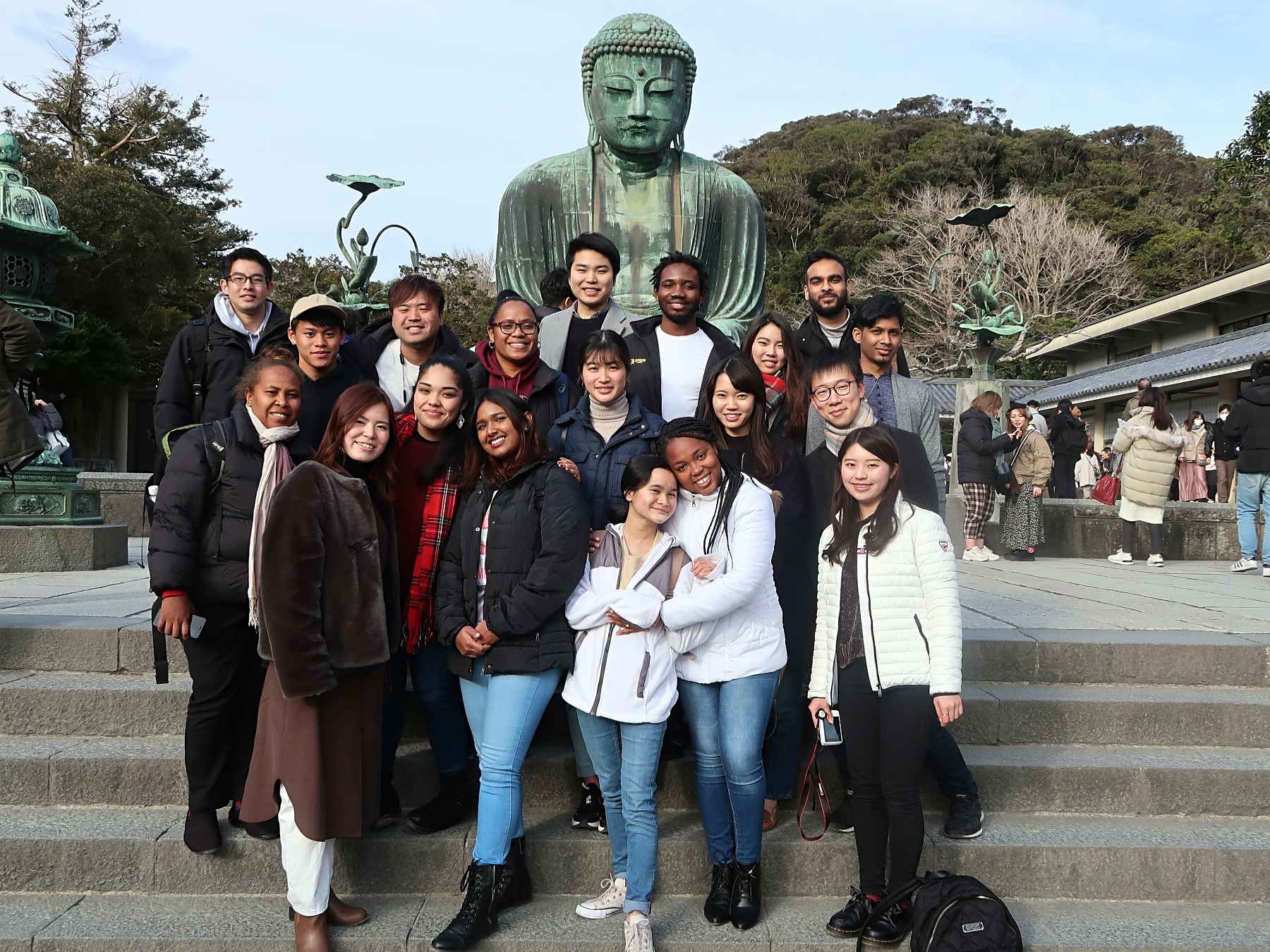 (At Kamakura)
Additionally, two former program participants who returned to Japan after the program, Mr. Bobby Sookhoo and Mr. Khair Ali worked together with this year's program. After participating in the 2017 program, Bobby came back to Japan under the Japanese Government (Monbukagakusho) Scholarship, and is currently studying at a Japanese graduate school. Khair was also a 2017 participant, and afterward went on to return to Japan as a JET (Japan Exchange and Teaching Programme), and is currently teaching at a school in Kumamoto Prefecture teaching English.
Mr. Ali spared time to give a presentation to the students about his time as a teacher on the JET program. The presentation was not only open for the current January Session exchange students, but other students taking part. In the presentation, he talked about the meaning of participating in January Session, the experience he gained in Japan and the importance of connections and working hard. He introduced the three types of work in the JET program, and talked in detail about the application process and requirements. He answered students' individual questions during the Q&A session, and spoke frankly with students after the talk had ended. Mr. Ali's presentation was a very meaningful chance for students to think about their prospective paths after graduating.
A total of four previous participants of Sophia University's January Session have returned to Japan as either university or graduate school students, as well as for employment.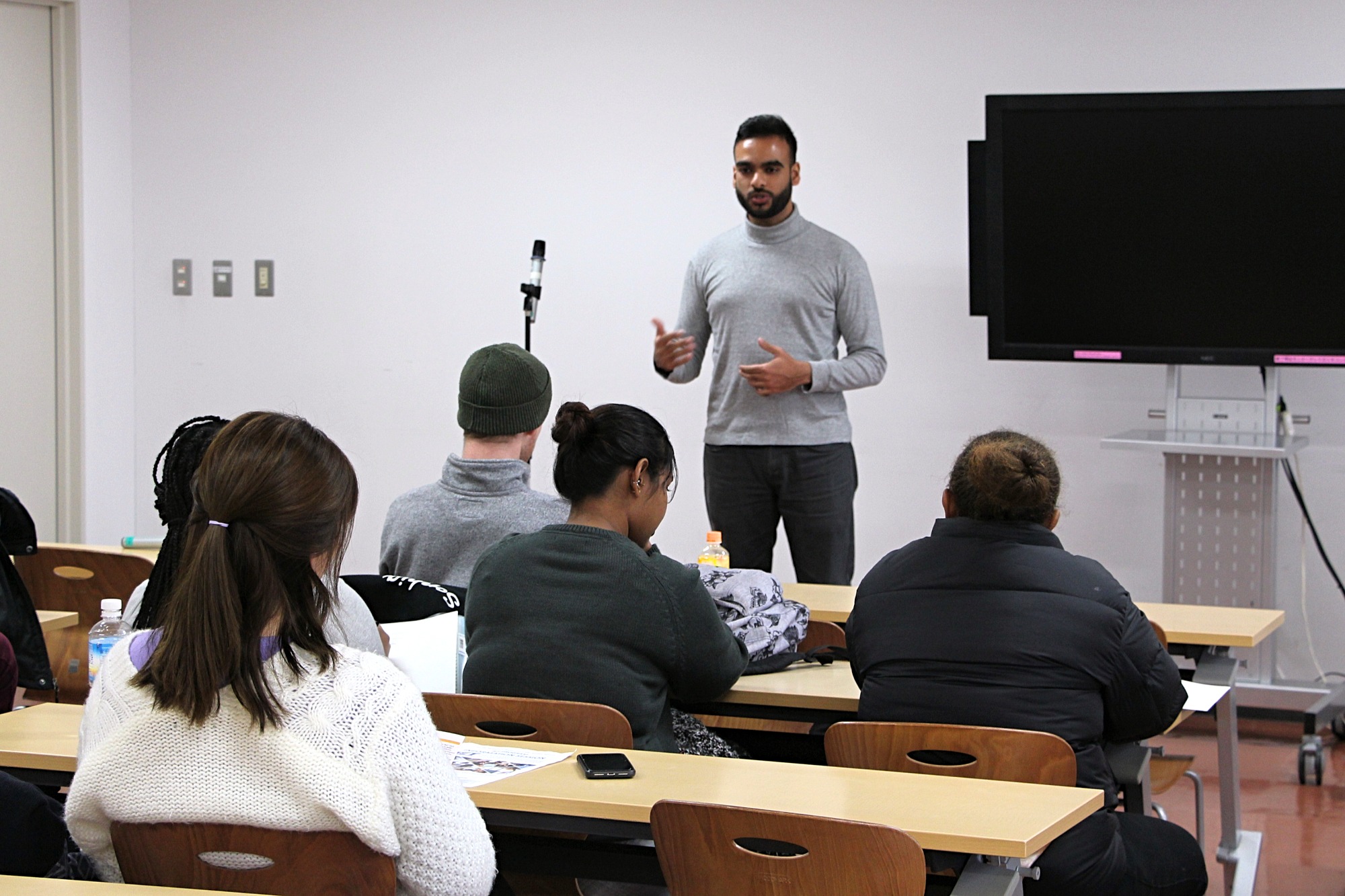 (Mr. Ali giving a presentation to the students)
On the last day of the program, a presentation and farewell party was held at Sophia University for students to showcase their activities and results while in Japan, as well as to say good-bye. First, APIC Director and Secretary General Araki handed each student their completion certificate; after all students received their certificates, they gave presentations on what they learned and felt while in Japan, and showed their appreciation for being able to participate in the program. At the Farewell Party after the presentations, the Jamaican Ambassador to Japan Mr. Allicock commented on each student's presentation. In particular, he commented on the students' experience and learning, and praised them for their completion of the program. Afterward, the Director of the Mexico, Central America, and Caribbean Division of the Ministry of Foreign Affairs Mr. Kenichi Masamoto gave introductory remarks followed by a toast. The exchange students enjoyed their remaining time in Japan that evening conversing with the friends they made in Japan.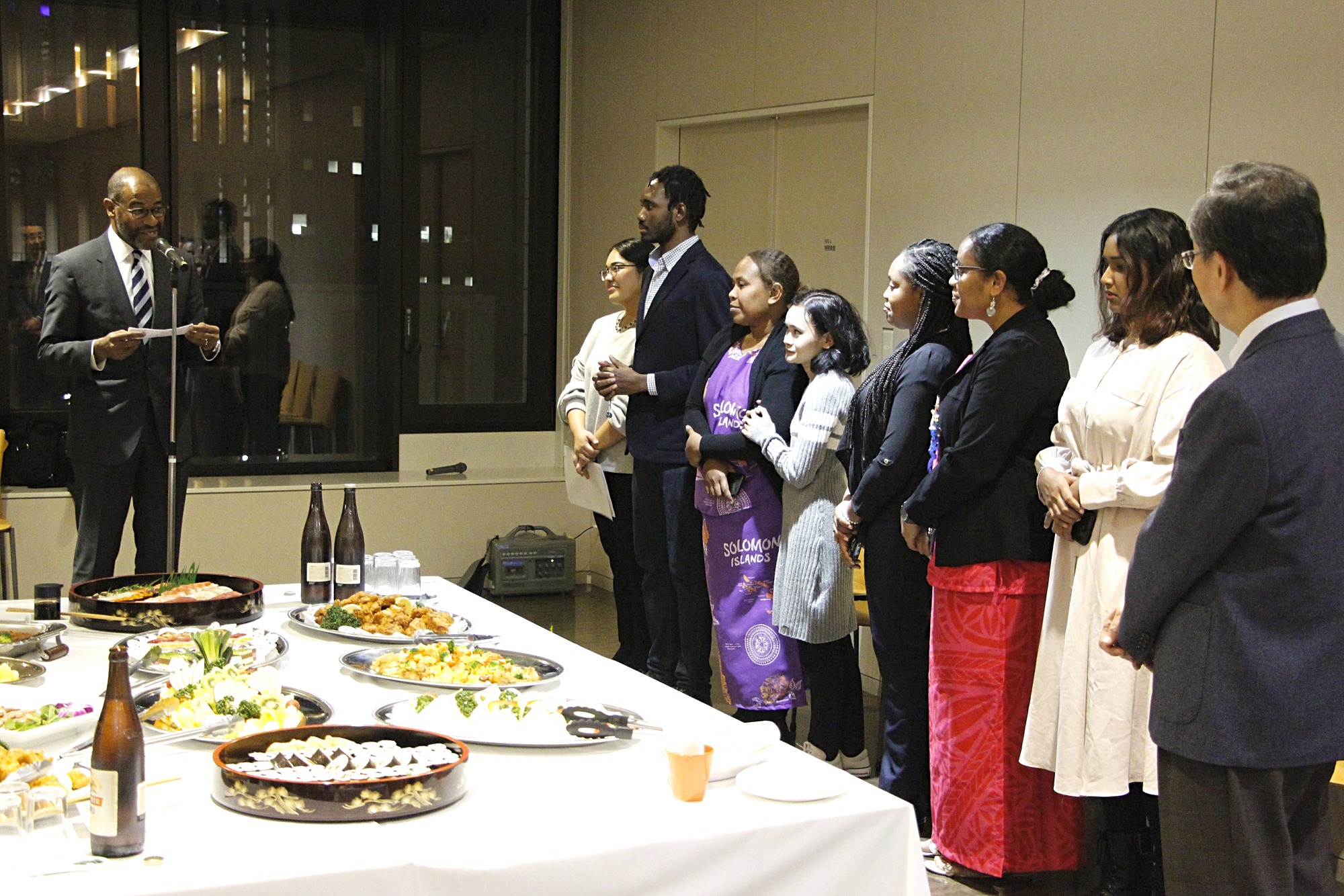 (Jamaican Ambassador Allicock giving comments on the students' presentations at the Presentation & Farewell party)