Preliminary Research Conducted in Samoa
2019.10.18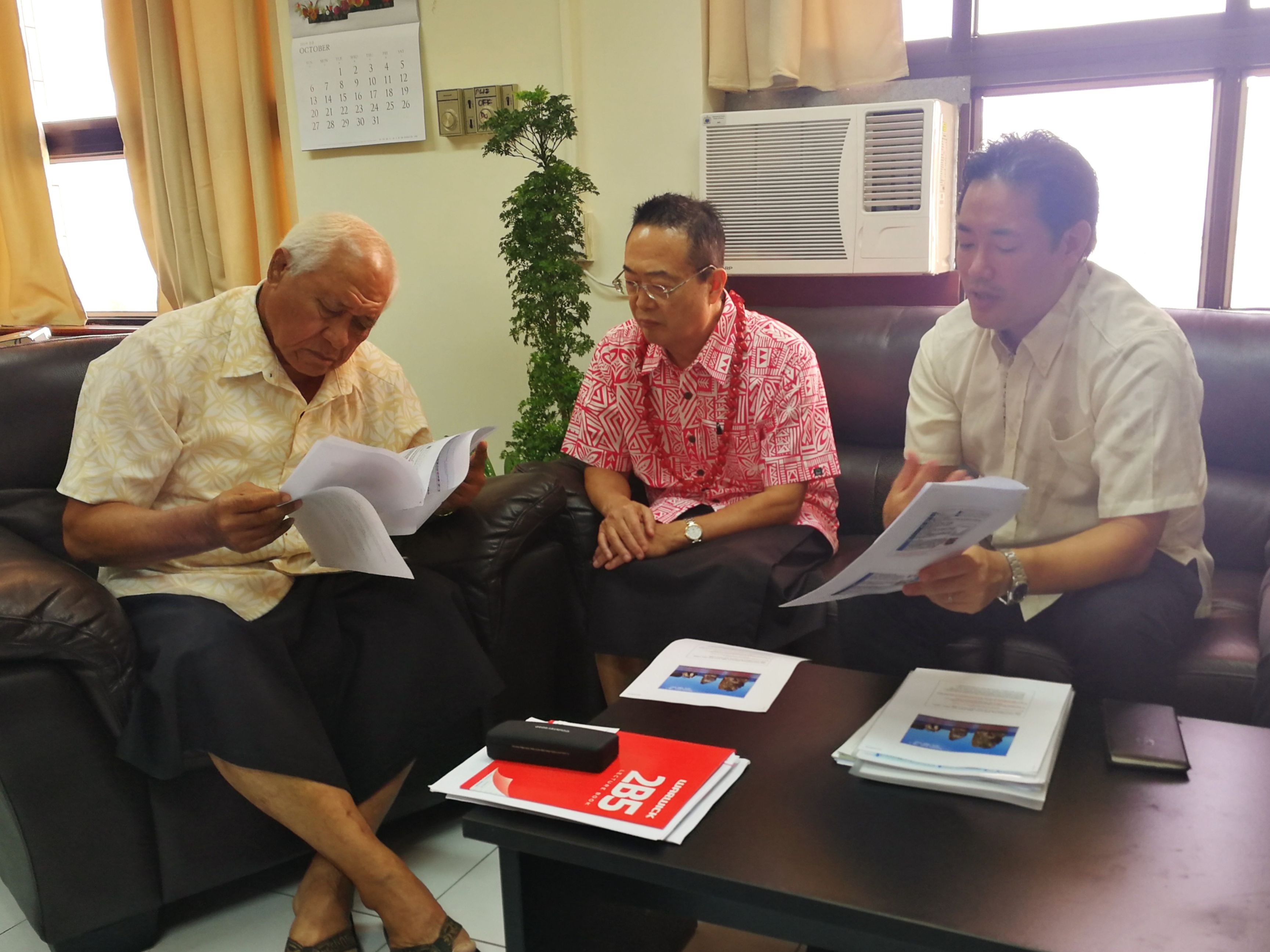 (Visiting the Samoa Minister of Women, Community, and Social Development, Dr. Leao Talalei Tuitama (left))
As part of its activities, APIC invites leaders from the Pacific and Caribbean island regions to Japan for special programs. In recent years, taking into account that Japan and these areas are both island nations, a domestic training and observation program has been taking place. In July 2018 a training program for Young Leaders of Micronesia took place in Amacho, Oki-gun, Shimane prefecture.
Until now, APIC has mainly centered its support around the northern Pacific island region of Palau, Federated States of Micronesia, and Marshall Islands. However, it has started to consider expanding its support into the southern Pacific region, specifically supporting a program aimed at youth in the town of Amacho, which has seen great results in its efforts to re-energize the region. In order to get the program moving, a preliminary survey was done to investigate the basic components from October 5th to 13th, 2018. The survey group consisted of Amacho town officials and other members, who held discussions regarding the needs of Samoan students, contents of the program, number of lecturers, length of program, etc. while keeping in mind the contribution the program should have to the development of villages and the strengthening of economic structure in the Independent Nation of Samoa.
Amacho puts energy into reinvigorating its town with the help of others, based on the slogan of "independence, challenge, communication, continuance, unity". APIC believes that this approach is appropriate to use as training in helping identify, tackle, and solve the challenges facing island nations in the Pacific. On October 15th, 2019,
APIC and Amacho signed an MoU
to continue and strengthen their partnership.
In the future, based upon this pilot program to contribute to the local economy of Samoa, which is supported by primary industry, through developing (starting business, further developing business, branding) those who bear the future of the nation by increasing employment rates as the goal of its youth training program, scheduled to take place in either May or June 2020.