Visit to Caribbean Islands with Sophia University President Terumichi
2019.9.20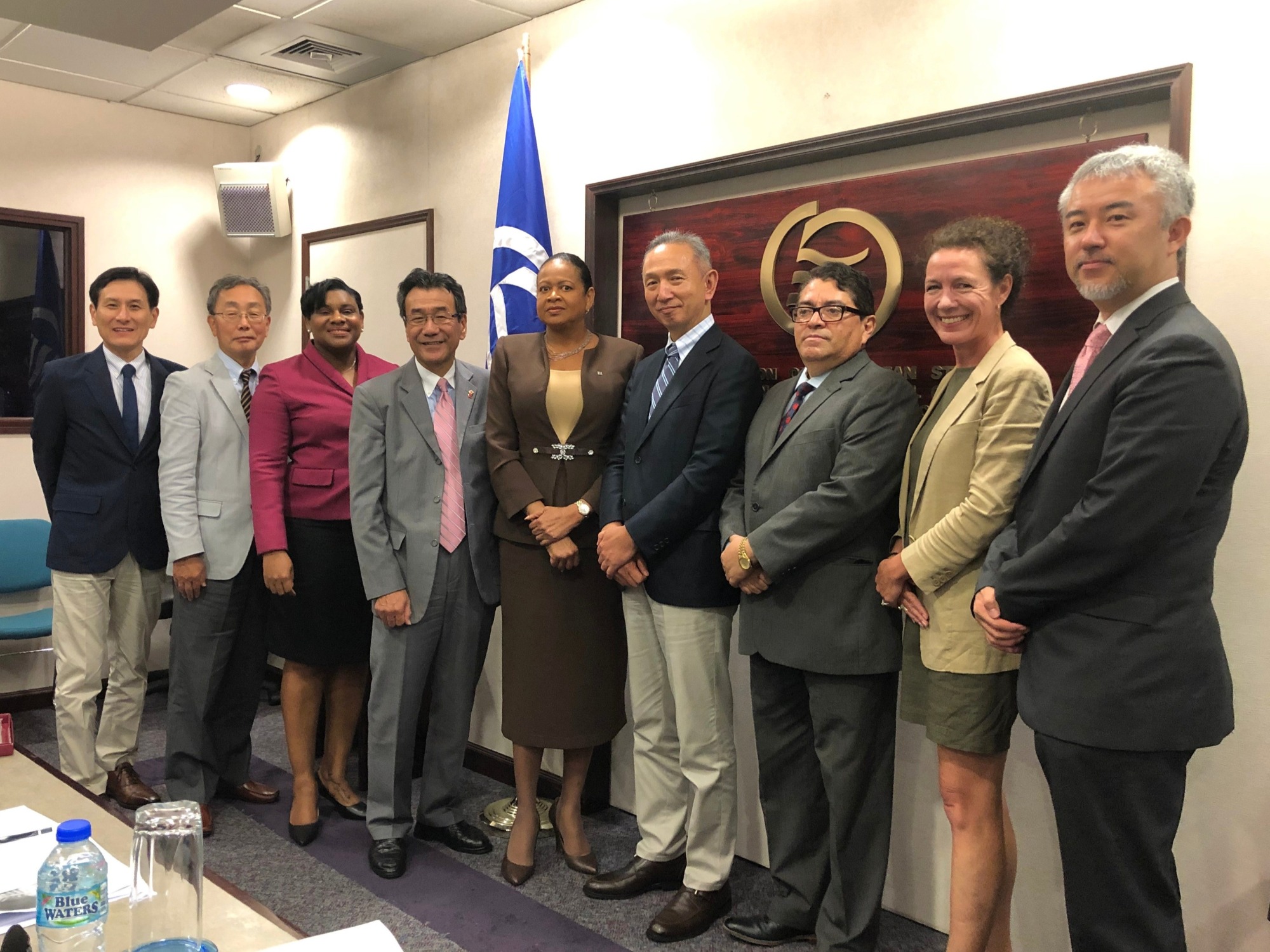 (At ACS)
Sophia University President Yoshiaki Terumichi paid a visit to the Caribbean Islands from August 18th to 28th, 2019. Joining him from Sophia was Assistant to School President Yoshihiko Miwa and Sophia University Professor of Global Environmental Studies Anne McDonald. Director and Secretary General of APIC Megumi Araki also joined the party. During their trip they visited Jamaica, Trinidad & Tobago, and Barbados.
APIC signed an MoU (Memorandum of Understanding) with Sophia University in 2014, and as part of APIC's Japan-Caribbean Friendship Cooperation Project it supported the signing of an MoU between Sophia University and UWI (University of the West Indies) for academic exchange in 2015. Under this MoU, environmental seminars were held by Sophia University Graduate School Professor Anne McDonald in the three above-mentioned Caribbean nations. The purpose of the visit this time was to hold discussions with UWI about further cooperation, since four years had passed since the initial MoU was signed, and additionally in 2018 the Sophia University Island Sustainability Unit (SISU) was established (1). Sophia president Terumichi and Professor McDonald, who is in charge of SISU, visited related universities with APIC.
◆Visit to Jamaica
After paying a courtesy call on Japanese Ambassador to Jamaica Hiromasa Yamazaki, the party met with the Pro Vice Chancellor of UWI, Richard Bernal at the Mona Campus. President Terumichi talked about the newly-formed SISU and working more closely together with UWI in the future, to which UWI responded with interest in the areas of marine science, environment, disaster and crisis management, animation, sports, and other areas.
Afterward, the group visited St. George's College, which is a four-year college that is run by the Jesuits, and 15% of the students are on financial aid to study in the U.S. Sophia University currently has 26 overseas designated partner schools, but currently none in the Caribbean and Central American regions, and thus it hopes to have one in this region.
During the dinner at the Japanese Ambassador's official residence, when APIC talked about how an invitee of another of APIC's successful programs became the president of the Federated States of Micronesia, Ambassador Yamazaki commented that another one of APIC's invitees who participated in the April 2017 Caribbean Young Leaders Invitation Program, Ms. Shorna Kay Richards is currently the center of attention as Jamaica's Director of Bilateral Relations.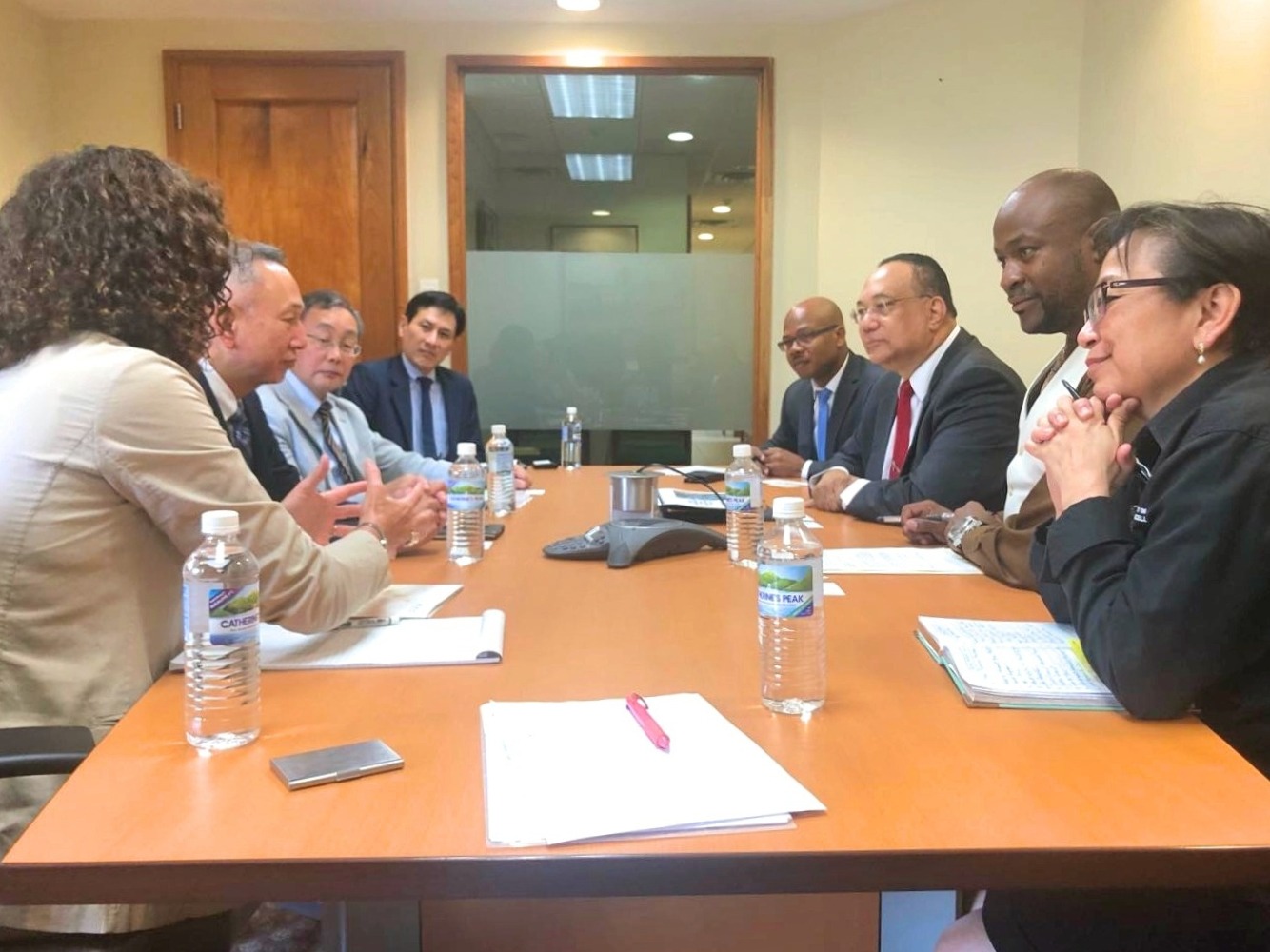 (Discussing with Pro Vice Chancellor Bernal (right side, second from the back))
♦Visit to Trinidad & Tobago
In Trinidad & Tobago, the party paid a courtesy call to Japanese Ambassador of Trinidad and Tobago, Tatsuo Hirayama. APIC Director and Secretary General Megumi Araki explained the minutes of the discussion at UWI Mona Campus and what steps are to be taken following the meeting.
At the St. Augustine Campus of UWI, they met with campus Principal Brain Copeland. President Terumichi explained the purpose of his visit, and APIC SG Araki gave an outline of APIC's activities, and talked about the previous year's Environmental Seminar, and the yearly Pacific and Caribbean Student Invitation Program where one student each from Jamaica, Barbados, Trinidad & Tobago is currently studying at Japanese graduate schools. He also mentioned that a student from Trinidad & Tobago came to Japan this past August as part of the JET Program (the Japan Exchange and Teaching Programme) (2) and is currently in Kumamoto teaching English at a local school. Principal Copeland talked about his time in Japan on the 2017 UWI St. Augustine Principal Invitation Program.
Each dean listened to Professor McDonald's explanation of SISU with interest, with many comments on how to cooperate with the project. Additionally, the potential counterpart, Professor John Agard, Director of the Environmental Studies, stated that UWI has the same stance on island sustainability and plans to conduct research on it in the future, and expressed hope for cooperation with SISU.
Also in Trinidad & Tobago, the group visited the IMA (Institute of Marine Affairs), and ACS (Association of Caribbean States). At the IMA, Sophia University showed their keen interest in further deepening the cooperative relationship with the IMA, since SISU's research targets are areas such as coastal erosion, Palau's coral reef center, as well as not only Trinidad & Tobago, but also the many nations in the Caribbean. At the ACS, Secretary General Dr. June Soomer was in agreement with working together with Sophia University. The ACS is comprised of 25 member states from the Caribbean, and 12 associate member states. Japan is registered in the ACS as an observer state.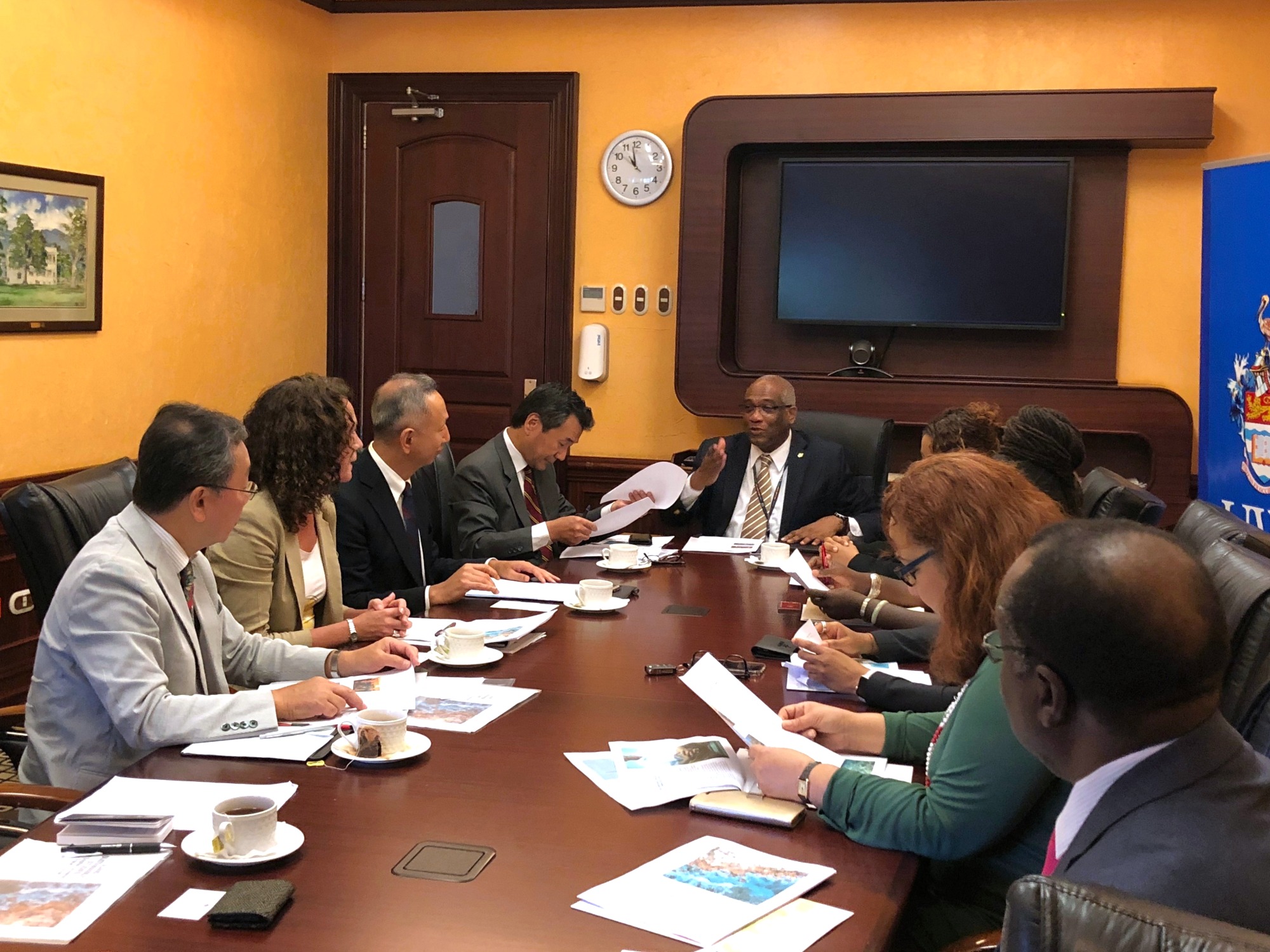 (Discussion with Principal Copeland (center back))
♦Visit to Barbados
In Barbados, the party paid a courtesy call to Japanese Ambassador to Barbados Teruhiko Shinada. Following the visit, Professor McDonald explained about SISU to the Director of CERMES (Centre for Resource Management and Environment Studies), who was also in agreement to work together with SISU. The group had planned to visit and talk with UWI Cave Hill Principle Professor Eudine Barriteau, however, unfortunately a hurricane cancelled those plans.
(1)Founded in October, 2018. Lead by Professor Anne McDonald, SISU works on solving problems and developing island nations through research and educational activities based at Sophia University.
(2) "The Japan Exchange and Teaching (JET) Programme, is aimed at promoting grassroots international exchange between Japan and other nations." (Taken from the JET website)