Pacific Environmental Seminar Held in Samoa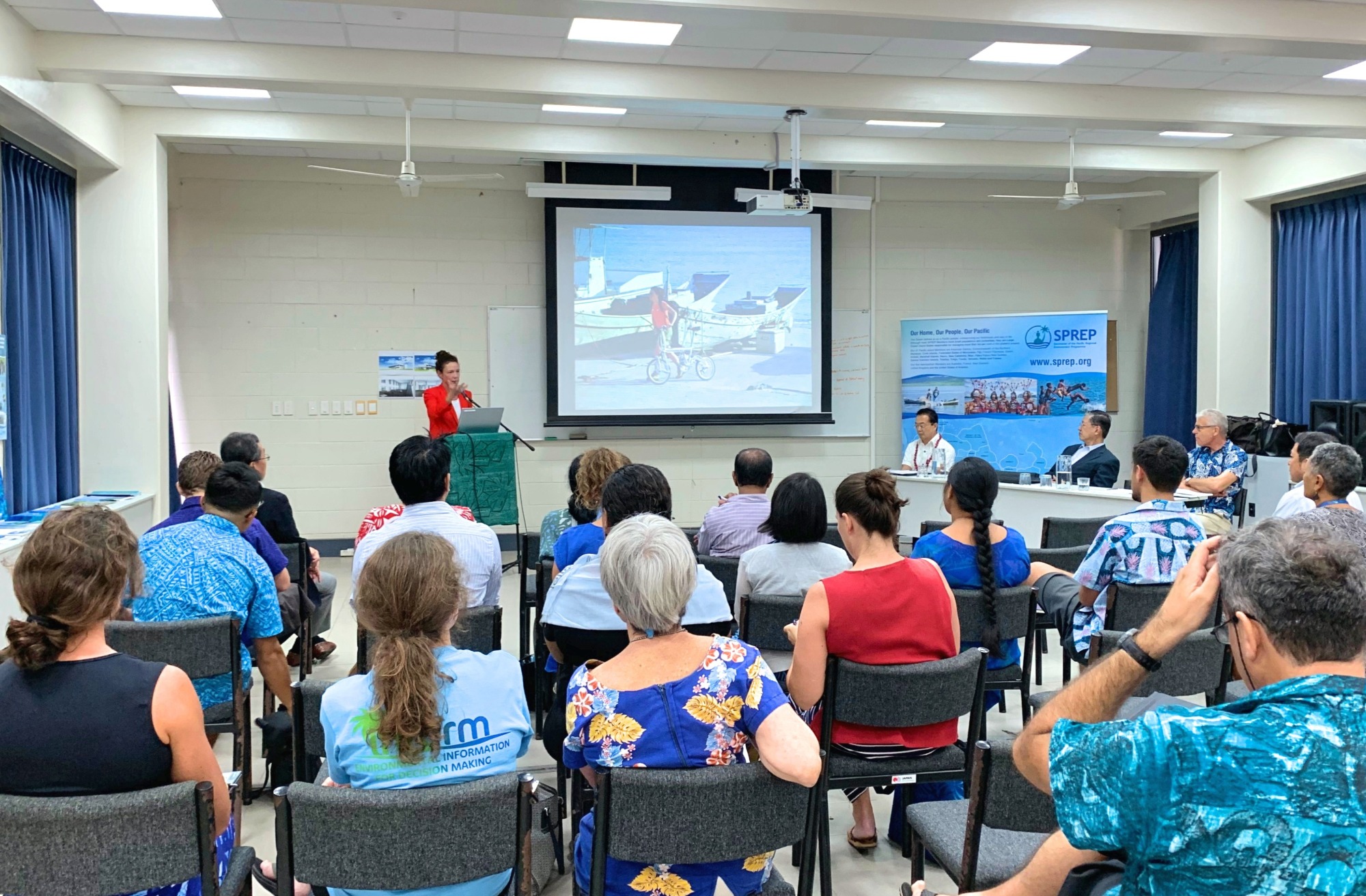 On March 14th, 2019, an environmental seminar was held at the Secretariat of the Pacific Regional Environment Programme (SPREP)'s office in Samoa, supported by SPREP. APIC's Shimanouchi Trustee and seminar lecturer/professor at Sophia University Anne McDonald also attended; Japanese Ambassador to Samoa Mr. Aoki gave the opening address, and APIC Managing Director Mr. Araki was the host for the day.
This is the fourth environmental seminar that has taken place in the Pacific Island region since the first one in July, 2015. The seminars are held in association with Sophia University, and others include the Palau symposium in August 2015, Jamaica in October 2016, Marshall Islands in March 2017, Barbados in September 2017, Pohnpei Micronesia in March 2018, and Trinidad & Tobago in August 2018.
Over 30 people with an interest in the environment participated in the seminar. Professor McDonald talked about how climate change was damaging orange, apple, rice, and other crops in Japan, and how Japanese
ama
divers take care to protect the environment while they fish. She also talked about how the residents of the Tohoku area affected by the massive March 11th earthquake and nuclear disaster came together as a community and brought the area back to life, as well as examples of how important the logging and fishing industries have been tightly linked since the 1700's in Japan, with sayings such as "forests attract fish", proving how important mountains are to the sea in Japan. During Q&A, a comment arose from the fishing industry stating "the example of using wisdom passed down generations is the key to creating a balance with nature; we must get scientists and politicians to understand this and take action". An active exchange of opinions took place in the Q&A session, which lasted for over 30 minutes.
APIC members paid a courtesy call to members of the Palau Government, with the accompaniment of Japanese Ambassador Mr. Aoki. The day after the seminar, March 15th, members paid a courtesy call to Deputy Prime Minister and Minister of Natural Resources and Environment, Ms. Fiame Naomi Mata'afa. APIC Trustee Mr. Shimanouchi explained about the previous day's environmental seminar and APIC's activities; Professor McDonald talked about APIC and Sophia University's cooperative agreement and the environmental seminar program series, and about the establishment of Sophia University's "Island Sustainability Unit". Deputy Prime Minister Mata'afa was previously the Minister of Education, Sports and Culture, and therefore she showed a genuine interest in the briefing about Sophia University and APIC's activities. She mentioned how waste management is the most important problem that the two countries are facing, and how Palau feels close to Japan through watching NHK news broadcasts and others. Afterward the group paid a courtesy call to the Minister of Finance, Mr. Sili Epa Tuioti and Chief Executive Officer of the Ministry of Finance, Mr. Oscar Thomas Malielegaoi, who are both planning to visit Japan in July 2019 under APIC's invitation. They mentioned that they would like to meet senior members of the Ministry of Finance and senior members of JICA while visiting Japan.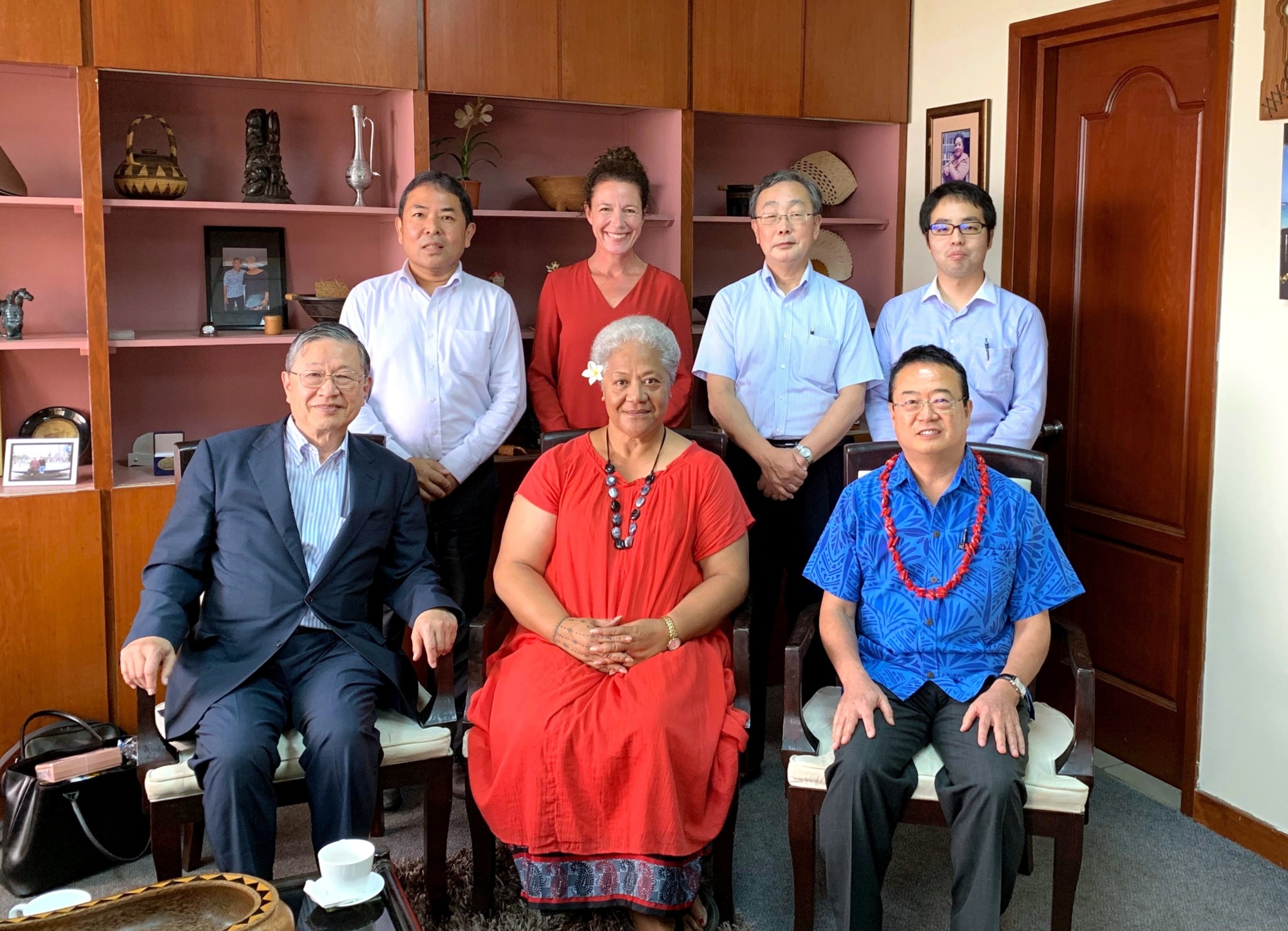 (Deputy Prime Minister Mata'afa (front center) and Ambassador Aoki (front right))
The group also visited a water treatment plant built with the support of JICA, along with a Pacific Ocean Climate Change Center construction site slate to be completed in July 2019. The Japanese construction company in charge of building the facility is employing not Japanese workers, but local workers in hopes to contribute to the local economy. Twenty-eight Japanese volunteers were working in Samoa, showing the importance Japan places on Samoa and supporting the south-Pacific nation.