APIC Pacific Islands Leaders Invitation Program: Mr. Yogesh Karan
2018.4.5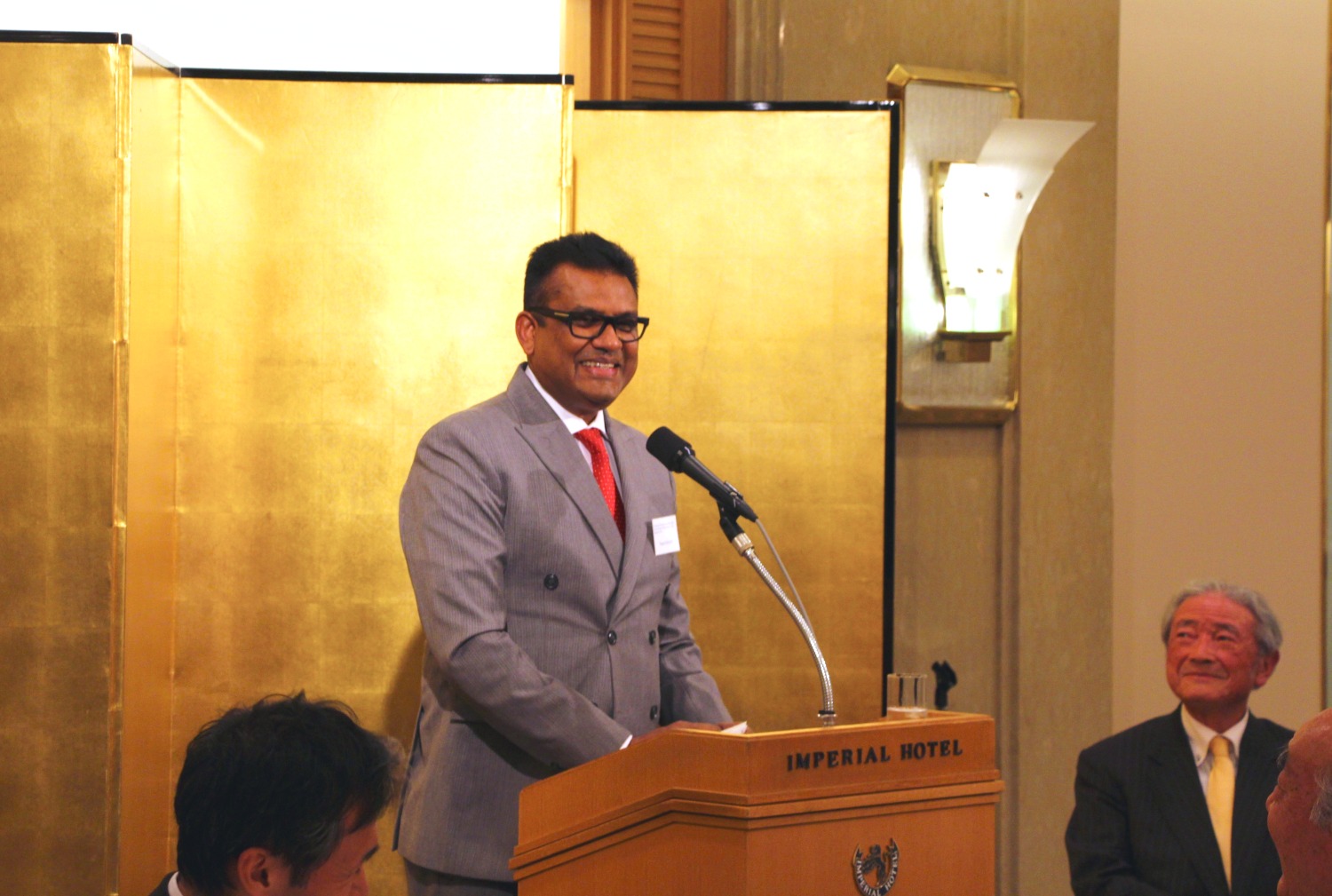 (Mr. Karan making a speech at a dinner party hosted by APIC President Sato)
Mr. Yogesh Karan, Permanent Secretary to the Office of the Prime Minister of Fiji was invited to Japan as part of APIC's Pacific Leaders Invitation Program from the 18th to 23rd of March 2018.
The aim of the Pacific Leaders Invitation Program is to foster friendship and understanding between Japan and regional countries, and Mr. Karan from Fiji was the honorary guest.
During his stay in Japan, Mr. Karan met with and exchanged opinions with Mr. Horii, the Vice-Minister for Foreign Affairs, as well as meeting with the Executive Vice President of JETRO (Japan External Trade Organization), Ms. Sato Yuri. He also met with Mr. Eto, an aide to the Prime Minister, and who holds the equivalent to Mr. Karan's position in Fiji.
As Mr. Karan participated in the 2017 COP23 in Germany, he met with Mr. Takahashi, the global environment deputy for the Ministry of Environment. He also met with Director General Mr. Ejima of JICA (Japan International Cooperation Agency). In addition, he spoke with Mr. Matsuyama of JNTO (Japan National Tourism Organization) about the re-start of direct flights to and from Japan/Fiji and other details. Mr. Karan noted that he was glad his trip to Japan was fruitful.
On the evening of the 19th, President Sato of APIC held a dinner party with attendees who are connected to Fiji, including the Fiji Ambassador Mataitoga and important members of the Ministry of Foreign Affairs.
During the latter half of his visit, Mr. Karan visited Kyoto where in addition to meeting with Mr. Ishikawa, Kansai Ambassador, he also visited several famous temples (Kinkaku-ji Temple, Ryuan-ji Temple), and enjoyed a traditional tea ceremony experience at Fukuju-en.