MoU Signing Ceremony with Tsuda Univesrity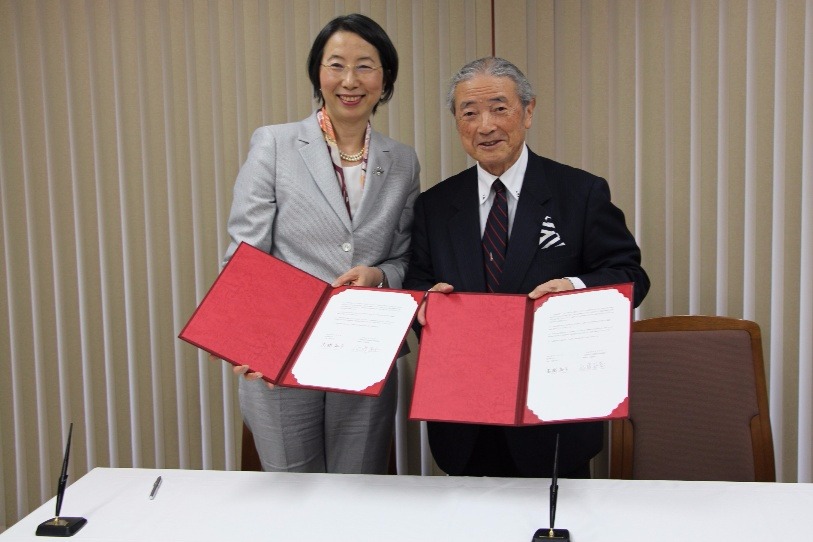 On April 7th, President of APIC, Mr. Peter Sato signed a Memorandum of Understanding (MoU) regarding an inclusive education partnership with President of Tsuda University, Ms. Yuko Takahashi.
APIC has signed an MoU with Tsuda University. This initiative is of great significance, as it counts the third MoU with a university in Japan following those with Sophia University and Reitaku University.
The MoU with Tsuda University is based on the four terms:
1. APIC and Tsuda University agree on the mutual exchange of information, with regard to education and research.
2. APIC is to send a lecturer for lectures and symposia held by Tsuda University.
3. APIC is to have intern students from Tsuda University.
4. APIC and Tsuda University are to promote mutual understanding in the world, and to jointly hold seminars concerning development issues in developing countries.
Tsuda University, established by Umeko Tsuda in 1900 as an educational institution for women, is now transforming its educational system after having established the department of Policy Studies in 2017. Tsuda University will remark its115 anniversary, Tsuda is proud of educating its students to achieve an advanced English skills, and a broad academic knowledge and life skills. Hence, all students of Tsuda University receive an education based the school principle of the "well-rounded women". As a result, students are nurtured to observe society from multiple perspectives and to have an international outlook.
Six individuals from Tsuda University and seven from APIC were present at the MoU signing ceremony. After the signing, Mr. Peter Sato commented that the MoU with historical Tsuda University is quite significant, he stated that, "we would like to further deepen our cooperative relationship for the practice and learning of international cooperation." The signing ceremony was concluded with remarks by Mr. Hatsuhisa Takashima, an executive at Tsuda University.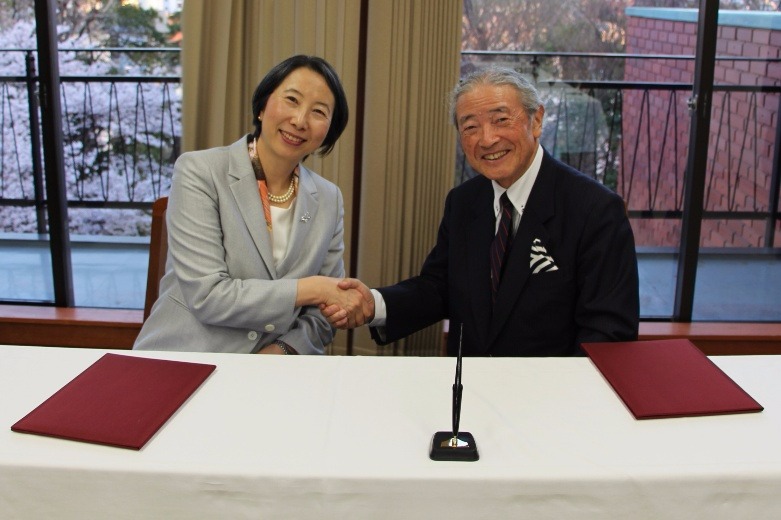 As international affairs become more complex than ever before, many problems have emerged, and thus a more overarching and multi-disciplinary approach is required in order to resolve them. It is hoped that we can promote the values of the APIC-Tsuda University and together cooperate and supplement our agreement. We are proud to promote international cooperation inside and outside of Japan in coordination with Tsuda University.
The president of Tsuda University commented:
We are delighted to have signed the MoU with APIC. Our new established partnership on education with APIC counts as our third including those with Sophia University and Reitaku University. This is the first time that an MoU has been signed between APIC and a woman's college. Tsuda University began as Zyosi-Eigakuzyuku established by Umeko Tsuda, with the aim of public cooperation and support. It would be with great pride and hope if women living in the 21st century could further contribute to the peace, happiness, and security through such partnerships. I appreciate APIC's tremendous support in providing us lecturers for lectures, symposia, and research initiatives, and for providing our students with opportunities for internship. Thank you.