Welcome Reception for the Pacific Islands Young Leaders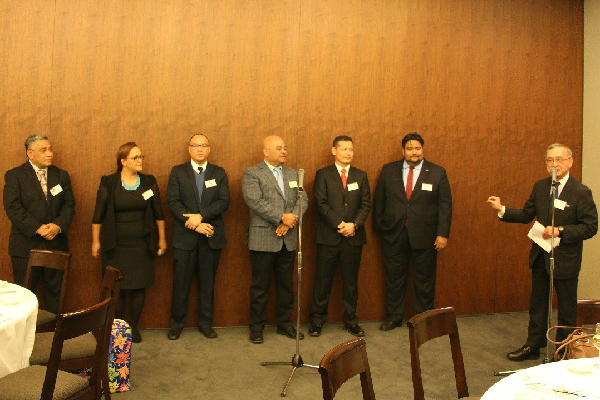 (The leaders being introduced by Mr. Shoji Sato, the Executive Director of APIC)
On 23 February, the President of APIC Mr. Yoshiyasu Sato hosted a welcome reception for the Pacific Islands Young Leaders at the Tokyo Club. In attendance were a total of six young leaders; two each from the Federated States of Micronesia, Palau, and the Marshall Islands. The dinner was held in hopes of making a good start together with the young leaders and Japan.
The following members were in attendance: Palau senate member Mr. Mason Webbs, CEO of the Palau International Coral Reef Center Dr. Yimnang Golbuu, Assemblyman Mr. David Panuelo from the Federated States of Micronesia, owner and partner of Ramp&Mida law firm from Micronesia Mr. Kembo Mida, Director of the Marshall Islands Environmental Protection Agency Ms. Mariana Fillipe, and the head of the Marshall Islands Water and Sewer Company Mr. Joseph Batol.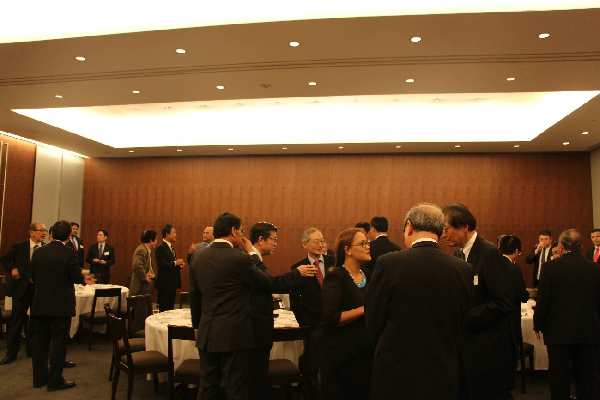 (Participants having chats)
Also participating in the dinner party were representatives from many foundations, companies that have deep relationships with the Pacific Islands, Japanese opinion leaders, and the respective ambassadors to Japan from Palau, the Marshall Islands, and the Federated States of Micronesia. An introductory speech was held by APIC President Mr. Yoshiyasu Sato, which was followed by a toast from a member of the House of Representatives, Mr. Eisuke Mori. The young leaders were able to converse with esteemed members from different backgrounds over a delicious meal. We feel that this was an excellent opportunity for these youth, and were happy to see such communication between all parties. This even will surely stay in the minds of the participants.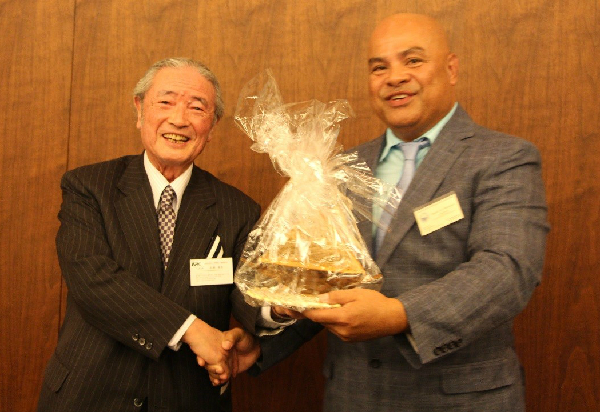 (Mr. Yoshiyasu Sato and Mr. David Panuelo)
At the end of the meal, assemblyman Mr. David Panuelo along with the six young leaders gave a thank you speech to all in attendance. Mr. Panuelo also presented Mr. Yoshiyasu Sato with a gift to commemorate the continuing friendship between the Pacific Island Nations and Japan. We are hoping that we will be able to work closely together in the near future.
(Written by Haruka Matsukawa, intern)