Interview with Mr. Mitsuhiko Sakamoto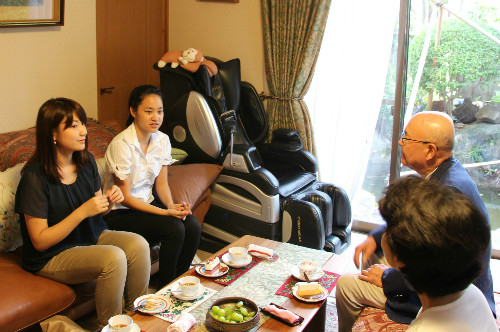 On 4 September, Ms. Risa Oue, the second recipient of "APIC-Sophia Xavier High School International Students Scholarship" visited and interviewed Mr. Mitsuhiko Sakamoto, adviser to the Yukigaya Chemical Industry Co., Ltd. The Yukigaya Chemical Industry has set up support for various funds, including the "Yukilon Educational Fund" and "China Educational Support" as part of their CSR (corporate social responsibility). Mr. Sakamoto has been supporting Micronesia for many years; thanks to his contributions to the Xavier High School Scholarship Fund, Ms. Oue was able to come to Japan, and thus paid a visit to Mr. Sakamoto`s residence.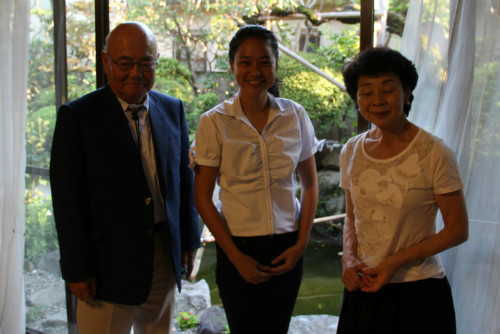 Mr. and Mrs. Sakamoto talked with Ms. Oue about her hometown, Pohnpei and the time they visited there, and chatted about Japanese culture and four seasons. Ms. Oue was a bit tense at the beginning, but after talking for a bit with Mr. and Mrs. Sakamoto she seemed to begin to relax and enjoy her time talking with the family.
Mrs. Sakamoto presented a small Japanese tea ceremony with homemade Japanese sweets called wagashi, and gave a tour of their Japanese-style traditional garden and tea house. This was a great opportunity for Ms. Oue to see a different side of Japanese culture, and have first-hand experience of Japanese traditions. Ms. Oue was excited about having her very first view of cherry blossoms in Japan in the upcoming April. Mr. Sakamoto asked Ms. Oue to come again soon and hoped to see her doing well.