Interview with Ambassador of the Republic of Palau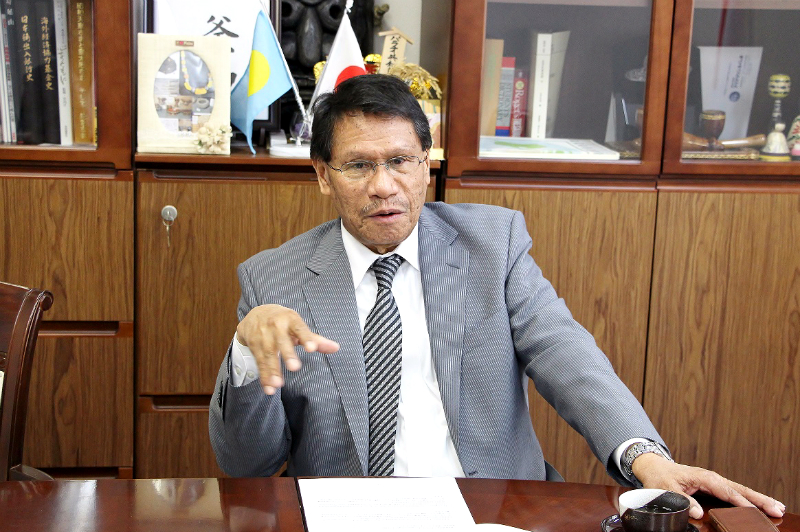 On Friday, March 31st 2015 APIC interns visited H.E. Mr. Francis Matsutaro, the Palau Ambassador to Japan; the Republic of Palau and Japan have a longstanding relationship, and is also helping APIC with the Xavier High School Exchange Program, of which school Mr. Matsutaro is an alumni of.
Q1. It is known that you are an alumni of Xavier High School; could you tell us a little bit about your time there?
The current President of the Federated States of Micronesia, Mr. Mori, and I were both in the class of 1969. At the time it was not co-ed like today, but an all-boy's school. The schoolhouse was built with the help of Japan, with dormitories, a clergy house, study rooms, cafeteria, and other spaces.
What left the biggest impression on me when I visited Micronesia from Palau for the first time was Chuuk's unique choral music. The nostalgic melodies helped me relax during all four years that I participated in the chorus group.
Q2. What were you most adamant about during your time at Xavier?
At the time, I played a little baseball, but I was into basketball like most other kids at Xavier. I joined the basketball team and played forward position.
Q3. Currently, students from your alma mater are studying at Sophia University here in Tokyo. Do you have any advice for them as an alumni and citizen of the world?
Friendship is the base of all relationships. Friendship is built upon trust and generosity. There is no such thing as magic in order to build relationships with people who are from different cultures. Students from all parts of Micronesia come to study at Xavier and share their cultures. People from Chuuk have the Chuuk language, people from the Marshall Islands speak the Marshall language, people from Pohnpei speak Pohnpei, and other languages like Japanese, French, and Spanish. Although English is the common language, underneath lies different cultures from many countries. This is why Xavier students are prepared to form relationships with people who are from different backgrounds and cultures.
Every year, we are hopeful that the students who were chosen from Xavier to attend Sophia will continue to grow in the future. I believe that life at Sophia will be a challenge for them, but it will also aid them in their growth. They may also have trouble getting used to life in Japan in the beginning, but I hope they will rely on help from Sophia to adjust to new customs and culture.
I believe that Sophia University is a safe environment for Xavier students who come from small islands and are not used to interacting with many people. But I also hope that they will explore the city and slowly get used to Tokyo.
Q4. How was your time as CEO of the Palau International Coral Reef Center?
The Palau International Coral Reef Center is a part of Japan's Overseas Development Program and was built in approximately one year in 1999. I assumed the role of CEO, and worked together with the research staff to create the "Ocean Research Policy" manual. Afterward, I was working on research with a scientific magazine while also working with the Palau government to use marine resources to think of ways to be environmentally sustainable.
Since a major part of our lifestyle relies on the ocean, I am proud to say our Center gradually became known as the Micronesia Marine Research Agency.

We are very grateful for the opportunity to interview Xavier High School alumni and Ambassador, Mr. Matsutaro. Unlike Japan, Micronesia is engaged in sharing multiple cultures, whereas it feels like us Japanese are still in a very closed environment. We want to deepen our understanding of each other through interacting with foreign exchange students. (Interviewers: APIC interns Moeka Minami and Akemi Tamori)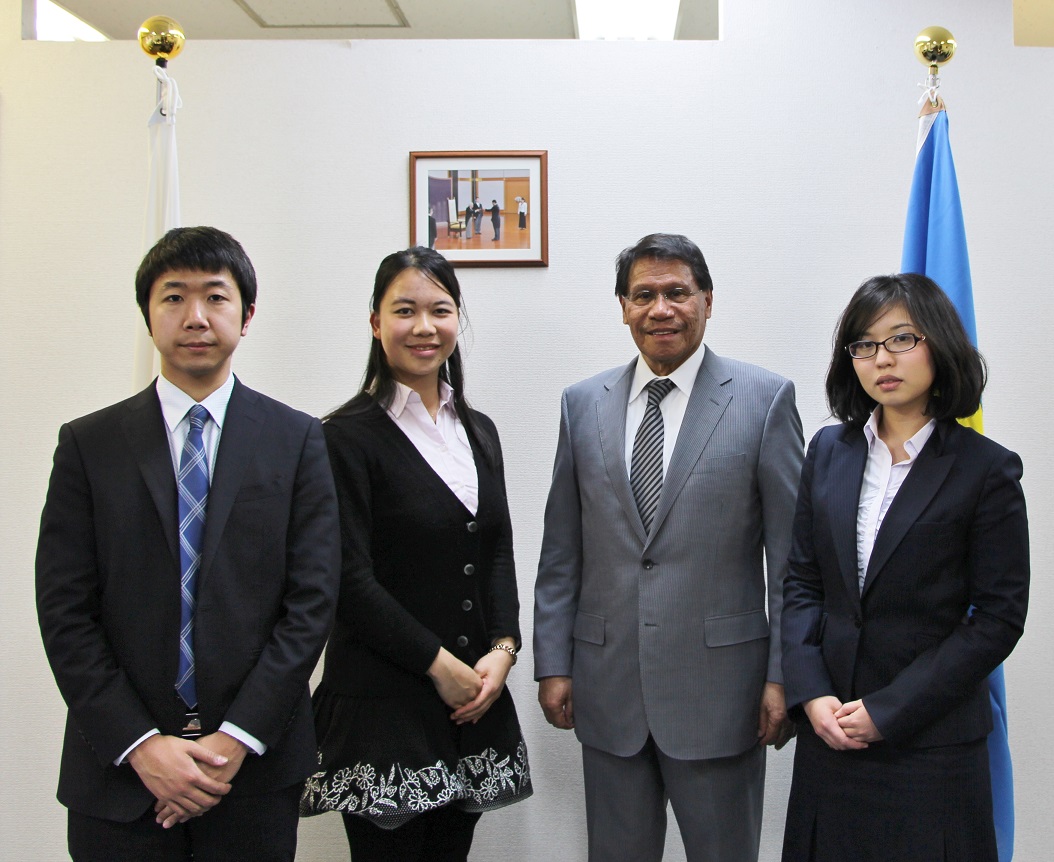 (From left: Mr. Ohara, Ms. Tamori, Ambassador Matsutaro, Ms. Minami)