Risa Oue Chosen as 2nd Student from Xavier H.S.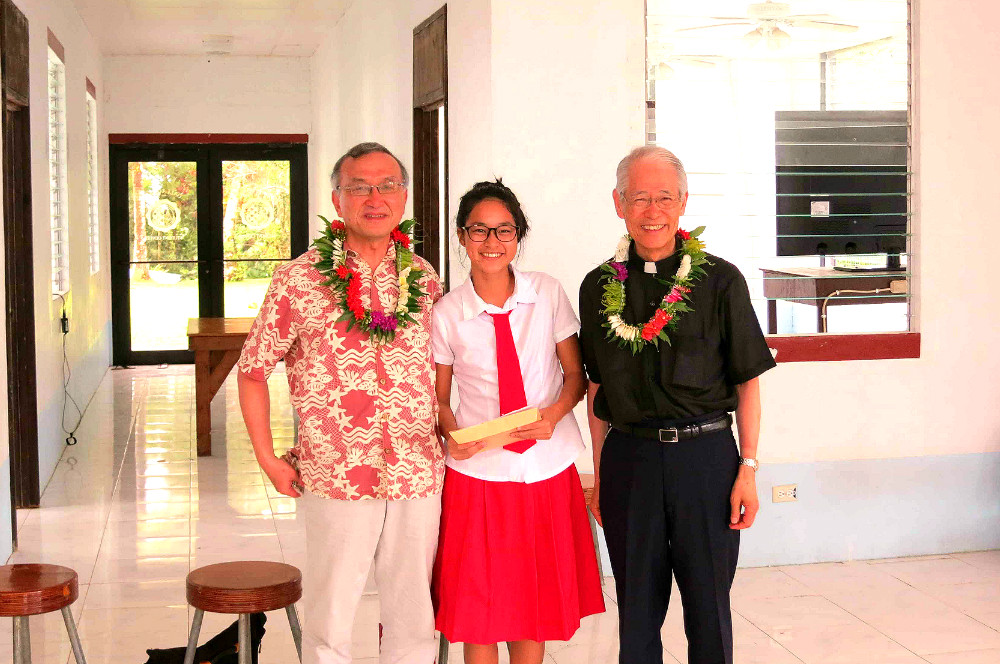 The next student from Xavier High School to enter Sophia University in the fall of this year has been chosen and was announced on February 6th. On the same day Chancellor Koso of Sophia University visited Xavier High School in Micronesia and handed current senior Ms. Risa Oue of Pohnpei State her certificate of admittance to the university.
Ms. Oue received the award in front of the 150 student population, and after she took the certificate everyone stood and gave her a large round of applause. APIC Executive Director Shoji Sato, former Ambassador to Micronesia, was in attendance.
Ms. Oue gave words of appreciation in Japanese, and declared she was ready to go to Japan in the fall to continue her studies. She will study for four years at Sophia University's Undergraduate Programs for Environmental Science and Technology, with all classes instructed in English.
In April 2014 the Association for Promotion of International Cooperation (APIC) and Sophia University created the "Sophia University, APIC, Xavier High School Exchange Student Scholarship Fund" system and signed a MoU to send one student from Xavier High School to Sophia University every year. The system is set in place to help develop human resources in the Micronesia region (Republic of Palau, Federated States of Micronesia, Marshall Islands), and to encourage international communication with Japan. Ms. Mary Helen Mori was the first student from Xavier to take part in the exchange program and has been studying at Sophia University since fall 2014.
In order to keep accepting exchange students for the long-term, a large sum of money for travel fees, tuition fees, matriculation fees, and living expenses is needed, and APIC is fervently raising funds for these expenses.