APIC & Sophia University Sign MoU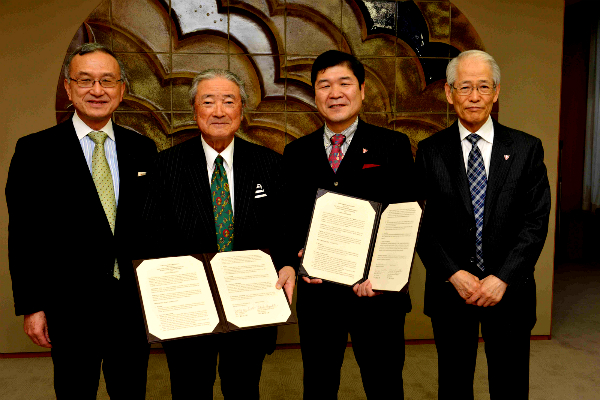 APIC President Peter Sato and Sophia University President Takashi Hayashita signed a Memorandum of Understanding (MoU) on December 16th, 2014 regarding educational ties. (Photo by Sophia University)
This is the first time that The Association for Promotion of International Cooperation (APIC) has signed a MoU with Sophia University (located in Chiyoda ward, Tokyo). The MoU has four parts; 1. APIC staff will partake in research activities undertaken by Sophia University 2. APIC will send speakers to symposiums and lectures 3. APIC will accept internship students from Sophia University 4. APIC and Sophia will collaborate together on campaigns and seminars to help with developing nations' development challenges.
Up until now, with the cooperation of APIC and Sophia University, a scholarship fund for students of Micronesia's Xavier High School called "The Sophia University and APIC Xavier High School Exchange Student Scholarship Fund" was put in place, and one student from Xavier High School entered Sophia University under the program in September of this year. Additionally, in November this year Sophia University and the College of Micronesia signed an agreement with the reference of APIC, deepening the relationship between APIC and Sophia. This MoU will bring the two partners closer together.
APIC is currently working on improving mutual understanding between Japan and the international community, as well as development projects for developing countries, particularly in the Pacific Island and Caribbean regions.
Sophia University was chosen as a "Top Global University" under MEXT's (Ministry of Education, Culture, Sports, Science and Technology) "Top Global University Project", and has been actively exchanging and communicating with international universities and educational bodies. As a part of those activities, Sophia University has been expanding its overseas high school exchange student program (as of December 2014 seven participating schools from four countries). Sophia University and Micronesia Xavier High School partnered up and was designated as one of Sophia's overseas high school exchange schools; Sophia started accepting exchange students from Xavier this year. Accordingly, Sophia University, APIC, Xavier High School Exchange Student Scholarship Fund was set up, and currently advancing the education of students in the Micronesia area and further deepening international ties.
APIC, which was founded with the goal of promoting international cooperation, along with Sophia University who is strengthening its global resource development, have paired up to strengthen their complementary relationship while improving their results for future generations. The cooperation of Sophia University, which has over 100 years of history, is deeply meaningful to APIC. APIC will continue from today on its mission to keep improving ties between Japan and the international community, with the help of Sophia University.