APIC & MCT MoU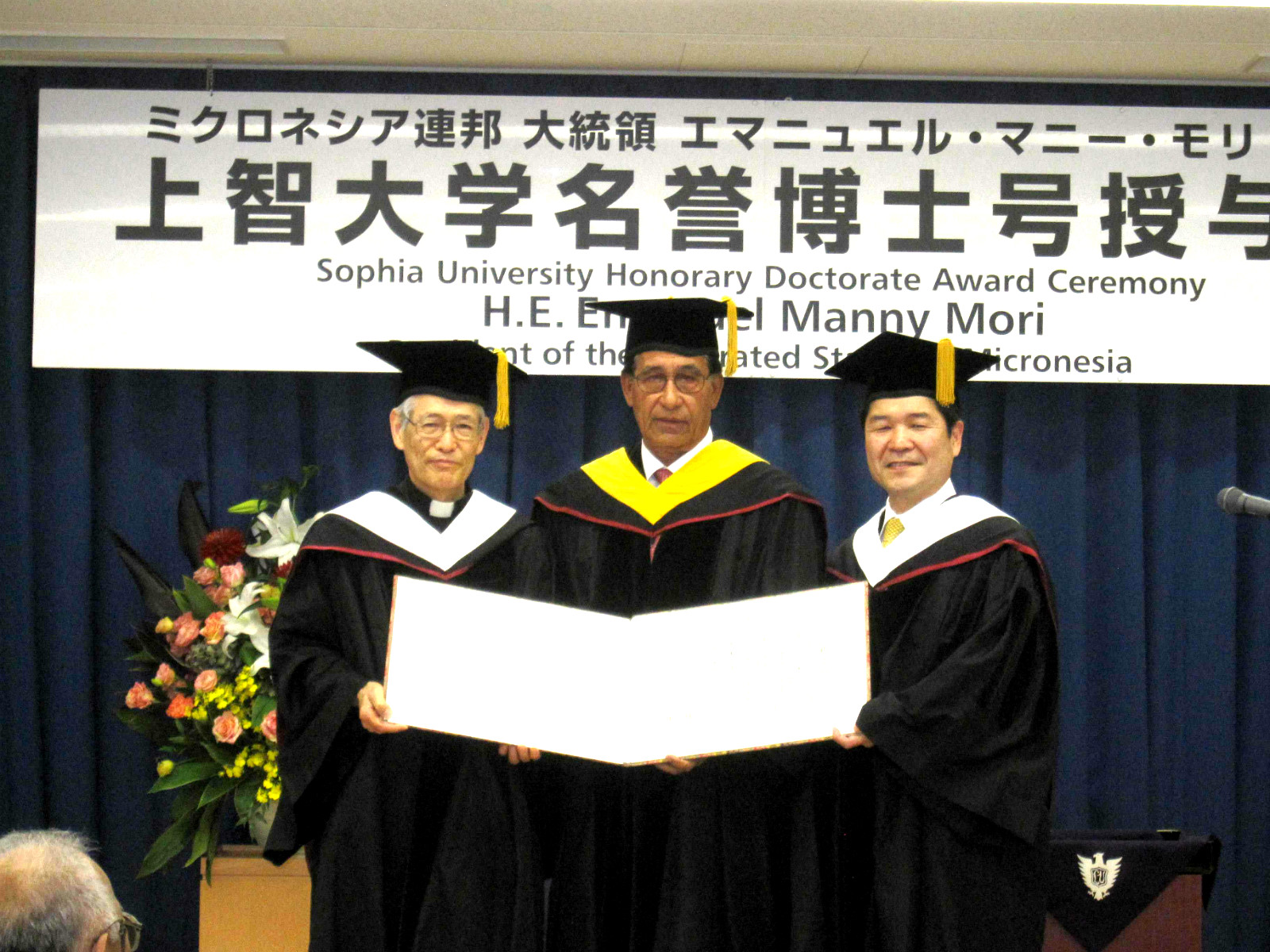 Federated States of Micronesia President Emanuel 'Manny' Mori was named an Honorary Doctorate Degree by Sophia University on November 5th. This Honorary Degree was proposed by the Association for Promotion of International Cooperation. During the commemorative lecture, President Mori expressed his deep gratitude towards APIC for its role up until receiving the honorary degree.
The ceremony took place in the afternoon of November 5th in a conference room of Sophia University's campus building 2. Sophia President Mr. Takeshi Hayashita presented President Mori with the honorary degree, and afterward President Mori, Sophia University Chancellor Mr. Toshiaki Koso and President Hayashita took a commemorative photo together with Mr. Mori wearing the doctorate's gown.
Here is an account of President Mori's accomplishments:
President Mori became the seventh president of FSM in May 2007, and was re-elected in 2011, and as of 2014 is currently in his eighth and final year of presidency. The Micronesian Constitution forbids a third presidential run, so his presidency will end in May. President Mori has taken a pro-Japanese stance in his policies, which have still held to this day. Internally, he has taken measures to lift Micronesia from its reliance on the United States, and promoting economic development plans. President Mori is a firm believer in education and has increased the range to include middle and high school along with improving the quality of mandatory education. This has led to the success of a dramatic increase in enrollment rate of compulsory education from 78% to 99% during his term.
At the ceremony, Sophia University President Hayashita commented that "President Mori's formulation of various policies with the idea that they will act as mental pillars of support is right on line with Sophia's moral education of 'Men and Women for Others, with Others'. We would like to honor President Mori's political, economic, and social contributions". President Mori was given an honorary doctorate degree for his achievements of Micronesia's internal policies.
President Mori talked about his Japanese roots in a commemorative speech, saying "The bond that arose from their interaction has become a strong relationship between both countries. Japan is an important partner in development and I am certain that it will continue to play an important role in the Asia Pacific area". President Mori is descended from Koben Mori from Kochi prefecture who immigrated to Micronesia during the Meiji period (late 1800's to early 1900's).
President Mori continued, stating "Jesuit-run Sophia University is a Center of Excellence for Japan and the world, and will continue to play an important role in not only the future of Japan, but for following generations of all people. I hope that these educated Japanese students will share the precious knowledge they gained in university with the people of Micronesia".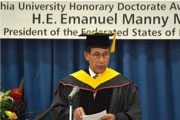 President Mori talked highly of APIC and Sophia University's collaboration on starting the "Sophia University & APIC Xavier High School Exchange Student Scholarship Program", which accepted one student from Xavier High School in Micronesia into Sophia University's undergraduate program in September this year.
During President Mori's closing remarks he talked about the role APIC played in the process up until he received the honorary degree, saying "I would like to thank APIC for all their contributions. In particular I would like to express my deep appreciation toward President Peter Sato and Executive Director Shoji Sato".
At the beginning of APIC President Peter Sato's congratulatory speech during the reception post-ceremony, he honored President Mori's achievements by saying "President Mori has been involved in public duties of the Federated States of Micronesia for a number of years. In particular, he has contributed greatly to the amicable relations between Japan and Micronesia". After the speech, various people from Sophia University, APIC, and Micronesia-related affairs congratulated President Mori; Minister of Foreign Affairs Mr. Lorin Robert from Micronesia, Ambassador to Japan Mr. John Fritz, Mr. Masaki Sakai from the Japanese embassy in Micronesia, in addition to others were in attendance.