Inauguration of Xavier High School Exchange Student Program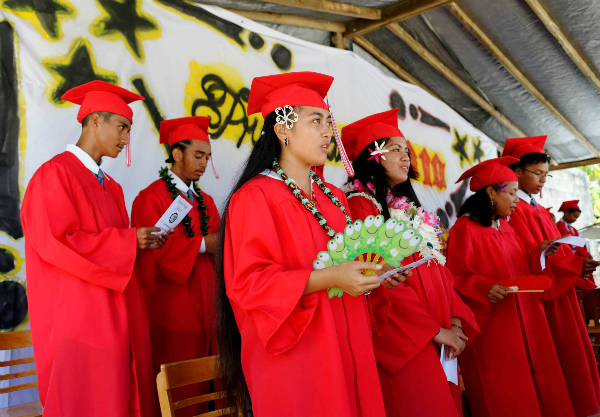 Thus far, the Association for Promotion of International Cooperation (APIC) has partnered with Sophia University in order to start an exchange student program for students from the Federated States of Micronesia Xavier High School. Xavier High School has now been named Sophia University's designated overseas high school; a MoU (Memorandum of Understanding) outlining a scholarship system including scholarship funds has been signed.
On April 3rd, 2014, at Sophia University's Yotsuya Campus, APIC President Mr. Peter Sato, along with Sophia University President Mr. Takeshi Hayashita and Xavier High School Representative Father Richard McAuliff signed the MoU.
This scholarship system was put in place in order to support the development of education in the Micronesian region (the Republic of Palau, Federated States of Micronesia (FSM), and the Republic of the Marshall Islands). Starting in the fall of 2014, one student from Xavier High School will enter Sophia University under the exchange program each year.
Xavier High School is a high-level school in the Micronesian region that has people such as former President of FSM Mr. Mori and other political and economic leaders in Palau, Marshall Islands, and other areas among its alumni. Japan has a close relationship with these countries due to their location in the north-west area of the Pacific Ocean, close to Japan. In fact, Xavier High school is using as its school house the former Japan Navy Communications facility built by Japanese construction firm Mabuchi Construction (headquarters in Yokohama) in 1938. Xavier High School and Sophia University were both established under the Jesuits.
The scholarship fund set up by APIC and Sophia University for Xavier High School students covers tuition fees and living expenses for the students. APIC and Sophia University are working together to set up fund-raising activities, along with asking groups, companies and philanthropists with strong ties to Micronesia for support. Sophia University is also spreading the word about exchange program support to its alumni community.
Sophia University has been chosen by MEXT (Ministry of Education, Culture, Sports, Science and Technology) for MEXT's "Global 30 program-Establishing University Network for Internationalization" and the "Inter-University Exchange Project" and the university has been actively participating in exchange activities such as exchange student programs with educational organizations as well as participating in the "academic exchange agreement" with over forty countries and one-hundred eighty schools across the globe. Sophia University has also signed MoU's with local high schools in Indonesia, China, and Korea and opened a "Designated Overseas High School" program where the FSM Xavier High School will join, with students from Palau, FSM, and the Marshall Islands entering. Xavier's appointment as a designated school will allow the region to develop a broader and deeper relationship with the Asian Pacific countries.
The following is the general outline of the Xavier High School Scholarship Fund:
・School Info: Xavier High School (Federated States of Micronesia)
・Founded: 1952
・Student pop.: 150, private co-ed, founded by Jesuits of Chuuk State Weno Island. Male students live in on-campus dorms. Four year high school. Majority of students are from Republic of Palau, FSM, and Republic of Marshall Islands
・Start of exchange program: Fall 2014 semester
・Number of students entering: one
・Coverage of scholarship funds: Tuition and living expenses
・Coverage period: Per one student every year for total of four years