Environment Seminar in Caribbean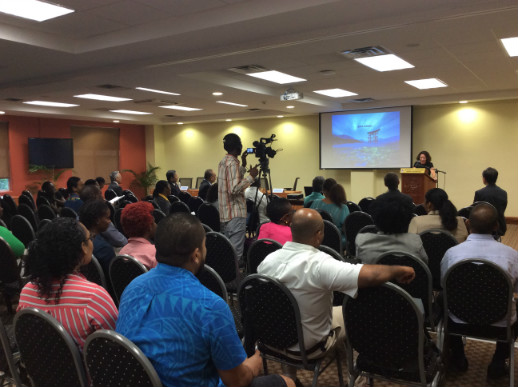 On October 31, a Caribbean environment seminar was held at the University of the West Indies (UWI) in Jamaica as a series of environment seminars.
 APIC hosted "Symposium about Environmental Protection in the Pacific Islands" in cooperation with Sophia University in July 2015 at Sophia University. As a series of the environmental seminars, we hosted the second one in August 2015 in Palau, and the third one on October 31 at the University of the West Indies (UWI) in Jamaica this year. From APIC, Ken Shimanouchi, Councilor of APIC and Special Envoy for Japan-CARICOM Friendship Year, Ministry of Foreign Affairs, gave a speech of greeting, and Megumi Araki, Director and Secretary-General of APIC, presided at the seminar.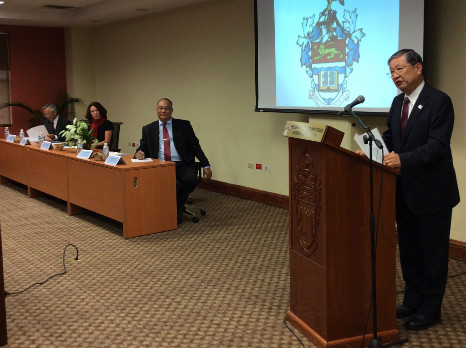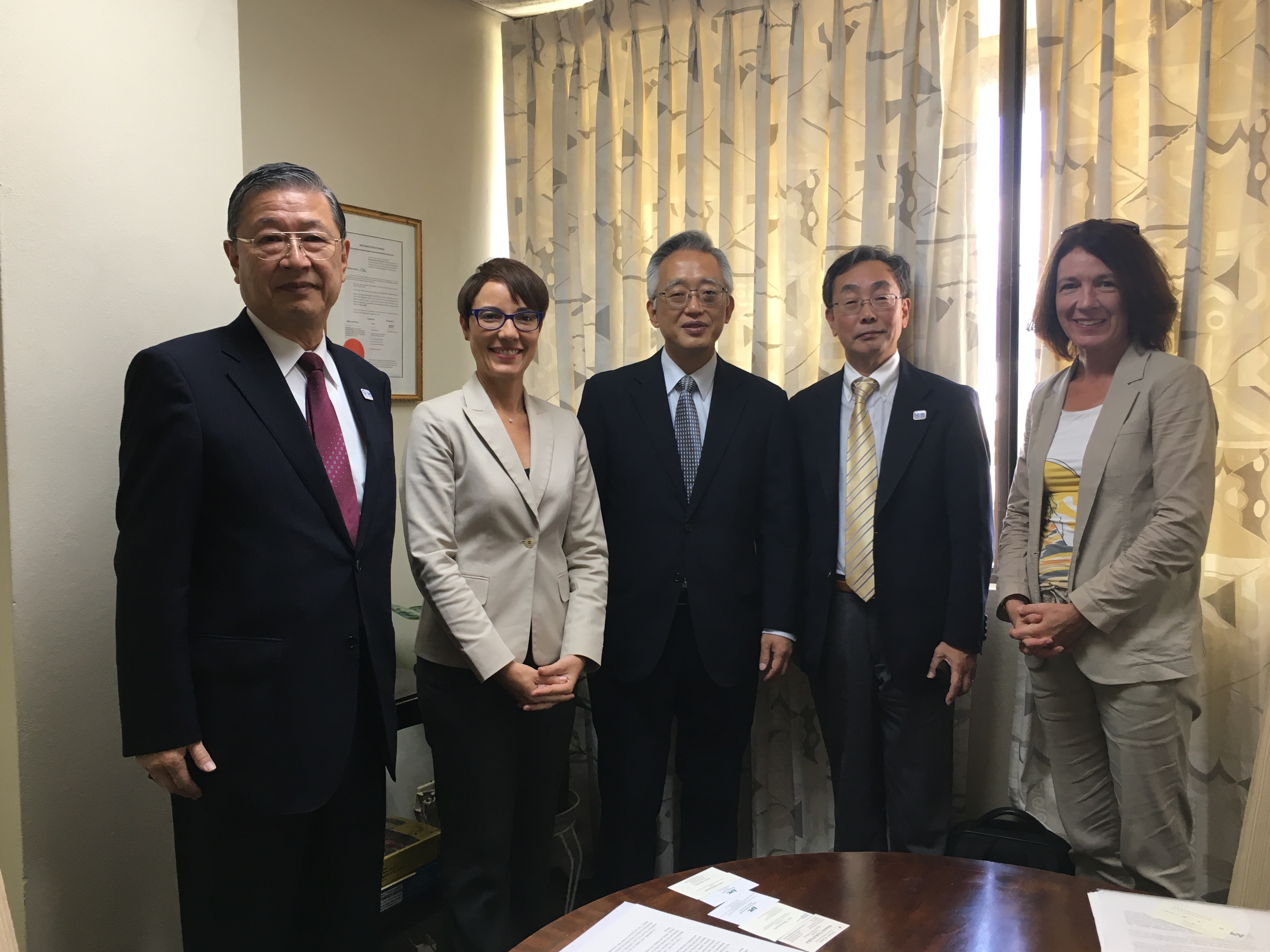 It was held at Eon Nigel Harris Council Room of UWI and about 50 people participated in the seminar, including Ambassador of Trinidad and Tobago, executives from the Ministry of the Environment and the faculty members of environmental studies at UWI. The lecturer was Ms. Anne McDonald, Professor at Sophia University Graduate School of Global Environmental Studies, who gave a lecture at the seminar in Palau last year too.
 At the beginning of the seminar, Dr. Richard L. Bernal, Pro-Vice Chancellor, Global Affairs of UWI and former Ambassador to the United States, made an opening and introductory speech, and expressed his gratitude to APIC, for hosting students invitation programs and the environmental seminar. Also, he expressed his expectation for the future exchange between Sophia University and UWI based on the MOU signed last year when Prime Minister Abe visited Jamaica.
 Ambassador Shimanouchi made a welcome remarks introducing the activities of APIC, among other things he mentioned that environment is a prioritized field between CARICOM countries and Japan. He also welcomed the exchange programs being materialized based on the MOUs between APIC and Sophia University and also between UWI and Sophia University.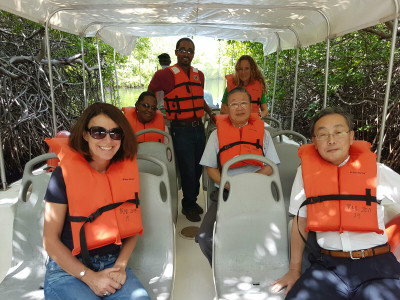 Professor McDonald gave a presentation titled "Charting Island Futures: Exploring Effective Policies in the Face of Climate Challenge and Environmental Challenges", giving a number of examples or success stories in Japan, where fishermen and environmental experts work together flexibly in order to solve problems. During the question and answer session, professors and executives from the Ministry of the Environment enthusiastically raised professional questions, reflecting their high level of professional expertise on environment. The mission was also impressed by the Port Royal Marine Laboratory Department of Life Science, UWI, to learn that the professors of the laboratory occasionally teach at high schools and it is compulsory for high school students in Jamaica to take environmental classes. Moreover, the high school students have opportunities to learn by doing at the laboratory.
 On the following day of the seminar, Ambassador Shimanouchi made a courtesy visit to talk with Johnson=Smith, Minister of Foreign Affairs, and Professor McDonald and Secretary-General Araki were given a chance to report the seminar. She highly appreciated the seminar in terms of contribution to the relationship between Jamaica and Japan.
ABOUT APIC
The Association for Promotion of International Cooperation (APIC) is engaged in various development cooperation projects for the purpose of promoting international cooperation and deepening mutual understanding between Japan and various countries.

Specifically, APIC is engaged in these following activities.

1. Supporting development cooperation projects in the Pacific Island Region
2. Supporting development cooperation projects in the Caribbean Region
3. Organizing lecture meetings regarding global issues
4. Organizing social meetings regarding international cooperation
5. Supporting recipients of "APIC-Sophia Xavier High School International Student Scholarship"
6. Training young generations interested in international cooperation

APIC was established on 8th September 1975 for the major purpose of facilitating public understanding and cooperation on ODA through the provision of information regarding Japanese international cooperation including ODA.

APIC transferred into a general incorporated foundation due to the law revision on 1st April 2013, and is continuing its activities.
All Rights Reserved. Copyright © 2008-2015, The Association for Promotion of International Cooperation.